Popularly nicknamed as 'Devbhoomi – land of gods', Uttarakhand is one of the most pristine destinations of India. This hill state is famous for being the abode of some of the most supreme gods and goddesses. The entire region is dotted with a number of ancient temples which evoke a feeling of deep seated spirituality in everyone. Each district of Uttarakhand has a number of temples which has worked as a magnet for peace seekers and spiritual learners since time immemorial. Here are some of the most popular temples of Uttarakhand which gives Devbhoomi its name: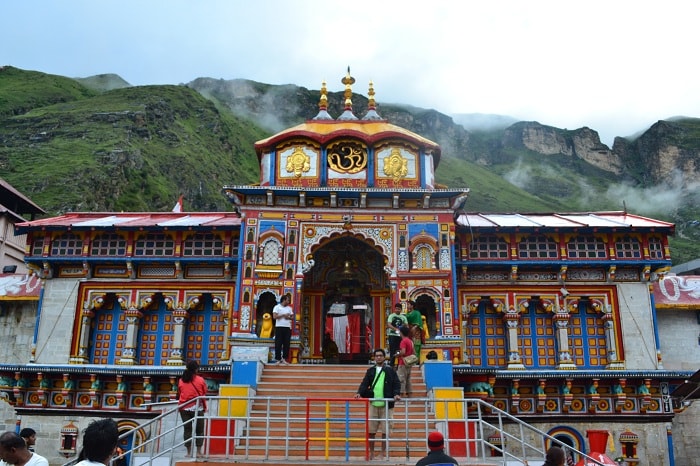 Badrinath Dham is undoubtedly one of the most prominent temples of Uttarakhand. It is not only one of the crucial pillars of the all India Char Dham Yatra and Chota Char Dham Yatra but it is also an important part of the Panch Badri Yatra of Uttarakhand. Standing majestically at a whopping elevation of 10,827 feet above sea level and by the holy River Alaknanda, Badrinath Dham is dedicated to Lord Vishnu and is one of the most relevant ancient shrines in India. Surrounded by snow clad Mountains and deep forested greenery Badrinath Dham is also one of the most picturesque centres of pilgrimage.
Things to Do – visit Vasudhara falls and Narad Kund. Go for trekking till Valley of Flowers and Mana village.
Travel Tips – no matter what the season it is, be sure to carry heavy woolen clothing items like winter jackets, mufflers, woolen socks, gloves and thermals.
Baijnath Temple Complex (Bageshwar)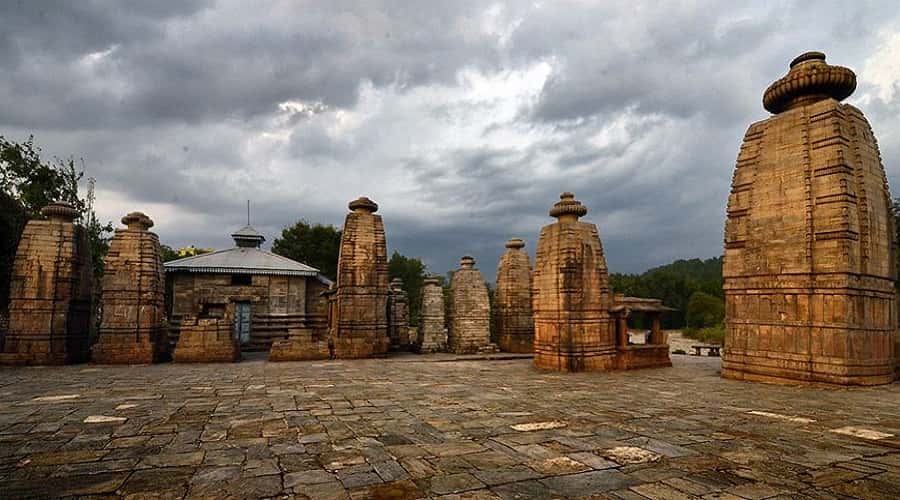 Located in the Bageshwar district of Uttarakhand at an elevation of 3,691 feet above sea level, this splendid temple complex is home to almost 18 Hindu temples. Situated next to the Gomati River these temples house 102 stone images and is known for being one of the very few temples where Goddess Parvati is shown with her consort Lord Shiva. Devotees and pilgrims throng this place during the eve of Maha Shivratri and Makar Sankranti looking for blessings of the almighty lord.
Things to Do – pay a visit to some of the temples located close to the temple like Bhramari Devi temple. You can also take a stroll in Garur which is the market place in the Baijnath region and contains numerous shops.
Travel Tips – May to September is the best time to visit this temple.
Chitai Golu Devta Mandir, (Almora)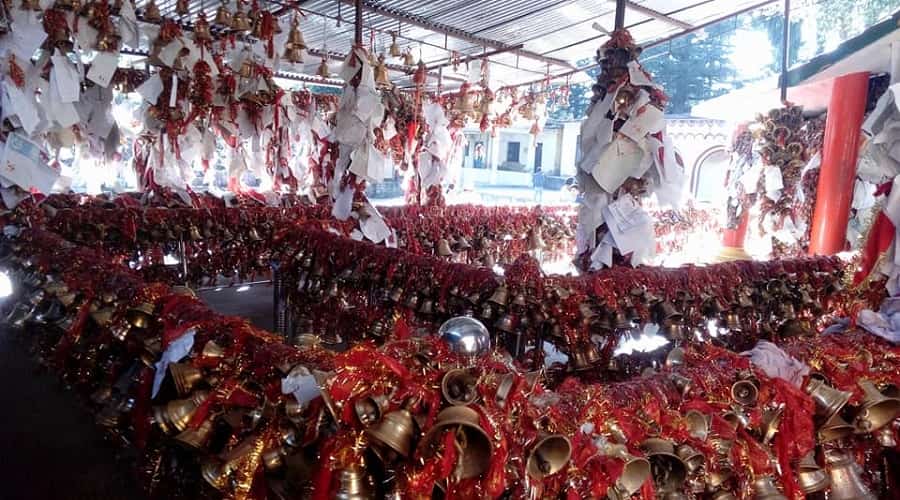 Dedicated to Golu Devta – a legendary mythological lord worshipped mainly in the Kumaon and the eastern Garhwal region of Uttarakhand, this temple is among one of the most celebrated temples of the subcontinent. Situated at a distance of 4 km through the main gate of the famous Binsar wildlife sanctuary, this temple is home to a glorious selection of flora, fauna and numerous panoramic vistas along with being lined with innumerable bells which is tied by the pilgrims themselves. It is believed that the devotee's wishes will be fulfilled once asked from the lord with a clear heart and conscience.
Things to Do – visit the famous Mrig Vihar Zoo, Kalika Mandir, Valmiki Mahadev Mandir, Sun Temple and more.
Travel Tip – the temple is located at a distance of 9 km from Lala Bajar in Almora which takes 25 minutes to cover.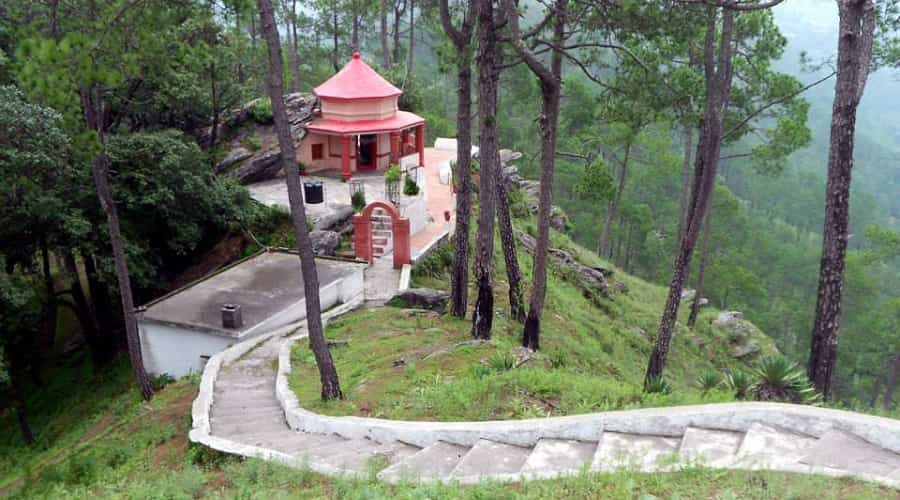 Sitting high up at an elevation of 2,116 metres above sea level this ancient 2nd century temple is known for is immense healing and rejuvenation powers. This mysterious temple not only attracts devotees and pilgrims but it has also attracted the attention of a number of NASA scientists due to its placement on the Van Allen belt. People who perform meditation here have reported feel a higher degree and sense of rejuvenation due to the unique geomagnetic forces which are present in the region.
Things to Do – visit Crank's ridge; trek to Nanda Devi Mandir, visit Binsar wildlife sanctuary.
Best Time to Visit – February to November
Kamakhya Devi Mandir (Pithoragarh)
Sitting amongst the sun drenched, snow clad mountains and the lush greenery of the valleys, this temple is dedicated to Goddess Kamakhya Devi. Located at a comfortable distance of 7 kms from the main city of Pithoragarh, this temple is significant for Hindu devotees who visit this temple seeking marital bliss and freedom from all sorts of physical and mental health ailments. This is the only Kamakhya Devi temple in the entire Kumaon region of Uttarakhand.
Things to Do – Visit tourist attractions like – Maharaja park, Pithoragarh fort, lover's point and Dhwaj Mandir.
Best Time to Visit – April to June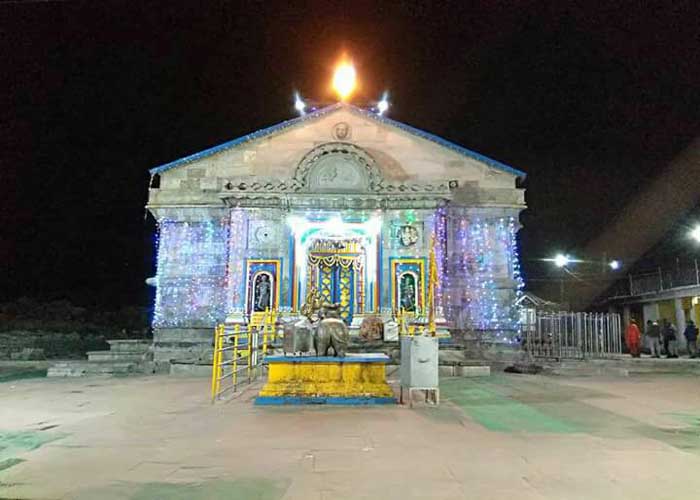 Dedicated to Lord Shiva in the form of Kedarnath (Lord of Kedar Khand) and tucked away comfortably on the Garhwal Himalayan Range stands one of the most pious and extremely significant temple in all of India. Being a part of the Chota Char Dham Yatra and the Panch Kedar Yatra this ancient historic temple witnesses a vast throng of pilgrims and devotees from all over the world during the open seasons which lasts for 6 months when the snow recedes.
Things to do – visit Bhairav Mandir, Gaurikund, Shankaracharya Samadhi, Gandhi Sarovar, Sonprayag and Vasuki Tal.
Best Time to Visit – May to June and September to October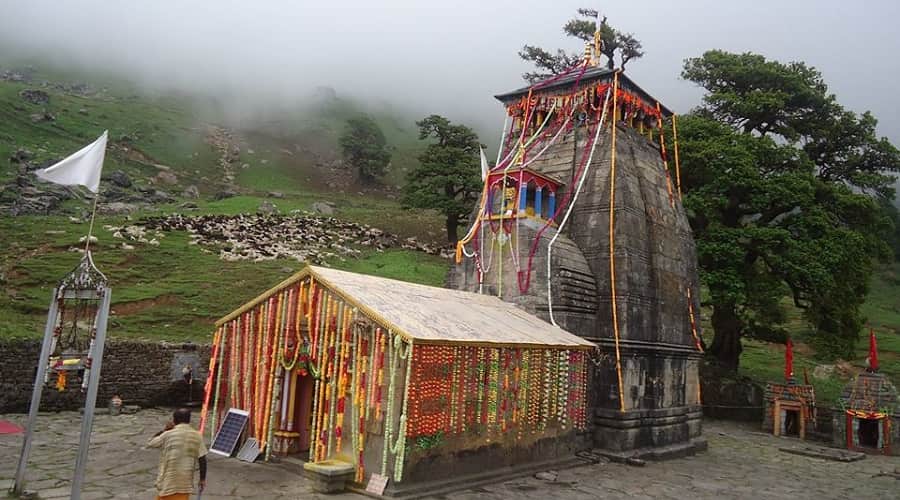 This ancient Hindu temple which is dedicated to Lord Shiva is one of the crucial pillars of the famous Panch Kedar Yatra. Located among the lush greenery of the meadows of Garhwal region at an elevation of 11,473 feet above sea level this temple is spiritually captivating. It is a widely held belief that even a few drops of the holy water from the temple is enough for ablution. During the winter months the presiding deity is shifted to the Lord's winter abode at Ukhimath.
Things to Do – Trek to Kanchani Tal, Buddha Madhyamaheshwar, Omkareshwar Mandir.
Best Time to Visit – May to October
Yogadhyan Badri (Chamoli)
Located at an elevation of 6,001 feet above sea level and close to the famous Badrinath temple, Yogadhyan Badri is one of the most significant parts of the famous Sapta Badri Yatra. Known for being as old as the ancient Badrinath Dham, this temple is created on the spot where King Pandu is said to have meditated to Lord Vishnu asking him to cleanse the sin of killing two mating deer who were ascetics in their previous lives. The Pandava brothers were also born here and their father King Pandu had died and achieved his salvation here.
Things to Do – trek to Badrinath Dham, Nanda Devi wildlife sanctuary, Vishnuprayag.
Best Time to Visit – April to June and September to October
Nanda Devi Mandir (Pithoragarh)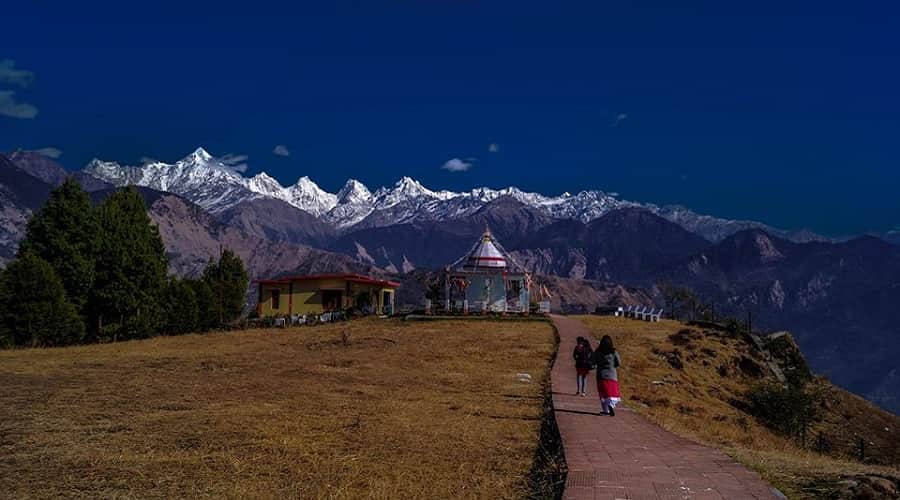 Perched at a whopping height of 7,500 feet above sea level and dedicated to Goddess Nanda or Parvati this is one of the most sacred Hindu sites of worship. One can reach the temple by completing a breathtaking trek of 3 kms which will take you across some of the most picturesque and visually appealing sites. The temple region sits among the lush green meadows inside a large compound which gives a 180 degree view of the surrounding Himalayas.
Things to Do – visit the unique tribal heritage museum, Birthi Falls, Maheshwari Kund.
Best Time to Visit – May to October
Mata Murti Mandir (Badrinath)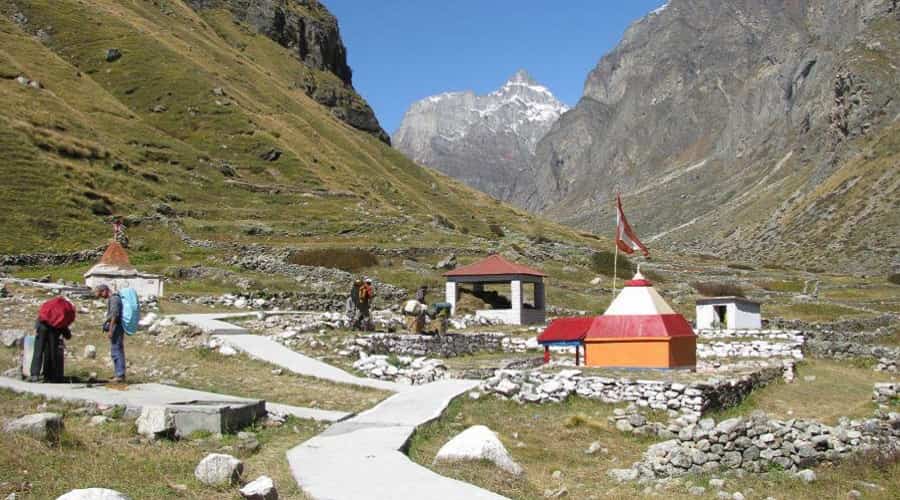 Located at a comfortable distance of 3 km from the main Badrinath Dham on the right bank of Alaknanda River, this temple is one of the most sacred Hindu temples of Uttarakhand. Dedicated to Goddess Mata Murti – the mother of Nar and Narayan, the temple witnesses a large crowd during the eve of Vaman Dwadashi and Shravan Dwadashi. Pilgrims and devotees visiting Badrinath make it a point to also visit this holy temple during their pilgrimage Yatra.
Things to Do – trek to the last village of India – Mana village, Surya Kund, Charan Paduka, Tapta Kund, Narad Kund.
Best Time to Visit – April to May and September to October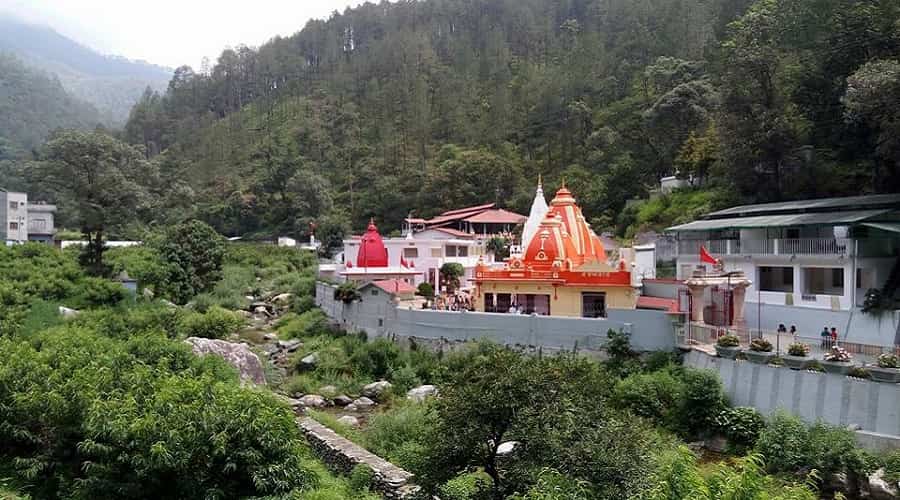 This majestic temple which sits by the softly flowing river and the scenic beauty of the natural surroundings is not only just a temple dedicated to Lord Hanuman but is also an ashram of Neem Karoli Baba. It is believed by the followers that once you perform strong meditation you will be able to feel the strong and powerful presence of Lord Hanuman. This place has been visited by a number of famous people like Steve Jobs (late CEO of Apple) and Mark Zuckerberg (founder of Facebook).
Things to Do – visit Golu Devta Mandir, Shyamkhet tea gardens, Aurobindo Ashram, Ramgarh.
Best time to visit – March to June and September to February
Jhula Devi Mandir (Ranikhet)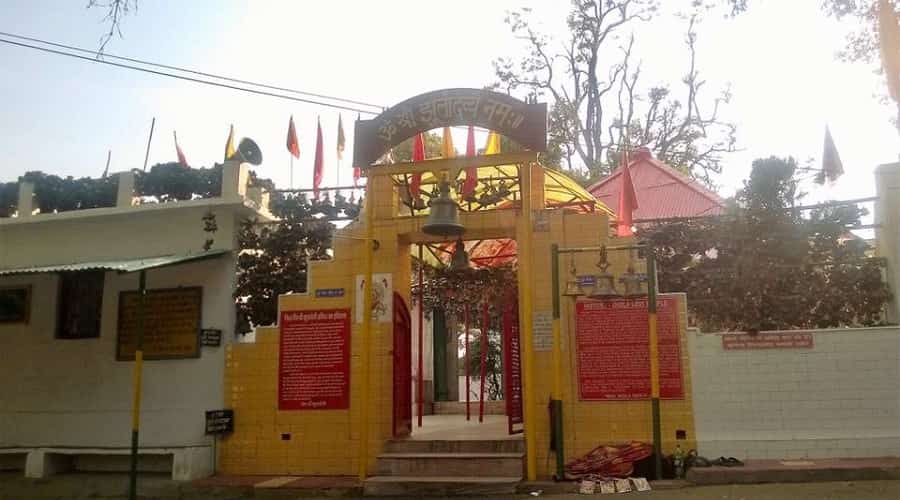 This ancient temple dating back to the 8th century temple is located at a mere distance of 7 km from Ranikhet. Dedicated to Durga Maa, this temple is known for being adorned extensively with brass temple bells which cover almost all the parts of the temple. The local belief which still persists is that this temple is home to Mata Jhula Devi who keeps their livestock and other cattles safe while outside from the preying wild animals which inhabit the area like leopards.
Things to Do – Visit Haidakhan Mandir, Chaubatia Gardens, Manila, Somnath Ground
Best Time to Visit – March to June and September to February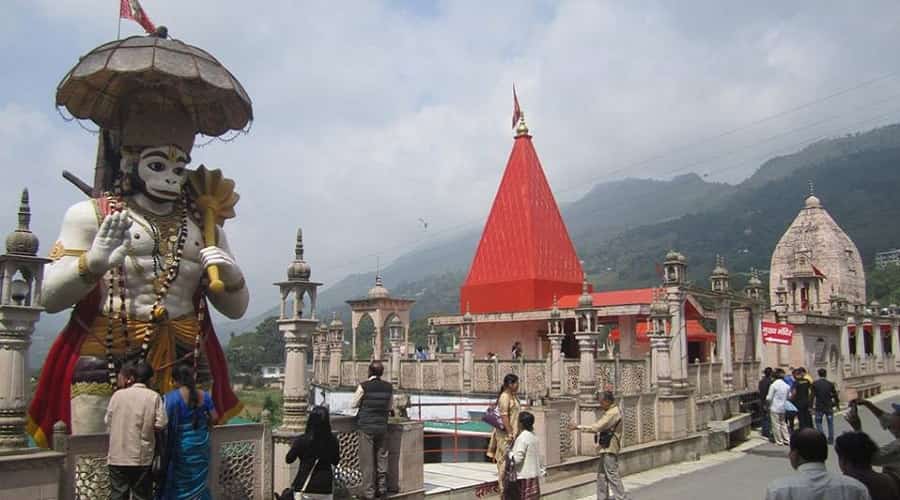 As the name suggests, this holy shrine is dedicated to Lord Hanuman and is located at a massive height of 6,401 feet above sea level among the surrounding scenic beauty. The temple is situated at an approximate distance of 3.5 kms from the main bus stop of Nainital and was built by one of the most significant saints during the 1950s, Neem Karoli Baba. Not only can visitors offer their prayers to the presiding deity but they can also savor the strategic placement of the temple which offers magnificent sunrise and sunset views.
Things to Do – visit Naukuchiatal Lake, Bhimtal lake, Shitala Devi Mandir, Lila Sah Bapu Ashram.
Best Time to Visit – March to June and September to December
Bagnath Temple (Bageshwar)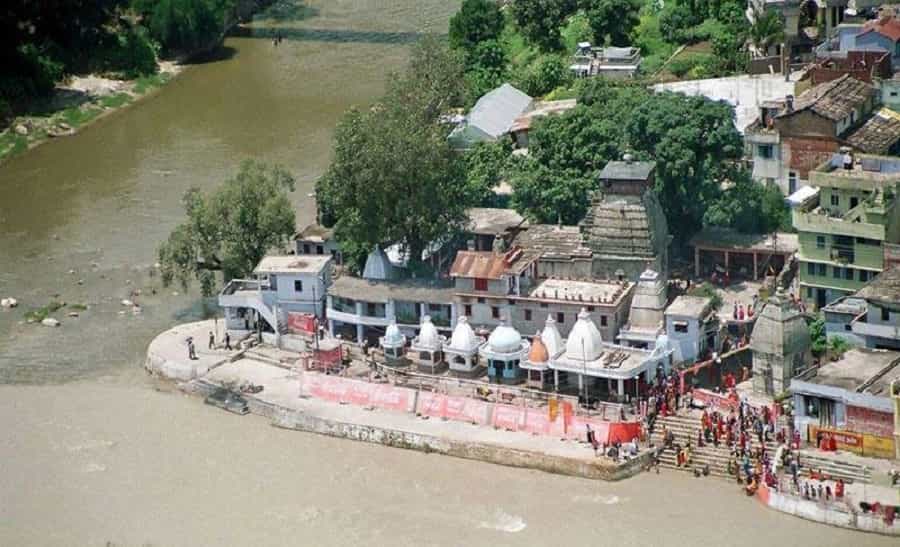 Literally meaning 'tiger lord', this ancient holy temple draws its name from the city it is built in which is Bageshwar. This temple gets flooded with devotees and pilgrims during the extremely holy eve of Shivratri festival. Dedicated to Lord Shiva, this temple is situated strategically at the confluence of Saryu and Gomti River making it extremely sacred and pious. As per Hindu legend, it is believed that sage Markandeya worshipped Lord Shiva and the divine lord also paid him a visit in the form of a tiger.
Things to Do – Visit Chandika Mandir, Swaraj, Gauri Udiyar, Kanda.
Best Time to Visit – December to February
Bineshwar Mahadev Temple (Binsar)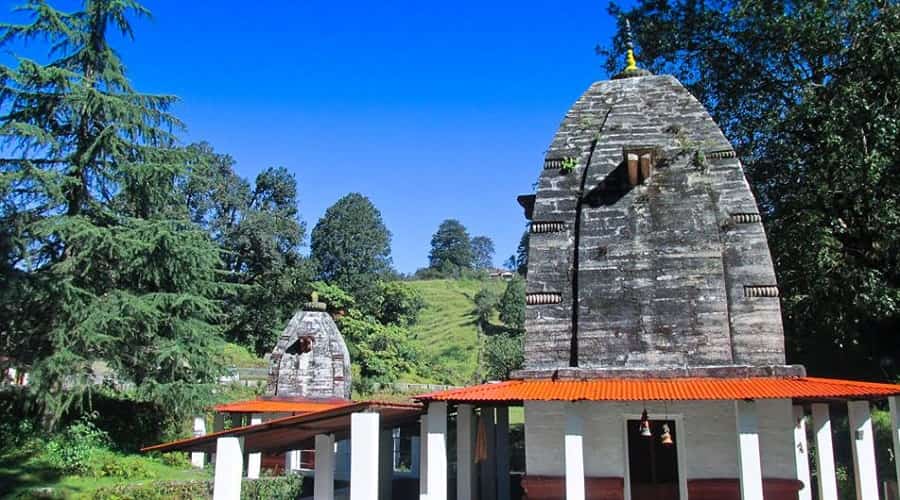 Dedicated to Lord Shiva this 16th century temple is located at one of the most naturally encapsulating place. The presiding deity is that of a Shiv Lingam which was constructed during the Chand dynasty since, Binsar was one of the most sought after summer escape destination for the rulers of Chand dynasty. Apart from its religious significance the temple is also known for its impressive architectural excellence. One can visit this temple on their way to the famous Binsar wildlife sanctuary.
Things to Do – Binsar Wildlife Sanctuary, Gairar Golu Devta, Pariyadeva Pashan.
Best Time to Visit – October and November