Pithoragarh, the easternmost hill district in the state of Uttarakhand, India is fast emerging as a tourist destination due to its beautiful locales and exquisite environs. Pithoragarh district is a part of Kumaon region and is one of its administrative divisions. Lying in the western part of the Soar valley which is also known as 'miniature Kashmir', Pithoragarh shares its border with Tibet in the north and Nepal in the east. The town is located in a small valley in the centre of 4 hills – Chandak, Dhwaj, Thal Kedar and Kumdar, extending to the southern border to Jhula Ghat segregated by river Kali adjacent to the desolate peaks of Nepal hills.
Pithoragarh came into existence in 1960 before it was part of Almora district. Perched at an altitude of 1651 mts, Pithoragarh is known for its immense beauty with snow-capped Himalayas, alpine meadows, carpeted vales, passes and impenetrable woodlands. The northern part of the district is bejeweled by mighty snow capped peaks like Nanda Devi, Trishul, Panchchuli group, Rajrambha and several others. The base of these mountains is decked by delightful views of the glaciers with the important ones being Ralam glacier, Milam glacier, Namik glacier and Sunder Dhunga glaciers.
Mother Nature has munificently bestowed Pithoragarh with beguiling splendor and an affluent combination of topographic features all seem to beckon the beholder into the folds into an enchanting world of virgin beauty. Gushing waterfalls, ostentatious glaciers, natural reservoir enclosed by improbable assortment of flora, tranquil lakes and perennial streams rolling down the meandering courses are all a part of weathered charisma that the region holds to such an overwhelming extent.

History of Pithoragarh
Pithoragarh was under the rule of Pal dynasty during the 14th and the 15th century but later on was conquered by the Chand dynasty in the 16th century. Being the citadel of the Chand dynasty, Pithoragarh town is dotted with several temples and ruined forts belonging to that era. Subsequently, in 1789 the Gorkhas established their control over the region. They built a huge fort in the outskirts of the main town which is known as Pithoragarh fort. Seated on the crown of a hill, it is bit difficult to climb up the fort but worth it for the pictorial sights of Kali Kumaon. Afterwards the region came under British authority that developed it as an army cantonment town and a church & a mission school was also established during that period.
Nearby Tourist Attractions
The hill town of Pithoragarh is replete with places to visit which is extremely breathtaking and enchanting in its own way. It is also home to a number of temples and other places of attractions which displays the unparalleled beauty of this place. Some places of tourist interest in Pithoragarh include – Kapleshwar Mahadev temple, Pithoragarh fort, Gangolihat, Dhwaj temple, Nakuleshwar temple, Thal Kedar temple and Arjuneshwar temple.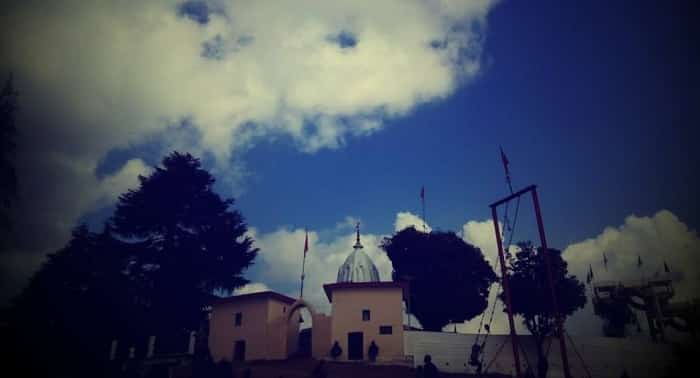 Chandak, located about 8 kms away from Pithoragarh, is a pretty hill from where one can get the best sights of the ice-capped mountains and of the luxuriant meadows of Pithoragarh. A famous temple of Manu is situated just 2 kms away and is highly venerated by the local inhabitants.
Pithoragarh is particularly famous for numerous lakes located around the town- the two most renowned lakes are Jolingkong (4634 mts) and Anchherital (3659 mts).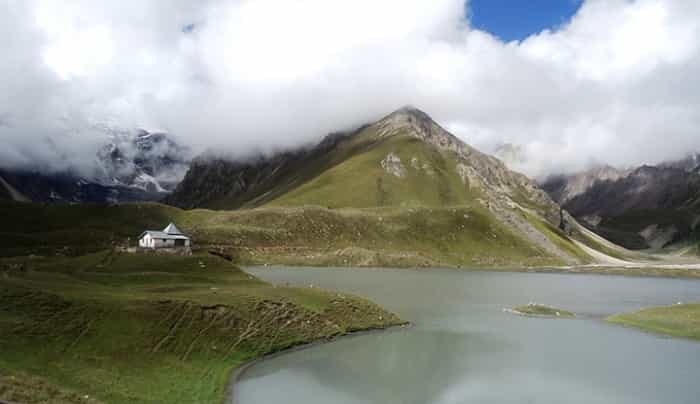 If you are a history lover and want to walk down the lanes of the bygone era, then a trip to Baleshwar is must. Sited about 76 kms away on the Tanakpur road, the place is replete with beautiful temples and forts built by the early Chand rulers in the 8th century.
Pithoragarh also offers ample opportunities for thrill seekers. One can enjoy river rafting, canoeing, trout fishing, skiing, hand gliding and other adventure sports.
Pithoragarh is a must visit place for the nature lovers who just want to drench themselves in the beauty of the place.
Why Visit:
Also known as 'little Kashmir', this place was one of the main centres of power in the Kumaon region during the dynasty of Chand rajas. Pithoragarh can be used as a base for further journey to some of the holy destinations of Kailash and Mansarovar. Other places of interest include – the magnificent Pithoragarh fort and Kapileshwar Mahadev temple which is dedicated to Lord Shiva. This place is also one of the top trekking destinations in Uttarakhand.
Best Time to Visit:
Summer Season (March – June):
The summer months at this hilly escape destination does not experience extremely hot and sweaty weather conditions but the weather is extremely pleasant and ideal for a local sightseeing. The temperature ranges between 7 and 20 degree Celsius making it the perfect getaway destination.
Monsoon Season (July – September):
The monsoon months at Pithoragarh witnesses heavy rainfall and the entire area gets covered in the wet climate. The region becomes prone to unexpected landslides and avalanches and tourism or visiting these places during monsoon weather is not advised.
Winter Season (October – February):
The temperature during these months goes down till freezing points and the region experiences extremely cold and freezing times where the temperature ranges between 0 to -1 degree Celsius but does not go above 14 degree Celsius. Snowfall can be witnessed during the month of January.
How to Reach:
By Air – the closest airport to Pithoragarh is situated at Nainital i.e. Pantnagar airport, which is located at a distance of 241 kms from Pithoragarh. Taxi cabs and services are available from outside the airport. This domestic airport caters to four round of flights per week.
By Railway – the closed railhead to Pithoragarh is situated at a distance of 138 kms in Tanakpur. Buses and cabs are also easily available right outside the railway premises which goes up till Pithoragarh and this station is also connected to a wide network of trains from all over India.
By Road – Pithoragarh has a dense network of roads available connecting to all the major destinations in Uttarakhand. There are bus services available which connect New Delhi to this hill station through a network of highways.
Accommodation:
Pithoragarh is a prominent tourist hub and caters to the needs of every traveler's budget. It has a lot of stars hotels, resorts of magnificence and opulence and also numerous budget friendly and economical stay options. If you are looking for a place to stay in Pithoragarh then there are several options for accommodation available for you to stay at Pithoragarh.
Food Availability:
There is a minimalistic availability of food options and restaurants to select from owing to this quaint town's location. However, some restaurants do serve a multi-cuisine menu while there are also Dhabas and street side joints available for your eating options. The primary choice of food items which dominates most of the menu is Chinese and north Indian. There are restaurants also available inside the hotel which caters to all your needs and offers a range of food items. The prices of these cuisines are not extravagant and are extremely pocket-friendly.