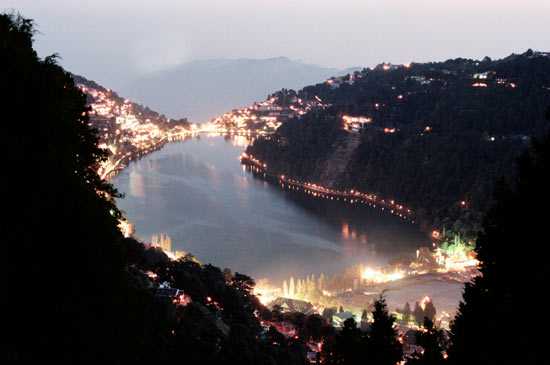 In a contest of hill stations Nainital would win hands down. Located plumb in the Lake District of Kumaon division in Uttarakhand, Nainital sits prettily beside Lake Naini, named after the goddess Nainadevi, with the hills providing a beautiful backdrop to the serene waters and tall pines. It is romantic, alluring and charming.
This enchanting retreat is said to be the creation of a P. Barron, a European who fell in love with the beauty of the place and created here a retreat for Englishmen. Nainital actually consists of two parts: Mallital is area to the north of the Lake and Tallital is the southern portion. Located at a height of about 2084 meters, Nainital leads to gorgeous mountain peaks on the one side, of which the Naina and Depopatha are the most prominent, from where you can have a wonderful view of the landscape. Nainital has religious significance too. It is one of the 64 Shakti Peeths, and, as such, a place of pilgrimage for devout Hindus.
Historical Account
Post the Anglo Nepalese war of 1814 – 1816 the Kumaon hills came under the jurisdiction of the British rule. The town around this Naini Lake was founded in the year 1841 when the first European house was constructed here i.e. the pilgrim lodge by P. Barron who was a sugar trader from Shahjahanpur. As per the writing accounts maintained by Captain Madden of the Bengal artillery, he mentioned that during his visit there in 1846, several settlements had sprung up and dotted the entire hilly landscape of Nainital. One of the earliest buildings to be constructed in Nainital was the church of St. John that was constructed in 1846, and the surrounding areas here was a complete wilderness followed by the construction of Belvedere, Alma lodge and Ashdale cottage in 1860. The place quickly gained popularity due to its refreshing atmosphere and a rejuvenating environment. Very soon it developed into a serene health resort that was mostly favored by the British soldiers and colonial officers. Finally it developed as a summer getaway option for the British.
Mythological Account
The famous tourist attraction of Naini Lake is known for being 1 of the 51 Shakti Peeths in India. The story of this lake is linked to the famous mythology regarding the death of Goddess Sati. It is said that after the passing away of the goddess Lord Shiva carried her mortal remains and reminisced his precious moments with her and he roamed the universe in deep mourning. Lord Vishnu, out of anger, decided to cut up her body into 52 different parts and put an end to the sufferings of the lord. Her eyes are said to have fallen right here which is now known as Naini Lake. Located close to the lake is the famous holy Naini temple where the goddess Shakti is worshipped.
Trekking Activities
Trekking Options in Nainital:
China Peak – Now named as the Naina peak, is one of the most popular treks that people take from Nainital. Situated at a distance of 6 kms from the main town of Nainital, this peak provides some of the most astounding views of the city below. This trail comes under one of the easiest and mild treks which you can cover with your family and loved ones within a joyful 6 to 7 hours.
Snow View Trek – Located at a distance of 3 kms from the main town the snow perspective that greets the trekkers is one of the most stunning. You get complete panoramic views of the surrounding snowcapped Himalayas. A small temple consisting of idols of Lord Ram, Sita, Lakshman and Hanuman is a popular attraction of this trek. This trek requires a little bit of mountaineering expertise and you will need to do some prior planning and equipment or trekking gears.
Tiffin Top Trek – Also known as Dorothy's seat as dedicated to an English woman – Mrs. Kellet Dorothy (who passed away in an air crash on tiffin top). This 3 km of trek takes almost 2 to 3 hours to cover but the resulting view of the lush rolling hill below makes the entire trekking worth it. The entire trail remains covered in colourful and exotic birds like woodpeckers and songbird making your trail extremely fun and vibrant.
Lesser Known Facts About Nainital
The very first myth regarding Nainital is that it was previously known as Tri rishi Sarovar which literally translates into the lake of three sages during the early ages. This lake also found its mention in the Manas Kund of Skanda Purana.
Another myth involves the facts that if anyone is able to view all the 9 corners of the lake in one go, then they are said to achieve their nirvana or salvation however, it also said that nobody else except the locals living there.
Another modern mythology involves about the discovery of Nainital. It is widely known fact that the place was discovered first by Mr. P. Barron. However now people believe that before him another British, Mr. GW Traill, had discovered it but left it thinking that this was a holy place.
Places to See and Things to Do in Nainital
You may want to spend all your time by the enchanting lake or go boating on it. However, there are other attractions. The Nanda Devi Temple is on the northern shore and is a must visit place as are Naina Devi temple and the St. John in the Wilderness church. You cannot miss Snow View on Sher Ka Danda Ridge, offering a splendid view of Naina Devi. Tiffin Top is another attraction on the nearby Aryapatta Hill. Explore the place and you will come upon gurney House, Jim Corbett's home and now a museum, and then go on to Guano Hills covered with forests of deodar and oak. Visit the Nainital Zoo and you get to feed the animals there. The Government House is another place that should be on your itinerary. Then you can go boating on the Naini Lake or shopping in the Mall and Barra Bazar to buy woollens, jams and handicrafts as takeaway souvenirs. If you have time on your hands, explore the caves about 2 km from Mallital or trek to the Naina mountain top. It is a difficult climb but rewarding as you can see the mountains to the north and a beautiful vista in the south.
Shopping Activities
When it comes to shopping for something special or getting yourself a souvenir, Nainital will not come as a disappointment to you. You will be presented with a range of uniquely designed, elaborate candles. If you are a foodie you have the option of indulging in fruit products and items like jams, squashes, pickles, chutneys and more. Being a hill station you can also shop for some warm woollen winter items. One unique item which you should consider buying is the bamboo fabric. The handicrafts items that are uniquely carved out, remarkable piece of art to give whimsical designs are another interesting souvenir to buy.
Hotels In Nainital
Hotels in distant lands resemble your homes in many ways. After a hard day's work, as you long to get back to the warmth of your own hearth, so do the tourists feel after a tiring day of sightseeing. Especially at a place like Nainital where there is so much to see, it is quite evident that the tourists will long to return to the comforts of their spacious suites and snug rooms. After the attentive room service serving them, it is time to head towards the in house restaurant or the dining room to relish a gourmet spread. The day begins afresh at the health club, followed by a complimentary breakfast and getting prepared for a new outdoor tour. All this can be yours and that too at reasonable rates as Nainital boasts of having some of the great and good hotels. Perfectly fitting your budget and at the same time offering you the comforts of home are all the Hotels in Nainital. Check them out and choose which suits your requirements best.
If you want to splurge, then go for Claridges Naini Retreat, Manu Maharani, Arif Castles and Woodside Retreat. Shervani Hilltop Inn, Vikram Vintage Inn, Hotel Alka, The Ramgarh Bungalows, Dynasty Resort and Cedar Lodge are classified as deluxe hotels in Nainital.
Among the budget hotels in Nainital, the good ones are Hotel Krishna, Hotel New Bharat, Sarovar TRH and Mountain Quail. Some of the well-known standard hotels in Nainital include Palace Belvedere, Hotel New Pavilion and Jungle Lore Birding Lodge.
There are a considerable number of private villas in Nainital which are also rented out to the tourists. Perfect for a private holiday, a stay in the Villas will be a new experience.
Getting There
The best time to visit Nainital is in summer when the weather is pleasantly cool. It can snow in winter and it gets cold so moving about becomes a chore. You can get to Nainital by bus from Delhi or from Haldwani. The nearest railway station is Kathgodam, about 35 km to the south and Haldwani. The Ranikhet Express runs daily between Delhi and Kathgodam. Pantnagar is the nearest airport, about 2 km away, should you decide to fly in. You use cycle rickshaws to get around in Nainital.
Food
Apart from hotels ranging from budget to luxury, there are heritage houses and lodges, adventure camps and colonial style cottages where you can stay. Sample the Ras, Baadi, Bhatt ki Churkhani, Aloo ke Gutke and Gulgulas, the local delicacies and come away fulfilled.
You will want to return to this place yet again…..