Kainchi Dham is emerging as a modern pilgrimage destination in Uttarakhand. Kainchi Dham served as the spiritual base for a modern day spiritual Guru called Shri Neem Karoli Baba Maharajji. Even after the Guru's passing away, the ashram and temple he built on the premises is said to reverberate with his essence and goodness. The first thing one would notice upon stepping feet inside the ashram is how spotlessly clean its premises are. The ashram oozes with certain positive vibrations, allegedly characteristic of its founder's presence. The Temple at Kainchi Dham worships Lord Hanuman.
History of Kainchi Dham

The Ashram and temple of Kainchi Dham remained largely away from popular awareness in India. It was only since Steve Jobs revealed of his connection with the ashram that it began to gain popularity and attract myriads of visitors. Neem Karoli Ashram stands as an oasis of silence and serenity on the Nainital- Almora road. The ashram is located at a distance of 38 km from Nainital, the famous hill-station. The spiritual refuge situated in Kumaon hills of Uttarakhand consists of a simple temple devoted to Lord Hanuman. It is said that the spiritual Guru popularly referred to as Maharajji first constructed a platform commemorating the site which was previously used by two other spiritual teachers, namely Sombari Maharaj and Sadhu Premi Babu, to perform yagna in the Kainchi village. Later, a temple devoted to Maharajji's ishta devata Lord Hanuman was constructed over the same raised platform. As devotees started pouring in, kirtans, bhandaras and bhajans began to take place. 15 June began to be celebrated as the Pratishta Divas. Even today, 15 June attracts such a large number of followers to Kainchi dham ashram and temple that it gets cumbersome for the district authorities to regulate traffic in the region. A small ashram also grew up around the temple, serving as the base for devotees and disciples who sought out the blessings of the beloved spiritual teacher. Many well-known spiritual leaders of the west like Ram Dass were disciples of Maharajji and are said to have spent time with the beloved spiritual teacher at this very place. His devotees consider it mandatory to visit the temple at least once in their lifetime.
After the baba passed away in 1973, his disciples and devotees volunteered to construct a temple in his name at the site. The temple bears a kalash containing the ashes of his mortal body and a murti of the spiritual teacher.
The temple precincts also consist of a holy cave that is said to have served as the holy space for prayer and meditation by Neem Karoli Baba Maharajji during his lifetime.
Who is Neem Karoli Baba?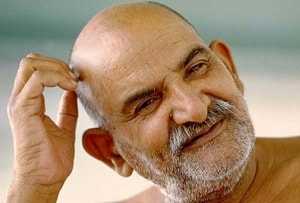 Neem Karoli Baba was an Indian mystic and spiritual teacher who lived between 1900 and 1973. Neem Karoli Baba was born as Lakshmi Narayan Sharma in the village of Akbarpur, Uttar Pradesh. He was an ardent devotee of Lord Hanuman, whose temple he constructed at Kainchi Dham. Many people even consider the spiritual teacher to be an incarnation of Lord Hanuman. Maharajji, a term he is often affectionately referred to as, served as a spiritual teacher for many westerners, the well-known among them being Bhagawan Dass, Ram Dass (of 'Be Here Now' fame), Jai Uttal, Krishna Das and Rampriya Das. Ashrams of Neem Karoli Baba are situated in Shimla, Rishikesh, Vrindavan, and Neeb Karori village, Lucknow, New Delhi, Hanuman Gadi, Bhumiadhar and Taos (USA).
Many anecdotes and stories are said of his life. Let us narrate one such incident. Once he was caught travelling in train without carrying a ticket. The Conductor refused to let the baba travel any further and threw the man out of the train at Neeb Karori village. Something strange happened. The train would not start again. Upon the urging of fellow passengers who insisted that the sadhu be invited back inside the train so that the train would move further, railway officials complied and requested the teacher to board the train. It is said that the baba agreed upon the condition that a railway station be built at the very village of Neeb Karori. Once it was agreed and he entered the train coach, the engine began to move. No wonder, natives in Haridwar called him 'Chamatkari baba' (Chamatkari stands for miracle in the vernacular).  He was also addressed by many other names, Tallaiya baba, Lakshman Das baba, Handi wallah baba and Tikonia walla Baba being some of them.
Neem Karoli Baba taught bhakti yoga and sewa as means to attain self-realization. He inspired the seeds for many philanthropic projects in some of his disciples. After spending time at the ashram in Kainchi dham, Larry Brilliant and Ram Dass founded the Seva Foundation in USA. The organization committed to making the planet free of poverty also works in the health sector. Till now, the organization has helped restore eyesight to more than 3.5 million blind people in the world. Another philanthropic organization built along the foundational teachings of Maharajji 'Love Serve Remember' evolved in the late 2000s.
Steve Jobs and Mark Zuckerberg mention of their visits to Kainchi Dham

The ashram shot to fame after Steve Jobs mentioned of his visit to Kainchi Dham during his pre-glamour days. Apparently, he spent about a year in India seeking some sort of spiritual enlightenment. Although he was eager to have darshan of Neem Karoli Baba, he was met with the disappointing news of his death a few months prior to his visit. His stay at the ashram in Kainchi Dham proved life-changing though. He received a clear vision of his mission ahead in life and later he is said to have advised Mark Zuckerberg to visit the temple at Kainchi Dham while the latter was passing through a rough phase in his life. Surprisingly, even Mark Zuckerberg attributed the reversal of his fortune to his stay at Kainchi Dham. Whether or not the alleged miracles are true, Kainchi Dham established itself as a sought-out pilgrim destination after the incidents came to light.
Annual Fair at Kainchi Dham
The annual fair of Kainchi Dham attracts about 1 lakh devotees from different parts of Uttarakhand and neighboring state. The fair is held on June 15, as an annual commemoration of the founding day of the ashram and Hanuman Temple.
Accommodation near Kainchi Dham
Although the ashram houses facilities for the accommodation of about 60 people, being able to stay inside its premises may prove quite difficult. One needs a letter of introduction and a reference letter from an older devotee to seek permission to stay in its premises. Even then, the maximum allowable stay is only for three days.
One can find accommodation in certain hotels and lodges situated nearby. These include Guru Kripa Guest House, Sudha Amar Retreat Hotel and certain guest houses in Bhowali (8 km away). Due to lack of proper facilities for accommodation, tourists and pilgrims choose to stay at Almora/Nainital.
How to Reach Kainchi Dham
By Rail: Alight on train from New Delhi railway station and drop at Kathgodam. It is about an hour long drive from Kathgodam railway station.
By Road: Kainchi Dham can be easily accessible by road. It is situated about 9 km away from Bhowali, 17 km from Nainital and 317 km from Delhi. From Kathgodam, Kainchi dham is a 45 km drive away while its distance from Lalkuan is nearly 65 km.