Bageshwar is a town located in Bageshwar district in Uttarakhand, at the confluence of Sarju and Gomti Rivers. Its claim to fame is that it is an extremely holy spot for devout Hindus who consider the place to be blessed by Lord Sadashiva. In fact there are quite a few temples in the vicinity, the most well known of which is the Bagnath temple dedicated to Lord Shiva and located in the heart of the town.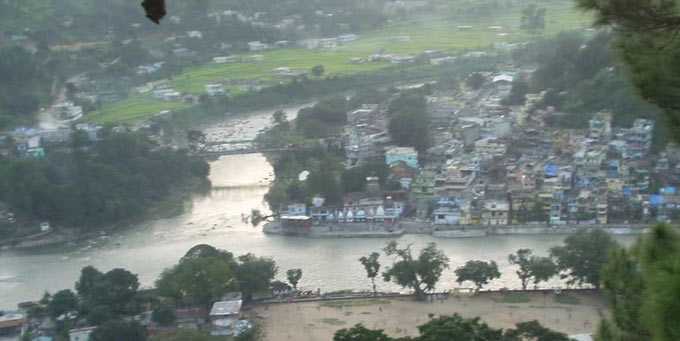 To the north and south lie Suraj Kund and Agni Kund. The holy Nileshwar Mountain is to the west and the Bhileshwar is to the east. In recent times Bageshwar has acquired fame for being the jumping off point for treks to the Pindari and Sundherdhunga glaciers.
Things to Do & Sightseeing Places
The Bagnath Temple is undoubtedly the first place to go to when you are in Bagheshwar. It is at the junction of the two rivers and is dedicated to Lord Shiva. The temple dates back to 1450 AD and at the time of Shivratri, the entire area is flooded with devotees for the festival. In close proximity to the Bagnath Temple you will find Kalika temple, Durga temple Bhairav temple, Vaneshwar temple, Ganganath temple, Hanuman temple and Dattatreya temple.
The Baijnath temple dedicated to Lord Shiva is on the left bank of the Gomti, about 19 kilometers from Bageshwar.
The other temples to visit are Chandika Temple, about a half kilometer away; Sriharu Temple, about 5 kilometers away and Gauri Udiyar, about 8 kilometers away where you will find a cave housing idol of Lord Shiva.
These temples are locations where fairs are held at appropriate times and thousands of devotees from all over India flock to Bageshwar, considered just as holy as Varanasi.
The places you can visit from Bageshwar are Kanda, about 25 kilometers away where you will find an ancient temple of Maa Kali and Pandusthal where the Kauravas and Pandavas waged battle. Vijaynagar, about 30 km away, offers a scenic view of the Himalayas.
For adventure seekers the start of a trek to the Pindari Glacier is at Song, about 36 kilometers from Bagheshwar. From here trekkers can also go on to Sunderdhunga glacier, about 54 kilometers from the base camp at Song. These two treks are quite tough and need you to be in perfect physical condition.
Baijnath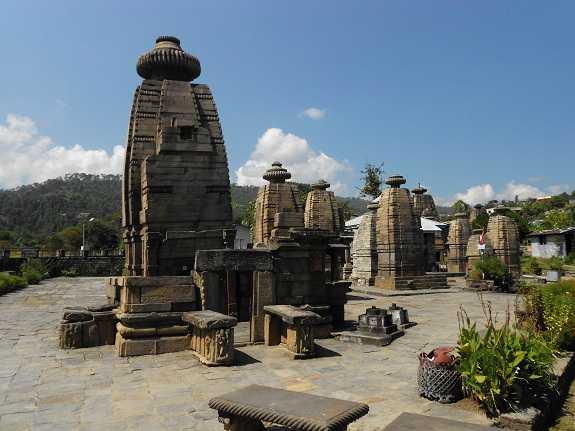 This 12th-century group of ancient temples are tucked away in the scenic village of Baijnath and sits peacefully on the banks of the holy river of Gomti. The history and legacy of the medieval Katyuri kings is showcased brilliantly on the architectural designs that are portrayed on these temple styles. In case you decide on staying at Kausani or Almora then you can pay a visit to this holy temple for a spiritual experience.
Bagnath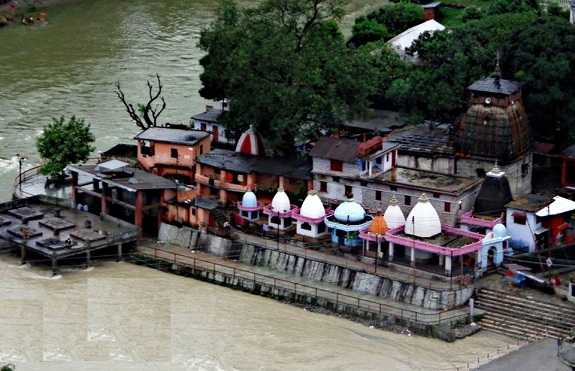 Constructed during the 1450s this temple is located right in the middle of the main town of Bageshwar. The temple derives its name from the incident where the prolific sage Markandeya is said to have been visited by Lord Shiva in the form of a tiger hence the name 'Bagnath'. Every year during the month of 'Shravan' a massive fair is held here which overlooks some breathtaking views of the converging holy rivers of Gomati and Sarayu. People visit this place to offer their prayer to the 'tiger god'.
Gauri Udiyar
Located amongst the lush greenery of the Kumaon region of Uttarakhand, this legendary cave is set at a distance of 8 kms from the main town of Bageshwar and is home to numerous idols dedicated to Lord Shiva. The word 'Udiyar' literally translates into s small rock cave which serves as home to tigers and other wild animals. Not only will you be treated with blissful spirituality but you will also be savoring some incredible views of the surrounding serenity.
Excursion Places Around Bageshwar:
Kanda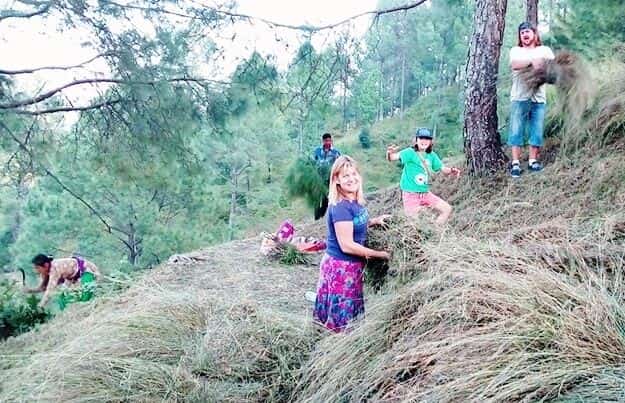 This hamlet represents a cluster of 30 villages and is located at a distance of 85 kms from the bustling town of Almora and 26 kms from Bageshwar en route Pithoragarh. This town holds some historical significance due to the presence of the famous and holy Devi temple which is known as Kalika temple. Not only is this place known for being spiritually active but it is also a haven for people looking to get away from the bustle of the busy city life and spend some time in close proximity to nature.
Vijaypur
Located at a distance of 30 kms from Bageshwar Vijaypur is an idyllic hamlet that offers panoramic views of the surrounding Himalayan peaks. Mostly people make their way to Vijaypur in search of peace, serenity and tranquility. This place is also known for its lush and neat tea gardens which were first established by the British and when Vijaypur was known as Ora. Here you can spot some exotic Himalayan birds and bears along with a mind-boggling collection of flora.
Bigul Village
Located at a comfortable and scenic distance of 32 kms from the main town of Bageshwar this cozy hamlet of Bigul offers some of the most stunning views of the surrounding snow-clad mountain peaks of Nanda Devi and Panchachuli peaks. The village is named after an ancient musical instrument 'bigul' which was used by the British officials to summon the villagers to pay their taxes. Home to the temple of Dhaulinaag this place is a significant place of worship for the locals here.
Trekking Expeditions from Bageshwar:
Sunderdhunga Trek
Literally translating into 'the valley of beautiful stones' and neighbor to the more popular Pindari glacier and Kafni glacier trek this trekking journey is considered to be the most scenic among the three. This trek goes upstream the river Sunderdhunga from Khati to its origin place. The entire trek takes you across thick forest covers, alpine meadows and beautifully strewn rocky surfaces. You will also be witnessing some incredibly picturesque high altitude lakes and waterfalls that will make your trekking trail even more worth it.
Pindari Glacier Trek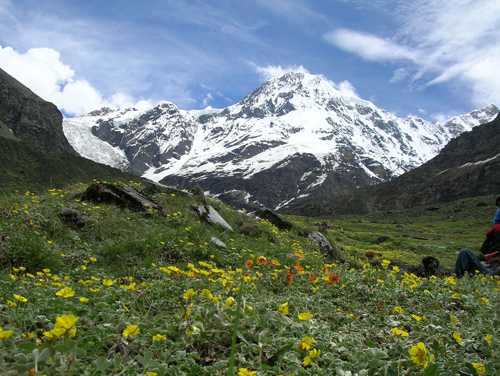 |
Known for being a trekker's paradise this glacier trek which lasts for 5 to 15 days takes you from 15,000 feet above sea level to 16,000 feet. Every campsite during the journey is set in scenic and pristine locations of the Kumaon Himalayan regions. The trail commences from Munsiyari and goes on till Milam glacier, Namik glacier and Nanda Devi national park. This tranquil trek is easily accessible from Almora and is quickly becoming a popular choice among outdoor sports enthusiasts.
Pandusthal Trek
After covering a trekking journey of overall 20 kms you will be reaching this place which is known for offering incredible views of the surrounding Himalayan mountain peaks and is known for being one of the most scenic treks in Uttarakhand. As the name suggests this place is known for being the location where the epic war between the Pandavas and the Kauravas took place. If you are looking for a quick adventure getaway then a visit to this place is advised since it not only offers breathtaking views but it also gives you a hint of adventure.
Fairs and Festivals in Bageshwar
Harela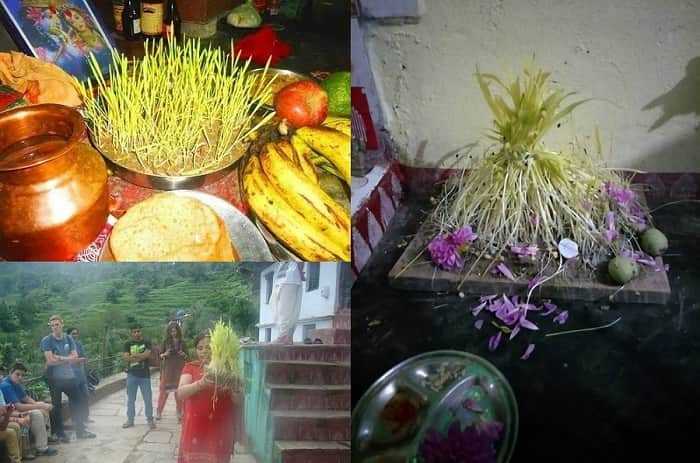 The name literally translates into 'day of green'; this incredibly colorful celebration takes place prior to the summer solstice which takes place during the months of July and August. This is a massive celebration that pans for a duration of 10 to 11 days which marks the sowing season for the crops here. The local people pray for a successful and good harvest season and assure prosperity for themselves. This festival is celebrated to mark the wedding of Lord Shiva and Goddess Parvati, and their clay idols are worshipped during this time.
Vishuvati / Bikhauti
Also termed as Mesh this festival takes place on the day of the solstice and is one of the oldest and significant festivals of Bageshwar. This festival is primarily celebrated by clans of Brahmins, Shilpkars and Kshatriyas. During this festival people prepare special meals of fried items, sweetmeat, betel leaves and more. Apart from the delicious food preparations the happy go lucky native Pahadi folks also indulge in entertainment activities like singing pahadi songs and performing traditional dances. Some fairs are also set up to mark this auspicious occasion like – Dwarahat, Lohakhai and Chaugar.
Ghee Sankranti / Ghee Tyohar (Olgia)
Celebrated in the first day of Bhado that usually takes place in the middle of August and also known as Olgia this festival is celebrated due to its incredible historical relevance. The history of this festival dates back to the times of the Chand rulers who used to be presented with gifts by the locals in the royal court during this day. These offerings and gifts included anything that the people could afford like – flowers, fruits, vegetables, milk, ghee, sweets and others. This festival is believed to have been inspired by the British celebrating Christmas. Nowadays, agriculturists and farmers present their land owners with gifts and presents and receive return gifts or money.
How to Reach
Bageshwar is about 150 kilometers from Nainital and about 470 kilometers from Delhi. You can take a bus direct to Bagheshwar from any of these cities. Pantnagar is the nearest airport, about 180 kilometers away, from where you travel by taxi or by bus. Kathgodam is the nearest railway station, about 160 kilometers away.
Accommodation and Food
Accommodation is available in the form of small to luxury hotels, guest houses and of courses Dharmshalas for pilgrims, offering stay at quite moderate rates. Some temples may offer food but in any case there are restaurants and eating places so that tourists or pilgrims never have to worry about routine fare. Try local dals (lentil) and rice preparations for a change.