Ranikhet, the Queen's Meadow as the translation from Hindi reads, is where Raja Sudhardev won over Queen Padmini and chose this place for her residence. Ranikhet, nestling in the lap of the Himalayas is an army cantonment hill station in Almora district of Uttarakhand. The British fell in love with this place as did Raja Sudhardev at one time, and made it the headquarters for their regiment besides making it a retreat for escape from the oppressive heat of the plains.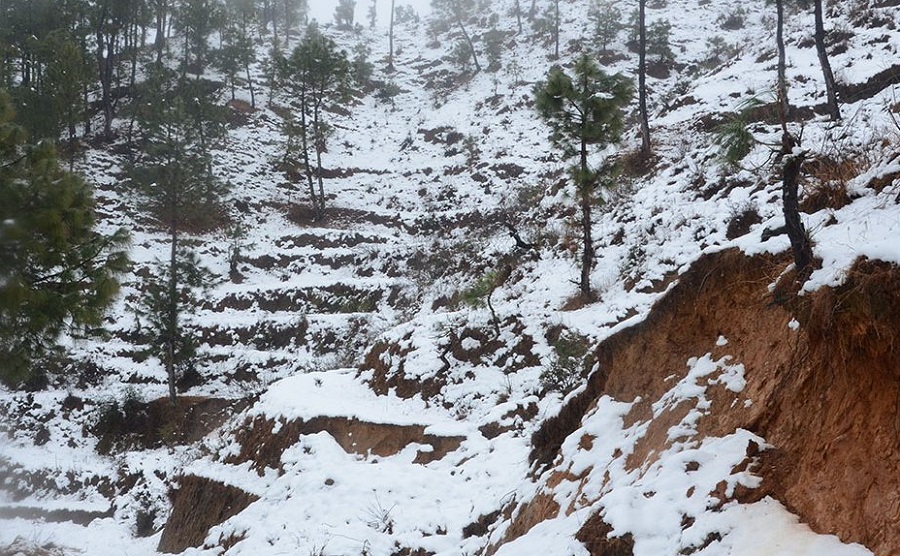 Places to See and Things to Do
Ranikhet itself is a small size town you will love to explore. The chief attraction in this hill station maintained by the army is of course the Army Museum showcasing weapons, flags, LTTE boats and other military memorabilia including those from the Pakistan and China wars.
The Jhula Devi temple is near Chaubatia, about 7 kilometers away. This is a temple, dedicated to Durga Mata and the outstanding feature is the large number of bells adorning the temple walls. Devotees have a unique way of rendering homage: they tie bells to the walls.
Close to the Jhula Devi temple you will find Rama Mandir, dedicated to Lord Rama with its attraction being the rock paintings. The ancient Vedas are taught to modern pupils in peaceful environs.
About 10 kilometers away you will find Chaubatia Gardens, famous for its fruit orchards and home to variety of Himalayan flora and fauna. Linger awhile and buy some honey or fruit juice. Sheetla Khet is another lovely fruit orchard you will come across as you travel from Almora to Ranikhet, a popular camping site and the location of Syahi Devi Mata.
As in other hill stations in Uttarakhand, the main shopping area in Ranikhet is designated as the Mall and you can browse the shops to find some local stuff.
From Ranikhet you can go on to Almora or to Manila. Katarmal, on the way, has one of the few temples dedicated to the Sun God in India. From Almora you can go on to the Binsar bird sanctuary, Jageshwar and Kasauni, another hill station. You will come across Chaukutia, about 50 km from Ranikhet where you will find an old Fort and a temple dedicated to Kali Mata.
Excursions seem to be a must for most tourists but you may want to simply laze about, stroll through the streets and have a relaxing time when you are in Ranikhet. There's paragliding and golf if you are the active type.
Excursion Places:
Manila – Situated at a distance of 87 kms Manila is the seat of Manila Devi Mandir which sits among the magnificent woodlands of the lush surroundings.
Chaubatia – This wonderful hill escape is situated at a distance of 10 km from and is known as the orchard nation which gives stunning views of the surrounding Himalayas.
Almora – known for its panoramic views of the breathtaking surroundings and exuding immense Himalayan beauty, Almora is located at a distance of just 1 hour and 45 mins which makes your visit here absolutely worth it.
Upat Kalika – located at a comfortable distance of 5 kms from Ranikhet and filled with stunning jungles and unparalleled greenery, Upat Kalika can be your next favorite hilly escape.
Flora and Fauna
Situated on a high altitude where the temperature is favorable for a thriving biodiversity Ranikhet is a hotbed for the development of a diversified range of flora and fauna. Replete with lush greenery which works as an attraction for all the birds and animals like Indian hare, red faced monkey, jackal, leopard, mountain goat, red fox and porcupine while the forest cover includes trees of pine, oak and deodar.
Best Time to Visit:
Summer (March – June) – this is the best time to pay a visit to Ranikhet when the temperature ranges between 27 and 10 degree Celsius. If you are looking to beat the summer heat of the plains then heading to Ranikhet is your best option. Do expect some crowd since this is the peak season.
Monsoon (July – August) – the entire area experiences extremely heavy rainfall and the landscape is prone to landslides and avalanches. It is advisable not to travel to Ranikhet during these months since your plans may be hindered.
Winter (September – February) – the winter season in Ranikhet is extremely cold, freezing and chilly. Where the temperature ranges between 15 to -3 degree Celsius. In case you want to avoid the crowd and experience snow then visiting Ranikhet during this time is advised.
Getting There
You can get to Ranikhet from Delhi by bus, a distance of 279 kilometers or a five hour drive at the most through scenic countryside. The train ride from Delhi to Kathgodam by the Ranikhet Express is equally pleasant and you can traverse the remaining 68 kilometers by road. You can fly in to Pantnagar airport, 115 km away, and then take a taxi or bus to this hill station located at a height of about 1800 meters. It is pleasantly cool in summer while it can snow in winter. The best time to visit is during summer months or between September and October when the countryside is a lush green.
Accommodation:
There are a number of stay options available in Ranikhet which ranges from luxury, medium to home stays depending on your budget. Resorts are also available here for a more luxurious experience. These hotels also have restaurants which offer a complete range of different meals options and food items.
Food Availability:
Ranikhet is well equipped with a range of restaurants and cafés which offer a variety of food items like North Indian and Chinese cuisines. Dhabas and food stalls are also made available where you can savor on some of the most delicious locally prepared cuisines. The entire area is also peppered with a number of tea stalls and road side eating joints.