The chosen land of gods, Devbhumi Uttarakhand nestles in her sacred heights and numinous depths a million shrines dedicated to Lord Shiva. In fact, it is a popular saying among natives that every stone in the land is ultimately a Shivlinga in itself. Five sacred shrines of Lord Shiva, those at Kedarnath, Rudranath, Tungnath, Madhyamaheshwar and Kalpeshwar are together called as Panch Kedar. 'Panch' means five while 'Kedar' is a name of the beloved god Shiva.
Most Shiv bhakts i.e. devotees of Lord Shiva look forward to undertaking a pilgrimage to the fived temples of Panch Kedar. It is rare to come across pilgrimages that still share the same tinge of difficulty level as in olden days. Panch Kedar is an exception though. Due to their location in difficult-to-reach locales, a visit to Panch Kedar Temples is not for those who avoid challenges. The journey to the temples cannot be completed solely by vehicles since there aren't motorable roads till their entrance.
It involves a certain amount of trekking as well. Yes, for those who truly want to know the pleasures and perils of being on a true pilgrimage akin to the olden days, in which the challenges of the path are considered as catalysts for one's soul-expansion and greater surrender before the Divine, Panch Kedar pilgrimage is a true blessing.
How did the five temples become associated together as Panch Kedar? One finds answer in the legend of Pandavas as per local myths.
Legend of Panch Kedar Temples
Kurukshetra war was over. The horrors of the bloody battle though lingered in the memories of every survivor. Even after having won the battle and their rightful share of inherited kingdom, Pandavas found their hearts weighed heavily under the burden of having killed most of their family members, friends and teachers. They sought the mercy of Lord Shiva to be freed of their karmic remnants of having participated in the war. Lord Shiva, though, was in no mood to listen to their pleas, and hid himself from the brothers in the disguise of a bull. Well, the Lord couldn't remain elusive to his devotees for long. Suspecting some anomaly, Bhim chased the bull and caught hold of his hind legs. The bull dived into the ground leaving its hump above the surface. It is said that different body parts of the bull appeared above the ground on different regions of Garhwal Himalayas. A temple was erected at each of these sacred spots where Lord revealed parts of his corporeal form as bull by Pandava brothers. Lord Shiva is known for how easily he gets pleased. To Pandavas, he was no different. Pleased by their sincere atonement, he blessed them with his forgiveness.
Kedarnath Temple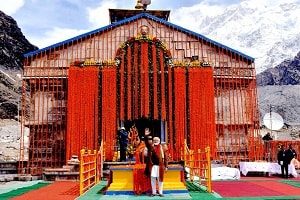 The prime among all Panch Kedar Temples, Kedarnath temple is also counted one among the jyotirlingas. Though Shivlingas are said to contain Lord Shiva's essence beautifully, a Jyotirlinga is considered an even more focalized embodiment of Shiva's energy. There are only twelve Jyotirlingas in the world, and visiting each of them is considered to be a matter of great spiritual significance. The beautiful temple of Kedarnath, located at an altitude of 3,583 m, is located quite near Mandakini River.
Located in the picturesque Himalayan landscape of Rudraprayag district in Uttarakhand, Kedarnath is unique for its conically shaped Shivling. This is attributed to it being the remnant of the hump of bull whose form Lord Shiva took. One of the major rituals of Kedarnath is the Abhishekam of ghee done on the Shivlinga. It is said the ritual can be traced to Bhim massaging the injured bull's hump with ghee upon realizing its true identity. The beautiful stone edifice of the temple built of grey stone slabs can be reached only after an 18-19 km trek from Gaurikund. Adi Shankaracharya is credited with the enshrinement of the present temple. It is heart-touching to witness the hundred pilgrims on their journey to have darshan of Kedarnath braving the trials of the trek with chants of heartfelt Om Namah Shivayah upon their lips.
Tungnath Temple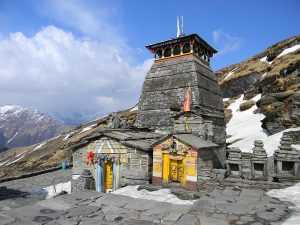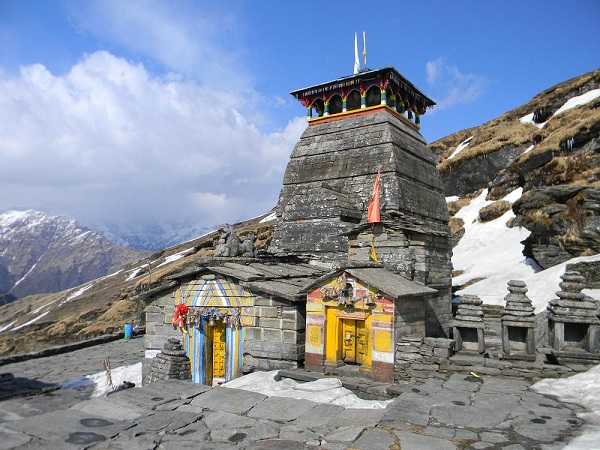 Perhaps the highest of all Shiva Temples in the whole world, Tungnath name literally translates to 'Lord of the Peaks'. It is situated at a whopping altitude of 3,680 m. The 5000-year-old temple can only be accessed after a trek of 4 km from Chopta. It is said that it is at the sacred spot of the temple that the limbs of the bull emerged. Beautifully located between the waters of Alaknanda River and Mandakini River, three springs that merge to form Akashkamini River originate from Tungnath Peak. Since the temple is a mere 2 Km distant from Chandrashila peak, it forms an integral stopover for those on Chandrashila trek. Words fail to describe the mesmerizing beauty of the mountainous trail from Chopta till Tungnath Temple.
Rudranath Temple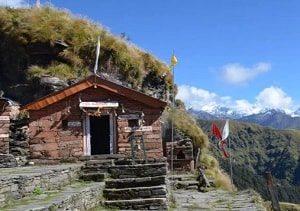 The beautiful natural rock Temple of Rudranath marks the site at which the face of the bull-rupi Shiva emerged, who is worshipped as 'Neelkanth Mahadev' in here. Set amidst the picturesque backdrop of Rhododendron forests and alpine meadows, Rudranath temple is situated at an altitude of 3600 m above sea level. The river 'Vaitarani' flows nearby. It is believed that the river symbolizes its mystical counterpart in the afterworld whose waters the deceased souls need to cross before entering the realms of the other world. This must be why the site is considered ideal for performing the rituals of one's deceased kith and kin. Rudranath Temple is perhaps the most difficult to reach amongst all the Panch Kedar temples. The average length of the many trek-routes available till Rudranath Temple exceeds over 20 km. The temple and its scenic environ is a true paradise for those who seek silence and solitude. It is believed that Vandevi (Goddess of Forests) protects the region. Some of the peaks visible from the region include Hathi Parbat, Nanda Ghunti, Trishul, Nanda Devi and Devasthan.
Madhyamaheshwar Temple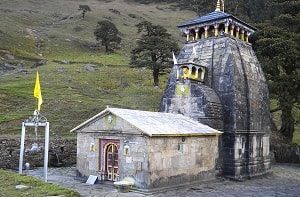 Mansoona Village in Garhwal Himalayas marks the site of the temple of Madhyameshwar, wherein the navel part of Lord Shiva appeared. Situated at a height of 3289 m above sea level, this temple can be reached only after trekking for about 19 km from Ukhimath. One can enjoy spectacular views of peaks of Chaukhamba, Kedarnath and Neelkanth from here. The temple constructed in typical north Indian architectural style is situated in lush green meadows. The temple of Madhmaheswar also has shrines dedicated to his divine consort Goddess Parvati, Ardhanarishvara and Maa Saraswati. Much holiness is attributed to water found in the temple precincts, mere few drops are considered sacred enough for ablution.
Kalpeshwar Temple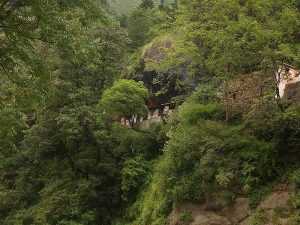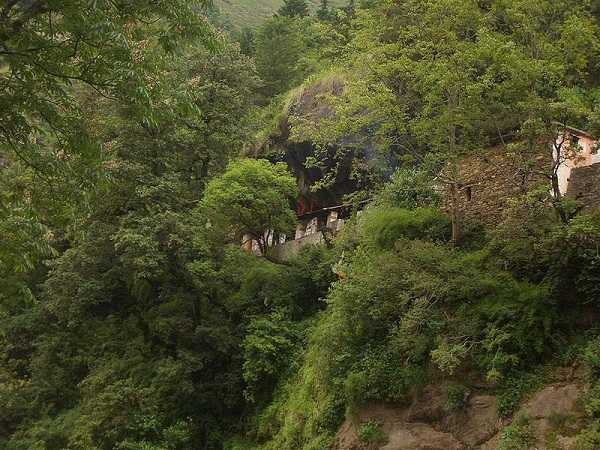 The beautiful Urgam valley of Garhwal in Uttarakhand houses the temple of Kalpeshwar. As per legends, the matted locks (hair) of Lord Shiva appeared at its sacred spot upon which the temple of Kalpeshwar is built. Located at an altitude of 2,200 m above sea level, Kalpeshwar can be accessed after trekking for about 3.5 km from Lyari village. The trek extended for over 12 km in the past. Lord Shiva is worshipped as Jatadhari/Jateswar in this holy site.
Panch Kedar Trekking Routes
How to Trek till Kedarnath Temple: The trek till Kedarnath Temple begins from Gaurikund. It is a 19 km uphill trek from Gaurikund. The trek can be finished in 6-7 hours.
How to Trek till Tungnath Temple: The trek till Tungnath temple begins from Chopta. The 4 km moderate trek offers the most beautiful of Himalayan scenery. If one is fit enough, it can be finished 3-4 hours.
How to Trek till Rudranath Temple: There are many trek routes till Rudranath Temple, most of which start from Gopeshwar village. A 5 km travel via road till Sagar Village followed by a 20 km trek is usually employed. A 3 km lengthy travel till Gangolgaon followed by 17 km uphill trek is another. Yet another route from Gopeshwar is a 13 km route till Mandal, followed by 6 km long route till Anasuya Devi temple and another 20 km to reach Rudranath shrine. There are also trekking routes from Joshimath (45 km) and Kalpeshwar as well.
How to Trek till Madhyamaheshwar Temple: The trek till Madhyamaheshwar of Panch Kedar Temples begins from Uniana, 18 km away from Ukhimath. There is provision for accommodation after trekking for 3 km at Ransi village, and at Gaundhar village after further trek of 6 km. Witness the beautiful merger of Matsyendra Ganga and Madhyamaheshwar rivers at Bantoli, 1 km further in the trek. The further 9 km trek-route from Bantoli is more difficult. Overall, it is a 19 km long trek.
How to Trek till Kalpeshwar Temple: The trek-route used to be over 10 km long. But construction of motorable road till Urgam village has considerably reduced the length of the trek. It is a mere 2-3 km long trek route and can be easily traversed.
Best Time to Visit Panch Kedar
Panch Kedar Temples except for Kalpeshwar Temple are inaccessible during winter. The idols are moved to their winter abodes during the chilly winter months. Gopinath Temple, Gopeshwar is the winter abode of the deity of Rudranath. Omkareshwar Temple in Ukhimath servers as the winter abode of idols from Kedarnath, Tungnath and Madhyamaheshwar. Kalpeshwar temple is open for darshan throughout the year.
Thus, the best time to visit Panch Kedar Temples is during summer months. Choose either the pre-monsoon months of May-June or the post-monsoon months September-October.
Attractions/Things to do in Panch Kedar Route
Pilgrimage to Panch Kedar temples also lets one enjoy the challenges and joys of trekking. One gets to immerse in the serenity and silence evoked by the beautiful scenic locales as well.
While on pilgrimage till Kedarnath, do visit Bhairav Mandir located about 1 km away. The aerial view of the Kedarnath valley which one receives from the mount on which the temple is situated is spellbinding.
If you are a trek enthusiast, do climb further after reaching Tungnath temple to reach the zenith of Chandrashila peak. The spectacular views of the mighty Himalayas the vantage point at Chandrashila offers is mesmerizingly beautiful.
If one chooses for a longer trek-route of 24 km from Gopeshwar, one can also visit Anasuya Devi Temple along the way.
Along the way to Madhyamaheshwar from Guptkashi, one ought to pay visit at the famous Sidhpeeth of Kalimath. Kalimath is a very spiritually potent Shakti shrine dedicated to Maa Kali. Along with Kali, Mahalakshmi and Maha Saraswati are worshipped as well.
Dhyan Badri Temple is situated in Urgam valley, from where the trek to Kalpeshwar temple begins. So remember to pay visit at the Vaishnavite temple as well.
Climate
Panch Kedar Temples, due to their location in remote Himalayan terrains, experience the best weather during summer months. As is true of most such temples, monsoons make their train susceptible to landslides. Winters are so chilly that human inhabitation is almost impossible. Thus most shrines are closed during winter, and their idols shifted to the respective winter abodes.
How to Reach
Jolly Grant Airport in Dehradun is the nearest airport. If you choose to travel by rail, board at the railway station at Rishikesh which is the closest railways ought to get you for Panch Kedar temples.
The rest of the journey till the corresponding base-camps needs to be traversed by road.
For Kedarnath: One can easily find buses from Delhi to Haridwar. One can travel to Kedarnath by road from Delhi/Haridwar/Rishikesh. The road till Gaurikund from Rishikesh is open only between 4 am – 8 pm. Buses start towards Gaurikund from Haridwar every morning. It is 240 km long route till Gaurikund.
For Tungnath: Chopta can be easily accessed from most places in Uttarakhand. Chopta is hardly 5 hour drive from Rishikesh (164 km).
For Rudranath: Gopeshwar, the starting point for trek till Rudranath is a 7 hour long drive on NH 7 from Haridwar (231 km).
For Kalpeshwar: Drive from Rishikesh till Urgam to travel till Kalpeshwar. It is 253 km drive on Rishikesh- Badrinath road.
For Madhmaheswar: Ukhimath can be reached after a 6.5 hour journey from Haridwar (202 km). Uniana, the starting point of the trek till Madhmaheswar is another 18 km road journey.
Accommodation for Panch Kedar Temples
One can easily find provision for accommodation near the starting points of the trek. Here's a list of information on accommodation.
Accommodation near Kedarnath: Provision for basic accommodation in the form of camp tents exist near Kedarnath temple. But, one can find only good accommodation facilities downhill. People tend to stay at Guptkashi, Sitapur etc.
Accommodation near Tungnath: One can stay in village houses in Chopta for trekking till Tungnath Temple.
Accommodation near Rudranath: Some basic facility for accommodation exists near Panar and the temple premises. One might also pitch in one's own tent.
Accommodation near Kalpeshwar: You can stay at homestay accommodation at Devgram or Kalpeshwar. Alternatively, one can set up tents as well.
Accommodation near Madhmaheswar: Along the trek-route, one can stay at Ransi village which is 3 km into the trek. Also, Gaundhar, which comes after 6 km from Uniana (trek starting point), offers 3 lodges for accommodation. You might have to rely on tents if you wish to stay at any place in the rest of the 13 km long trek route.
Things to Carry for Panch Kedar Trek
Some of the things you ought to carry while on Panch Kedar trek includes:
First aid, Medication for common ailments
A map containing clear route-map of the trek
Extra pair of trekking-friendly shoes
Sunscreen, Moisturizers, Skin-care creams
Torch lights, Extra batteries
Woolen clothes
Also, remember to keep your luggage to a minimum. Happy trekking till Panch Kedar temples!