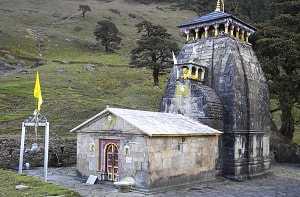 Madmaheswar, an important site in the Panch Kedar Pilgrimage circuit is flocked by thousands of Pilgrims each day. Pilgrims gather at the temple to pay tribute to Lord Shiva and seek His blessings. If you too wish to set out on your trip to Madmaheshwar temple, this travel guide below will help you a lot.
The ancient stone edifice stands tall amidst the scenic backdrop of snow capped blue Himalayas, surrounded by verdant meads and lush green woods. The cool ambience is steeped with the chirping of the birds hiding in woods, fragrant breeze and sun-washed dale. This shrine of Lord Shiva is second of the Five Holy Places of Shiva or Panch Kedars. Madmaheshwar is also called as Madhya Maheshwar or Madhmaheshwar. Situated high up at an elevation of 3,265 m above sea level, it remains inaccessible during the winters.
Importance
It is an important pilgrimage site as it is one of the Panch Kedars and is a part of Pach Kedar pilgrimage circuit. Of the other four, Kedarnath, Tungnath and Rudranath should be paid a visit before Madmaheshwar. Kalpeshwar should be the last site to be paid visit. At these five holy places Lord Shiva appeared in his original form. According to mythical accounts, the bull's hump fell at Kedarnath, the arms at Tunganath, face at Rudranath, navel at Madhmaheshwar and the hair-locks at Kalpeshwar.
Legend
Madmaheshwar shrine has various legends and myths surrounding it. One such refers to the times of Mahabharata era. After the Kurukhestra War, where Pandavas were themselves responsible for killing their own kith and kin, they decided to go for pilgrimage to wash away their sins. Advised by Krishna, they went to have a visit of Lord Shiva. But, he was so irate and annoyed with the conduct of Pandavas in the war he decided not to meet them. But, seeing them search and appeal fervently, Lord Shiva appeared in the form of a ferocious bull to scare them off. Bheema, the strongest Pandava, felt that the bull is no ordinary one. So, instead of fleeing, he chased the bull. With full might, he captured the bull from the back, but finding a crevice by the side, the bull pushed its head inside. But, Bheema being strong enough and his strong backward pull scattered the beast into five parts, and gave rise to Panch Kedars. It is said that the navel of the bull fell here. The Shivling inside the sanctum sanctorum is shaped like a navel and hence christened as Madhya Maheshwar. Alternately, the locals also believe the Lord is a drunkard and affectionately is also called as Madmaheshwar.
Visiting Places:
Ukhimath
Omkareshwar Temple at Ukhimath houses the Panch Kedar deities during the freezing winters when the shrines remain closed. The holy idols arrive in palanquins amidst chanting of sacred hymns and celebrations. It is interesting to note that the locals take the images of deities for a few days to honour and please them.
Buda Madmaheshwar
A steep trek of 2 km will reach a quaint shrine of Buda Madhyamaheshwar. Also called as Vriddh Madhyamaheshwar, it is an older temple and overlooks Chaukhamba Peaks. The antique shrine is just a pile of stones but provides splendid panoramic views of Kedarnath, Neelkanth, Trishul, Kamet, Panchulli, Chaukhamba (four pillars) when one reaches a small lake close by the temple.
Kanchani Tal
If you are an avid trekker, you may consider a trek to Kanchani Tal. It is a 6 km trek from Madmaheshwar. But, the trek is considered tough even by experienced trekkers.
Activities
It is a paradise for trekkers and hikers. Pilgrimage is also an important activity here. The remaining four Kedars also provide pilgrimage as well as beautiful treks through the beautiful meads and mountains. The picturesque scenic galore attracts numerous tourists around the world and the place offers numerous trekking routes.
Pilgrimage – Madhyamaheshwar is one of the most sacred Hindu shrines since it is a crucial part of the Panch Kedar Yatra and numerous pilgrims visit this place with an aim of seeking blessings from the presiding deity there i.e. Lord Shiva. This pilgrimage takes place every year
Trekking – The last motorable road leading up to this pristine location among the hills is at Ukhimath which is situated at a distance of 16 kms. People are expected to trek their way up to the temple which involves going through some of the most awe inspiring and breathtaking sights.
Camping – Trekkers and people interested in spending time among nature, have the option of setting up a camp on the lush green meadows. There are no hotels or resorts of any sort available at the gorgeous hamlet of Madhyamaheshwar.
Best Time to Visit
Summer Season (April to August) – the climatic conditions during this time remains moderate, pleasant and extremely comfortable for visitation. The overall average temperature remains at a 15 degree Celsius. This time of the year is considered to be extremely ideal for a sightseeing tour. You will also be free to visit some of the major nearby tourist attractions.
Monsoon season (September to November) – the region experiences mild to scanty rainfall during this time. If you are looking to get away from the city life and savor some of the breathtaking views among the hills and clearly visible snow clad mountain ranges. You will be guaranteed sites for some of the most panoramic views.
Winter season (December to March) – winter months in this season witnesses chilly cold weather and the temperature drops till sub-zero levels with the average temperature being 4 degree Celsius. Snowfall is also a common occurrence during the winter months.
Accommodation
There are not much choices regarding accommodation. Only accommodation available at this remote part is home stay. The people here are helpful, warm and honest. The lodging is obviously not luxurious but comfy. The food is homely, hygienic and fresh. In short, accommodation is not much an issue. Alternately, the trekkers carry their own tents too. At places like Ransi, Gaundar, Bantoli which falls on the trekking path, there are also accommodations available.