One of our guests Miss Anupama, 45 who travelled with us for Chardham Yatra has agreed to share an account of her experience of Chardham Yatra. Read on to find out more from her diary entries + beautiful descriptions.
Day 01: Home – Delhi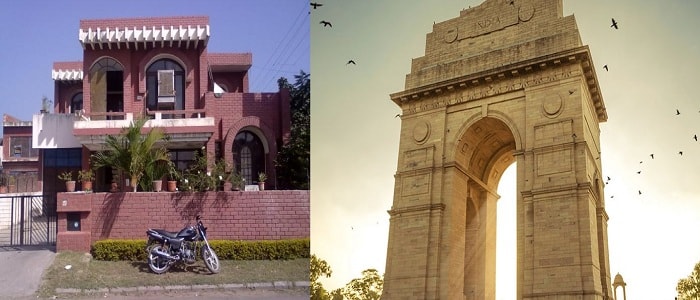 It was a typical summer afternoon in Delhi. The heat. The never-ending hullaballoo of vehicles. The hundred thoughts racing in my mind. If not for the possibilities and promises of the pilgrimage that laid ahead, I would have written off the day as being 'just another'. But there I was to embark on, perhaps the most iconic of all journeys I had ever been on in this mortal life- Chardham yatra. I vividly remember the first time I heard of the pilgrimage. I was in my twenties. I had accidently stumbled across an article on the four pilgrimage shrines in Himalayas, and felt compelled to read. Interesting. Maybe someday. Well twenty-five years and too many life-lessons after, here I am finally embarking on the journey.
Delhi is always on my radar. I find myself being drawn to the city many times a year for the myriad demands of work and life. I chose to come a week before the pilgrimage starts so as to simply wait around in my friend's home, and give time for the hundred anticipations that spring up before any trip to bloom wider.
Well, I arrived at New Delhi Railway station to begin the journey. There I was welcomed along with many others warmly by the staff of ChardhamTour.in. My fellow passengers came from the different corners of the country. Many had arrived at Delhi the same day. For some, this was their first time in Delhi. I immediately built rapport with a Tamilian family. They were two sisters accompanied with one of their sons. We struck up a conversation talking about the weather. Then, saris. Then, on how difficult we find it to operate our smartphones. Many hours later, we were still talking.
ChardhamTour.in Manager was accompanying our cohort. He seemed like a very pleasant and helpful person. From the railway station, we were taken to a certain Hanuman Mandir. Apparently, Lord Hanuman is evoked as the guardian deity. May we all enjoy a spiritually fruitful trip! By now, the reality that the journey had already begun began to dawn upon me. Although, I had been preparing for this for over 5-6 months, I found my heartbeats rising. I had come so far into the unknown. I couldn't return now. The sense of security of being part of a larger group helped me. Suddenly, Usha (one of the women I referred to earlier, the other sister being Nisha. Yes, I know!) Placed her hand upon my shoulders. The comfort of human touch while fear is tightening its grip on your body! I closed my eyes and offered the entire trip to God. May everything happen as per the Divine will! Amidst the beautiful bhajan playing in the background, a huge burden was lifted off from my body as my fears melted into trust. Trust in the unknown. Trust in Divine Grace. Trust in the mere act of trusting a Force higher than me, my fears. Simple trust in God.
The next day would take us to Rishikesh.
Day 02: Rishikesh – Barkot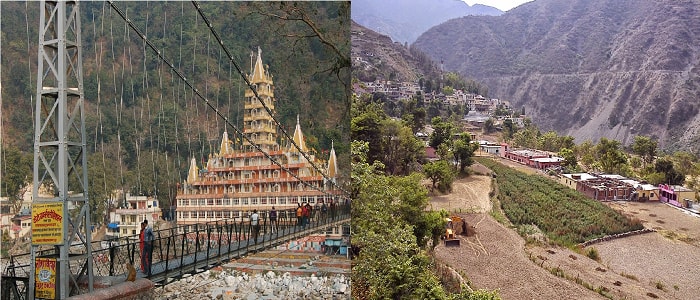 We reached Rishikesh quite early in the morning. Much before the city is taken over by its characteristic throngs. Our tour guide informed us that we would leave towards Barkot only in the afternoon. That leaves half a day free for exploration of Rishikesh! I had been to Rishikesh before, so I knew what to expect. One of the pleasures of travelling with a group is that everything takes on a different tone, it's like the characters of the group lets us see the place through new eyes again. We went through the iconic sites in Rishikesh- Laxman Jhula, Ram Jhula. Also, we managed to click quite a few pics with cows! We left Rishikesh after having a very sumptuous meal. Ain't I glad that I went with ChardhamTour.in? The cook travels with us, letting us all enjoy delicious South Indian meals. By afternoon, we were on the road again. We stopped at Kempty Falls in between. The very sight of such pristine water refreshed my senses. I didn't feel like getting wet though, I was content to let the music of the water lull awake my senses. Further drive to Barkot resumed peacefully. There's something about the zigzag mountainous paths that enchant human hearts, maybe it reminds us of the trajectories of life that are never straight. I slept like a baby upon reaching hotel Samrat in Barkot. I knew a very arduous day laid ahead.
Day 03: Barkot – Janki Chatti – Yamunotri – Barkot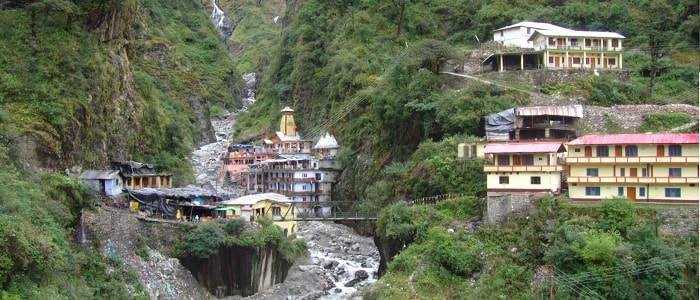 What a day! Today I tasted what it feels like to be on a real pilgrimage. Like in the old days. When one's body embraced the perils of the journey as a mark of offering before the deity. I woke up well before 4.00 am. May be the anticipation of the day didn't let me sleep further. We were dropped till Janki Chatti by motor vehicle in the morning. The rest of the journey was to be traversed via trekking. By now, I have become friends with quite many in the group. Mr. Nagarjuna and his wife is such a jovial couple! Their never-ending jokes kept me laughing throughout the trek. It is beautiful to witness people grow fonder of each other as time passes; they were a couple who truly loved each other. Unlike many others, we decided to walk uphill. One could hire a pony or palki to ease the difficulties of the uphill trek. I felt quite afraid on my way up many a time, the trail is made on a steep gradient. It took us 4.5 hours to actually reach the temple premises. The first 2-3 kms wasn't that difficult to climb, it's the second half of the trail that was actually challenging. The climb gets steeper, and the road seemed too narrow. I was afraid people might bump into each other and fall off! Of course, that was just my mind creating panicky stories. How glad was I to share company with Nagarjuna family. But I must admit one thing, the sights of gushing waterfalls and the sound of Yamuna streaming down as we got closer to the temple made it seem like I was part of a nature adventure film!
There are two idols of River goddesses in the temple. The black one represented Yamuna Maa, while the white one stood for Maa Ganga. There's also an idol for Hanuman Ji at the temple. After circumambulating the idols three times, we went to get the Prasadam of boiled potatoes from Surya Kund. It amazes me to think such hot water springs from underneath earth in such a cold environ. The Prasadam is prepared by boiling the potatoes wrapped in muslin cloth.
I didn't want to enter the cold water of Yamuna. It filled my heart with joy as well as grief to witness Yamuna at the site of her origin. The Yamuna at Yamunotri was so pristinely pure; the Yamuna one is accustomed to see in Delhi is equivalent to a drain. I came across a few instances of human negligence even at Yamunotri. What good is worshipping the River as Goddess in temple when we can't actually honour her actual waters and surroundings?
I really enjoyed the walk downhill. My fears had eased their hold over me. I was at leisure to enjoy the scenic beauty of the mountains. Suddenly a thought emerged in my mind which pulled me further into a state of presence. That I might never walk this way ever again. How short is this mortal life! How few our journeys! How fewer do we remember to truly be present to Life just as it is.
I dozed off on our way back. My body really needed rest. I retired for an early sleep.
Day 04: Barkot – Uttarkashi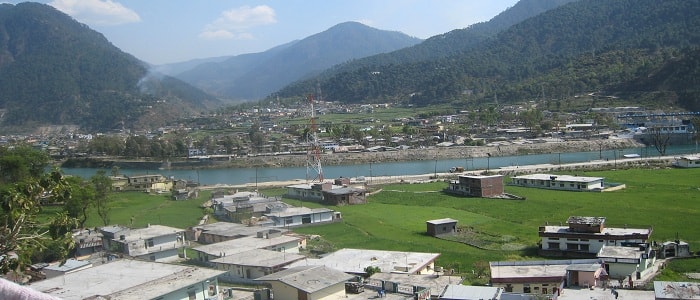 Well, there's hardly anything which a good sleep doesn't cure. But my legs still ached a bit in the morning. Thankfully, I carried a bottle of Arnica with me. I knew one or two doses of the medicine would relieve me of all pains and aches. Today we were taken to Uttarkashi hotel, one named Hotel Bhagirathi. I loved the room I was allotted to, with its beautiful scenery outside my window. I didn't join in for most of the sightseeing scheduled for the day. I needed a quiet day for rejuvenation. I was seized with a sudden urge to go visit the Kashi Vishwanath Temple by the evening though. How can I come this far and miss visiting the Shiva temple. Well, the temple was every bit as sacred as one would expect of its very name. So was the Shakti Temple with its huge trident! The Trishul venerated as the embodiment of Shakti is truly massive. I was seized with a sudden gusto of awe for the Divine Mother. After all, everything is Mother's play. This whole world of Maya, the force that entraps us in its entanglements, the Grace that can free us from the same.
Back in the hotel, I dreamt of Mother. I woke up with a certain sense of having been embraced by Her. I couldn't help but sob, it felt as if I am shedding grief I didn't know I had been holding on for many decades.
Day 05: Uttarkashi – Gangotri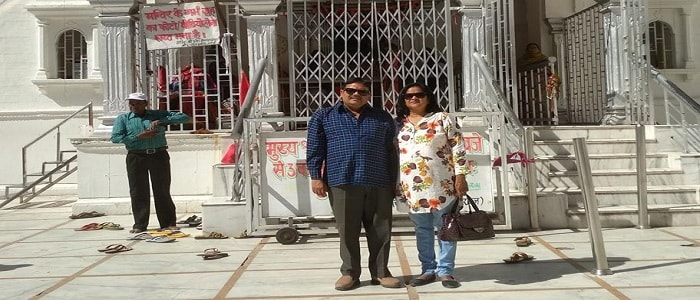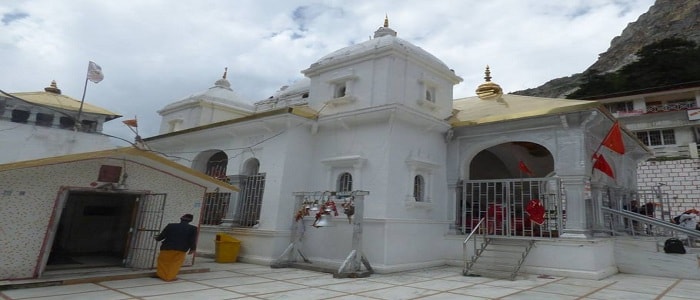 Wow! Just wow! How can one describe the marvellous scenic beauty that awaits one on the path to Gangotri shrine! Never before had I ever come across anywhere as beautiful as the places we drove past on this day. I don't recollect all the place names, Sukhi Top, Harsil being two of them. They say some famous Bollywood movie was shot in Harsil. We drove past many idyllic apple orchards. We must have climbed up and down over four mountains on the journey.
Gangotri darshan was as easy as Yamunotri was difficult. Although my body no longer ached, how glad was I that the darshan involved no trekking! The iridescent Gangotri temple appeared every bit as serene as the holy Ganges herself. There are idols of Lord Shiva, Lord Ganesha, Lord Hanuman and even King Bhagirath inside the temple premises.
I resolved in my mind to return once again to Gangotri. I want to go to till Gaumukh glacier and see the actual physical origin of Bhagirathi stream. The very thought fills my heart with such warmth; I knew I would return soon.
Day 06: Srinagar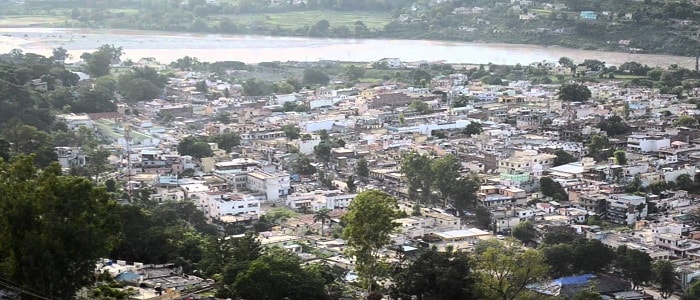 Our Tour manager informed us that we will be taken to Srinagar the next day. At first, I was confused. Why would we go to Srinagar in Jammu and Kashmir while on a pilgrimage in Devbhoomi? He clarified that this particular Srinagar was in Uttarakhand.
I really enjoyed the bus ride today. Few of us sang, some ever tried a hand at dancing. But thanks to the meandering mountain trails, they resigned themselves to mere clapping of hands. I didn't know Usha sang so beautifully. I almost had tears in her eyes listening to her. A very familiar ache resonated in her voice, I felt so much closer to her. I knew I had met a friend for life.
They halted us at Tehri dam en route. Everyone went crazy clicking a hundred pictures. I wasn't in the mood for photography. I just let my eyes soak in nature's divine beauty.  A few poems knocked at the veils of my consciousness. I needed to pen it down before they disappeared into the thin mist they were birthed from.
Day 07: Dhari Devi Temple – Rudraprayag – Sitapur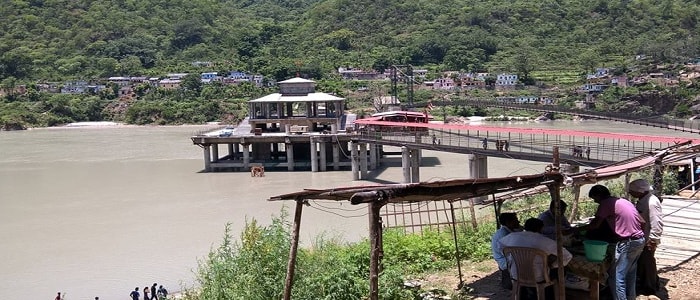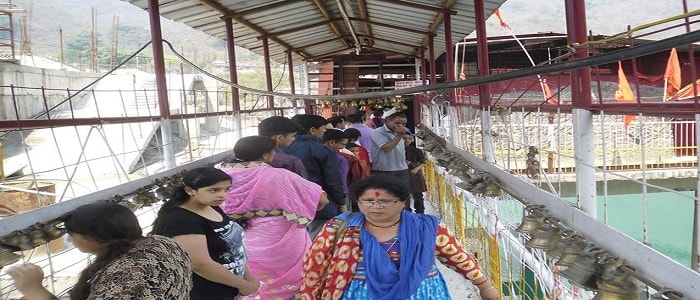 We started earlier than usual today. We were to meet the much feared Goddess at Dhari Devi Temple. I have heard rumours of her fury behind the 2013 floods. It's hard for me to imagine Mother as being anything other than the benevolent presence she appears to me as. But then who can understand her maya?
I was struck by the intense presence of Shakti at the temple site. One cannot deny its spiritual potency. We also witnessed the beautiful communion of rivers Alakananda and Mandakini at Rudraprayag, the first of the five confluences we would see in the coming days. In fact, the tour guide tells they are clubbed together as 'panch prayag'.
Upon reaching Sitapur, we were ushered into the hotel. The next day would have us embark on, perhaps, the most challenging trajectory in the entire pilgrimage – Kedarnath Trek. I needed to sleep well for the taxing day ahead.
Day 08: Sonprayag – Gaurikund – Kedarnath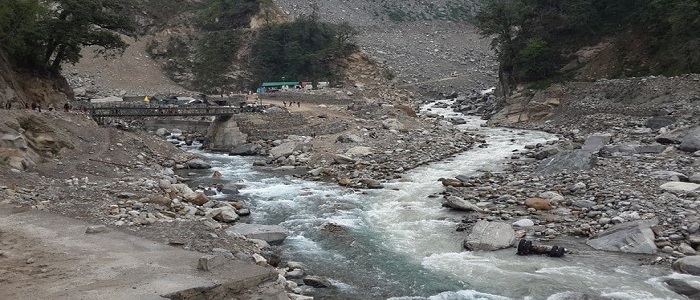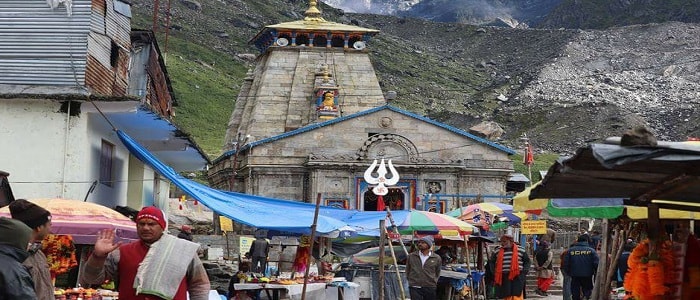 We were dropped till Sonprayag. Our huge tourist bus couldn't go till Gaurikund. We alighted on a small jeep to take us till Gaurikund. The mountainous trail laid ahead, promising the blissful darshan of Shiva's jyotirlinga at its end. I offered everything into His hands, May He lead the way ahead. Of course, religious practise of walking 5 km a day for the past three months and numerous rounds of climbing up & down of the stairs in our flat had me confident of my fitness level. But I was a middle aged woman and was quite a stranger to the trials of mountains. I made friends with one Mr. Harry, an Australian gentleman from our group. It felt as if Lord Shiva Himself chose us as each other's companions for the trek ahead. We had a lot in common. His explorations into mysticism and my own spiritual journey was quite similar. Amidst a hundred stories passed along and few beautiful silences inspired by the serenity and majesty of the Himalayas that surrounded us on all sides, we reached Kedarnath shrine.
We had the VIP passes. We enjoyed such a blissful darshan. Let us just I fell more in love with Shiva.
The downhill trek was much easier. May be the fact that our hearts were full after Lord Shiva's darshan had something to do with it. We didn't even talk much. The silence that engulfed us seemed enough.
Once we reached Sonprayag, we were driven to hotel JPG at Sitapur. Those of us who trekked till the temple, instead of choosing to fly via helicopter, were very physically exhausted. We retired for an early night.
Day 09: Joshimath – Badrinath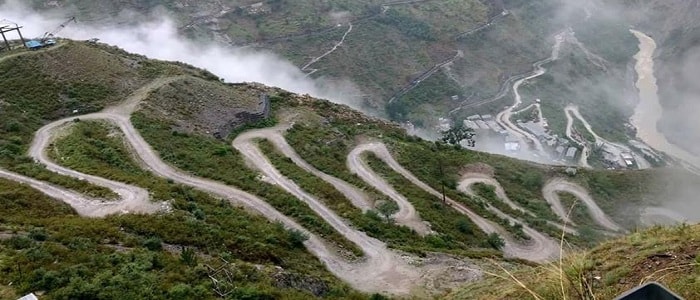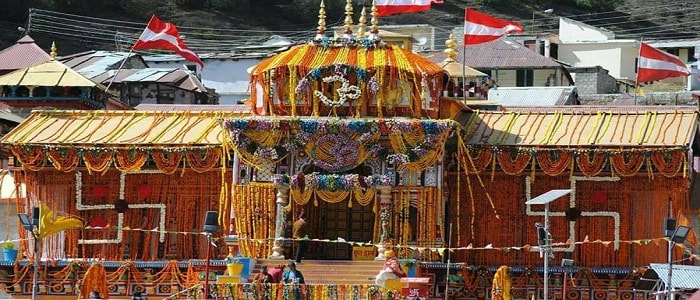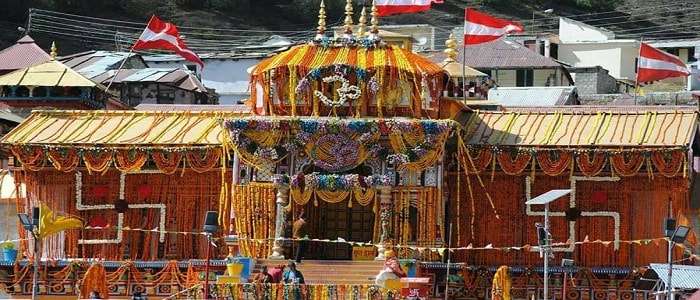 We are already nine days into the pilgrimage. And the only dham left in the chardham yatra is Badrinath. It appeared to me as if I have always been on this journey. As if my life prior to the journey vaporized away into some distant cocoon I could not access easily. As if the people on this trip were my family. Sharing a pilgrimage with strangers has a way of bringing you closer to yourself and everyone. My personal diary entries have become much more vivid, it's as if I have begun to recognise the strange tongues dreams talked to me in.
If I had to pick a favourite day in the entire trip, it would be this. How can it not be with all the different confluences we witnessed along the course of the same day? Each of the confluences at Karnaprayag, Nandprayag and Vishnuprayag had its own unique tempo. I let my camera record the dazzling beauty of the confluences.
We even stopped at the famous Narsimha Temple at Joshimath. I felt saturated upon reaching hotel Yoga at Badrinath. The promise of a spiritually enchanting day ahead helped me lose myself deeper in the recesses of sleep.
Day 10: Badrinath – Mana Village – Pipalkoti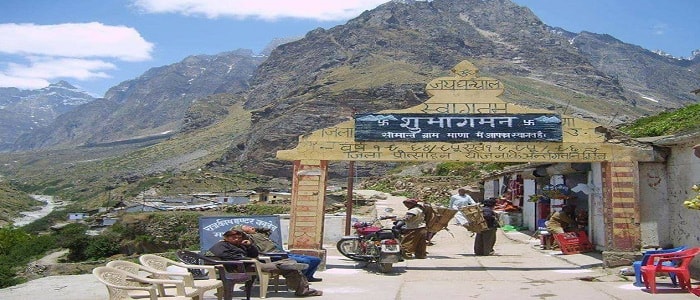 I woke up earlier than usual so as to enjoy a beautiful darshan of Lord Badrinarayan. It was every bit as beautiful as the hymns of Badrinarayan aarti I have been in the habit of waking up to in the morning. I couldn't get enough of the temple. Even after everybody retired, I lingered around soaking in the spiritual nectar of the temple.
Just when I thought the day couldn't get any better, we were taken to the beautiful Mana village. A stroll across this 'last Indian village' brought many instances of Mahabharata back to life. I particularly enjoyed the sight of Saraswati River. Just knowing that Mahabharata was penned down in this soil gave me Goosebumps.
We were taken to Hotel Comfort Inn at Pipalkoti for overnight stay. As usual, I slept peacefully.
Day 11: Devprayag – Haridwar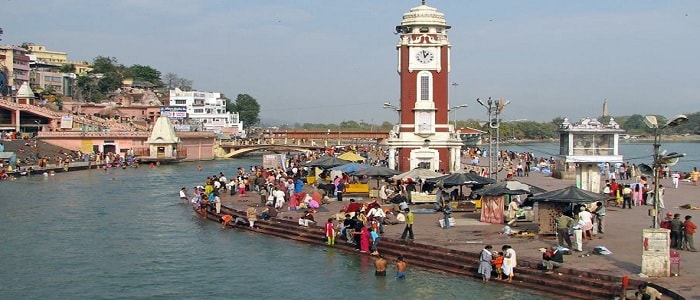 This was the actual last day of the trip, although our cohort would continue together for one more day. We witnessed the most iconic of all confluences, Devprayag! It is from Devprayag that Ganga earns her name. The merger of the furious Alakananda and peaceful Bhagirathi to form Ganga is a true sight to behold!
We reached Haridwar by afternoon. I was caught by an unearthly sense of fatigue. As if my soul had already striped her desire to be on the movement, all I longed for was the stable foothold of my home. I talked to my mother longer than usual. I missed her terribly. She wanted to come on a similar pilgrimage with me, it seems. May be next year.
Haridwar aarti was the beautiful highlight. If at all I had any sense of anything missing, the aarti filled up the recess. I wanted to stand ashore the thousand floating diyas forever. It was as if the night had particularly embellished herself for our indulgence. It was a perfect way to wind up this eventful trip.
Day 12: Delhi – Home
We were back in Delhi by morning, thanks to the overnight journey. I felt a sudden sense of gratitude for the organisers of this trip, the tour manager, the guide, the cook and everyone who had taken care of our many demands while on the journey so warmly. And I had tears in my eyes parting with the few friends who have been akin to family in the past ten days or so.
The trip bloomed in perfect accordance with divine will. I truly felt changed on a deeper level. What contours it would take in my regular life is yet to be seen. As of now, I am glad to part ways for my beloved home.