This holy confluence point of two of the holiest rivers in Uttarakhand is one of the most sacred place in India and a significant point in the Panch Prayag of India. This is the place where two of the head streams of Alaknanda and Bhagirathi meet to become the birthplace of river Ganga. From this point onwards the river is called Ganga and is worshipped through every place it goes. Situated on an elevation of 2,265 metres above sea level not only does this place offers unparalleled levels of spirituality but it is also the perfect place to have an adventure holiday vacation.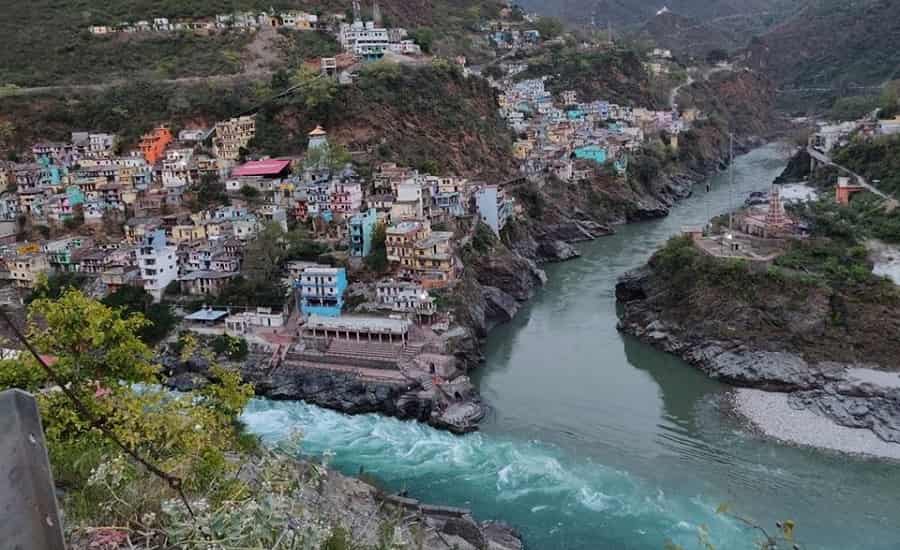 If you are looking to explore this scenic and holy destination then here is a complete travel guide which will give you some much needed explanation about Devprayag:
Religious Significance
Devprayag is a highly revered pilgrimage destination for Hindu pilgrims and should be visited by devotees from all over the world. Being a significant part of the Panch Prayag Yatra circuit Devprayag is visited by devouts.
Along with this another important temple here is Raghunathji Mandir which is an incredibly old temple and its origin can be traced back to the ancient ages.
It also serves as the seat of the pundits from Badrinath Dham. Since the holy river of Ganga emerges from here the town's religious significance is unparalleled.
The religious significance of this town lies in the fact that Lord Ram and king Dashrath are believed to have performed meditation here making it even more important.
Taking a holy dip in the confluence point is believed to provide Moksha to the pilgrim doing so. But be careful the currents here are extremely strong.
All these factors and a lot more others make Devprayag one of the holiest and pious towns in India.
Historical Account
The holy town of Devprayag which is situated within the district of Tehri Garhwal and on an elevation of 2,723 metres above sea level it marks the merging point of two of the holy rivers of Bhagirathi and Alaknanda forming river Ganga which is ultimately worshipped all over the Indian subcontinent. During the 7th century it was known as Brahmapuri, Brahm Teerth and Srikhand Nagar since the town was divided into 3 sections. Also referred to as 'gem of Uttarakhand' the entire town was devastated due to a very damaging earthquake in 1803. The job of getting the entire town reconstructed was done by Dev Sharma who was a Hindu sage and used to reside here who is also said to have had a vision of Lord Vishnu himself. Ever since then the town has been the centre of pilgrimage for devotees and pilgrims.
Pathway of the Rivers
Rivers Bhagirathi and Alaknanda finally form Ganga at Devprayag. Here is something that you should know about them:
Bhagirathi – known for being one of the most turbulent Himalayan river that pans to a length of 205 km before meeting Alaknanda at Devprayag. The source can be traced back to Gaumukh glacier the river is named after king Bhagirath who is said to have performed some serious penance to goddess Ganga. Because of his serious efforts Ganga is flowing gracefully in India while absolving sins and offering moksha to the departed souls. At Devprayag the river can be differentiated due to its clear greenish blue color.
Alaknanda – this river's source can be traced back to the foot of Satopanth and Bhagirath Kharak glacier and it makes its way to meet Saraswati River in Mana near Badrinath. It then makes its way from Badrinath before finally meeting Bhagirathi at Devprayag to form the holy river Ganga. It covers a complete journey length of 195 km and is also the most sought after choice for rafting enthusiasts.
How to Reach
Devprayag is connected to all the major and minor towns and villages through a network of roads. But you can also reach via flight and train journeys as well, here is how you can do so:
By Road (bus / cars etc) – Devprayag can be approached via roads which is also the most convenient and the best way of travelling. If you are travelling to Devprayag from Delhi then you will be able to easily find a bus from ISBT Kashmiri gate. These state transport buses ply on a regular basis. The town is located on NH 58 and is connected to all the major sites of pilgrimage like Haridwar, Rishikesh, Dehradun, Uttarkashi etc.
By Rail – The railways station in Rishikesh is the closest rail head for Devprayag and is frequented by a number of trains running from various parts of India. From here Devprayag is located at a distance of 72 kms and can be reached by hiring a cab or a taxi service to complete the journey.
By Air – The nearest helipad is located in Dehradun which is that of Jolly grant airport that caters to a range of flights from all over India. You can hire taxi services or get yourself a cab from outside of the airport which are easily available.
Best Time to Visit
Being a holy hill town Devprayag should best be visited during the summer months of April to June. Avoid travelling to the hills during the monsoon months of July and August since the chances of road blocks due to landslides increases exponentially. Another time when you can have a successful and a fulfilling holy journey will be between the winter months of September to February, but be sure to pack up properly all your woollens and keep in mind that the Himalayan chill is extremely cold and freezing. Plan your trip keeping in mind the weather of the place so that your journey is not a disappointing one and you get to even take a dip in its water.
Things to Do
Pilgrimage – This is the prime reason as to why people travel to Devprayag. It is a part of the holy Panch Prayag pilgrimage and also falls on the way to Badrinath Dham so visiting this Prayag should definitely be on your excursion list.
Trekking – Devprayag is visited by people who love trekking and outdoor adventure sports activities like river rafting and camping etc. since the entire region is covered in a whimsical terrain you will have a lot of opportunities to go on this fun filled expeditions.
Meditation and Yoga – Being situated on the lap of nature and replete with unparalleled spirituality Devprayag is visited by a plethora of people seeking peace and looking to have a serene meditation experience.
Places to Visit
Devprayag is blessed with a wonderful ecology that offers several avenues for exploring the Himalayas. While in Devprayag try spending a few days here and visit some of these places:
Raghunathji Temple – This quaint temple located amidst the two massive mountain rocks on the edge of the confluence point and dedicated to lord Ram is one of the most important temples that pilgrims and devout visit. The structure displays and interestingly unique combination of Buddhist and south Indian style of architecture in 1839 by Maharaja Gulab Singh. The temple was constructed when the maharaja had set out on his journey to seek the blessings from lord Ram.
Dashrathshila – As the word Shila shows that this is an important rock structure in Devprayag and people make it a point to offer their prayer here. The roots for this sacred site can be traced back to the Ramayana ages when raja Dashrath had performed his atonement here at this very rock. A small hill in its vicinity marks his presence here since it is named as Dashrathanchal peak. This rock holds immense religious significance and is deemed for its pious importance in the hearts of devotees.
Kyunkaleshwar Mahadev Temple – This 8th century temple is located within the pauri district and is dedicated to lord Shiva, as the name suggests. The humble temple is situated amidst the scenic Alaknanda valley and offers some of the most stunning views of the surrounding snow capped Himalayan ranges. The temple houses the shrines dedicated to lord Shiva, Goddess Parvati, lord Ganesh, Ram, Sita and Laxman. Adi Shankaracharya is credited with the creation of this holy temple.
Teen Dhara – While making your way by road on the Rishikesh and Devprayag highway this place is a major tourist attraction. The name has been derived by the three streams from the lakes situated in its vicinity and there are several Dhabas offering delicious food and snacks. Here you can enjoy refreshing drinks and have a rejuvenating time amidst the beautiful sceneries here.
Accommodation
Devprayag is a small pilgrimage town in Uttarakhand and is primarily visited by tourists for religious purposes or as a stop over on their journey to Chardham Yatra. Here you will be able to avail some budget hotels and lodges. You can also stay at ashrams at a cheaper rate. There is also a GMVN which offers cheap and budget friendly stay options that also offers good quality food.