Originating from the Gaumukh Glacier in the base of Khatling and Gangotri glacier, this river is one of the holiest rivers of India. The place is considered holy to Hindus since it has been regarded as the birth place of Ganga. The highly revered Char Dham temple of Gangotri is situated on its banks and is visited by devotees from all over the world. After travelling for a distance of 205 km the river concludes its journey at Devprayag which is the confluence point of Bhagirathi and Alaknanda to for the life giving holy river of Ganga. The gushing river is one of the two headstreams for Ganga and taking a dip in it is said to wipe out all your sins and give you moksha. The river flows majestically at a height of about 475 metres above sea level the river's ferocity is being utilised for producing power and several hydroelectric dams have also been constructed. Throughout its course on the hills this river is a source of living for the locals here along with holding of extremely high values.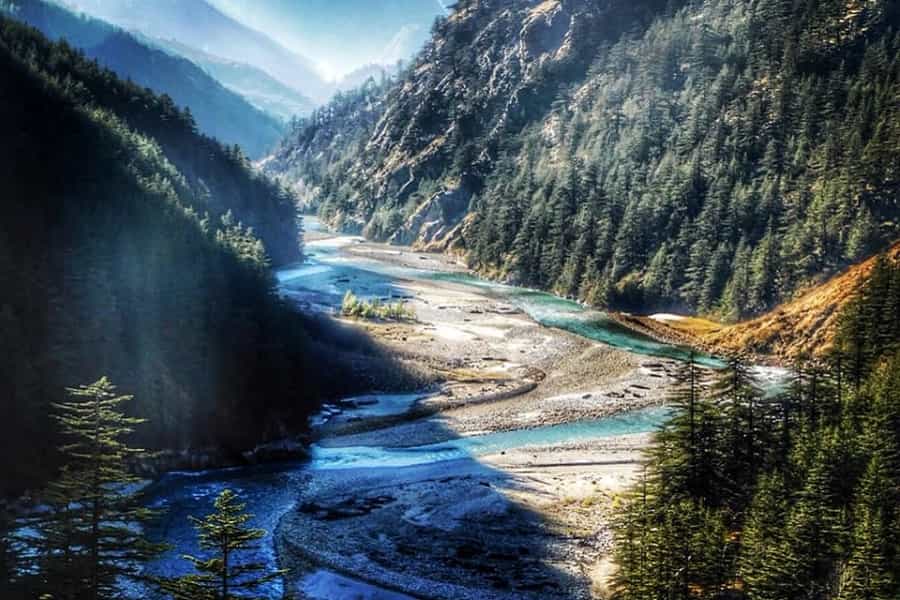 Religious Significance
Bhagirathi and other streams that form Ganga have been worshipped ever since the ancient ages. It has also found its mention in several holy Hindu books which further proves that this river plays an incredibly important role in our beliefs and culture. It is said that King Bhagirath wanted to provide salvation to his ancestors. As advised by his sages and philosophers the king made his way to meditate and please the goddess river Ganga so that she makes her way to earth grant salvation to his suffering ancestors. Pleased by his intense penance the goddess made her way to the earthly realm from heaven and divided herself in 12 small streams, one of them being Bhagirathi. Ever since then the ashes of the deceased are freed in Ganga river so that they get moksha in the afterlife and their souls rest in peace. Adorning the river on the banks stands the gleaming white temple of Gangotri where goddess Ganga is worshipped.
About confluence
Devprayag is the holy town which has developed as a major pilgrim attraction in Uttarakhand. This is the place where Bhagirathi river merges with Alaknanda river creating the holy river of Ganga. It is a crucial part of the sacred Panch Prayag Yatra which involves completing the 5 holy confluences of Uttarakhand i.e. Devprayag, Rudraprayag, Nandprayag, Karnaprayag and Vishnuprayag. This humble holy town is dotted with several ancient religious temples and is visited by throngs of tourists from far and wide. You must take a dip in the confluence here even if you are not a religious person but it will an experience to remember. The place is surrounded by bountiful nature and allows you to completely immerse yourself in the deep positivity this place radiates.
Bhagirathi River Features
Bhagirathi river forms a western boundary for the Ganges Brahmaputra delta while making its way from west Bengal and north east India. A tributary of the holy ganga river leaves that river body just on the north eastern end of Jangipur then it goes on to flow southward to join Jalangi at Nabadwip which forms the Hugli river. Up until the 16th century, when Ganga had shifted eastward to Padma, Bhagirath had formed the original Ganges bed. The banks of this river is sheltered and covered entirely in ancient temples and structures making it a significant place of religious importance.
River Course
Bhagirathi's headwater is formed at Gaumukh glacier right on the foot of Khatling and Gangotri glacier in the Garhwal Himalayan region. Given below is the list of tributaries that the river joins on its way to its final exit point in Devprayag:
Kedar Ganga in Gangotri
Jadh Ganga in Bhaironghati
Kakora gad and jalandhari near Harsil
Siyan gad near Jhala
Assi ganga near Uttarkashi
Bhilangna River near old tehri
The basin size is 6,921 sq. km and flows on for a length of 205 km while crossing the districts of Uttarkashi and Tehri. Anywhere the river flows through the cities and settlement around it worship the water body.
Places to Visit
Tehri Dam – this iconic landmark is one of the highest dams in the world and the highest dam in India. This multipurpose embankment dam on top of the glimmering Bhagirathi river is the primary dam of tehri hydroelectric complex and THDC india limited. It has been in the limelight for the environmental issues since it has a fragile ecosystem that it is causing and several environmental organisations have shown negativity towards this.
Sangam – The Sangam of Bhagirathi and Alaknanda here is one of the most significant places of pilgrimage in Uttarakhand. Taking a dip here is believed to grant you moksha. There is also an ancient temple here is another important place of worship for the visitors and devotees here. The colors of the rivers here are very distinct from each other and can be pointed out separately. It truly is a blessed sight especially after the monsoon months.
Dashrath Shila – This temple's roots dates back to the time of Ramayana and is a crucial mark of the presence of Raja Dashrath and lord ram here. The king is said to have performed his atonement here and even lord ram and Laxman are said to have spent a bit of their childhood here. Located close to the temple is a small hill which is known as Dashrathachal of dashrath's throne.
Raghunath Temple – This is a quaintly built and humble looking shrine dedicated to lord ram and also contains idols of Sita Maa and Laxman as well. The temple in itself looks like a unique blend of Buddhist and south Indian style of architecture. The temple looks incredible among its scenic surroundings. The temple was in very bad condition before it was re developed by maharaja Gulab Singh in 1839. You must definitely pay a visit to this temple to offer prayer during your visit to Devprayag.