Yamunotri Dham, dedicated to Maa Yamuna, is one of the most significant temple among all the Chardham Yatra portals in Uttarakhand since this is the temple where the holy pilgrimage of Hindus commence. This is also one of the most remotely placed temples in Uttarakhand which is located on one of the jagged flanks of the Bandarpoonch Parvat with the Holy river of Yamuna flowing gracefully through it. Trekking to Yamunotri is a relatively difficult task which requires you to cover a steep and undulating journey of 6 to 7 kms. Of course there are alternate options like ponies and dolis available but trekking and walking your way to the temple feels the most rewarding.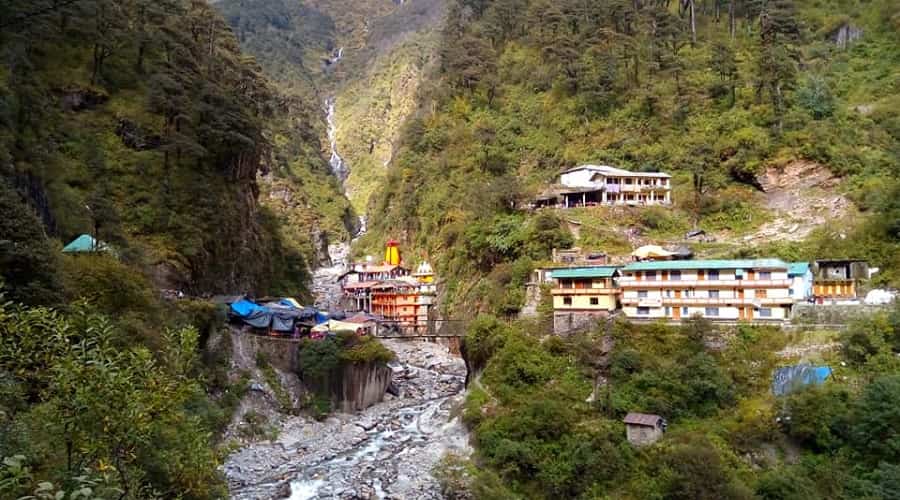 Getting to Yamunotri
By Road
You have the option of choosing to travel via a GMOU bus service of Uttarakhand roadways or hire a cab/taxi from Rishikesh or Haridwar. You can also hire a private taxi from Delhi / Dehradun / Nainital or any other nearby hill destination.
By Railway
The nearest railway station that caters to a fair number of trains from different parts of the country is situated in Rishikesh. From outside the station in Rishikesh you can either choose to rent a cab or a taxi heading to Yamunotri.
By Helicopter
Yamunotri can be visited via a helicopter journey which will require you to travel from the Sahastradhara helipad in Dehradun to Kharsali helipad close to Yamunotri which is located in close proximity to the temple. Once people get off at the helipad they have the option of going to the temple via a pony, doli or a palki ride.
By Air
The closest airport located to Yamunotri is in Dehradun which is jolly grant which should be chosen if you are planning on visiting Yamunotri from a faraway part of the country.
Route map from Rishikesh (214 km) – Rishikesh – Dehradun – Mussoorie – Barkot – Syanachatti – Hanuman Chatti – Phool Chatti – Janki Chatti (trekking begins) – Yamunotri
Yamunotri Trekking Route Detail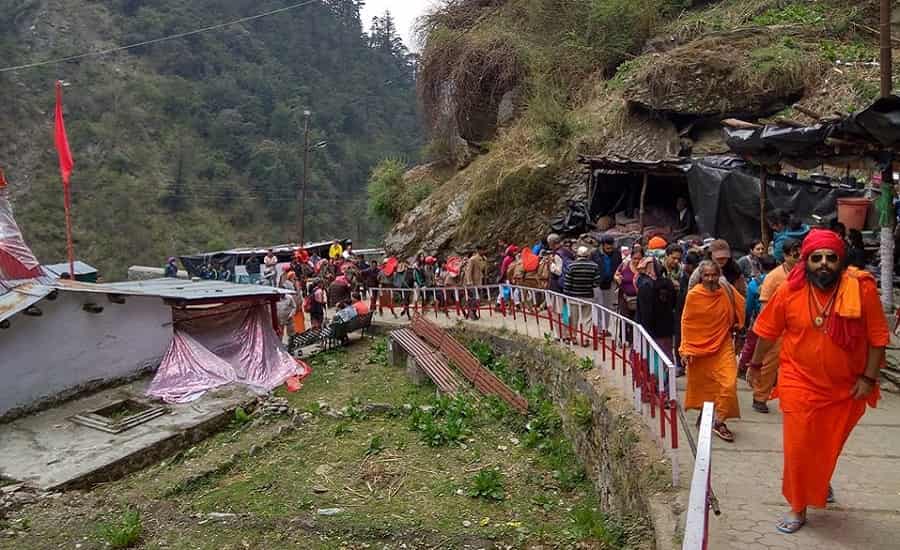 The entire trekking route is cemented along with a railing on one side which ensures safety. You will know that you have reached the middle point of the trek once you reach a steel bridge that runs over one of the several tributaries of Yamunotri river. 300 metres further from this point you will be standing at a bifurcation point on the trail and a path leading leftwards is a different and an alternative trekking path to Yamunotri which meets finally the main trail after the final switchback. There are three switchback options available for the people going on an alternative route first one is right after the steel bridge; the next one is just before the Bhairav temple and the final switchback is the steepest one which occurs right before the Yamunotri temple.
What to Expect While Trekking
On reaching Jankichatti which is the last road head for Yamunotri your trekking expedition to the main temple of Yamunotri commences. This will be a journey of 6 kms and will take you through some of the most picturesque and scenic views of the valleys below. The route is rough and goes through regular intervals of steepness, plains and descents. You will encounter a number of people making the journey on various alternate transport methods like palkis, dolis and mules the services which they had availed from Janki chatti. While going towards the temple on the right hand side you will be kept company with the tall green covered mountain peaks and the Yamuna river flowing below. People underestimate the beauty of this place and are just focussed at reaching their destination. Some parts of the trekking route also have broad stairs which makes it easier for the pilgrims to walk. You will also be viewing some fabulous waterfalls falling from a great height and also the towering snow clad mountain peaks which will be a sight to behold.
Amenities Available
There are several food facilities available on the trekking route to Yamunotri which springs to life especially during the peak seasons whereas during the off seasons the entire trekking route is either covered in snow or deemed inhospitable for trekking purposes. There are also various make shift tea stalls available offering maggi to eat. There are also some dhabas and small eating joints available to beat your hunger pangs that may arise due to walking.
Resting spots are also made to allow the pilgrims to rest for a bit before getting back to the journey. En route there are also some benches available along with shades to allow you to relax for a while in case you get tired while walking. There are also several water points available where you can refill your bottles.
Difficulty Level:
April to November (on season) – Easy
November (off season) – moderate
Trekking Tips
The phone connectivity in during Yamunotri trek is primarily for BSNL and the reception is scattered and is strong only in some places. If you want continuous phone connectivity then you should carry a local phone with a BSNL sim card or you can inform your near and dear ones just before commencing the trekking journey.
Make sure that you are trekking in comfortable trekking gear like walking sticks, comfortable walking shoes and even a hat which will protect you from the scorching sun. It is also vital for you to carry a small backpack along with all your essentials like water bottle, trail mix, some Glucon-D, chocolates for an energy boost etc.
Remember to be in good shape before commencing your trekking journey. You should start walking regularly way before the starting of your journey or at least perform some breathing exercises it will in the end be extremely beneficial for your plans.