Uttarakhand has many places as yet untouched by time or travelers. Harsil, at a height of 2620 meters, located on the banks of the Bhagirathi River, is one such jewel, far from civilization, nestling comfortably in the lap of the Himalayas. It is quaintly rural and charming, serene and tranquil. There are mountains in the distance and dense Deodar forests all around. If you want utter peace and a relaxing time, head for Harsil. Harsil's claim to fame is the legend of Raja Wilson. Frederick. E. Wilson was an adventurer who sought refuge in the lonely mountains. He married a local girl and built a fortune by exporting fur and musk and sleepers for railway tracks. He even minted his currency and built a huge mansion, Wilson's Cottage.
Location:
Harsil is a cantonment village in Uttarkashi district and is situated comfortably on the lush green banks of the holy River Bhagirathi which lies on the way to Gangotri Dham. Perched at an elevation of 7,860 feet above sea level, Harsil is also a part of the iconic Gangotri national park which spreads at an area of 1,553 sq. km. Mukhba, a village located close to Harsil is extremely significant as the winter abode of Goddess Ganga.
Famous For:                                                       
Harsil is a treasure trove for avid travelers and adventure seekers along with an obvious influx of pilgrims who visit here during winter season to offer their prayers in the winter seat of Goddess Ganga which is located at Mukhba, close to Harsil. Other famous destinations and sites of interests for visitors include: the quiet hamlet of Dharali (3 kms); Sattal (3 km) and Mukhba village (1 km).
Who Should Visit:
Pilgrims – Harsil is a popular destination for pilgrims and devotees of Goddess Ganga due to the presence of her winter abode at Village Mukhba which is situated close to the village. Pilgrims make Harsil their base for further visitations and flock here during the summer months when the Chota Char Dham Yatra of Uttarakhand commences.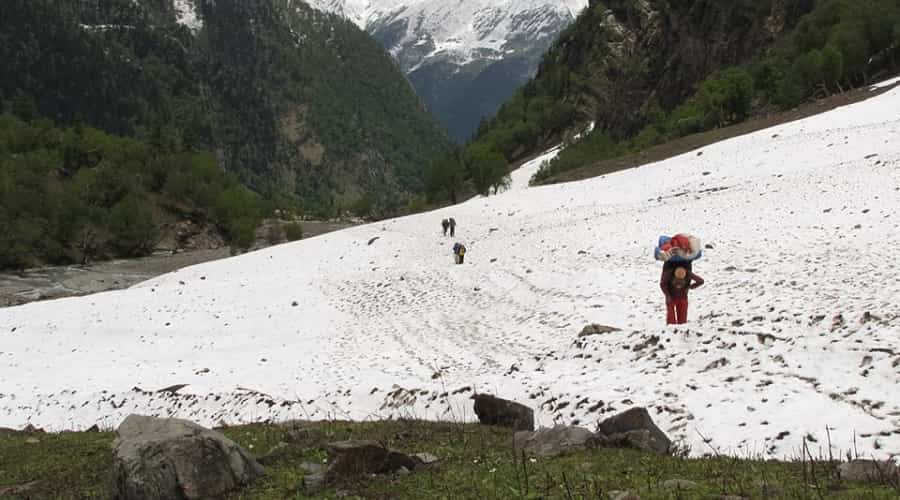 Trekkers – the hamlet of Harsil is replete with a bountiful oasis of rich greenery and a beauty which cannot be easily compared. If you are interested in outdoor activities like hiking and trekking then Harsil is the ideal destination which meets all your requirements for a fun holiday.
Camping – people who love sleeping under the starry night sky then Harsil is the best option to go for. Due to the presence of lush green Bugyals or meadows, this place is the best choice for a fun filled camping activity. Make sure to get your own camping equipment and other camping accessories in order to ensure a safe, secure and comfortable stay.
Family Vacation – families who are looking for a peaceful get away option with quiet and serene surroundings then Harsil meets all your needs. This place offers you the opportunity to bond and spend some quality time with your family by doing some fun activities together like, going on picturesque hiking expeditions and exploring the lush surroundings.
Places to Visit and Things to Do
Harsil is on the route to Gangotri and in winter the idol from the shrine at the top is brought down to Mukhbha village in the neighborhood. As such Harsil has special religious significance. Harsil is on the route to Gangotri. After a couple of relaxing days here, you could go on to Gangotri National Park in Uttarkashi district. The Park is spread over a 1550 square kilometer area and is home to hundreds of birds and animals besides a diversity of flora.
Then you could go trekking up the slopes or explore the valley and come upon Tibetan settlement. You can see for yourself how they rear mountain goat and sheep and make woolen garments. You could go on the Sattal Trek that takes you to seven lakes, across rugged mountain terrain. It is a different world where raw nature rules and you find peace, far from the hustle and bustle of cities.
Make sure you carry woolens as it can get a bit cool up there in the mountains.
Climate:
Summer Season – summer season is extremely pleasant and comfortable in you are willing to explore. The temperature during the summer months of April to July remains at an average of about 9 to 12 degree Celsius, which means that during your visit make sure you have woolen and warm clothing with you.
Monsoon Season – trekking and hiking during the monsoon months of July to September the temperature dips till 11 degree Celsius. Due to heavy rainfall conditions the region remains prone to unexpected landslides and avalanches making outdoor activities dangerous. It is advised not to visit Harsil during rainy seasons.
Winter season – Harsil witnesses extremely cold, chilling and freezing winter season where the temperature goes down till 0 and -2 degree Celsius. During the months of November to February the entire region remains covered in a thick layer of snow making it look like a winter wonderland.
Getting There:
By Air – the closest airport is jolly grant which is located in Dehradun at a distance of 232 kms and is well connected by a network of flights which cover almost all the major cities of India. Once you de board at the airport there are numerous taxis available heading up to Their, Uttarkashi and Harsil.
By Rail – the nearest railway station to Harsil is situated at the holy town of Rishikesh which is at a distance of 215 kms. This train station is also well connected with a network of trains from various different major cities. You can hail a cab once you reach the train station which heads on to Harsil.
By Road – Harsil has a lot of well-connected network of roads. You can also hail buses from ISBT Delhi heading up to Rishikesh, Dehradun, Barkot, Uttarkashi etc.
Food Availability:
Being tucked away in the quiet hilly terrain you should not expect a luxurious spread of meals and food items. There are a number of Dhabas and roadside food stalls available which primarily serves easily available North Indian and Chinese food items. You can also expect some traditional Garhwali cuisines if you are looking to mingle with the local crowd.
Accommodation
Now a tourist resort, Harsil has its fair share of hotels ranging from budget to slightly expensive and then you also have the option of staying at the Government tourist lodge. Meals are available in most hotels and there are a few eating places serving Punjabi and local cuisine.
Harsil is a destination you could choose if you want to spend a quiet weekend meditating and recharging yourself. You could also make it a part of your itinerary when you visit Uttarkashi and go on to Gangotri, with this tiny hamlet providing a relief during your strenuous travels. In any case, you are sure to remember this little jewel for its wonderful scenery and the peace it brings to you.