Janki Chatti is famous for being the last motorable road for Yamunotri and the place which not only fills you with a deep sense of spirituality but it can also be your place of choice to get away from the crowd and take some time off amidst the scenic natural surroundings. Outwardly this place is just a transition point from where people travelling by road park their cars, taxis or cabs and either start their trekking to Yamunotri or get on some palki, pony or doli option. However there is a lot more to this place than what meets the eyes.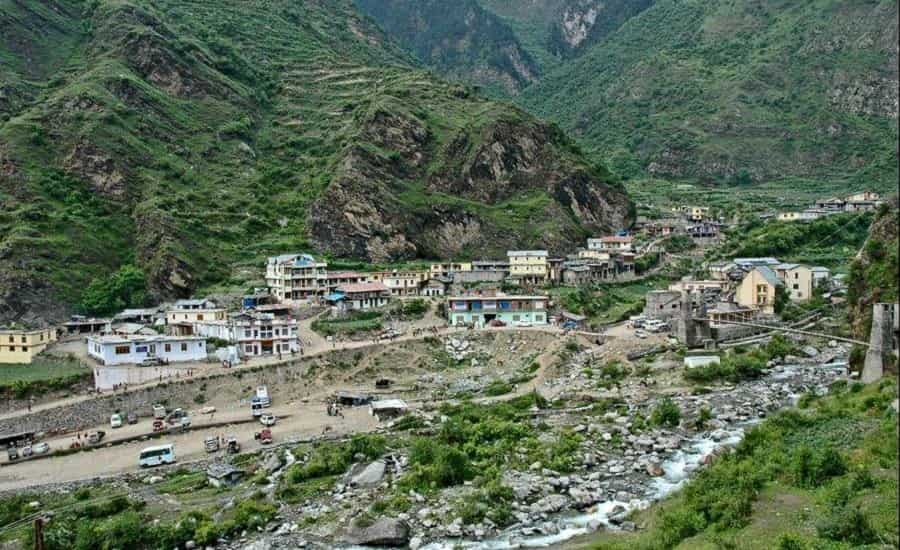 Here is a detailed guide to Jankichatti which will make sure that you have the time of your life here:
Location
Janki Chatti lies at a distance of 13 kms from Hanuman Chatti and 6 kms from the main temple of Yamunotri along with being in close proximity to the village of Kharsali so it is understandable that it holds a lot of importance in the lives of pilgrims. This tiny town is situated right on the footsteps of the stunning Garhwal Himalayas on an elevation of 2,650 metres above sea level.
How to Reach
Route map from Rishikesh: Rishikesh – Dehradun – Mussoorie – Barkot – Syanachatti – Ranachatti – Jankichatti
By Road – If you are travelling to Janki Chatti from Rishikesh then you will be required to cover a journey of almost 7 hours. You can hire a cab or a taxi service for Jankichatti and also you can choose from various state transport bus services which will be a cheaper option.
By Train – The closest railway station to Janki Chatti is Rishikesh station which is situated at a distance of 222 km from here. When you leave the station you will come across a plethora of taxi and cab services from which you can choose the one that suits your needs the needs the best.
By Air – Dehradun airport of jolly grant is the closest airport for Janki chatti which is situated at a distance of 210 km. outside the airport also you will be able to find these taxi and cab services which will help you in reaching janki chatti easily within a time duration of almost 7 hour.
The prices of cabs and taxis depends on the number of people that are travelling with you that will determine the size of the car you need. You will be able to pick your choice from 12/14/16 seater tempo traveller or an Innova or even a smaller car. Innova will precisely cost you somewhere around Rs.5,000/0 per day and the prices will go up as the number of seats increases.
Accommodation
Hotels – You will be able to choose from a long list of hotels in Janki Chatti since there are numerous hotels here which offer standard, deluxe and super deluxe categories of hotels. Depending on the people you are travelling with you must circle in on a hotel that suits your needs the best. The price of the hotels here ranges between Rs.700/- per night to Rs. 2,500/- per night and upwards.
GMVN – This is probably one of the cheapest and the most reliable options for you to stay in Jankichatti especially if you are visiting Yamunotri. Thy offer clean and spacious rooms with all the basic amenities needed to make your stay here comfortable like running hot water, free parking, food facilities, friendly and cooperative staff etc.
Ashrams – There are several ashrams and Dharamshalas located in and around Jankichatti and other nearby places in Yamunotri. These places offer hygienic stay options at the cheapest rates. They also offer food facilities at a reasonable rate.
There are a limited number of hotels in Jankichatti if you are looking for a stay option you can also choose to stay in Barkot which is situated at a distance of 1 hour and 45 minutes by car.
Chardham Yatra and Jankichatti
Janki Chatti plays a significant role during the Chardham Yatra of Uttarakhand. Due to the fact that this place is the final road head for Yamunotri and all the parking spots are here for the cars, taxis, cabs and buses. There are also some hotels, lodges and cheap stay options here which will allow you to stay here and go for an early morning Darshan at Yamunotri. This place springs to life during the on seasons and people leave it during the off seasons of the winter months.
Weather Conditions
Being located on a hill this place experiences high altitude weather conditions which are:
Summer Season (April – June) – The summer months here are comfortable and the most crowded time of the year. The overall temperature here is extremely pleasant.
Monsoon Season (July – September) – The place still remains crowded mostly by devotees during these months although travelling on the hills on monsoon is not a good idea.
Winter (October – March) – The winter months in Janki Chatti are cold, unbearable and extremely inhospitable. The entire regions except a few locals abandon this place and go to lower altitudes.
Best Time to Visit
If you are planning on going for Yamunotri Dham Yatra or on some trekking expedition then you should definitely take the safest way which is during the summer months when the temperature of the entire region is extremely pleasant and comfortable and enables you to travel further and with ease. There is also a lot of bustle at this place during this time which will come in handy during some emergency situation. However if the cold season doesn't bother you and you don't want to travel amongst the crowd then the winter months are also an ideal time for you to visit.
Hot Water Springs
Janki Chatti is dotted with a number of hot water springs which holds immense significance. Devotees visiting Yamunotri or staying here can choose to take a few dips in these naturally occurring hot water springs. People say that bathing in these waters will rid you of all your joint pains and skin related diseases. One of the most popular hot water Kund is Surya Kund where people prepare Prasadam for the temple by boiling potatoes and rice in its water.
Nearby Tourist Places
Saptarishi Kund – This is a high altitude glacial lake which is extremely remote and can be reached after covering a trekking journey of 10 kms from Yamunotri temple. This is believed to be the lake where the holy Saptarishi used to perform their penance to Shivji and yoga.
Kharsali – This place is located in extremely close proximity to the temple of Yamunotri and is popular for its scenic beauty. This is also the winter home of the idol of the presiding deity of Yamuna Maa.
Hanuman Chatti – Named after Hanumanji the main attraction here is the ancient hanuman temple which is believed to the place where Bheem had met with hanuman when he was very old in age. This place is extremely sacred for Hindu devotees.
Barkot – This sleepy hamlet is one of the most well preserved gifts of nature that Uttarakhand has to offer. You will be able to have a peaceful time away from the bustle and confusion of the city life and gaze at the surround snow clad peaks of Bandarpoonch among other Himalayan ranges.