The Kedarnath religious Yatra (by foot) has been sanctioned to commence from Gaurikund. Arrangements are on in full force as the Uttarkhand government is pulling out all the stops to ensure that the Yatra should proceed without glitches. The Kedarnath Yatra will start from 24th April and the disaster hit Sonprayag Gaurikund area will also be resurrected. In the year 2013 Gaurikund had been badly hit by storms and flood. About 6 km of motor tract connecting Sonprayag to Gaurikund was completely broken.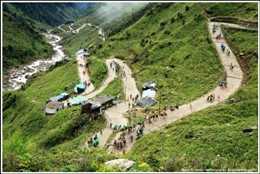 This is the primary reason as to why despite the 5 km increase in route distance between Sonprayag and Kedarnath ; this was the officially approved route for travel. The earlier travel route of Gaurikund to Kedarnath (14 km) was discontinued for a couple of years. Though small vehicles have been temporarily allowed on this route there has been a lot of damage. Right now the Uttarkhand Government is involved in making a folding Motorable Bridge over the Som River. This bridge has been made by the assistance of special technology adapted from abroad. Currently there is a bridge here which can only be used for a temporary period and cannot take much load. However, small vehicles are passing through this bridge safely. According to the directions of Kedarnath Vikas committee the new road construction will also be aligned to the previous model.
The Zila Adhikary of Rudraprayag Dr. Raghav Langar stated that Gaurikund motorable road is under fortification and refurbishment. Once the road is ready for use there will be a considerable reduction in travelling distance. On the other hand, the Ex Governing Officer Gaurikund Mr. Mahesh Bagwari stated that the important route of Kedarnath Yatra has always been Gaurikund. It is expected that the rejoining of motorable road from Gaurikund will help travelers and Char Dham Pilgrims a lot.