The Kapat of the temple of Badrinath Dham closes for Darshan with the onset of the winter months as the region gets completely covered under a thick layer of snow.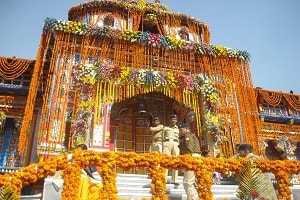 The closing of the Kapat of Badrinath Dham took place amidst special prayer and puja rituals, soulful rhythmic chanting of the various Vedic hymns among the pilgrims who were there just to witness this wonderfully spiritual sight while simultaneously fighting extremely harsh and chilly winter winds. This ceremony took place on 9th November 2018 and it marked the shutting down of the Dham for the rest of the winter months.
According to the Badri Kedar Mandir Samiti CEO BD Singh, the Kapat of Badrinath Dham shrine were closed off at 3:21 pm after the completion of various special puja rituals which were performed by the chief of priests – Prasad Namboodiri in the presence of not only the pilgrims and devotees but also in the presence of a host temple committee officials.
Right after the shutting down of the temple gates the idol of the presiding deity is transferred into a palanquin which his adorned with flowers and other decorative items, which is taken to the temple of Narsingh located in Joshimath. This place serves as the winter abode for the lord where devout pilgrims visit to offer their prayers during the winter months.
The last day of the Yatra season witnessed a pilgrim turnout of 5,000 devotees who had visited to witness this spectacle, the attendees also included Yoga Guru Ramdev and the BJP president for the state of Uttarakhand, Ajay Bhatt who shut down the temple Kapats for the winter months.
As per Mr. Singh, this year the temple of Badrinath Dham was visited by over 10 lakh pilgrims and devotees with almost 5,237 visitors offering their prayer on the last day. The remaining 3 Dham shrines of the Himalayan region of Gangotri, Yamunotri and Kedarnath have already been shut down.