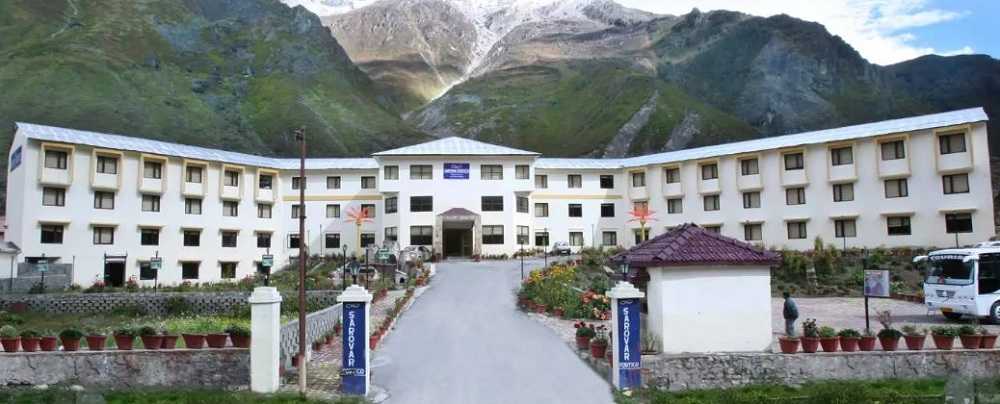 Overview
On a Badrinath pilgrimage…you would need an accommodation option that's serene, peaceful and complements your spiritual journey. Sarovar Portico might be a great choice here as it's just 10 minutes away from the Badrinath temple providing easy access and yet nestled in the middle sprawling lawns that overlook the Himalayas. The atmosphere combines convenience and beauty in one stroke and that's why it has become a popular choice amongst tourists.
Location
The hotel is very near the Badrinath temple. It commands excellent views of the Himalayan mountain range. The temple can be reached in 15 minutes from the hotel.
Facilities & Services
The hotel offers a good bundle of facilities that promises to make life easy for the traveller, spiritual seeker and tourist. Some facilities which are offered free of charge are safe parking facilities, in room tea maker/ coffee maker and satellite television along with free Wi-Fi. If you want faster internet services then the broadband internet is also available on a chargeable basis. There is a laundry service and a doctor on call service along with a full-fledged travel desk and these can be availed for reasonable charges.
There are a couple of very nice vegetarian restaurants at the Sarovar. While the Fast food restaurant here serves local cuisine as well as Indian and international favorites…it has a nice ambiance that makes it perfect for a relaxed meal. Cafe in the Park is an excellent coffee shop where light snacks and hot/ cold beverages are served…this place has a casual ambiance.
Room information
The deluxe rooms at Sarovar Portico are decked up in warm colors and offer standard facilities for a comfortable stay. You will get Wi-Fi service, LCD TV Sets, Tea/ Coffee maker and work desk and chair here. There are bathrobes and slippers for guests use and room service is available throughout the day. Laundry service is offered at a charge.
The spacious suites here are meant for fine living and pampering. Apart from usual facilities like Wi-Fi service, LCD TV Sets, Tea/ Coffee maker and work desk sets, you will also get matching sofa beds, separate living area (with sofa and center table), lovely mountain views and luxurious furnishings.
Address
Sarovar Portico, Badrinath (ten minutes from the Badrinath Temple)
Plot No. 834, Chamoli District, Badrinath, Uttarakhand-246422
Hotel Policies
As Badrinath is an important spiritual destination…no non-vegetarian food is served in this hotel. Guests are expected to adhere to norms of decency and grace in keeping with the spirit of Sarovar Portico. Vandalism and destruction of hotel property is considered to be an offence. Sarovar promises excellent standards of hospitality and warmth to all its guests.
Nearby Tourist Attractions
Panpatia Glacier is at a stunning elevation of 4200 meters and it's an important bridge that stands between Badrinath and Kedarnath. The beautiful Panpatia Col Trek can be arranged by Sarovar Portico hotel and they will readily provide guides and amenities. You will be able to see lovely snow-capped peaks, beautiful meadows and pristine lakes on the trek.
Another nearby attraction is Devprayag and this is where the Bhagirathi and Alaknanda rivers meet to form the holy Ganga. Devprayag is an important spiritual as well as natural destination…it's the last Prayag in the Alakananda range. Other places near Badrinath are Saraswati River, the holy Tapt Kund and the strong Bheem Pul. You can also explore Alka Puri, Brahma Kapal temple and Ganesh Gufa.