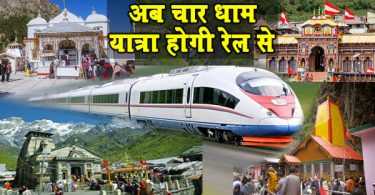 1. 43 thousand crores will be invested on the Rail project connecting the Char Dham; survey work will have a budget of 120 crores.
2. The Central Railway Minister will flag off the survey work in Badrinath on 13th
3. The 327 kilometres long railway line will have 61 tunnels, 59 bridges and 21 stations.
Dehradun: After Rishikesh – Karnaprayag railway line, the Modi government has strong determinations of connecting the Char Dham namely Gangotri, Yamunotri, Badrinath and Kedarnath to the railways. This will make the Char Dham journey happier, easier and cheaper too. From Gangotri to Kedarnath the survey work of Ekal Broad Gauge will start, which will cost 120 crores. On 13th May Railway Minister Suresh Prabhu will inaugurate survey work of railway gauge. During this Uttarakhand Chief Minister Trivendra Singh Rawat and Central Agricultural Minister Radha Mohan Singh will be present. The Char Dham Yatra Rail Project will be 327 kilometres long, where 43 thousand crores will be invested. The 327 kilometres long rail journey will have 21 new railway stations besides 61 tunnels and 59 newly built bridges.
The exercise for connecting the rail route to the centre of religious beliefs of crores of Hindus viz. The Gangotri, Yamunotri, Kedarnath and Badrinath has been taken over in full pace by the Modi Government. Rail Vikas Nigam (RVNL) has been given the responsibility of this final location survey. Gangotri, Yamunotri, Badrinath and Kedarnath will be connected through Dehradun and Karnaprayag to the rail route. The Char Dham are situated at different heights and habitats and all are having specific religious and spiritual beliefs.
Let us tell you one thing that RVNL did an air survey in 2014-15 of the Char Dham rail connectivity project and submitted their final report to the government in October 2015. According to RVNL's project, Doiwala, Rishikesh and Karnaprayag have been suggested to make the nearest railway stations to reach the Char Dham. Right now these stations are under construction. These stations will be constructed between Rishikesh and Karnaprayag at a height of 400-825 metres. For Gangotri the proposed rail link will start from Doiwala and will run through Uttarkashi at a distance of 131 kilometres, and also through Maneri which is at a height of 1270 metres. The proposed railway line for Kedarnath will start from proposed Karnaprayag station, through Saikot and end up to a distance of 99 kilometres where Sonprayag is located, which lies at a height of 1650 metres above the sea-level. The proposed railway line to Badrinath will run towards Kedarnath from the right through Saikot and will end at Joshi, which is located at a distance of 75 kilometres and a height of 1733 metres. All in all with this project both Indian and Foreign tourists will be benefited.