When you are pious in mind and soul, visiting Guptakashi will indeed give you utmost solace. It is an important pilgrimage destination and is regarded as an alternative to the Kashi dham. There are many interesting mythological tales associated with Guptakashi. Read all about Guptakashi if you are planning for a pilgrimage trip to that location.
Garhwal Himalayas in Rudraprayag district of Uttarakhand is home to a tranquil yet spiritually important destination called Guptakashi. This large town is at an elevation of 1319 meters and is dotted by the Chota Char Dhams and the Panch Kedar religious spots. If you are planning a visit to this beautiful religious destination then here is all the information that you are going to need.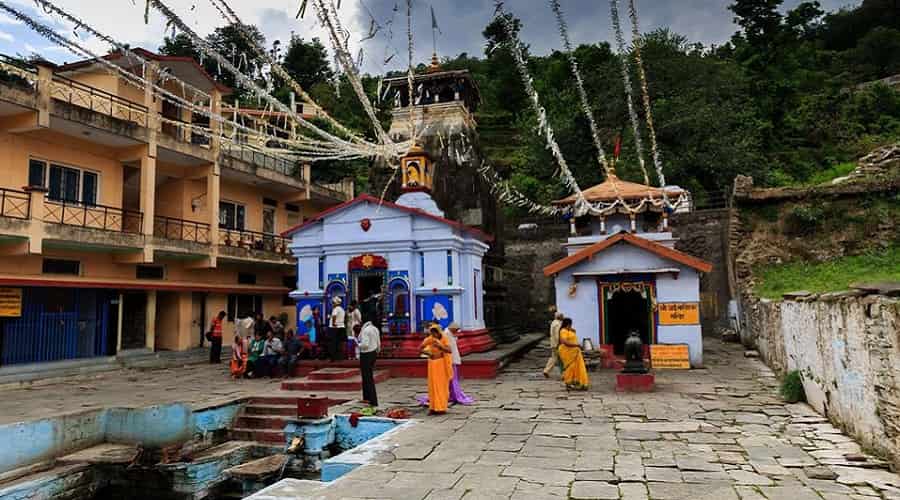 How to Reach Guptkashi
This important religious and cultural destination in India is well connected by road, rail and air. The nearest Airport is the Jolly Grant airport which is about 185 km away from Guptakashi. There are numerous airport taxis which will take you to your preferred hotel or chosen accommodation option in Guptakashi. The nearest railway station is Rishikesh and it has a prominent presence on the NH58 road map. Good connections to major Indian cities like Delhi, Mumbai, Bangalore are present. Major network of roads via the NH109 highway connect Guptakashi to Rishikesh, Srinagar, Delhi etc. You can take airport taxis or state-owned bus service to these areas.
Weather and Best Time to Visit Guptkashi
The climate is pleasant in Guptakashi between the months of October to March and this is also the religious tourist season there. Summers are hot and humid and its best to avoid the monsoons too if you are planning to visit. Basant Panchami (Spring in March) and Pandava (harvesting in October) are the major celebrations here. Traditional dance forms like Ghariyali, Chanchari and Jagar are performed.
Cuisine of Guptkashi
Food is an integral part of the tourist roadmap of Guptakashi. This is religious and cultural spot in Uttarakhand which mostly specializes in traditional vegetarian cuisine. The food is simple and generously flavored with local herbs and spices and mostly bereft of onion and garlic too. Charcoal fire is used for cooking which gives a unique twist to the food and there is generous usage of pure ghee. Lentils and pulses like Rajma, Chola, and Chana are used generously in Guptakashi traditional cuisine. The cooking style is Garhwali and Kumauni some traditional dishes that you must sample here are Bhatt ki Churdkani, Rus, Kafuli, Badi and Gulgula (sweet dish). Kandalee ka Saag is a special herb based dish that is unique to the area of Gupta Kashi.
Sightseeing in Guptakashi
As mentioned earlier Gupta Kashi is a religious spot and home to many magnificent temples and sacred places. These are a few spots that should definitely be on your sightseeing list when you visit the religious town of Guptakashi.
Lord Vishwanath Temple in Guptakashi is presided by Shiva who is also believed to be the master of the universe. The temple is beautifully adorned with stone architecture and wood structure. Manikarnika Kund is situated inside the complex of the Vishwanath temple holding the Shiva Linga and it is bathed by holy waters emerging from the head of Lord Ganesha (source is Ganga River) and Cow's Head (Yamuna River).
Kedarnath is one of the most important destinations for devotees of Lord Shiva. Kedarnath is a mere 47 km from Guptakashi and it can be reached in 50 minutes. The temple is situated at a height of 3584 km in the foothills of alpine Himalayan crests. This mystical temple was believed to be built by Adi Shankaracharya in 8th Century. A Kedarnath trip is always on the itinerary of any tourist visiting Guptakashi.
If natural beauty is your thing then consider visiting Chopta which is a lovely village that is about 36 km away from Guptakashi. The Tunganath temple and other Panch Kedar temples nearby are also worth a visit as they are all clustered together on the Gopeshwar Ultimate Road. The alpine forests and the clear turquoise sky make Chopta a lovely place to relax in the lap of nature.
Gaurikund is the origin point for the 14 km trek to Kedarnath and is a place of exquisite beauty and spiritual romance. Fable says that Lord Shiva chose Goddess Parvati as his bride in this very place which is blessed with natural bounty and the shining Vasuki River. There is thermal hot spring with medicinal qualities in this area.
Ardhanarishwar Temple that celebrates the concept of half man and half woman in the form of Lord Shiva and Goddess Parvati is also a major attraction of Guptakashi town.
Shopping Attractions
Gupta Kashi is a fairly small religious town which is visited by thousands of tourists every year who want to explore its spiritual divinity and tranquil beauty. There is a large shopping complex here by the name Ganga Shopping Complex which stocks everything from woolen clothes to apparels and convenience items. If you really want to buy something unique to this town then purchase Shiva Lingas and religious artifacts that are sold in small temple stalls outside the major temples in this town.