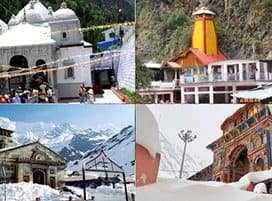 The holy ceremony of preparing the food of the Gods "Anna Koot" has happened in the famous Char Dham Mandir and Akhanda Ashram that is near the Hari Siddhi temple. The presiding saint of the Mahamandaleshwar Swami Shantiswarupannand declared in the Annakut Mahotsav that it is not necessary that life should be long but it is important that life should be illuminated with the light of Karma and work and purity so that one's life can help others.
Swami Shanti Swaroopanand Maharaja conducted a Satsang at 6 pm in the Ashram along with all his Satsang companions and bhaktis. He also advised o many important spiritual aspects of Chardham and the holy process of making the Annakoot. The Vidhayak Dr Mohan Yadav, the Nagar Nigam head Sonu Gehlot, Collector Sanket Bhondve, S.P M. S Verma, Manohar Bairagi and trustee Omprakash Agarwal, Ramesh Chandra Mittal, VijaySingh Bhadoria, T.P Tiwari, Suresh Ahuja, Ramgopal Patidar, Ramlakhan Sharma and Rajesh Kate were all present at the annakoot Mahotsav. There was a lot of footfall from the nearby villages which demonstrates the importance and popularity of the festival. The coordination for the whole event and aarti was done by ashok prajapat and after the aarti the devotees partook of the holy Prasada.
Mahaarti and Annakoot offered to Prithvi Mata
Annakoot and Aarti were also offered in the old and exotic Sri Prithvi Mata Mandir situated in the Mangal Nath Mandir Parisar. The idol of Prithvi Devi was decked up in beautiful ornaments before the Aarti ceremony.
In Ujjain's, V.D Cloth market there is a famous Ganapati mandir which also saw the Annakoot ceremony last Wednesday. According to the priest Manish Vyas the Mahaarti was offered at 7 p.m. the minister Paras Jain. Collector Sanket Bhandve and many local bigshots and traders were present at the Mahaarti ceremony. The festivities continued till 10 p.m. at night and all devotees and visitors were offered Prasad.