Uttarakhand has earned status of Devbhoomi due to its religious and spiritual significance that dates back to eternities ago. The traditional belief and culture here is extremely unique and one of a kind which gives birth to some of the most colorful and fun-filled festivals in Uttarakhand. No matter Kumaoni or Garhwali the hill population find a reason to celebrate almost every month of the year, some of them being widely acclaimed while some remain limited to local grounds but are equally special.
If have plans of going on a vacation with a twist then you must visit Uttarakhand during the festival times when the towns and villages spring to life. Here are a few festivals in Uttarakhand to help you in planning the trip in a better way:
Phool Dei (Uttarakhand)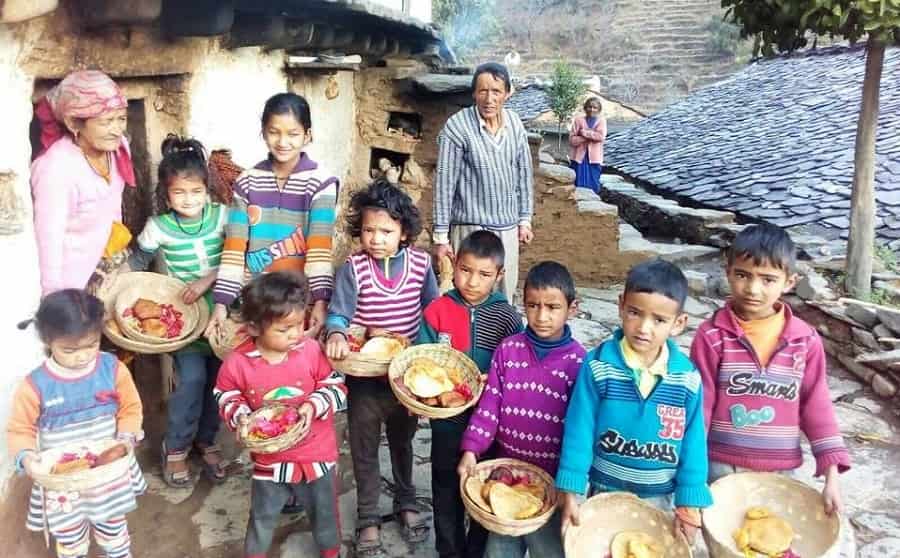 The beautiful festival of Phool Dei is celebrated during the mid- March month welcoming the spring season. This harvest festival is the time when young girls go from one house to the next singing folk songs and decorating the doorstep of each house with colorful flowers and in return they receive jiggery (gur) and rice as blessings. The festival is centred on flowers since it is the spring time and the celebration goes on for months at a stretch. The festival symbolizes prosperity and good wishes for every household and a bright future ahead for all.
When – 14th March 2020
Where – Everywhere in Uttarakhand
Harela (Kumaon Regions / Parts of Nepal)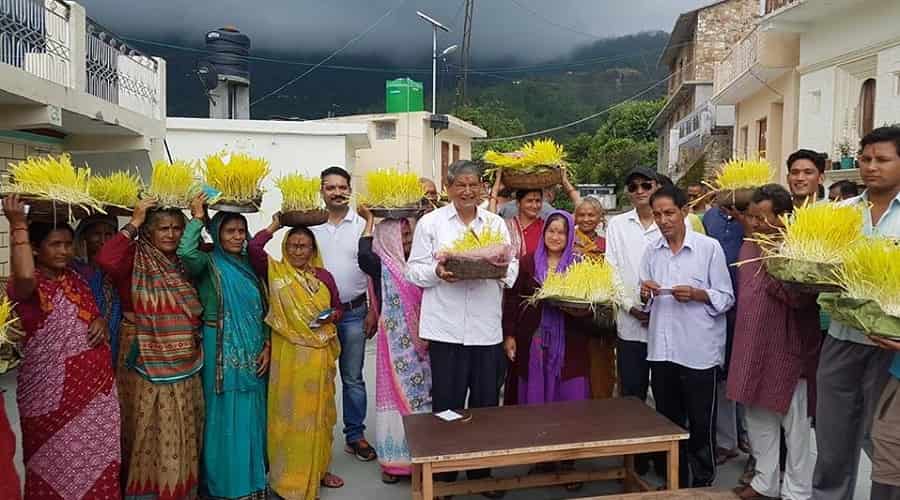 Harela literally means Green which is symbolic for prosperity amongst the farming communities in Uttarakhand is celebrated to with great zeal and enthusiasm to mark the oncoming of the monsoon season. It is celebrated thrice a year where the 1st two take place during Navratri and Chaitra Navratri (during Chaitra months) while the third one takes place during Sharad Navratri in the month of Ashwin. On this day people wear a piece of plant of the new harvest behind their ear and perform traditional puja rituals followed by grand folk dance and celebrations across villages.
When – 16th July 2019
Where – Pithoragarh, Bageshwar, Champawat, Almora, Nainital
Bat Savitri (Garhwal regions)
Celebrated with great enthusiasm and zeal during the holy occasion of Krishna amavasya or the last day of the dark half of the month, this is the day when married women worship and offer their prayer to Bat or vat which is a banyan tree as a symbol for the well-being of their husbands. These women observe fast during this day and adorn themselves in colors of a married woman and honor the time when Savitri had saved her husband from the clenches of death. Celebrated mostly among the Garhwali women this auspicious festival requires these women performing various traditional rituals.
When – 2nd July 2019
Where – Pauri, Haridwar, Dehradun, Tehri Garhwal
Bikhoti Mela (Almora)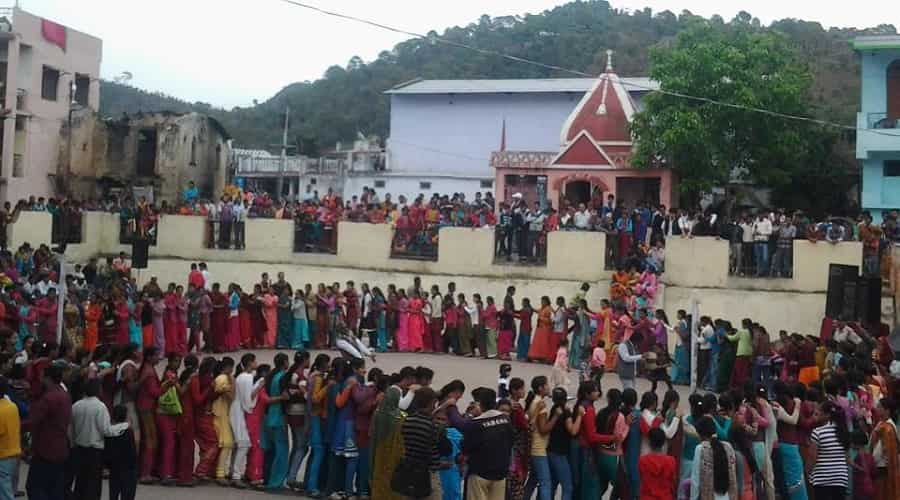 Celebrated primarily in the Dwarahat regions each year on the holy eve of Baisakhi the entire town springs to life with a large colorful fair. This fair marks the first day of the month of Baisakh or the first day of summer and each community within India (Sikh, Punjabi, North Indians, Tamilians, Oriya etc.) celebrate this important time with different names. People during this time create delicious sweet treats and take a dip in the holy river of Alaknanda or Bhagirathi as a way of showcasing their devoutness after which they visit the temple and worship to the lord.
When – 14th April 2019
Where – Dwarahat
Nanda Devi Raj Jat (Entire Uttarakhand)
This 3 weeks-long (22 days) celebration of goddess Nanda Devi takes place in both the divisions of Garhwal and Kumaon regions and people from all over India make it a point to attend it. In the Chamoli district this yatra takes place once in every 12 years where a Yatra is taken from Kansuwa village in Karnaprayag till Roopkund accompanied with a 4 horned sheep. The sheep is freed after performing a traditional Yajna and decorating it with various ornaments and food. This raj Jat also carries on annually in every Nanda Devi temple in Uttarakhand.
When – 2026 (between August – September)
Where – Chamoli
Basant Panchmi (Entire Uttarakhand)
The welcoming of spring season is celebrated with great zeal and enthusiasm where the people say goodbye to the winter season and cheerfully bring in the spring months. As a part of tradition goddess Saraswati is worshipped and puja rituals are also performed to get her blessings. Yellow color seems like the dominant sight since it is considered to be the goddess's favorite color. On this day people make sweets, indulge in folk dance and celebrations along with the installation of Saraswati Maa's idol in the temples.
When – 29th January 2020 (tentative)
Where – Entire Uttarakhand
Kangdali (Kandali) (Pithoragarh)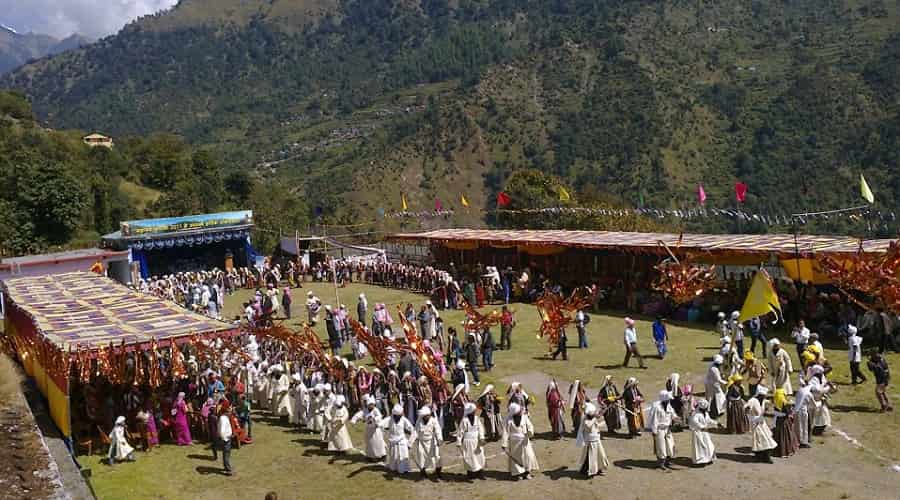 This festival is primarily celebrated by the ethnic tribe of Rung in the Pithoragarh region which is done to commemorate the time when Zorawar Singh's army was successfully defeated when he had planned his attack from Ladakh in 1841. This festival also coincides with the blooming time of Kandali plant which blossoms in the Chaundas valley during the months of August and October. The reenactment of the destroying of Kangdali plants takes place where women armed with swords had uprooted these plants and uncovered the soldiers hiding among it along with a host of other traditional rituals and processions.    
When – 30th April 2019
Where – Pithoragarh
Magh Mela (Uttarkashi)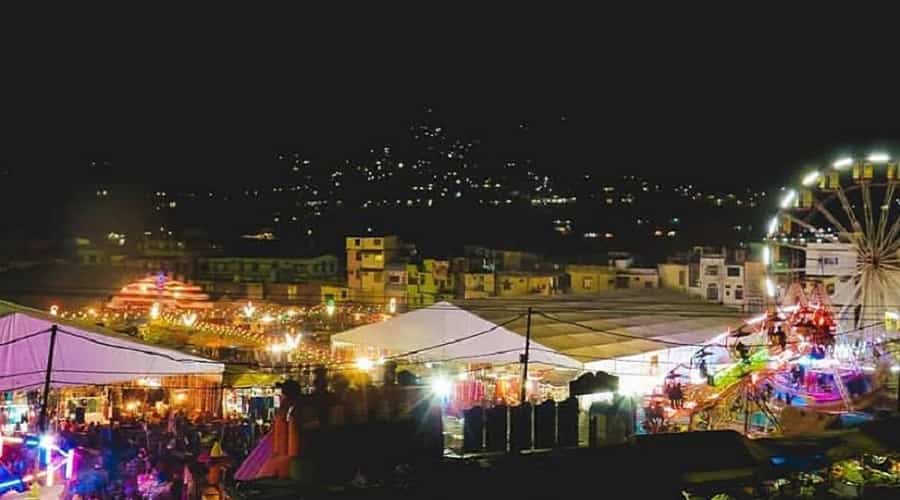 This festival takes place during the onset of full-fledged winter season and it also coincides with Makar Sankranti. This festival is now witnessing a huge increase in tourism from people looking to take a closer look at the lifestyle and festivals of Uttarakhand. This fun and frolic goes on for more than a week and people take a holy dip in Ganga River along with displaying various handcrafted items and local produce. Nowadays this festival is not only limited to this region but it is also celebrated in various other regions due to its growing popularity.
When – 15th January 2020
Where – Uttarkashi
Purnagiri Mela (Champawat)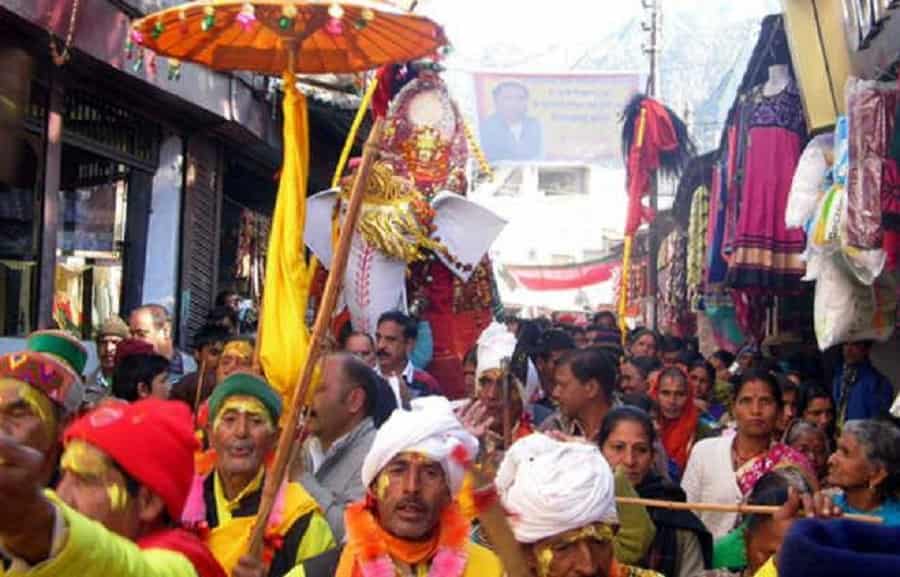 This colorful fair is held in the temple of its namesake which is located right next to the holy river of kali (on the lap of Annapurna peak) and is dedicated to goddess Sati. Being 1 of the 108 Shakti / Sidhi Peeth this is the place where the navel of the goddess fell after the Vishnu chakra cut it all up. It takes place every year during the holy time of Chaitra Navratri for a span of almost 2 months. Visiting this temple during the Mela time is a sight to behold since you will be witnessing some of the most awe-inspiring views of the surrounding snowcapped Himalayas.
When – 23rd March 2019 (goes on for 104 days)
Where – Tanakpur
Hilljatra (Pithoragarh)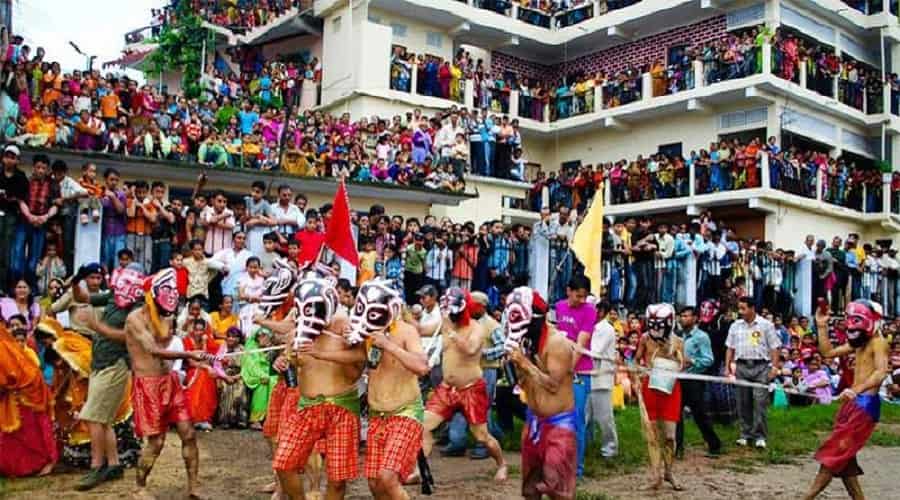 Observed primarily amongst the farmers and the agriculturist communities of the hills this festival was first celebrated in Kumaor village of Uttarakhand during the 8th day of monsoon or Bhado. It marks the ropai or the plantation process of the paddy on the field, and to ensure a good amount of yield they also sacrifice a buffalo to the gods. The ceremony takes place in 3 stages which include – worship, ritual practices and other important pastoral activities. Towards the end, people sing along some folk songs displaying the rich culture of Uttarakhand along with dance performances.
When – 31st August 2019
Where – Entire Pithoragarh
Bissu Mela (Dehradun)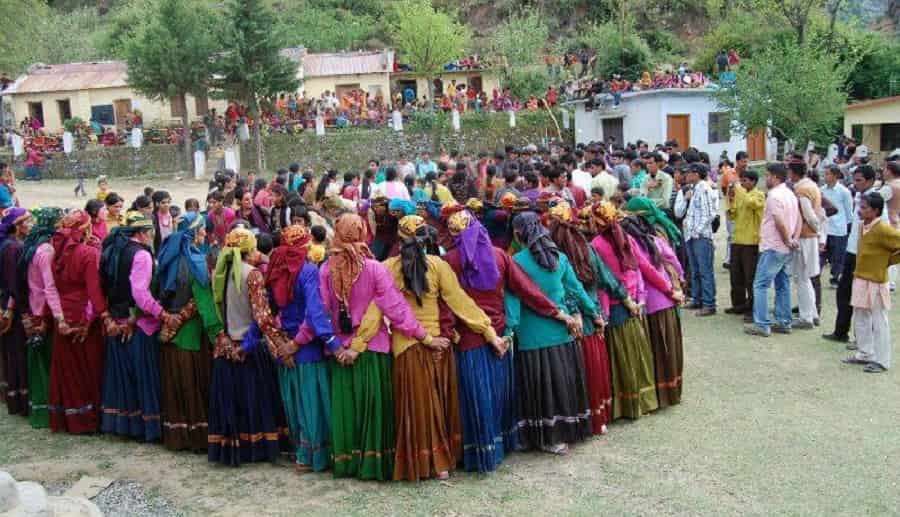 a traditional fair for the Jaunsari tribe of Dehradun this is a weeklong celebration of their ethnic roots, good harvest season and prosperity for the Santura Devi Temple. They gather together and pay their thanks or gratitude to the gods for giving a good season of harvest. Men and women belonging to this tribe dress up in traditional and vibrant clothing and dance and sing their folk music. As a part of their ritual they also offer Rhododendron flowers to the incarnation of goddess Durga which is Santura Devi.
When – 17th April 2019
Where – Chakrata tehsil
Uttarayani Mela (Kumaon Regions)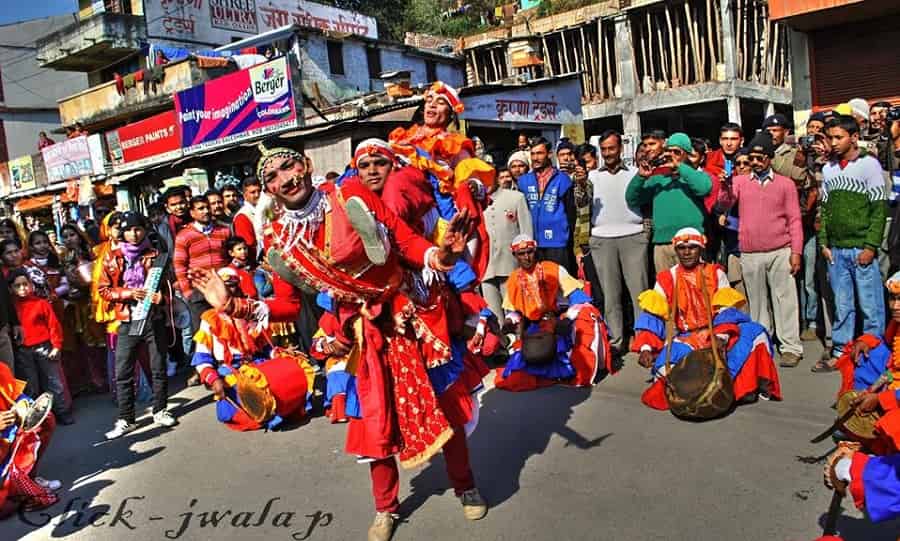 Each year, during the second week of January, during the holy occasion of Makar Sankranti the grounds around Bagnath temple on the banks of Saryu River comes to life. This colorful cultural and religious even goes on for a week and all the rich and thriving heritage of Uttarakhand is displayed through folklore and handcrafted items such as copper vessels, baskets, casks etc. This is the time which marks the movement of the sun from Southern to the Northern hemisphere during which a dip in the holy river water is considered to be extremely auspicious.
When – 6th January 2020
Where – Bageshwar & other parts of Kumaon Regions
Kanwar Yatra (Uttarkashi)
This is an auspicious pilgrimage which is observed by devotees of Shivji who practice this festival by walking all the way to Gaumukh in Gangotri, while carrying Kawars on their shoulder and filling them up with the holy Gangajal. The kawariyas offer this holy jal to shiv temple and take some back to their home. This Yatra starts during the holy months of Shravan and nearly 2 crore devotees do this Yatra every year including in Bihar. This holy religious pilgrimage is done with great enthusiasm and Kawarias don't even feel an ounce of tiredness.
When – 17th July 2019
Where – Gangotri, Gaumukh, Haridwar, Rishikesh
Ghee Sankranti (Various Parts of Kumaon)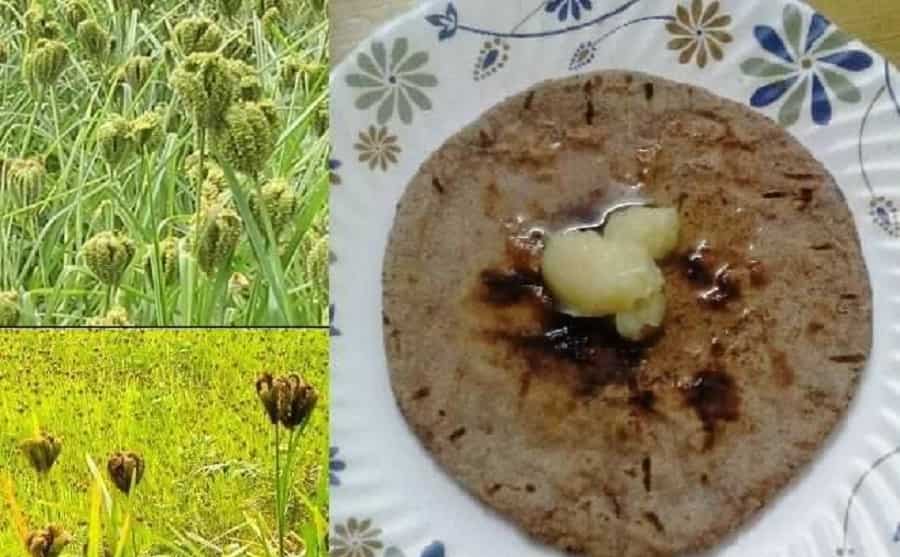 A different version of this festival is celebrated in various parts of India but in Uttarakhand it is celebrated in its own traditional and unique way. This festival, which is also known as olgia festival, marks the first day of Bhado and it is the time when sons in laws and nephews give various presents and gifts to their father in laws and maternal uncles. This is also the time when various agriculturists and artisans give different presents to their land lords in return of which they receive money, gifts and tools. A popular belief dictates that after this festival the walnuts ripen up and is also believed to be a celebration of land.
When – 15th August 2019
Where – Nainital, Bageshwar, Almora, Pithoragarh, Champawat
Holi (Entire Uttarakhand)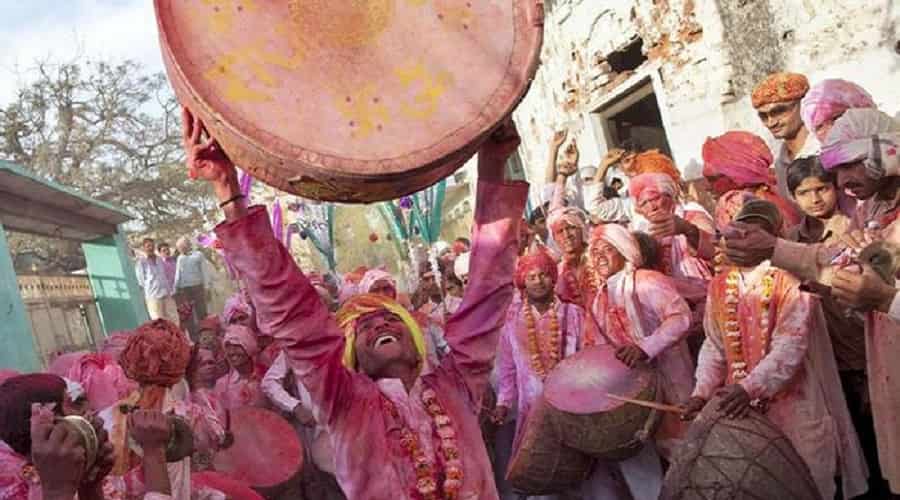 The entire state of Uttarakhand gets doused in the vibrant Gulal colors during the fun festival of Holi which is not only celebrated here but in the entire nation and even abroad. For others Holi marks the victory of good over evil whereas in Uttarakhand it welcomes the spring season. traditions of Uttarakhand can be observed clearly during this time where folk music is in the air and people also have their own versions of Holi like Mahila holi, Khadi holi and baithaki holi.
When – 9th March 2020
Where – All over Uttarakhand
Ganga Dusshera (Haridwar)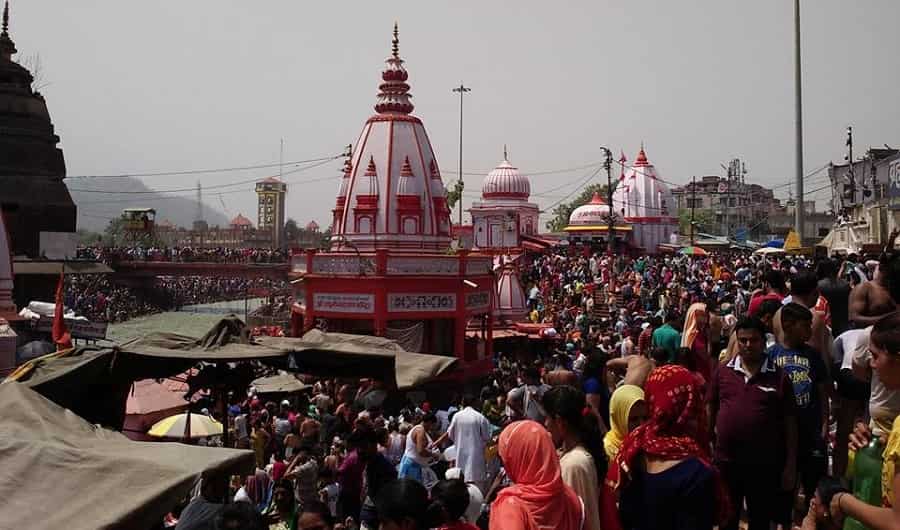 As the name suggests this is the time when the advent of the river Ganga is celebrated and people gather to the holy banks of Ganga river on their Ghats to perform various puja rituals to Maa Ganga and take turns in going for holy dips in the sacred river. This festival is a 10-day long affair and takes place on the 10th day of Jyeshtha (Dashami) and is also celebrated in Allahabad with equally great zeal and enthusiasm. Darshans take place and the deities are offered watermelons and kakris.
When – 1st June 2020
Where – Haridwar, Rishikesh
Diwali (Entire Uttarakhand)
The country celebrates Diwali generally for a maximum of two days however in Devbhoomi Uttarakhand, this festival pan for almost 5 whole days covering Dhanteras, Anant Chaturdashi, Bhai Dooj, Govardhan etc. people celebrate this festival by wearing their best and vibrantly colored attires and dance and sing in their traditional language along with lighting fireworks. There is also a tribe in Uttarakhand that celebrates Diwali 1 month after the general Diwali dates of the plains.
When – 14th November 2020
Where – Entire Uttarakhand
Kumbh Mela (Haridwar)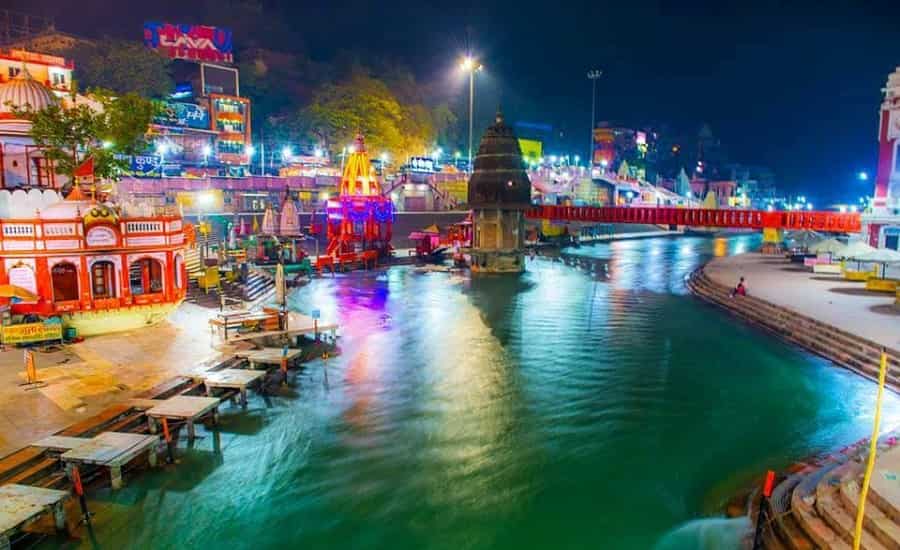 Deemed as the world's most religious sacred gathering in the world, the Kumbh Mela which takes place in Haridwar and is attended by Hindu devotees from all over the world, this festival is also known for being the largest fair in the world that takes place once in every 4 years changing from Haridwar, Allahabad, Ujjain and Nashik. This is the time when devotees gather on the ghats of river Ganga and plunge themselves in its waters to absolve all their sins and free themselves from the karmic cycle of birth and rebirth to celebrate the Samudra Manthan.
When – April 2022
Where – Har Ki Pauri Haridwar
Bhitauli (Kumaon regions)
Literally, the meaning of this festival is 'to meet', and is completely devoted to all the married females of Uttarakhand. It takes place during the Chaitra months of March or April where newly married women receive their first Bhitauli in the form of home-cooked food and sweets from her parent's home reminding her of the nostalgia of the life she left behind in her paternal home. This is also done to remind the women of Uttarakhand of their strength and contribution to the society as a whole since they are extremely helpful hand in house work as well as field works.
When – 21st April 2019
Where – Pithoragarh, Bageshwar, Champawat, Almora, Nainital
Tapkeshwar Mahadev Mela (Dehradun)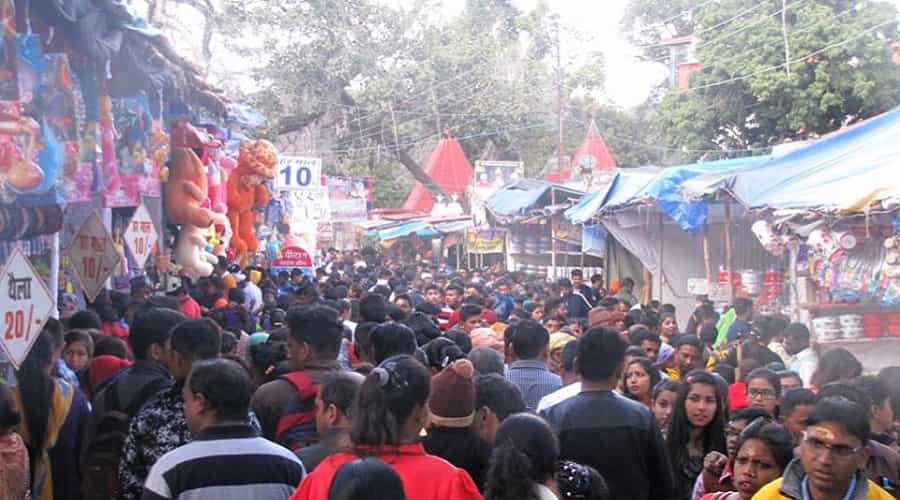 The cave temple dedicated to Shiva is situated at a distance of 6 kms from Dehradun and it turns into a huge fair site during the auspicious time of Maha Shivratri that generally falls during the months of Late February. Locally this fair is also referred to as 'Shivratri Mela' and each year this place gets colored in various hues marking the marriage of Shiv and Parvati. People and devotees from various parts of the world make it a point to visit this temple at least once during this auspicious event.
When – 21st February 2020
Where – Dehradun