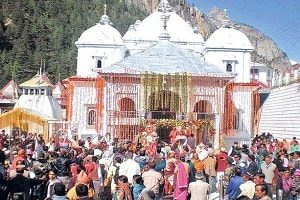 As the name suggests this is one of the rarest temples in India which is dedicated to goddess Ganga. Sitting peacefully amongst the tall snow clad mountain peaks and the pristine beauty of the surrounding lush greenery and undulating hills this gleaming white temple is a stunning and beautiful house of god which should be visited at least once in a lifetime. The temple is a mark of human resilience coupled up with deep and intense spirituality giving this place an ever present and Unmissable aura of peaceful divinity.
Location
Just like the other Chardham sites of Uttarakhand this temple is also located on an elevation of 3,100 metres above sea level within the impeccably beautiful district of Uttarkashi. The air here reverbs with a sense of intense peace and purity while the overall weather here is extremely refreshing and rejuvenating at the same time. You will be enamored completely with the enchanting beauty of this place where there is no sign of pollution and the sky is blue as ever. The temple marks the emerging point of the holy river of Ganga. People visiting the temple make it a point to take a dip in the refreshing waters of this glimmering river and some even take this water of Gangajal home since it is considered to be extremely sacred to keep it. There are numerous places to visit in and around this holy glistening Dham and is one of the most rejoiced destinations not only among pilgrims but also among adventure enthusiasts.
Why You Should Visit
Apart from the obvious undeniable beauty of this place there are several significant reasons for you to visit Gangotri. The region is entirely replete with innumerable mythological, historical and spiritual significance which makes a visit to this place extremely joyful and sour stirring. Here are a few reasons which will nudge you forward to paying this uniquely underrated Dham a visit:
This is the exact place which marks the descending of the holy river of Ganga from heaven to earth as a result of deep penance that was performed by king Bhagirath.
People visit this place to also perform certain last rites or also do Pind Daan to their long-gone ancestors since doing do in Gangotri is considered to be best way of granting them salvation or moksha, the purpose for which River Ganga had come down.
If you are a spiritual person who seeks spirituality in all his endeavors then visiting Gangotri will evoke their senses and pique their interest since this is the place where there Pandav brothers are said to have visited.
There are caves around here which marks the presence of Pandavs and is believed to be the place where the brothers are said to have meditated and stayed for a while before heading on for their journey to heaven.
The enticing peaks of Himalayas will definitely awaken the mountaineer in you and you will be tempted to make the trip to the source of river Ganga in Gaumukh which is an experience in itself. Although a difficult journey you will be very impressed with the resulting views and sights that you will get to observe.
No matter for what reason you will be making the trip to Gangotri you will be experiencing a deep sense of achievement and enlightenment.
Architecture
The glistening white temple of Gangotri is a humble looking and simple Hindu temple which looks like it has been constructed easily. It is a stunning contrast to its impeccably breathtaking blue-green backdrop and is extremely eye-catching due to a charm of its own. The Gurkha general Amar Singh Thapa is responsible for having built this temple in a traditional North Indian architectural style and design during the 18th century. Unlike its other counterpart temples that bear fine engravings and carvings this 20 feet high temple is simple in its making and is created entirely out of gleaming white granite. The temple is topped off with three main cupolas which bear golden spires along with a few tiny ones. Although this temple is not exquisitely or stylishly created but its significance is enough to draw people from all over the world to experience its strong sense of spirituality.
Inside The Temple
Although the temple is elegant in its appearance, inside the temple follows a typical temple architectural pattern. After the entering the premises the pilgrims are directed inside the assembly hass or the sabha griha of the temple. This assembly hall makes its way and leads up to the Garbha Griha or the inner sanctum of the temple where the idol of the presiding deity is placed. To be more specific the temple has been created by following the Katyuri style of architecture which is common in these regions. The inner sanctum consists of a raised platform where along with the idol of Ganga idols of various goddesses like Yamuna, Saraswati, Annapurna etc. are also present. This shrine is also built in a way where the presiding idol faces east so that the very first rays of the sun are felt on it.
What to Expect During Your Visit
The first thing that you will be noticing on your arrival to Gangotri Dham is the roaring Ganga river where huge throngs of pilgrims bathe, perform puja and collect ganga Jal via the 'Mukhya Snan Ghat'. Reaching Gangotri Dham is not an issue since the pilgrims are dropped off right on the main entrance of the temple. There are a few shrines also here dedicated to Lord Ganesh, Lord Shiva etc. there are several rest houses, guesthouses and other stop over destinations. While making your way to the temple you will be encountered with a number of shops where puja Samagri are available as well as other items of tourist interest.