Gaumukh. Cow-faced. That's how the snout of Gangotri glacier is referred to. Gangotri glacier is the origin of the sacred river Ganga. Well, technically just of River Bhagirathi. Hindu mythology considers River Bhagirathi as the mother-stream of River Ganga, while the merger of both the rivers Alakananda and Bhagirathi at Devprayag gives rise to the fullness and exuberance of the waters of Ganga. Gaumukh glacier, situated at an altitude of 4,023 m above sea-level.
Who is The Trek Ideal For?
Visiting the source of River Ganga at Gaumukh is considered a matter of great spiritual significance. One ought to understand the environmental sensitivity of the region before deciding to undertake the trek. Mother Nature is worshipped as the most apparent of Shakti's corporeal forms in Indian traditions. That we worship rivers, trees, glaciers, soil and rocks is a testament of the high stature nature enjoys in Indian consciousness. We shouldn't let it become a mockery by ritualistically worshipping nature in temples and then contributing to environmental degradation and pollution through our actions. Thus, only those who understand and revere the spiritual significance which is inclusive of utmost sensitivity towards environment ought to undertake Gaumukh trek.
Where is Gangotri Gaumukh Trek Route Located?


Gangotri-Gaumukh Trek is located in Uttarkashi district of Uttarakhand. Its estimated volume is 27 cubic kilometers. The Gangotri –Gaumukh trek route is located inside Gangotri National Park. It is situated at an altitude of 4,023 m (13,200 feet) above sea level.
Gangotri Gaumukh Trek Prerequisite
In order to embark on Gangotri Gaumukh Trek, one needs to obtain permission from District Forest Officer, Uttarkashi. The Government has recently introduced provision for obtaining permission online at https://www.swsuttarkashi.com/Permission/GangotriNationalPark. But it needs to be kept in mind that even with the online permission, one need to get it verified at the District Magistrate office in Uttarkashi. We suggest that you obtain Gangotri Gaumukh permit much before the actual commencement of the trek.
There are certain rules that apply when one is on Gaumukh trek. Foremost among these is that polythene bags are not let into the protected space of Gangotri National Park in which the Gangotri glacier resides in. The rule is imposed so as to preserve the environmental sanctity of the region.
Also, there exists an upper limit for the number of permits that will be issued in a given day. Currently only, 150 permits are issued in a given day. Obtain Gangotri Gaumukh permit well in advance to avoid disappointments.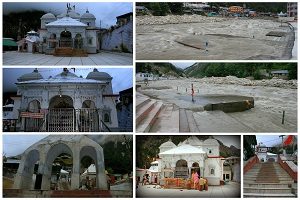 How to – The Essential guide for Gangotri-Gaumukh Trek
The length of the trekking route is about 18- 19 km. It is usually completed in 2-3 days.
The trek usually begins from Gangotri Temple. While the actual physical origin of Ganga river is at Gaumukh glacier located within the geographical boundaries of Gangotri National Park, it is the temple at which her origins is religiously celebrated in. Gangotri Temple is referred to as a dham. Dham translates to 'abode' or 'home'. Gangotri is counted among the four abodes of divinity grouped under 'Chardham'. Thousands embark on Chardham Yatra to four such homes of God in Himalayas – Yamunotri, Kedarnath and Badrinath being the other three. This beautifully built temple of shimmering white colour evokes the same sense of purity and holiness associate with Ganga River.
Motorable road exists only till Gangotri. The rest of the journey involves trekking.
The trek can be divided into four parts. Let us break them down so that you understand them better.
Gangotri – Chirbasa: – 9 km
The trek begins from the steps behind the sacred Gangotri Temple. After climbing the stairs that stretch out to over half a kilometer, one arrives at the first check post. After another half a kilometer trek, one reaches the second check-post at which one is supposed to surrender all polythene items one is carrying. Also, one is required to register cameras, if any. After trekking for about 9 km, one reaches Chirbasa. Chirbasa is the natural habitat for Chir trees.
Chirbasa – Gila Pahar: – 3 Km
Gila Pahar is both dangerous as well as mysteriously beautiful. Its ecological importance is augmented by the fact that a certain kind of mountain antelope namely Bharals live in here. The majestic Bharals are quite a sight to behold. But it must be kept in mind that the region is infamous for the frequent occurrence of landslides.
Gila Pahar – Bhojwasa: – 4 Km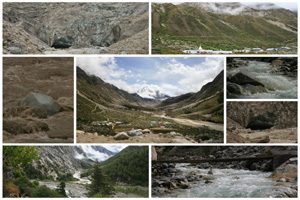 Bhojwasa is the stopover for most trekking expeditions to Gaumukh. This is the only place on the entire path with some provision for nighttime accommodation. Ram Baba's Ashrama, Lalbaba's ashram and GMVN building are the options. If you brought horses to remit the perils of walking trek, know that they cannot be taken further from here.
Bhojwasa – Gaumukh: – 4.5 km
Gaumukh is located at a distance of 4-4.5 km from Bhojwasa.  The path gets even more difficult as one approaches the glacier. In fact, one will have to cross many a boulder to reach Gangotri glacier. The beautiful views of Mt Shivling greet trekkers well before they reach Gaumukh.
If you trek ahead, you will be moving towards the spiritually enticing and mysterious Tapovan and Nandanvan. The trek is considered very dangerous. One needs the services of a good Trek guide as there is no demarcated path ahead. Also, be mentally prepared to face any adversity, even life-threatening ones.
Best Season to Embark on Gangotri Gaumukh Trek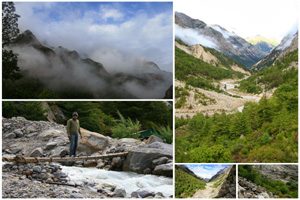 When should one embark on Gangotri Gaumukh trek? Well, the months that are considered ideal for Gangotri Gaumukh trek are May, June, September and October.
The summer months of May and June cast a pleasant overtone to Gangotri weather. While the weather is pleasant during daytime, nights are quite cold.
The autumn months of September and October gifts the landscape in a myriad of colours. The slight onset of snowfall adds to the charms of the picturesque landscape. These months are usually preferred by many trekkers.
How to Reach Gangotri for Gangotri Gaumukh Trek
By Air: – Jolly Grant Airport at Dehradun would be the closest airport. It is about 250 km away Gangotri. You can opt for helicopter services to fly from Dehradun to Gangotri.
By Rail: – It is at Haridwar that the nearest railway station is located. It is about 288 km from Gangotri.
By Road: – Motorable road connects Gangotri with most pilgrim stopovers and towns in North India. Gangotri is situated at distances of 234 km from Rishikesh, 471 km from Delhi, 93 km from Uttarkashi, 259 km from Uttarkashi, 227 km from Devprayag, 256 km from Rudraprayag, 411 km from Badrinath, 158 km from Barkot and 368 km from Joshimath.
Tips for Gaumukh Trek
The only provision for accommodation in the entire trek-route is at Bhojwasa. If you plan to halt at any other place, you may have to consider staying in tents.
Make sure you carry enough stock of chocolates, dry fruits, glucose etc.
Carry first aid and essential medication for common ailments and possible symptoms of High altitude sickness. Educate yourself about the symptoms of and healing remedies for High altitude sickness.
Usage of plastic and polythene bags is strictly banned. Please make sure that your actions do not disturb the delicate balance of the pristine ecosystem.
Make sure you consider your doctor's opinion before embarking on the trek. Consider your health and fitness levels before you embark on the trek. It is essential that you begin preparation for the trek many months before you actually begin the trek.
Sights Around Gaumukh
1. Gangotri National Park
The National Park is replete with many wonders of nature. Its exquisite bio-diversity and varied topography makes it a true treasure house for nature-lovers. Gaumukh is located within the park. There are many other attractions within Gangotri National Park other than Gaumukh glacier. One of which is Nelong Valley, 'the valley of blue pebbles', which has recently been open to visitors after having remained shut off since Indo-China war in 1962. One needs to obtain separate permit to enter Nelong valley.
2. Nandanvan, Tapovan
Tapovan and Nandanvan lay beyond Gangotri. These places are sought after by saints to serve as sacred containers for their spiritual pursuits. A few adventurous trekkers do go till these sites as well. The beauty of the meadows, flowering plants and streams that line its topography is well beyond any description.
Gangotri Gaumukh Legend
One cannot sign off a description of Gangotri and Gaumukh without mentioning the legend behind Gangotri.
King Bhagiratha performed 'tapas' for thousands of years so that the heavenly river Ganga agrees to descend upon earth. His 'Bhagiratha prayatna' did yield results as Ganga finally consented to let her streams flow through earthly realms. This was necessary as only Ganga could wash away the sins of his ancestors and grant them freedom from the curse that bound them. But since the earth wouldn't be able to hold the might of the heavenly river, Lord Shiva agreed to receive her in his matted locks prior to her descent upon earth. Gaumukh, at Gangotri is venerated as the site of her descent upon earth. It is noteworthy that Gaumukh is located below the Shivling Peak.
Puranas cite a story of human discovery of this sacred space as per which a shepherd boy inadvertently arrived at the glacier in Gaumukh while he was on search for his lost sheep. Since the glacier resembled the shape of a cow's mouth, it was given the name Gaumukh. The glacier has undergone significant changes ever since. You might no longer be able to decipher a clear outline of its cow-faced snout. Also, the glacier is said to have receded about 1 km in just 70 years. The Kedarnath Tragedy of 2013 had led to cracks appearing on its surface. A large portion of the glacier is said to have been erased away following the heavy downpour in the year 2016.