India is a land of deep spirituality, mysticism and holiness. Our country has been a seat for the great Puranas, Epics and mythological tales and has allowed many great yogis to carry out their penance and extend it to the highest level of spirituality. There are many places in our country where spirituality and myths rule supreme. Karnaprayag is one such place. If you have a mind to make a yatra to Karnaprayag, this travel information guide below will prove helpful certainly. So read on.
Chamoli in Uttarakhand is known for its beautiful locales and Karnaprayag is one such endearingly charming place. It is at a height of 145 metres and is at the junction of the Pindar and Alaknanda Rivers. More of interest to devout Hindus is that this is where Karna of Mahabharata fame worshipped Surya deva to obtain a shield that would make him impregnable. A temple stands here dedicated to Karna and Uma devi. Since two holy rivers have their confluence here, the place is considered holy.
Getting There
Karnaprayag is about 410 km from Delhi, 340 km from Meerut, 172 Km from Rishikesh, 197 Km from Haridwar, 221 Km from Dehradun, 66 Km from Srinagar, 198 km from Uttarkashi and 125 km from Ranikhet. Jolly Grant Airport in Dehradun is the closest for people wishing to travel by air. From here you can hire private cars, taxis or take a bus. For rail travelers, Rishikesh is the nearest railhead from where you travel on NH58 to reach Karnaprayag. Karnaprayag is connected by NH58 to major routes in the North and one can travel from Delhi to Karnaprayag, an overnight journey.
Accommodation
Check into a hotel when you arrive in Karnaprayag and make it the base for your excursions. Happily, Karnaprayag has a number of hotels in the budget category. You can find a few guest houses and even dormitory accommodation as well as dharamshalas for the cost-conscious travelers.
Places to See
Once on Karnaprayag stretch your legs and take a walk to the Uma Devi-Karna Temple. Then you can go on to Nauti Village. The village's claim to fame is in the once-in-12 years Nanda Devi Raj Jat Yatra in honor of Goddess Nanda. This done it is time to plan excursions to nearby places of interest.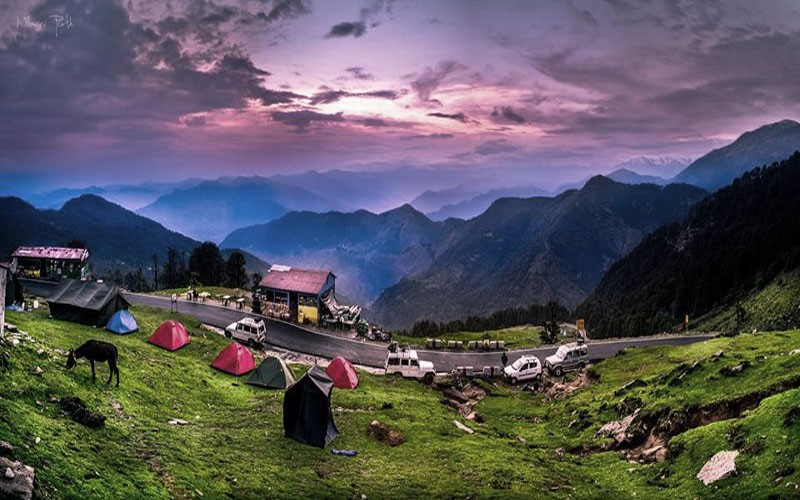 Chopta is perhaps the first place you may want to visit. Considered the mini Switzerland of Uttarakhand, this is a lovely place, especially in winter when you can go skiing. Even in summer, the place has a magical beauty with forests, mountains and water bodies making an overture fit to delight the senses. From here you can visit Tungnath and have darshan at the temple of Lord Shiva.
If Chopta is beautiful then Bedni Bugyal is no less so. You come upon green rolling grasslands with the Himalayas for a backdrop and the Kund making up the visual poetry.
Gopeshwar, about 40 km away, is for the religiously inclined and it has a number of temples chief of which is the ancient temple dedicated to Lord Shiva, the Rudranath temple at a distance from Gopeshwar.
If you love sports then head to Auli, about 85 km away, from where you can go paragliding. Auli is at a height of 3050 metres and in addition to the paragliding opportunity, you can take a ride in a cable car, the highest and also the longest in Asia, connecting it to Joshimath.
For the devout Karnaprayag is only the starting point to a trip to Badrinath, home to the temple of Lord Vishnu. Badrinath is one of the famous char dhams in Uttarakhand.
Best time to visit Karnaprayag (or any other destination in Uttarakhand, for that matter) is during summer months when roads are open, when the weather is moderate and the land appears in its majestic glory. Summer is also a time when there is a rush so expect to pay more for transport and hotels. In winter, when you visit Auli, rates are low but freedom of movement is also restricted.
Shopping
If your hand itches to buy something, there are opportunities to acquire local handicrafts and local produce from the Umadevi and Narsinh temple areas. Anyway, shopping is not the point of the trip unless it is to pick up souvenirs.
Cuisine
Since this is a pilgrimage city you can expect mostly vegetarian food to be available in the numerous restaurants as well as street side stalls. Select restaurants serve non-vegetarian dishes. However, try out local Garhwal and Kumaoni foods such as Rusi, Phannu and Badi, based on lentils and herbs, Arsa sweets, Gulgula and Kandale ka saag. Modernisation has caught up with Karnaprayag and you can also find fast food joints.
Fairs and Festivals
Festivals like shivratri, Holi, Basant Panchmi, Nag Panchmi, Ram Navmi and Dussehra have a special significance in Karnaprayag but it is the great Nanda Devi Raj Jat Yatra that takes pride of place. Unfortunately, it is organized only once in 12 years so, if you are lucky enough to visit when it is time for this fair, then you will enjoy a grand spectacle.
Cities take on a modern layer but it is places like Karnaprayag where centuries old traditions are still kept alive. If want to see rituals the way they were done in ancient times, head to Karnaprayag. If it is natural beauty that you find attractive, Karnaprayag is enticing, especially since it is not at a great height and is so easily accessible.