Popular for being one of the holiest out of the remaining 4 Prayags in India, Vishnu Prayag is the confluence point of Dhauliganga and Alaknanda. As the name suggests it is a holy place for Lord Vishnu and has also found its mention in a number of ancient holy Hindu scriptures. Situated on an altitude of 1400 metres above sea level and makes its way through the lofty tall mountains of the Garhwal Himalayan ranges, it is a sight to behold. Even if visiting this place is not in your tour plans but it will fall on your way and you should definitely take a moment to appreciate this marvel of nature. This merging point of two makes its way gracefully through the district of Chamoli in Uttarakhand and is visited by devotees from far and wide. People mainly visit Panch Prayag during the auspicious occasion of Makar Sankranti, Basant Panchami, Ram Navmi, Uttarayani Etc. The beauty of this place is untouched hence unparalleled and even if you are not a religious person but are only looking for some peaceful time away from the city then you must visit this sacred ancient town. the place allows you to have a unique experience of spiritual enlightenment and serenity.
Route
The origin point of the holy river Alaknanda can be traced back to the slopes from the large glacier fields of the magnificent Chaukhamba peaks. This is then joined near Badrinath in Mana village by the Saraswati River while whimsically flowing past Badrinath Dham. On the other hand, the origin point of Dhauliganga can be found at Niti Pass, which then forms Vishnu Ganga by converging with Alaknanda. It is also the very first confluence in a series of confluences that eventually for the holy river of Ganga.
Religious Significance
This is one of the most religious and sacred Prayags due to its mythological and historical significance. Some of these legends include:
1- Sage Narad is said to have mediated and performed penance to Lord Vishnu here. Delighted by his devotion Vishnu is said to have appeared in front of him and blessed him with cosmic energies. A temple marking this event is located 2 kms away from the Prayag site and should definitely be visited.
2- The confluence of the holy river is considered to be a holy spot. Taking a holy dip in its water is supposed to grant you moksha. It is also believed to relieve you of all your worldly sins.
3- A unique octagonal shaped temple also graces the edge of the confluence and was built in 1889 which till this day holds immense significance and devotees also make it a point to visit this temple after the holy dip.
Getting There
Vishnu Prayag is located at a distance of 540 kms from Delhi and 290 kms from Haridwar. People usually commence this journey from Rishikesh / Haridwar.
You will be Following This Route Map:
Rishikesh – Srinagar – Rudraprayag – Karnaprayag – Nandprayag–Pipalkoti – Vishnuprayag
By Air – If you are making your way from some far away destination then the closest airport is situated in Dehradun which is jolly grant airport. From outside the airport you can hire a cab service leading up to the Prayag.
By Train – This is also one of the most convenient ways to getting to Vishnuprayag. The nearest train station is located in Rishikesh which caters to a number of different destinations. From outside the station as well you will be able to avail some taxi or cab hire services or even board a bus till Vishnuprayag depending on your budget and requirement.
By Road – There are several buses, shared jeep services and cab hiring services available that will allow you to reach the Prayag in a convenient and pocket friendly manner. From Joshimath it is located at a mere distance of just 10 kms.
Accommodation
Vishnuprayag caters to a number of people from different parts of the world travelling to Uttarakhand for their Panch Prayag Yatra. There are several accommodation options available and most of these are extremely budgeting friendly. These places like small room hotels, lodges and even ashrams offer almost all of the basic amenities to ensure you a comfortable stay. There is also a GMVN available here which allows you to have a comfortable and a hygienic stay at the lowest prices. If you want a better stay option then you can also decide to travel up to Badrinath where there is a plethora of hotels and stay options available.
Things to Do
Holy Dip – Take a holy dip in the confluence with the help of strong chains that dangle on the edge of the Prayag. You can also offer your prayer in the octagonal temple situated in its close proximity and was established in 1889.
Visit Nanda Devi Wildlife Sanctuary
Wildlife sanctuary pans over an area of 2,236 sq. Km. and falls in the UNESCO world heritage site for its collection and display of flora and fauna.
Visit to Badrinath Dham
Badrinath is located at a distance of 32 km from here and goes through Joshimath and Govind Ghat. You should definitely visit this holy hub of spirituality dedicated to lord Vishnu.
Village Tour
You can go and explore some nearby local Himalayan villages where you will be able to observe their lifestyle and way of life. You can go to Joshimath for this experience which is the best way of getting away from the chaotic crowd. Urgam valley id another option for you to explore.
Places of Excursion
Being located at a height the entire region of Vishnuprayag is replete with a number of nearby excursion places like:
Gurson Bugyal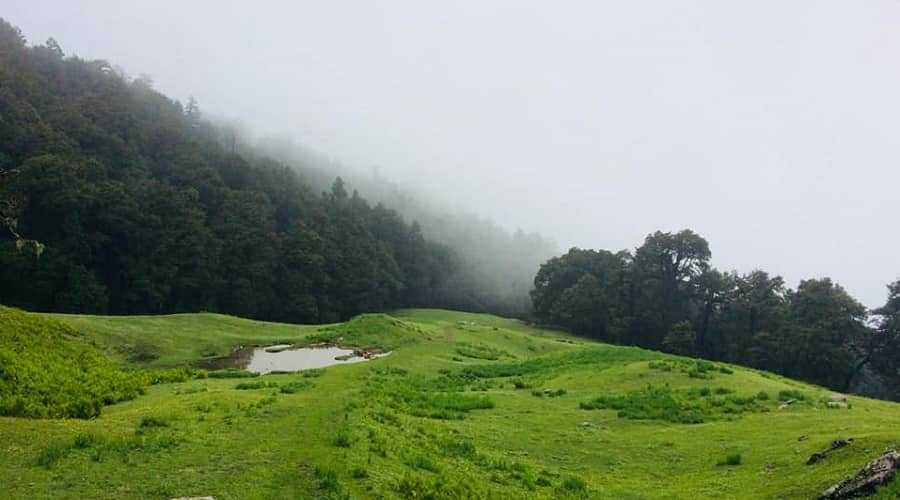 This meadow or Bugyal is one of the most popular in Uttarakhand. It can be reached by covering a trekking journey of 3 hours which will take you through Joshimath. There are tented accommodation and camping services available there in case you decide on spending the night there. From here you can also visit the famous Chattarkund which is just 1 km away from here and is located amidst lush forest surroundings.
Badrinath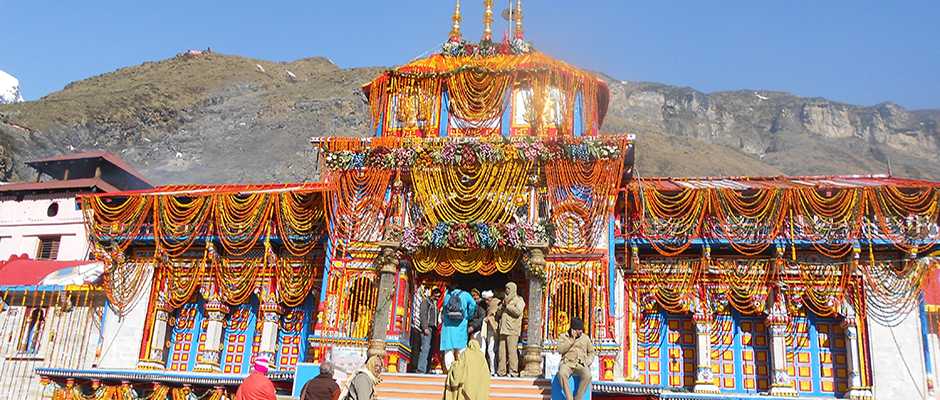 The temple is situated at a road journey distance of maximum 2 hours (depending on the traffic). The Vishnu temple is the hub for devout Hindus on their way to the Chardham Yatra. From Vishnuprayag you will reach Badrinath via Govind Ghat, Pandukeshwar and Hanuman Chatti. There are a lot of hotels and lodging options available in the vicinity of the temple which will enable you to go for the evening as well as the auspicious early morning aarti ritual.
Kalpeshwar Mahadev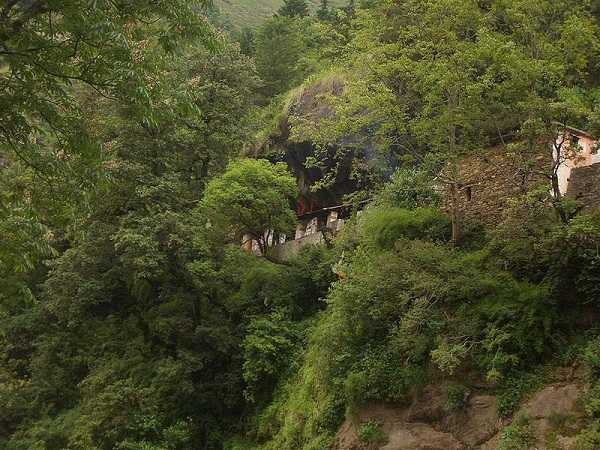 This is the final temple to be visited in the Panch Kedar circuit and is also the only temple which never closes even if other Panch Kedar temples are shut down. It is situated at a distance of just 1.5 to 2 hours of car journey and is particularly important for devout Hindus since Shivji is worshipped in the form oh his matted here. You can also offer your prayers to the wish-granting tree called Kalpavriksha.
Valley of Flowers National Park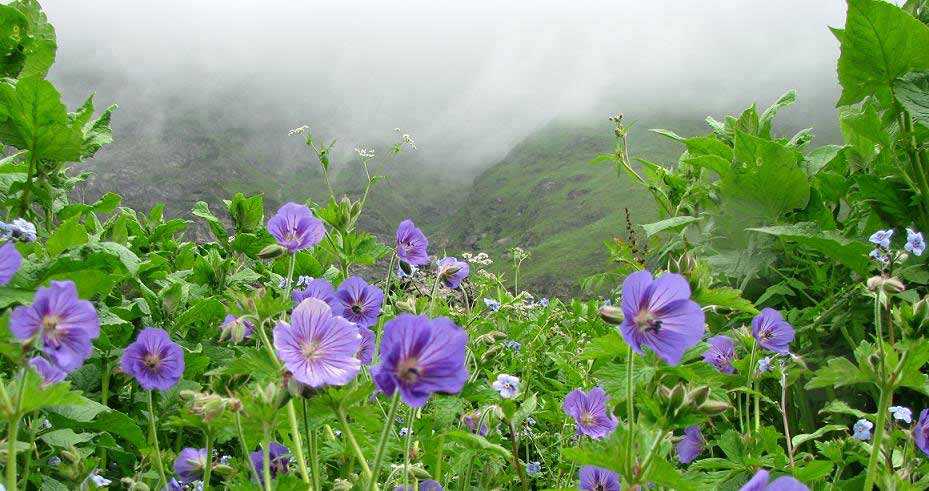 The entrance for this UNESCO world heritage site is located at a mere distance of almost 20 to 30 minutes from Vishnu Prayag. This national park is famed for its colourful and thriving collection of flora and fauna which is well preserved. The Pushpawati River flowing through the park supports this very rare high altitude eco system and helps it thrive.
Best Time to Visit
Summer – The onset of summer is marked during the month of April and lasts till June. The temperature during these months remain between 15 to 32 degree Celsius. The entire region remains drenched in sunlight and this is also considered to be the most pleasant and the best time to visit or go on a pilgrimage of Panch Prayag.
Monsoon – The rainy season in Vishnu Prayag is marked off during the months of July to September. The region experiences heavy rainfall during this time and the chances for roadblocks and landslides increases so you should plan your trip accordingly beforehand.
Winter – Another idea time to pay a visit to Vishnuprayag is during the months of October till March. The temperatures during this time even dips to as low as 0 and carrying heavy and warm woollen winter wear is advised. You can also go on short excursions also during this time.
Travel Tips
1- Tourists and visitors are advised to stay away from the places which are marked for being dangerous.
2- Being a religious town remember to respect the sentiments of the people there and try not to offend them in any manner. Wear appropriate clothing and do not consume alcohol and smoke cigarettes during your visit.
3- For a delectable food experiences try out the local cuisines there like Chainsoo, Aloo Ke Gutke etc.
4- Be sure to plan your trip ahead of time to avoid any glitches or hassles on your soulful trip.