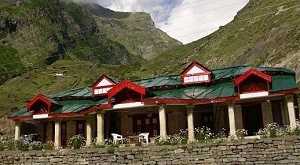 Overview
Jagirdar Guest House Badrinath which was erected in the year 1930 is nestled in the midst of snow-capped mountains of Himalayas. Badrinath has continued to evolve as a major pilgrimage spot with arrays of jaw-dropping hill stations. It is undoubtedly a perfect spot for a nature enthusiast and to those who are spiritually inclined.
Hotel Facilities
Some of the basic facilities offered by Jagirdar Guest House Badrinath include twenty-four hour uninterrupted supply of hot and cold water, pick-up and drop facilities, tour guides and maps are readily available upon request. The hotel houses a restaurant which serves Indian and European cuisines. This place was originally the place of residence for the nation's first president and Maharaja of Tehri.
Room Information
Jagirdar Guest House Badrinath comprises of four luxurious rooms with tents. Each rooms offer spectacular views of the majestic mountains and landscapes. Their rooms are well-equipped with attached bathrooms with twenty-four hours of uninterrupted water supply.
Tariff Rate of Jagirdar Guest House Badrinath
The tariff rate starts from Rs. 9960 for a single night.
Hotel Policies
Both check-in and check-out time is about 12 PM.
The customers do have the option to book their rooms online or upon arrival at the hotel.
Places of Attraction near Jagirdar Guest House Badrinath
Mana Village: – Mana Village is believed to be the last village of India which is located in the Chamoli district of Uttarakhand. It is located at an altitude of about three-thousand two meters above the sea level. Exploring Mana village offers delightful experience for the visitors around the world. As soon as you step in to the place, you can feel a sense of warmth and freshness owing to the presence of the majestic Himalayas located besides the river Saraswati.
Mata Murti Temple Badrinath: – Mata Murti Temple is a prominent Hindu place of worship which is situated at a distance of about three kilometers away from the heart of the city. It is positioned along the banks of river Alaknanda. This temple is dedicated to Goddess Mata Murti who is mother of Lord Narayan. It is also the primary venue for hosting a major fair on the eve of Shravan Dwadashi (Vaman Dwadashi). Majority of the devotees offer blessings to their holy deity during course of their journey.
Vasudhara Waterfalls: – Vasudhara Waterfalls which is located at Badrinath in Uttarakhand is situated near the banks of river 'Alaknanda'. The total distance required to travel from Badrinath to Vasudhara is about nine kilometers.
Alakapuri Glacier Badrinath: – Alakapuri is believed to the primary source of river Alaknanda. It is located at the foothills of Balakun peak at an altitude of about four-thousand six meters above the sea level. This massive glacier is again sub-divided into two major valleys named 'Satopanth' and 'Gaumukh'.
Surya Kund, Badrinath: – Surya Kund is a famous thermal spring which is located adjacent to the 'Narada Kund'. This is one of the few springs where the visitors normally take a dip to eliminate their sins. Owing to its medicinal properties, the tourists frequently visit this place to indulge in a therapeutic bath.