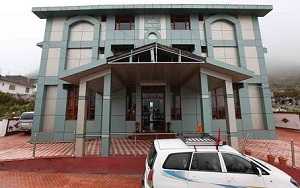 Overview
New Hotel Snow Crest which is located at Badrinath offers ample opportunities for the valued customers to bask in the midst of snow-capped mountains of Nilkantha. The hotel management places a great emphasis on satisfying the needs and wants of their valued patrons. They give due importance on comfort of each customers. The jaw-dropping views of Nilkantha mountains and landscapes compliments harmonious music produced from a wonderful rendition of Maha Abhishek aarti. Majority of the picturesque places is located just stone's throw away from the hotel.
Room Information
The interiors of each room are very spacious which would make you feel at home while away from home. Each room is well-equipped with basic amenities like television sets, safety lockers, attached bathrooms and toiletries along with uninterrupted supply of hot and cold water.
Hotel Facilities
New Hotel Snow Crest provides basic facilities like free parking lots, laundry, room service, twenty-four-hour front desk. The discerning customers do have the option to take advantage of doctor-on-call facilities if in case of any medical emergencies.
Hotel Policies
The check-in and check-out time of New Hotel Snow Crest is 1 PM and 11 AM respectively. The customers can book their rooms either online or make the payments upon arrival at the hotel.
Tariff Rate of New Hotel Snow Crest
The tariff rate of New Hotel Snow Crest starts from Rs. 9960 for a one night stay.
Places of Attraction near New Hotel Snow Crest
Badrinath Temple: – Badrinath which is often referred to as 'Badrinarayan temple' is located in heart of the city in Uttarakhand. This pilgrim spot is one of the 108 divya desams which is dedicated to Holy deity Lord Vishnu. The shrine is opened to the public six months in a year (i.e. from April end to beginning of month of November). It is primarily due to the harsh weather conditions prevailing in the town of Badrinath.
Mana Gaon: – Mana Gaon is believed to the last village which is bordered between India and Tibet. It is presumed to be the spot where Pandava brothers crossed through right before their ascent to the heaven. The local residents of this quaint little village are actively involved in activities organized by the town of Badrinath.
Charan Paduka: – Charan Paduka is actually a rock which bears the footprints of Holy deity Lord Vishnu. It is located just three kilometers away from Badrinath temple. This shrine which stands at an elevation of about three thousand three hundred eight feet captures the attention of the tourists across the globe. There is a common belief among the locals that whoever pays darshan of the Lord's footprints would immediately recover from serious ailments and injuries.
Nilkantha Parvat: – Nilkantha is a famous peak which is located at Garhwal division of the Himalayas. According to Hindu mythology, there were no traces of mountain at the spot where the current Nilkantha is positioned. The Gangotri glacier is located toward west of the Nilkantha Parvat.
Address
Main Road Badrinath Dham
Badrinath, Uttarakhand, 246422