Overview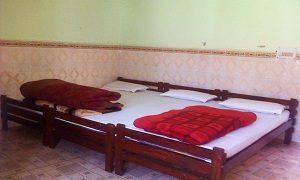 Nanda Guest House is strategically located in the heart of Badrinath Dham in Uttarakhand. The hotel offers a splendid view of the surroundings in an eco-friendly environment. It is indisputably a perfect vacation retreat for leisure seekers and pilgrims. This guesthouse is also an easy access to one of the prominent Hindu places of worship in Badrinath 'Badri Vishal Temple' and the city bus station. The total time required to travel from hotel to the above-mentioned places is just five minutes.
Room Information
Each room that falls under the deluxe category is aesthetically designed to ensure a comfortable lodging experience for the discerning customers. The balcony provides panoramic views of the Badri Vishal Temple. In addition, hotel does provide both three bed and four bedrooms that suits tastes and preferences of the clients. Those who are scouting around the town for a budget hotel, then Nanda Guest House could be their perfect pick.
Room Facilities and Services
Daily maintenance
Laundry services
Twenty-four-hour doctor on call
Heating bed
Attached bathrooms and toiletries
Cab services upon request
Television
Travel guide available at the front-desk
Hotel Policies
The check-in and checkout time is around twelve noon.
Address
Nanda Guest House, Near Bus Stand Badrinath, Uttarakhand – 246442