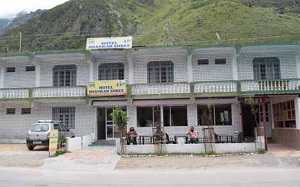 Overview
Hotel Sankar Sri is a leading deluxe hotel in Badrinath with more than four different types of accommodations like jungle shack, treetop, tree house and tribal house. It is ranked as the 14th best hotels, which serves complimentary breakfast. The serene and peaceful environment of this hotel makes it an ideal vacation retreat for leisure travelers. If the customers wish to explore the sight-seeing places in and around the hotel, they are requested to check-in as early as possible. Contact the hotel directly to get familiar with extra services offered by them.
Tariff Rate of Hotel Sankar Sri Badrinath
The tariff rate of Hotel Sankar Sri starts from Rs.2600 for a single night. The price charged for an adult is Rs. 2000 and for a child is Rs.1000.
Hotel Policies
As per the rules and regulations, a maximum of two adults and children are allowed to accommodate.
Address
Near Bus Stand, Badrinath Road, Badrinath, Uttarakhand- 246443