Devprayag is one of the five prayags or holy river confluences in Uttarakhand. The holy Rivers Bhagirathi and Alaknanda meet here and become Ganga. Pilgrims arrive here in hundreds during the char dham pilgrimage season. It is also a temple town hosting the temple of Raghunath and Mata Bhuvaneshwari and also a scenic location with Dashrathanchal, Giddhanchal and Narsinghanchal peaks surrounding the town. It is also home to the priests of Badrinath. Located on NH58, this town is on the way to Badrinath and a nice place to stay. One can find over half a dozen hotels and resorts here ranging from expensive to budget.
Hotels in Devprayag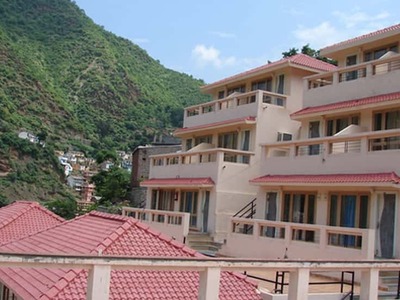 Ramkund Resort
Hotel: 3 Star ➝ Restaurants : Yes
Location : 500 meters ➝ Parking : Yes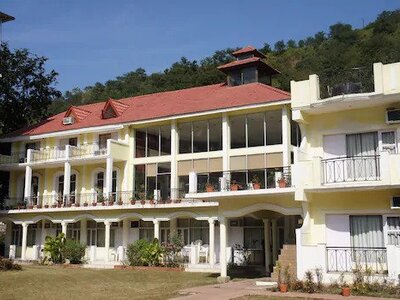 Riverside Resort Kirtinagar
Hotel: 3 Star ➝ Restaurants : Yes
Location : 500 meters ➝ Parking : Yes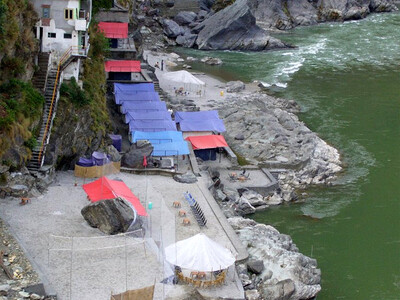 Dhaneshwar Resorts
Hotel: 2 Star ➝ Restaurants : Yes
Location : 500 meters ➝ Parking : Yes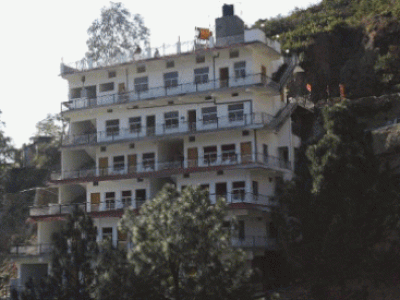 Rishikesh Yoga Center
Hotel: 2 Star ➝ Restaurants : Yes
Location : 500 meters ➝ Parking : Yes

Motel Dev
Hotel: 1 Star ➝ Restaurants : Yes
Location : 500 meters ➝ Parking : Yes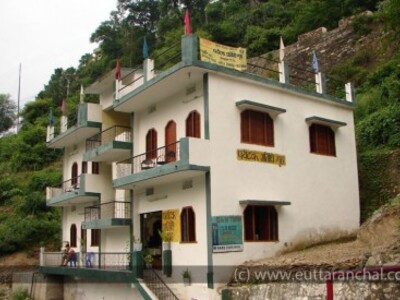 GMVN Devprayag TRH
Hotel: GOVT ➝ Restaurants : Yes
Location : 500 meters ➝ Parking : Yes
Rudraprayag Hotel List
Rishikesh Yoga Center
Also known as Sangam Yoga Retreat, the Rishikesh Yoga Centre is located in Govindpuram on the Badrinath Highway. For those who wish to take in some yoga lessons this is an ideal place to stay with a lovely view of the confluence and the mountains. The resort has modern rooms with attached bathrooms and hot running water. All rooms lead to a common terrace so that pilgrims can enjoy the view. Dining facilities are available inside the resort. The rates are rather steep but it includes yoga lessons, dining and accommodation. It forms part of Motel Dev where one can enjoy a stay as a usual guest without the yoga lessons.
Motel Dev
If you are looking for affordable accommodation then Motel Dev could be for you. Tariff starts at around Rs 1200 with rooms offering a great view of the confluence. One can enjoy activities like hiking and rafting as well as yoga lessons in the Sangam retreat. There are 16 AC and non AC rooms with 24 hour room service along with other facilities. Guests can request pick up and drop off services too. A fine restaurant serves pure vegetarian food.
GMVN Devprayag Tourist Rest House
For those on a budget the GMVN Devprayag tourist bungalow is ideal. It is located on Tehsil Road, just 2 km from the main bus stand. For Rs 500 you get a decent room but you have to share a common bathroom. There are 14 rooms in all and one can dine in the premises on fresh vegetarian cuisine.
Dhaneshwar Resort
This is a camp style resort on the banks of the Alaknanda, offering accommodation in 24 deluxe tents. Four people can stay in a tent and larger groups can request more tents. The tents have beds and carpets, recreating the atmosphere or a room but with easy access to the outdoors. There are bathrooms in the vicinity. The resort offers decent vegetarian and non-vegetarian food. If you like you can participate in kayaking, rock climbing, trekking and other activities that the resort arranges for its guests.
Ramkund Resort
Ramkund Resort on Pauri Road is a three star hotel just a short distance from Ramkund and the confluence where the River takes on the name Ganga. As befits a 3 star hotel, there are 26 air conditioned rooms with all modern amenities. There is one suite. The hotel also offers deluxe suite tents in the open space. In addition, there is a restaurant offering a range of local and continental foods. One can take part in various activities like yoga, cycling, motor biking, rock climbing, fishing and trekking.
Hotel Chakasha Govindam
Hotel Chakasha Govindam is a classy hotel close to Devprayag offering double deluxe AC rooms, Four bed deluxe AC rooms and double air cooler rooms. Rooms have LCD TV, facility of room service and attached bath. The hotel also has a large dining hall.
Himalayan Eco Lodges and Camp
You will find Himalayan Eco Lodges and Camp about 25 km from Devprayag. There are 20 rooms with the usual amenities like hot and cold water, tea/coffee maker and TV. One can pick a budget room or a deluxe room or even an executive suite here. The rooms are all spread out in the open and it is a great place to enjoy nature and dine as well.
Hotel Raghunath Palace
This is an economy hotel located at some distance from Devprayag. It offers 20 well furnished rooms with TV, attached bath and usual amenities. Tariff starts at Rs 1400.