Situated at an altitude of 4,135 metres above sea level in the district of Rudraprayag Vasuki Tal is a high altitude, clear blue glacial lake. Outlining and overlooking the lake are the gloriously majestic, snow-laden Himalayan ranges which form the backdrop for this holy site. This is also one of the least visited and less frequented trekking trails in Uttarakhand and is located at a distance of 8 kms from the holy Char Dham site and one of the holiest Jyotirlingas of Kedarnath. Once you reach there you will be able to savour some of the most splendid views of the surrounding Chaukhamba peaks which look like it protects the entire lake region.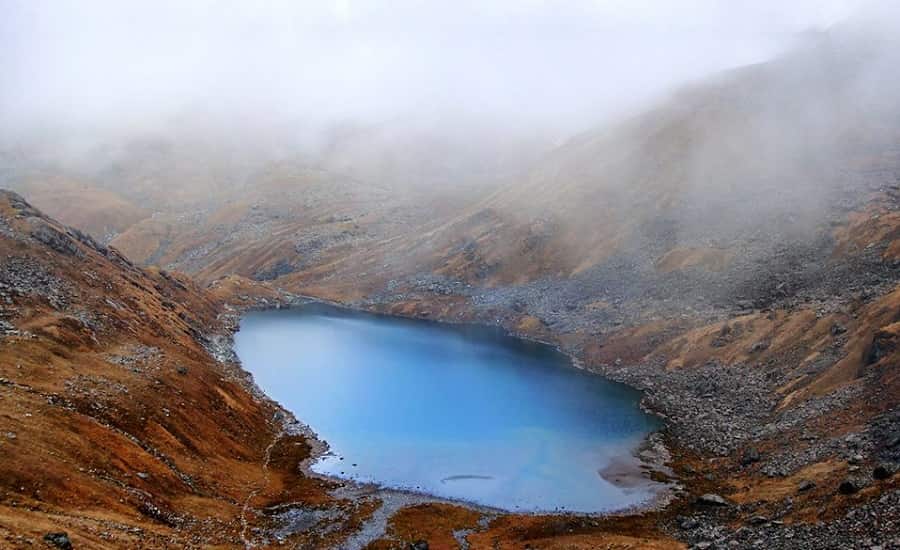 History of Vasuki Tal
The pristine glacial waters of Vasuki Tal is set amidst the massive and towering Himalayan peaks which form a charming tone to the entire environment. The entire lake is outlined with the unique and beautiful Himalayan flowers known as Brahma Kamal. This trek is not only a famous trekking and hiking destination for adventure lovers but it is also an important spiritual destination for people seeking some spiritual vitality. This place is considered to be extremely holy since it is believed that as per Hindu mythology, Lord Vishnu had descended onto the earthly realm into this lake for a holy bath during the auspicious festival of Raksha Bandhan.
Location
Perched at an elevation of 14,200 feet above sea level on the charming hills of Kedarnath Dham, Vasuki Tal is quickly becoming one of the most sought after tourist destinations in northern India. This place is being visited by not only by adventure seekers but also it is a hub for pilgrim goers and people seeking to amplify some spirituality in their lives. The lake is surrounded by colourful fauna and beautifully unique Brahma Kamal which is only found at high altitude zones. Trekking up to this region is a difficult route so people suffering from BP problems or some physical or mental ailment are advised against taking this journey.
How to Reach
A trekking journey to Vasuki Tal is every trekker's dream come true which should be covered with a group of at least six individuals. The trekking grade for this lake comes under difficult and a trekking guide should be employed so that you don't wander off. The trekking journey kick starts from Gaurikund via Rambara and reaching up to Garud Chatti, and finally making way through the holy Kedarnath Dham temple. The downward flowing holy River Mandakini which lines the entire route of the Kedarnath trek, offers the pilgrims and visitors an opportunity to enthrall at its beauty. From Kedarnath you will make your way to the grassy location of Vasuki top, from here you will be able to view some of the most magnificent sites of Chaukhamba hill and Mandakini valley. Once you reach Vasuki hill top, Vasuki Tal is located at a 1 km downward trekking distance.
Here is a Brief Route Leading up to Vasuki Tal:
Dehradun – Rishikesh – Narendranagar – Chamba – Tehri – Ghansali – Chibitiga – Mayali – Tilwada – Agastyamuni – Kund – Guptkashi – Phata – Gaurikund – Kedarnath – Chorabari – Bamak glacier – Vasuki Tal.
Best Time to Visit
This place can be visited and trekked during the summer and spring months of May to mid-June and mid-September to mid-October. Since the lake is situated on an extremely high altitude, this place experiences low temperatures during the winter months along with freezing weather conditions and even snowfall on some occasions. Trekking activity is not possible during the winter months. Trekking during rainy and winter seasons is not allowed since the entire region becomes prone to unpredictable landslides.