Nestled at an elevation of almost 1829 meters above the sea level and en-route the holy shrine of Lord Vishnu, Pandukeshwar is one of the most popular divine places in Devbhoomi. There are myriads of legends behind the origin of Pandukeshwar and one of them is associated with King Pandu. It is believed that King Pandu who was the father of the mighty Pandavas worshipped Lord Shiva at this place. This popular incident has been mentioned in the holy Hindu epic The Mahabharata. Pandukeshwar is home to two sacred holy abodes Yogdhyan Badri and Lord Vasudev Temple. Hindu mythology states that Vasudev Temple was constructed by the brave Pandavas in the honor of Lord Vasudev.
Location
The destination lies between Badrinath and Joshimath. Badrinath is located approx. 23 kilometers away from Pandukeshwar and Joshimath is at a distance of approx. 18 km from the destination. One needs to cover a distance of almost 274 kilometers from Rishikesh Railway Station and also 302 km from Dehradun.
Legends behind Pandukeshwar
Pandukeshwar is popular for holding myriads of legends where each adding more glory to its importance. One of the most popular legends has been mentioned in Mahabharata which states that this is the place where King Pandu (father of Pandavas) performed a deep penance in order to get free from the sin of murdering sages. Mythology states that this mighty king used to stay with his wives Madri and Kunti in Pandukeshwar after giving his throne to Dhritarashtra who was his elder brother. It is said that one day King went on hunting and by mistook he killed a sage who was making his love in the form of a deer. Later on, while dying the sage cursed him that he won't be able to love anyone in the future and if he tries to do so then he will die.
In order to get rid of this sin, King Pandu visited Yogdhyan Badri and installed a bronze idol of Lord Vishnu and performed a deep meditation there and in the meantime through Yogdhyan Madri and Kunti gave birth to Pandavas. Later on, one day when Madri was taking bath in the Alaknanda River, King Pandu got attracted towards her and as per the curse of the sage he died.
History of Pandukeshwar
Pandavas came Pandukeshwar to perform the funeral ceremony of his father while they were on their 12 years of exile. It is believed that Arjuna also meditated here during the exile period and pleased Lord Indra to seek his blessing. Afterward, Pandavas constructed the Vasudev Temple and dedicated it to Lord Vishnu, Madri, and Goddess Lakshmi.
Places to visit in and around Pandukeshwar
Badrinath Temple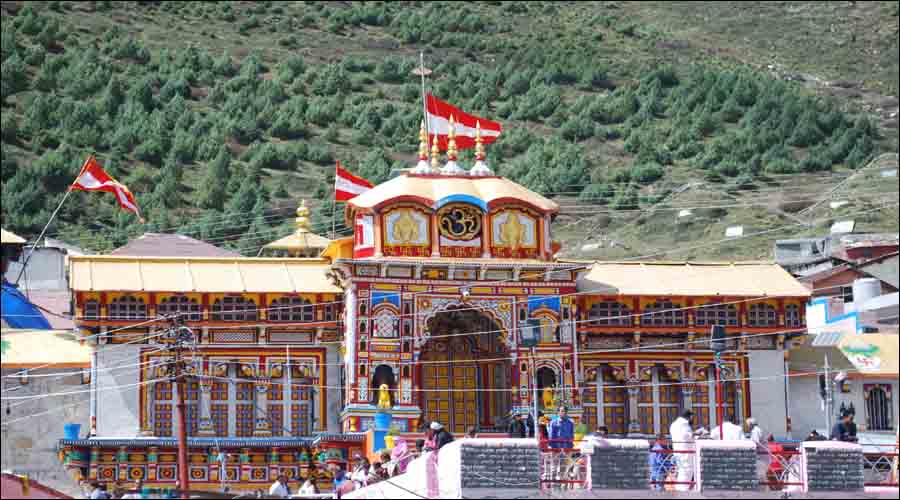 Nestled beautifully amidst the Garhwal Himalayan ranges, Badrinath Dham Darshan is believed to be one of the most prime destinations of Vishnu worshippers. Located at an elevation of approx. 3300 meters above the sea level, Badrinath Temple holds a great religious significance and is enlisted among Char Dham in India and also Chota Char Dham in Uttarakhand. The temple is believed to originally constructed by the great Hindu philosopher Adi Shankaracharya in the 7th century CE.
Tapt Kund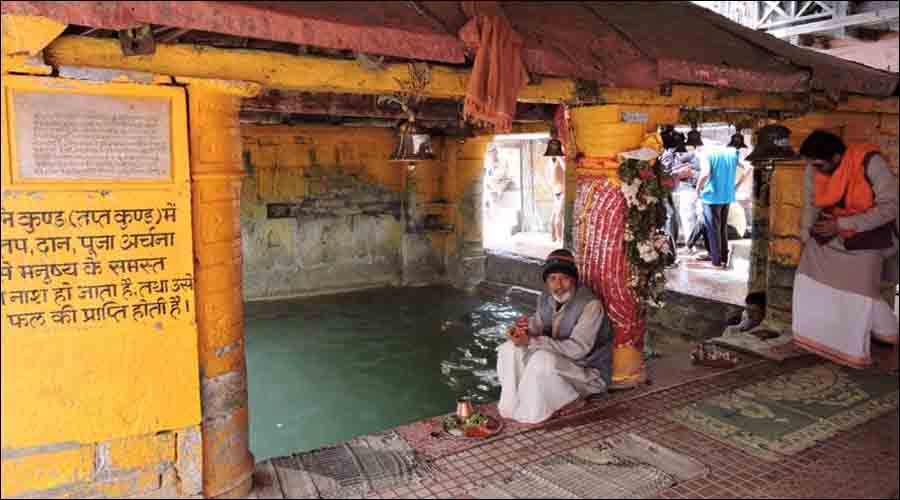 A naturally formed hot water spring, Tapt Kund lies amidst Alaknanda River and the Badrinath Temple in the Chamoli district. The water of this kund remains at the level of 45 degree Celsius irrespective of the weather conditions. This sacred hot water Kund is located to the right of the Badrinath Temple. There is an important ritual to take a dip in this divine Kund before entering the temple.
Yogdhyan Badri Temple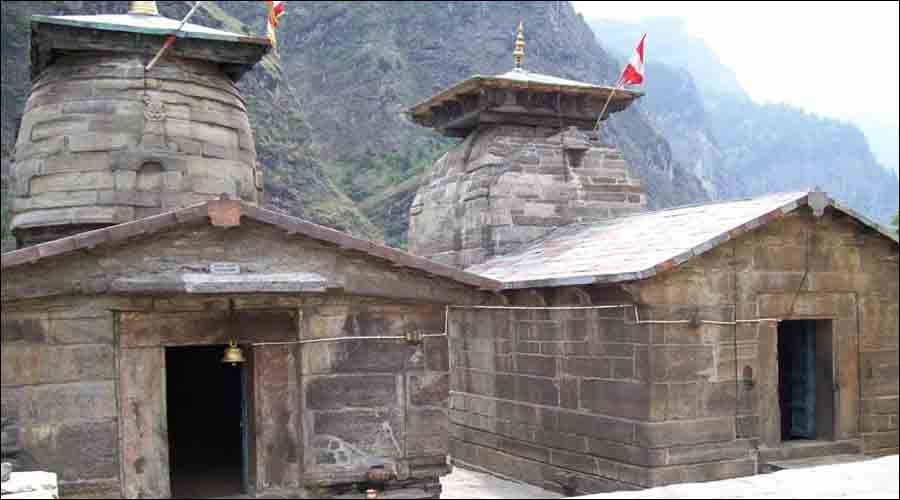 Reckoned as one of the most important Badris among Sapt Badris, Yogdhyan Badri Temple is located at Pandukeshwar in Badrinath. Devotees flock at this place to pay homage to Lord Kuber and Lord Udhava and in the winter season, one can pay homage to the reclining idol of Lord Vishnu. On the day of shifting the idols to Badrinath, locals and the priests organize a major festival named Devwar and then again a festival is organized on the day when the idols are taken back to the shrine.
Best Time to Visit Pandukeshwar
However, Pandukeshwar can be visited throughout the year yet, September to November and April to June are considered as the most ideal time to plan your trip to Pandukeshwar. The weather is quite pleasant and favorable during these months when cool gentle breeze accompanies you throughout the trip. Being located on a higher elevation, the region receives higher rainfall and results in the blockage of roads due to the threating landslides.
How to Reach Pandukeshwar?
One can reach Pandukeshwar via any of the transportation modes viz. airways, railways, and roadways.
By Flight
Jolly Grant Airport in Dehradun is the nearest airport to Pandukeshwar which is located almost 288 kilometers away from the destination.
By Rail
Rishikesh Railway Station is the nearest railway station located almost 270 km away from Pandukeshwar.
By Road
This is the most convenient way to reach the destination as it is well-connected with the other major destinations in the state. One can also hire a taxi or a cab to reach the destination. Also, car rental services are available here.