Joshimath, a spiritual town of Uttarakhand located in the Chamoli district is known by one other name i.e. Jyotirmath. Similar to Ukhimath, this holy place also acts as a winter home of Lord Badri means during winter the idol of Lord Badri gets shifted to Joshimath and the idol gets worshipped when Badrinath is closed during winter. The idol gets shifted back to Badrinath Temple to Vasudeva Temple. The origin of this temple is based on 8th century and is one of the four maths or monasteries built by Adi Guru Shankaracharya. One of the major attractions of this place is Kalpavriksha which is around 1200 years old as per the belief and there are some other noticeable places to visit in Joshimath. The place is considered as a hill station as it is settled at a height of 1890metres above the sea level. The place is considered as a meeting place of two holy rivers Alaknanda and Dhauliganga which face towards the town of Joshimath. You can enjoy the view of Hathi Parvat and other Himalayan peaks from this place and can also enjoy Himalayan voyage, trekking, skiing and camping also. Joshimath serves as a starting point of trek heading towards the upper areas of the Himalaya. According to a recent report, the idol of the temple is dwindling continuously. Joshimath serves as a base camp for the trek towards Valley of flowers.
Legends
This legend says that Lord Narsingh saved Prahlad from his aunt who was dipped in the complete devotion of Lord Narsingh. Her aunt was trying to burn him in afire as per the orders of his father. Lord Narsingh even killed the devil Hiranyakashyap. The idol of Lord Narsingh is around 25cm tall and is sitting on a lotus. Pilgrims can find the idol of Goddess Chandika whose idol is sitting on the left hand side of the Lord Narsingh. One can spot the idols of Lord Ram, Goddess Sita, Lord Hanuman and Garuda on the right side of the idol of Lord Narsingh. The temple holds idols of other gods like Badrinath, Kuber and Uddhav.
Location
It is located at a trekking distance of 16km from Auli and is located at a height of 1890 metres above the sea level in Chamoli District of Uttarakhand. Vishnuprayag is known as the confluence of two holy rivers Alaknanda and Dhauliganga where they meet with each other.
Major Festivals Celebrated in Joshimath
Holi
The origin of this festival of color is based on the legend of Prahlad and Hiranyakashyap so Holi is celebrated in a very auspicious manner and the story of good over devil is the theme of this colorful festival.
Narsingh Jayanti
This festival is celebrated as a memory of that day on which Lord Narsingh appeared in half human and half human form. The day comes on Shukla Chaturdashi in Vaishakh.
Places to Visit In-Around Joshimath
Ropeway
It is the longest and highest ropeway considered in Asia which follows towards Auli. Ropeway is the most visited and liked place in Joshimath. There is a restriction behind the excursion of this place is that it is open only during summers and tourists can enjoy the eye-catching view of beautiful mountains covered with snow. The charge asked to enjoy this ropeway ride is Rs.750 but the charge is not going to be a hurdle in your plan. The view of colorful trees and animals from a lurching height of around 3010 metres is really mesmerizing and gives an exhilarating experience. The ropeway gets operated on a chair car and an air lift.
Ghangaria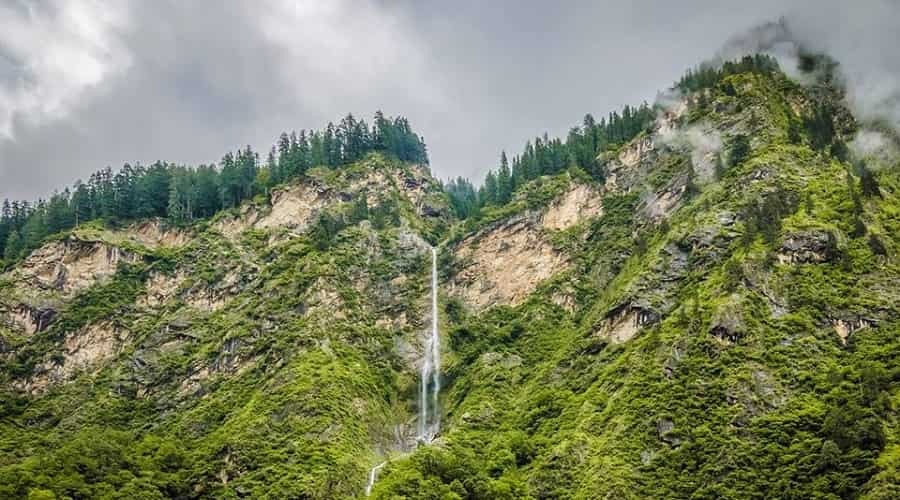 It is the place from where the trek starts towards Hemkund Sahib from Valley of Flowers. Perched at an elevation of 3000metres on the western Himalayas, Ghangaria is a place which is eminent for soul enriching natural landscape and ambience. Tourists mostly prefer summer and the start of winter to go on Ghangaria excursion due to the pleasing and the favorable weather during this time. The natives of Ghangaria are very good in adaptation as they have been living at this place even after severe climatic changes occurred in Ghangaria. If you are fed up of your hectic and harsh life and want to revive your soul then you must visit Ghangaria.
Kalpavriksha
This ancient tree holds an intense religious significance among Hindus. There is a belief that the tree is around 1200 years old and is evergreen i.e. it never sheds its leaves even during autumn season also. There are many Hindu scriptures and holy books where Kalpavriksha has been mentioned as Kalpataru. The legend behind the origin of this Kalpavriksha is that Adi Shankaracharya chose this mulberry tree to show his devotion towards Lord Shiva and so devotees can find Jyoteshwar Mahadev temple which is built under this temple. This ancient tree bears flowers but doesn't bear any fruit on it which may be due to its old age. There is a small Mahadev temple built which is built under the tree where devotees pay their homage and meditate.
Narsingh Temple
This temple is known as the winter house of Lord Badrinath. During winters the idol of Lord Badrinath gets shifted to this temple as in winter the whole mountain gets covered with snow due to heavy snowfall. The temple is dedicated to Lord Narasimha and Lord Badrinath gets worshipped together during winter. The idol of Lord Narsingh is decaying/ ruining day by day and there is a belief that if the right hand of the idol will melt away then there would be a heavily destructive landslide.  The idol of Lord Narsingh present in this temple is like half human and half lion and is considered as the fourth incarnation of Vishnu (out of 5 incarnations).
Nanda Devi National Park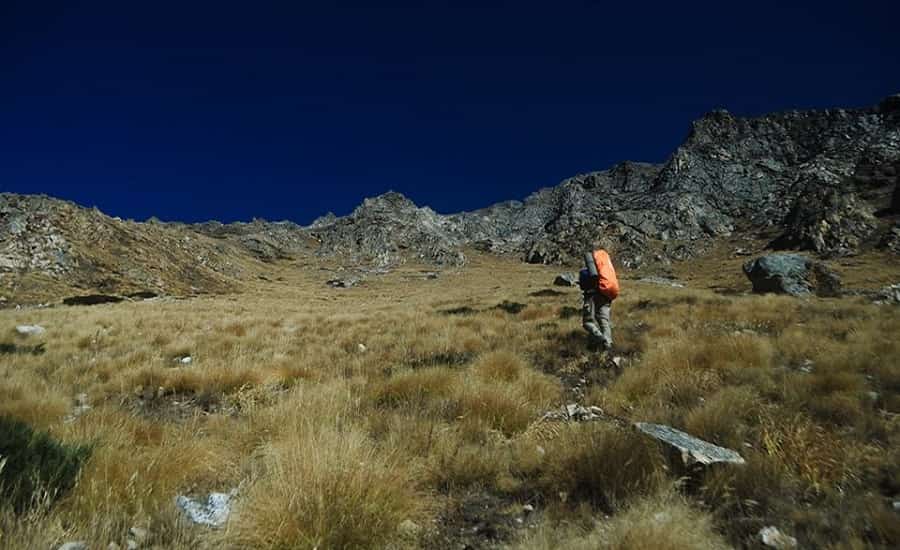 The park is spread over a very big area of almost 630 sq. km. From all the three sides it is surrounded by Nanda Devi Mountain and gets covered under Endemic Area of Western Himalayas. Along with Valley of flowers Nanda Devi National Park also got declared as World Heritage Site by UNESCO. The park is a habitat of many animals including snow leopard, Himalayan black beer, Himalayan musk deer and Himalayan Tahr. Some other animals can also be spotted here like brown bear, ruby throat, bharal, langur etc. The park is renowned for its flower varieties as it contains around 312 species of flowers alone with some other vegetations including alpine vegetation.
How to Reach Narsingh Temple Joshimath
By Air– The only airport to reach Joshimath is Jolly Grant Airport.
By Rail- There are two railway stations near to Joshimath are Dehradun (294kms) and Rishikesh (256kms).
By Road- Tourists can easily get the bus service from ISBT Kashmiri Gate (New Delhi). From Joshimath bus stand you can reach the temple by walking. Bus services and shared taxis are very easily available to move from Joshimath to other cities of Uttarakhand. Interstate and intra state buses ply from this place to make the journey accessible one.
Best Time to Visit Joshimath
During Winter: The high strung cold climate of this during winter is not a good time to visit this place. Heavy snowfall also occurs during this season which acts as a major hurdle and the roads get blocked mostly during winter. The temperature ranges from 0 degree Celsius to -15 degree Celsius.
During Summer: This is the most ideal and recommended time to visit the place as the temperature hardly goes unfavorable during summer. Tourists can visit Joshimath as well as other nearby places in the best way during summer as the weather becomes pleasing and attracting.
During Monsoon: Tourists can plan their trip to Joshimath during monsoon but sometimes due to heavy rainfall, the road gets blocked and even the night becomes too chilled and the inconsistent climatic condition makes it little challenging.
Similar to other pilgrimages, Joshimath is also huddled with many accommodation facilities. There are many hotels including normal hotels as well as hotels well equipped with luxurious amenities like Swimming Pool, gym etc. State government of Uttarakhand is also very much responsible towards pilgrim safety so one can find many tourist bungalows. However, the sacred place is a hub of accommodations but still tourists are advised to do pre-booking to avoid any kind of trouble during the trip.
Cuisines of Joshimath
The place is abundant in lip smacking north Indian and South Indian food. You can find any dish of North India and South India and that also very delicious and pure. However it is little disappointing to those who are in love with Chinese foods as the place is little slim in Chinese delicacies.
Tips to be followed while Planning Joshimath Excursion
It is always best to know about the climatic condition of the place before you leave for your trip as climate of Joshimath is quite inconsistent.
If your main motive of the trip is to enjoy skiing then you must plan your trip in February.
Like other hill stations, you may not find adequate ATMs everywhere on your Joshimath trip so bring ample cash with you.