The magnificent state of Uttarakhand is home to not only ancient temples and holy places of worship but is also dotted with a huge variety of glistening high-altitude lakes. These water bodies hold water clear as a crystal and combined with the lush and thriving surroundings these places are amazing to explore with yourself, friends or family. These lakes sure are a real treat to the eyes and especially for nature lovers, thinkers and explorers who love to spend time amidst the grandeur of nature. Lakes are a common occurring especially on the higher reaches of the state where floral meadows and panoramic hills surround the region.
Here are some of the lakes in Uttarakhand which will not disappoint you:
Bisurital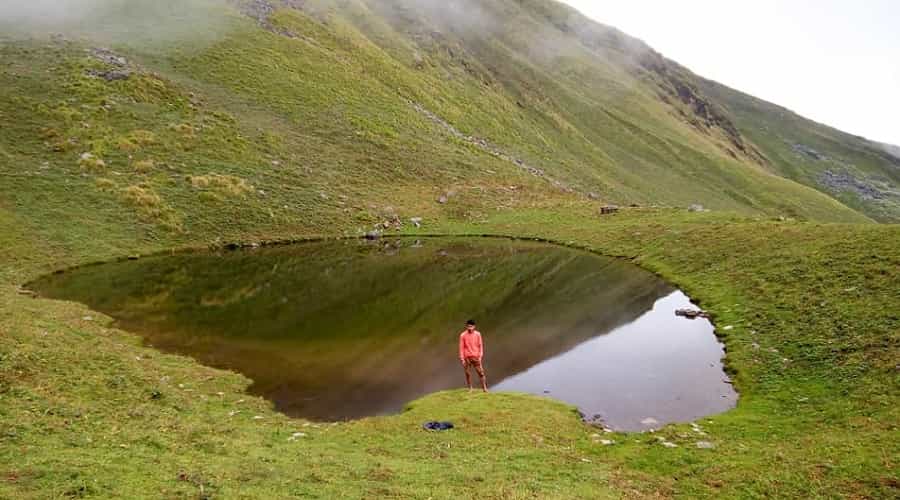 Chopta is famous for its temple of Tungnath however there is other lesser-known and explored location here. The lake of Bisurital is reached via a trekking journey of almost 60 kms from both sides and the entire route is extremely enticing. The pathway is surrounded and concealed entirely amongst the lush green forests, sparkling streams of river, charming alpine meadows and is lucky you may even get the opportunity to explore some wildlife also which is only limited these regions.
Auli Lake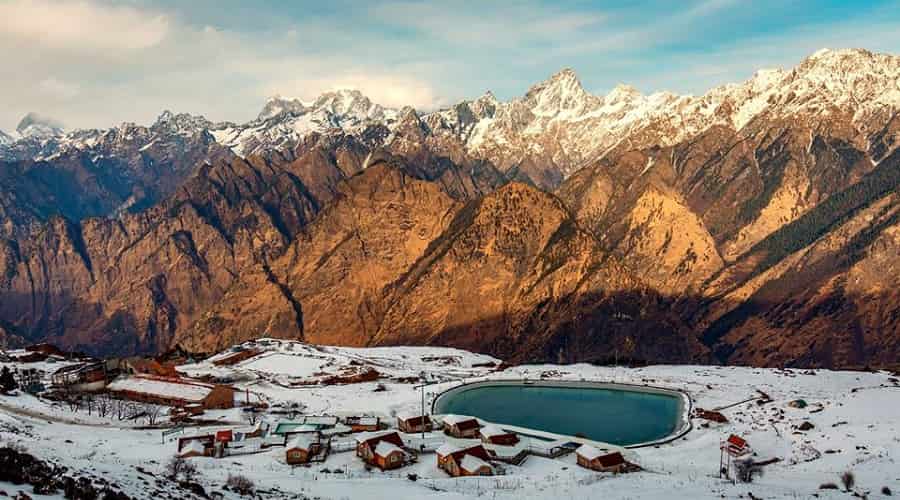 Although an artificial lake this is one of the most charming high-altitude glacial lakes in Uttarakhand. Deemed for being one of the best vacation destinations for the winter months this place is equally fun to visit during the summer season. This serene lake is placed right opposite the surrounding hills which forms one of the most awe inspiring and jaw dropping views here. During the winter season the officials here spray this water onto the rolling hills in its surrounding to create snow covered hills perfect for skiing and have a fun packed holiday.
Bedni Kund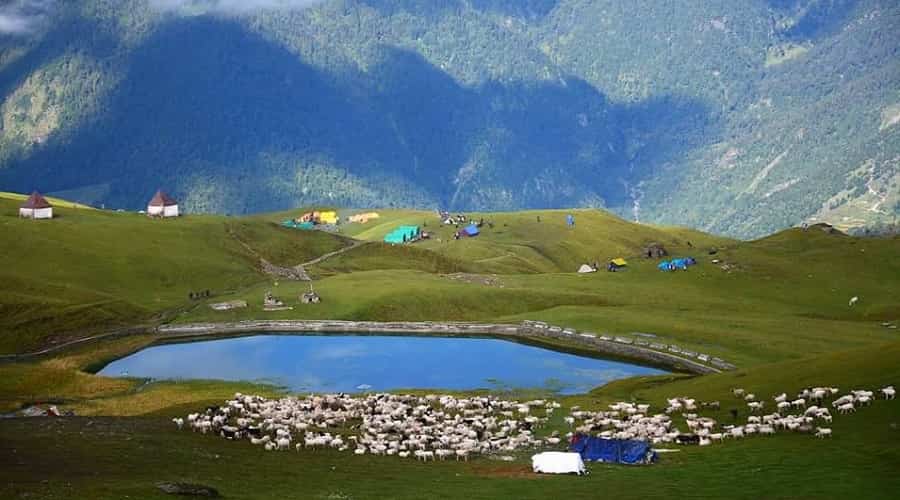 Surrounded by lush green alpine meadows and situated in the district of Chamoli. Sprawling over a magnificent area of 20 sq. km this high-altitude glacial lake is located on an elevation of 3,354 metres above sea level and is the perfect setting for camping, spending time with your loved ones or just sitting in the peaceful glory of nature. It is placed adjacent to the offbeat Ali Bugyal which is one of the largest grasslands in entire Asia. If visiting during winter then one can even be in the company of snow-capped peaks and a limited number of tourists. It can be visited if you make your way through one of the nearby popular tourist destinations of Kausani, Khatyari, Kandara, Simli etc.
Roopkund Lake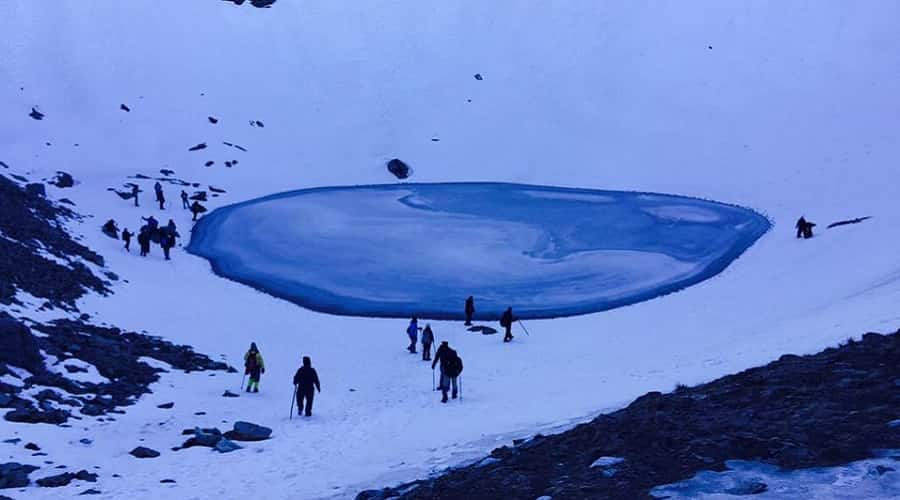 This has to be undoubtedly one of the most popular lakes in Uttarakhand. Located on the lap of the massif of Trishul and surrounded by boulders, massive peaks and rocks strewn everywhere this place has a very chilling vibe to it. With a depth of about 2 metres the place has garnered a lot of commercial tourists ever since well-preserved human bones were recovered from inside the lake. The trek leading up to the lake is blessed with bountiful views and jagged terrain but everything feels like its worth it once you get the sight of this not only breathtaking but sacred lake.
Deoria Tal
Perched high up on an altitude of 2,438 metres above sea level this lake is the epitome of thriving natural beauty. This lake is set against the perfect frame of snow bound peaks of Chaukhamba ranges, thriving green forest cover and an unadulterated atmosphere. Not just the lake the entire route is also very astounding and stunning. it starts from the pilgrimage village of Ukhimath and then takes your way through the quaint and humble village of Sari and it is generally combined with a trek to Tungnath, world's highest Shiva temple. This lake holds a lot of religious and spiritual relevance since it is believed that it was here that the gods used to take a bath.
Satopanth Tal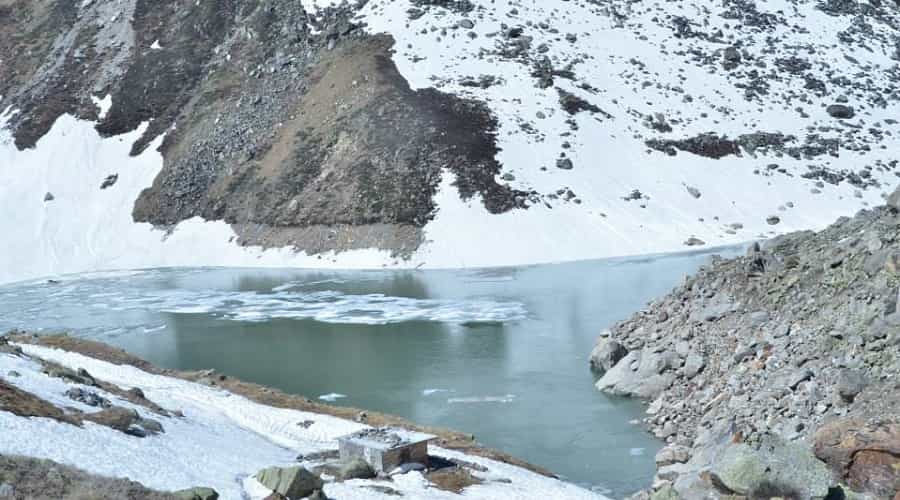 This high altitude naturally occurring glacial lake is located atop an elevation of 4,600 metres above sea level. The lake is set amidst the tall and jagged mountain peaks which remains covered for a majority part of the year. The triangular lake is filled with clear, glistening water which is fed by the nearby glacier and is only accessible after covering a very challenging trekking trail. The sacred lake is believed to be the place where Brahma, Vishnu and Mahesh bathes. An interesting feature here is that the birds flying around also clean up the collected garbage that gets accumulated around here.
Dodital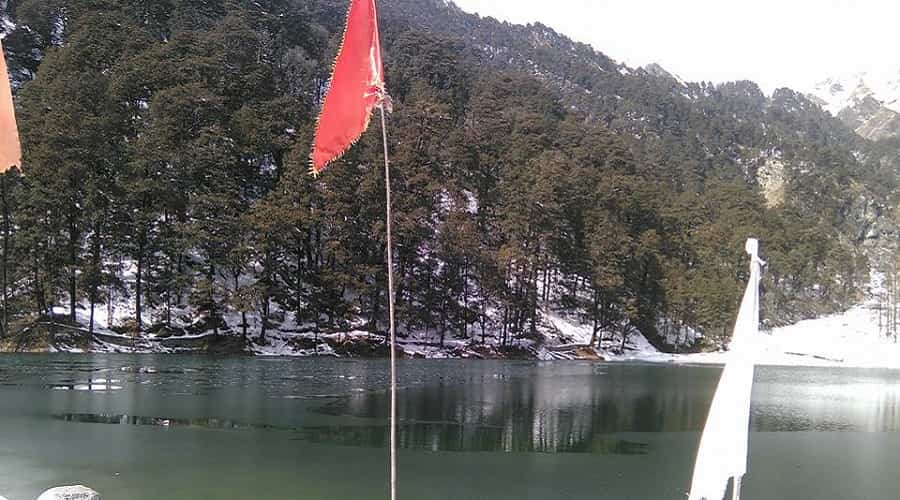 Surrounded by stunning greenery and perched high on an elevation of 3,310 metres above sea level this pristine lake is located within the district of Uttarkashi. Home to a rich variety of flora and a huge diversity of fauna the lake's circumference pans over an area of 1.5 km. this magnificent place where one can relax and unwind, is the primary source for the river of Assi Ganga that goes on to merge with the holy river of Bhagirathi, close to Gangotri. Here one can observe and feel the tranquil Himalayan beauty in a very close and personal manner which can even give you perspective.
Kedartal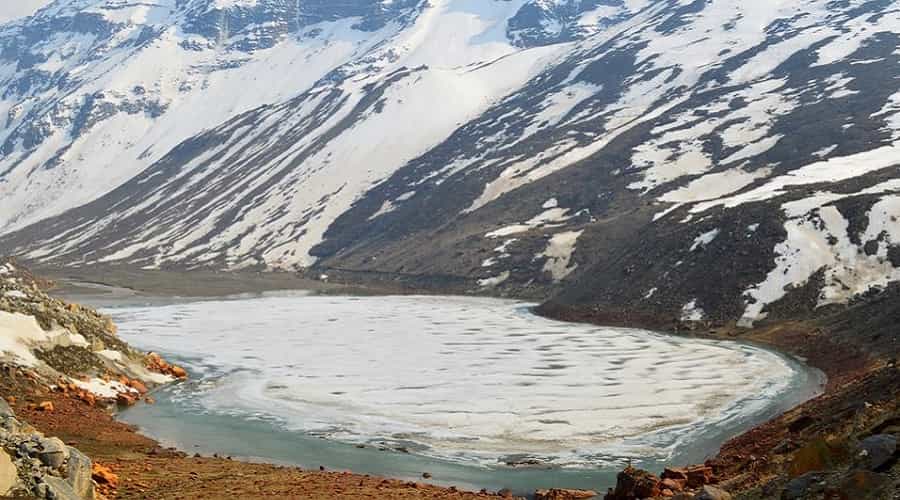 Located on an astounding elevation of 4,750 metres above sea level this high altitude clear glacial lake is also referred to as Shiva's lake. This water body gets filled with the melting snow from the surrounding peaks of Thalay Sagar, Meru Ranges and other such surrounding snow-clad peaks. It is situated at a distance of 17 km from Gangotri the entire trail to the lake is very steep, rocky and jagged which requires you to be physically and mentally fit. You will be taken through the incredible lush forests of birch and comprising of gradual and steep ascents this naturally occurring lake is a trek which will leave a lasting impression in your mind.
Naukuchia Tal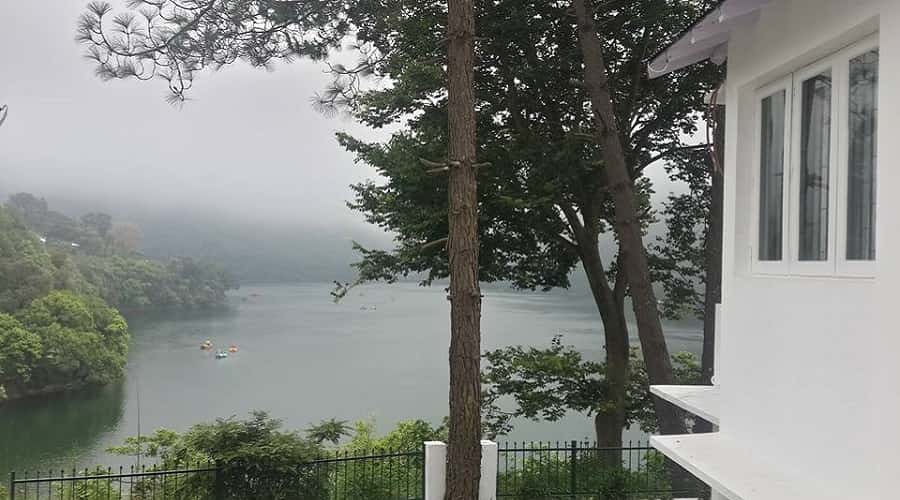 Literally translating into 'lake of 9 corners' the city which surrounds the lake is lovingly referred to as the city of lakes. Although it is not perched on a very high altitude, it still forms one of the most famous and admired lakes in Uttarakhand. This idyllic lake is fed by an underground system of a perennial spring this peaceful place is 175 feet deep. The region surrounding this lake is developed to allow visitors to relax in the peace and quietude which is the dominant feature here. Visit here if you want to get away and seek for a peaceful environment amidst nature. This place is perfect for picnic with your family and friends.