Situated among the mighty Garhwal Himalayan ranges of Devbhoomi Uttarakhand, this Lord Shiva temple is the highest Lord Shiva temple in the world. Literally meaning 'lord of the peaks' this sacred temple sits on top of a ridge which divides the holy rivers Alaknanda and Mandakini and attracts a number of pilgrims from all across the globe. Not only is this temple a part of the Panch Kedar Yatra but it is also a crucial and the highest Jyotirlingas among the other 12 which dot the entire subcontinent. Believed to be 5,000 years old this Shiva temple worships the hands of the Lord and is the second most significant temple right after Kedarnath Dham. This temple is the perfect blend of natural beauty and immense spirituality making your trip here worth it.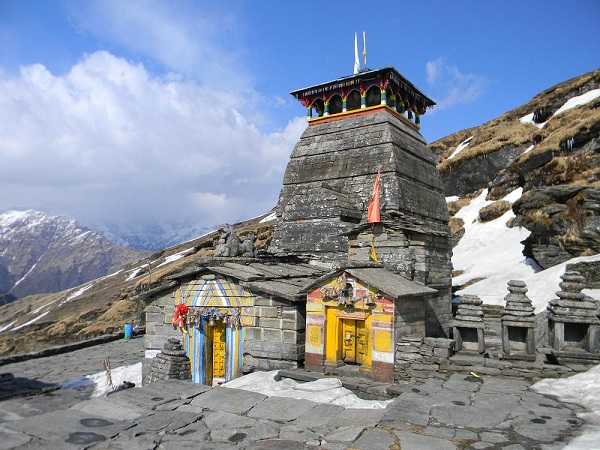 History & Legend
The Tungnath temple has a rich history and mythological legends linked to it. Lord Rama is said to have meditated at Chandrashila, a mountain peak close to Tungnath. Ravana, himself a Brahmin and a devotee of Lord Shiva, meditated in these mountain ranges. The Pandavas came here seeking Lord Shiva to pray for his forgiveness for having killed their cousins in the war. Lord Shiva, however, avoided them and assumed the form of a bull and went into hiding underground at Guptkashi where the Pandavas pursued him. Shiva decided to de-materialize his form and scattered the bull in five different locations that are today known as the Panch Kedars. The hump fell at Kedarnath, the head at Rudranath, the hands at Tungnath, the hair at Kalpeshwar and his mid portion at Madhyamaheshwar. Lost to humanity since it was situated so high and at so remote a location, it was discovered by Adi Sankaracharya during his travels.
Architecture
The fame and reputation of the Tungnath temple may lead one to believe it is a large structure. It comes as a surprise when visitors arrive at this place to find a small stone structure surrounded by other small shrines dedicated to various gods. It is said Arjuna constructed the temple with the lingam representing the arms of the Lord accommodated in the Garbha Griha or sanctum. The temple is constructed in typical North Indian Hindu architecture style.
Why Visit Tungnath:
The trek to this Lord Shiva temple is extremely easy to cover. It can be covered by covering a distance of 4 km which commences from Chopta. However, during the winter season this area experiences heavy snowfall which covers the entire area in a thick blanket of snow, making the temple difficult to access. While trekking your way up to the temple you will be witnessing some of the most breathtaking views and vistas consisting of lush green meadows, thick rhododendron coverings, rocky terrains all against the grand and majestic backdrop of the mighty Himalayan ranges. On a clear sky day you will be able to view the snow clad mountains which embrace the entire valley.
Importance
As stated above Tungnath is the place where it is believed the hands of Lord Shiva manifested themselves. It is ranked after Kedarnath in importance as a place of pilgrimage. As the highest Lord Shiva temple in the world, Tungnath gives you yet another reason to visit it during your chardham yatra or when you visit Uttarakhand.
Worshipping at the Temple
A priest of the Maku village officiates over ceremonies. The Temple is located so high that access is difficult or impossible in rains and winter so it remains open only from April to October. The best time to visit is before the rains start when pilgrims may come up unexpectedly against landslides that make travel hazardous. An alternative is September-October but it can be chilly at this time of the year. In order to reach the temple you can arrive in Chopta from where you have to cover the 4 km distance on foot, a journey of about 3 to 4 hours. Arati here is feast for the soul.
Activities:
Visit Tungnath Temple
Dating back to almost 1000 years old and perched at an altitude of 3,680 metres above sea level, this temple is popular for being the highest temple dedicated to Lord Shiva. This temple is a crucial part of the holy Panch Kedar Yatra circuit which was established by the Pandava brothers as a way of asking for forgiveness for killing their kin in the battle of Mahabharata. A visit to this place is a must since it offers picturesque views of the surroundings.
Trek to Chandrashila:
This iconic trekking destination in Chopta is situated at an easy trekking distance from the temple. After trekking for 1.5 kms you will be reaching Chandrashila which has no dearth of natural beauty. The entire trekking path is marked throughout since there are no proper paths leading up to the destination. This place holds an important significance in the lives of devout Hindus since it is believed that Lord Rama had meditated on top of this peak with an aim of asking for forgiveness for causing Brahmahatya of Ravan (Brahman).
Kanchula Korak Musk Deer Sanctuary:
Panning across an area of 5 sq. km. this musk deer sanctuary is a complete and wholesome paradise for nature lovers and adventure enthusiasts. As the name suggests this place offers a calming and a peaceful home for musk deer among other Himalayan wildlife creatures. This place houses a thick green covering of forest and the entire environment is filled with the mesmerizing aroma of different aromatic plants. This sanctuary is situated at a distance of 7 kms from the main Tungnath temple on the Chopta – Gopeshwar road.
Visit Deoria Tal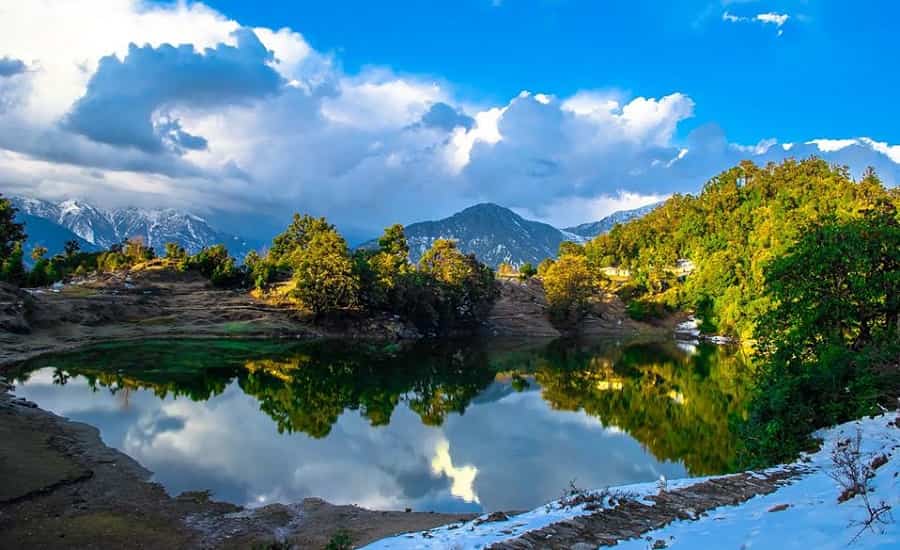 If you are looking for an opportunity to taste the wild side then a trekking and camping expedition to Deoria Tal will be your best option which is perched at a height of 2,387 metres above sea level. This small, pristine and calming lake is situated at a distance of 3 kms from villages Sari and Mastura, two of the most incredibly breathtaking and charming villages in Uttarakhand known for its natural beauty and serenity. Camping on this lake will allow you to savour some enthralling views of the surrounding snow-laden mountain tops.
Nearby Places to visit:
Madhyamaheshwar: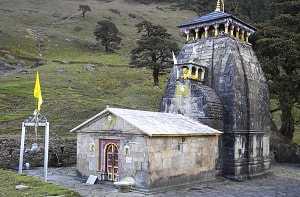 This temple is located at a height of 3,289 metres above sea level and is dedicated to Lord Shiva. The almighty Lord is worshipped in the form of a navel lingam and this temple offers mesmerizing views of the gorgeous surroundings of the impressive Himalayan valleys. This place is not only visited by religious pilgrims but people interested in going on outdoor activities like nature walks and trekking also pay a visit to this place on a daily basis.
Gaurikund:
This place is a popular Hindu pilgrimage site which also serves as the base camp trek for Kedarnath temple. This place is located at an elevation of 6,502 metres above sea level and according to a Hindu legend Lord Shiva's consort Parvati is said to have performed intense penance here in order to win over the love and affection of Lord Shiva. This is the place where the Lord had accepted and confessed his love for her before they were finally married off at the holy site of Triyuginarayan. This place also has a thermal spring which is believed to cure you of all your mental and physical ailments.
Kalimath:
Located at a height of 6,000 metres above sea level this place is an important Shakti Peetha out of 108 Shaktipeeths which is spread across India. Surrounded by the massive peaks of Kedarnath in the holy district of Rudraprayag, this place is situated close to the winter abode of the presiding deity of Kedarnath, Ukhimath. As the name suggests, the temple here is dedicated to goddess kali and is visited by a huge number of pilgrims during the auspicious occasion of Navratri.
Gopeshwar:
Located close to the district of Chamoli, Gopeshwar is a charming and picturesque hamlet situated on the lap of the mighty Himalayas. Gopeshwar is not only a beautiful destination for religious individuals and adventure seekers alike but it also functions as the administrative headquarters for the holy district of Chamoli. There are several places of attractions here which include places like – ancient Lord Shiva temple, Vaitarni Kund, Rudranath and Saggar among others.
Best Time to Visit:
Winter (November to march) – During the months of December, January and February Tungnath receives extremely heavy snowfall and the whole area remains covered in a thick white layer of snow which makes accessibility to the temple extremely difficult. The temperature varies from 9 to 25 degree Celsius during these months and in some cases it may also go below the subzero level.
Summer (April to June) – Summer-time is the ideal time to pay this holy shrine a visit. With the temperatures varying from 17 to 27 degree Celsius the entire region gets flocked by pilgrims and devotees since the snow successfully melts by this time and opens up the access routes. One can also view the real lushness of the surrounding greenery which encapsulates this place.
Monsoon (September to October) – the entire monsoon season is represented by minimal rainfall. This is also a good time to visit Tungnath for sightseeing purposes and the skies get cleared. If you are looking to spend some quality time among nature and experience some unparalleled serenity then a visit to this place during monsoon season will be worth it. However, be careful in your venture since the hilly areas remains prone to unexpected landslides.
Getting There
By Air – The closest airport is located in Dehradun which is Jolly Grant and is located at a distance of 41 kms from Haridwar. Upon your arrival in Haridwar you will be commencing your road journey since there is no other way of reaching Tungnath. The distance from Haridwar to Chopta is of 225 kms.
By Rail – The closes railway station to Tungnath is situated in Haridwar which is well connected to all the major cities of India. Once you arrive in Haridwar your remainder of the journey will begin. Chopta is located at a distance of 225 kms from this holy city.
By Road – Vehicles can reach up till Chopta from where people will be required to cover a trekking distance of 3.5 kms. The following route map is from Delhi: Delhi – Haridwar – Rishikesh – Devprayag – Srinagar – Rudraprayag – Augustmuni – Syalsaur – Kund – Ukhimath – Duggalbitta – Baniyakund – Chopta – Tungnath – Chandrashila.
Festivals at Tungnath:
Tungnath temple is the site for Basant Panchami, Dussehra and Diwali. All these festivals are celebrated with immense pomp and show. The Brahmin of the temple who performs the puja rituals is a local from Village Maku, unlike the other temples of Kedar where the priests come from South India which is the tradition which was brought to place by the Hindu sage and saint Adi Shankaracharya. However, at this temple Khasi Brahmins officiates as priests in this temple.
Opening and Closing Dates:
The everyday temple schedule is from 6 am in the morning to 7 pm in the evening. During the winter season this temple closes for Darshan and the symbolic image of the residing deity along with priest is shifted to Mukunath which is situated at a distance of 19 kms. This place is located close to Duggalbitha which is situated at a distance of 10 kms prior to Chopta and towards Ukhimath.
Accommodation Facilities:
If you are looking for staying the night at Tungnath then it depends on your budget where you would like to stay. There are 3 hotel properties in Tungnath which are verified hotels, apart from this you also have the option of staying at budget-friendly rooms which are also clean and are easy on the pocket. People have the option of staying in Chopta where there are multiple staying options available however do not expect luxury resort. You can also opt for camping since campsites are also made available on your way to Ukhimath.