What are Bugyal?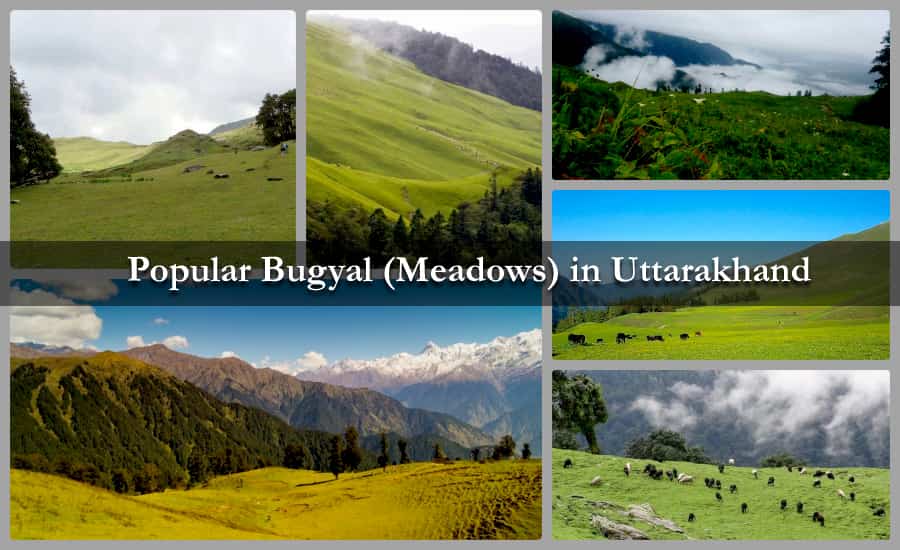 Uttarakhand is not only known for being one of the holiest destinations in the world for having a spiritual awakening but it is also one of the most scenic and awe-inspiring destinations in the entire Indian subcontinent. The landscape of Uttarakhand offers some of the most impeccable variations of like the lush green undulating rolling meadows and the snow-capped frigid mountain tops which offers this state a charm and personality of its own. As the name suggests a 'Bugyal' can be literally translated into a 'green meadow', which are primarily located in the high altitude regions of Uttarakhand. These Bugyals or alpine meadows offer tranquil and serene moments of peace that has made its place in the hearts of everyone visiting this place. The Bugyals are also lovingly named as 'nature's own gardens' and the said meadows can be either flat or with light undulations while at the same time being dotted with various colorful blooming plants, bushes, flowers and medicinal herbs.
Here are a few Bugyals in Uttarakhand that will definitely be a memorable experience:
Bedni Bugyal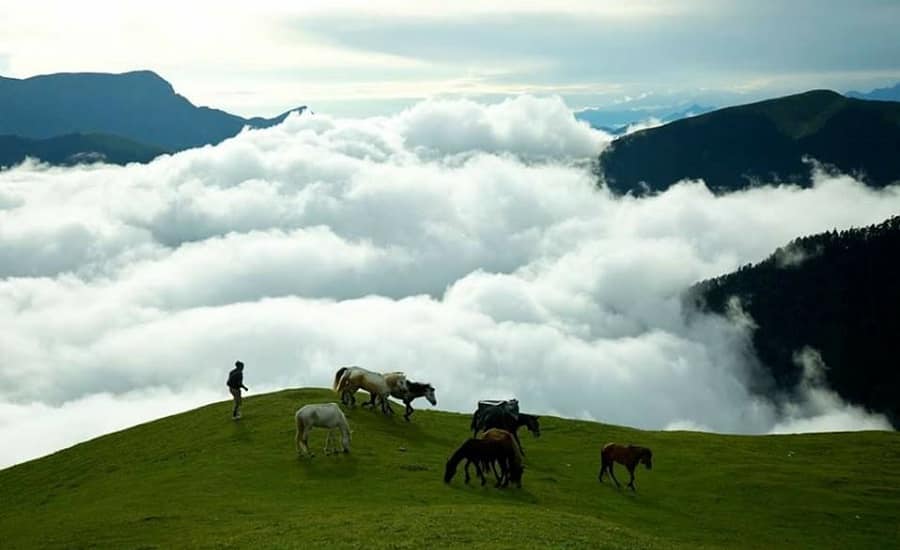 Located right on the border of the Garhwal and Kumaon in the district of Chamoli this Bugyal offers some of the most majestic views of the overlooking Trishul Parvat. Sitting at an elevation of 11,000 feet above sea level the trekking journey to Bedni commences from Lohargunj and it is not a difficult trek. This is also one of the most preferred trekking options for beginner trekking enthusiasts. A camping expedition at Bedni is also a part of the Roopkund trek and is surrounded by exquisite forests of rhododendrons and oak which only adds to its beauty.
Best Time to Visit – May to November
Dayara Bugyal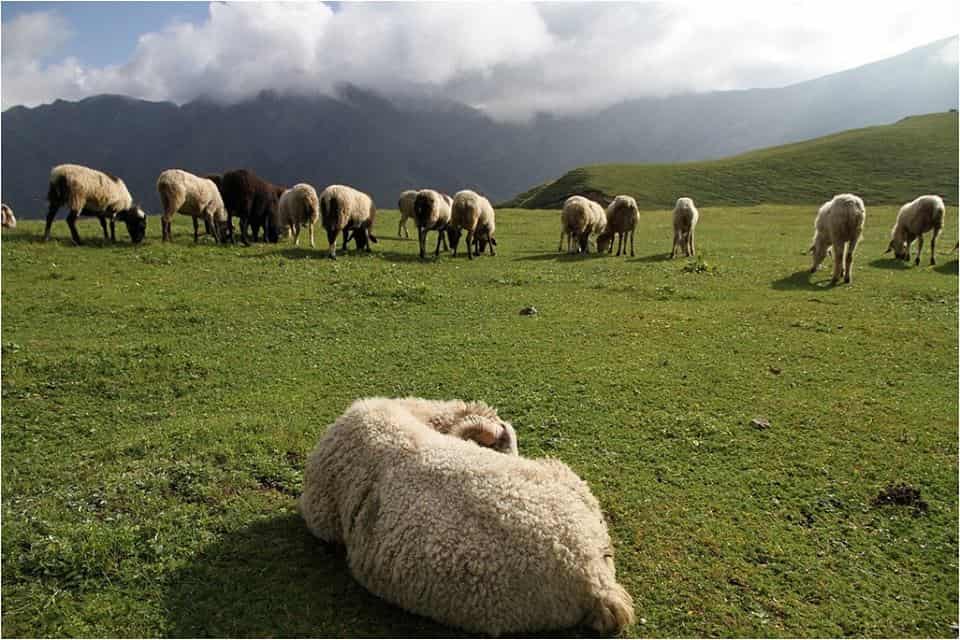 A trek to this lush green meadow which is situated at an altitude of 12,000 feet above sea level and involves a total trekking time of 7 days. This Bugyal is easily placed among the top 2 most beautiful and scenic high altitude meadows in the Himalayas. This trekking journey is of moderate difficulty level and covers an overall distance of 5 kms that commences from Barnala. This trekking journey will take you across some of the most lush, thriving and dense forests and all of this when paired up with the open blue skies, this Bugyal offers some of the most mesmerizing views. These vast and tranquil stretches of soothing green meadows will capture your senses and the Himalayas forms the best and the most picturesque backdrop for this site.
Best Time to Visit – May to July / August end to mid-October / December to February
Panwali Bugyal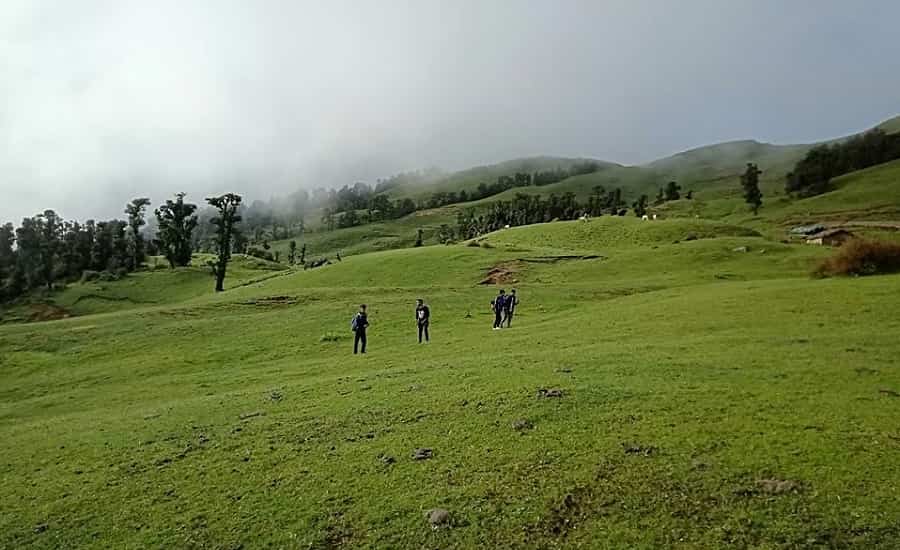 Located at an elevation of 10,823 feet above sea level this thriving and scenic Bugyal offers some of the most picturesque views of the untouched natural beauty. This Bugyal falls on the way between to Gangotri and Kedarnath. The undulating lush greenery that carpets the entire region and offers the opportunity for the pilgrims to have a refreshing time. This grassland offers a mesmerizing mix and match for all the natural beauty and showcases some of the most beautiful flowers, bushes as well as herbs. The peaceful surrounding and the serene beauty still remain untouched to anywhere else. This Bugyal is a much preferred as a trekking site not only during the summer months but also during the winter months when the region is covered in snow making it the perfect option for Himalayan winter trek.
Best Time to Visit – December end to January / March to mid-April / May to June / September to November
Auli Bugyal
Situated in the district of Chamoli this lush green meadow sits in a picturesque location amongst the grand and majestic region of Garhwal Himalayas. Also known popularly as the 'heaven terrace' this meadow sits at an elevation of 10,010 feet above sea level and is home to some of the most thick and long lasting forests of oak and deodar. Setting the backdrop of this magnificent Bugyal is the grand Nanda Devi Parbat, Kamet peak and mana peak among others. The trekking journey to Auli will take you across some of the most thriving and lush vegetations including glistening apple orchards and oak forests. When the winter months commences and the entire regions is laden with a thick covering of snow these Bugyals are converted into skiing sites where people visit to have a fun filled time with their family and loved ones.
Best Time to Visit – November to March / May to October / December to February
Gorson Bugyal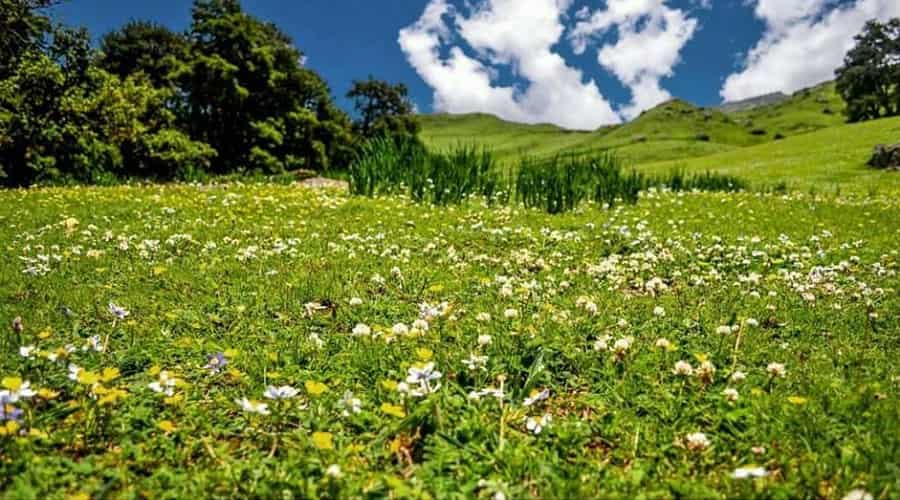 Located peacefully among the enchanting Himalayan beauty at an altitude of 10,026 feet above sea level you will be treated with the unmatched beauty of the deep green alpine meadows of Bugyal. This meadow can be reached after covering a trekking journey of 3 kms from the picturesque destination of Auli. This vast grassland of open green field is surrounded by a thick covering of oak and coniferous forests. Another route to Gorson Bugyal commences from Chattarkund which is located at a distance of just 1 km which is famous for its naturally occurring sweet water lake. You will be able to witness some cattle brought here by the local village shepherds to graze them.
Best Time to Visit – January to June / September to December
Kushkalyani Bugyal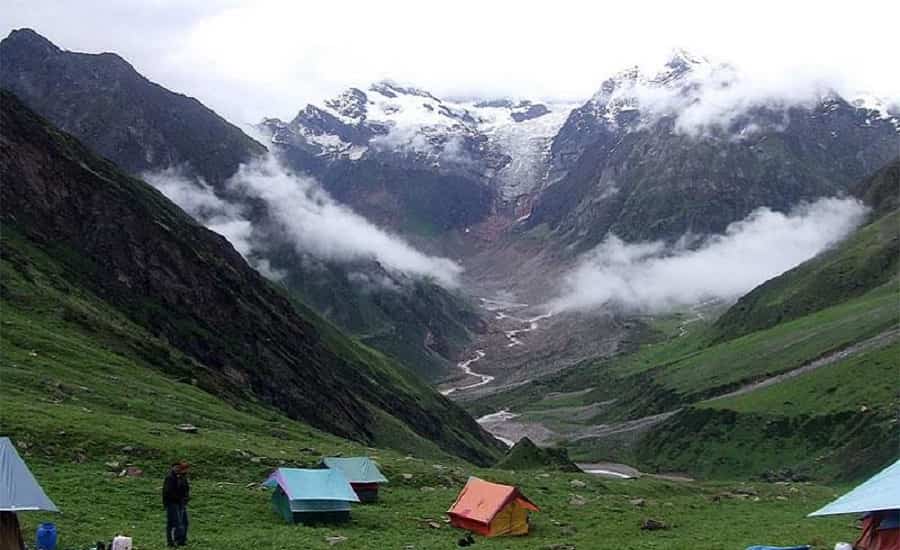 Located on the road to Gangotri and Kedarnath this exquisite Bugyal is situated close to a place called Belak. The sprawling vast meadows of this Bugyal are a thriving part of the Khatling Sahastra Tal trek which takes place in the Garhwal Himalayan region of Uttarakhand. The trekking to this Bugyal is a gentle climb from Malla and also involves a few hours of driving distance from the holy city of Uttarkashi. This Bugyal is known for its unmatched natural beauty and scenic surroundings of varying shades of green while all of this is framed by the majestic and snowcapped Himalayas. This is the perfect place for you to get some peace of mind and find some quiet time for yourself.
Best Time to Visit – Mid April to June / September to November
Kwani Bugyal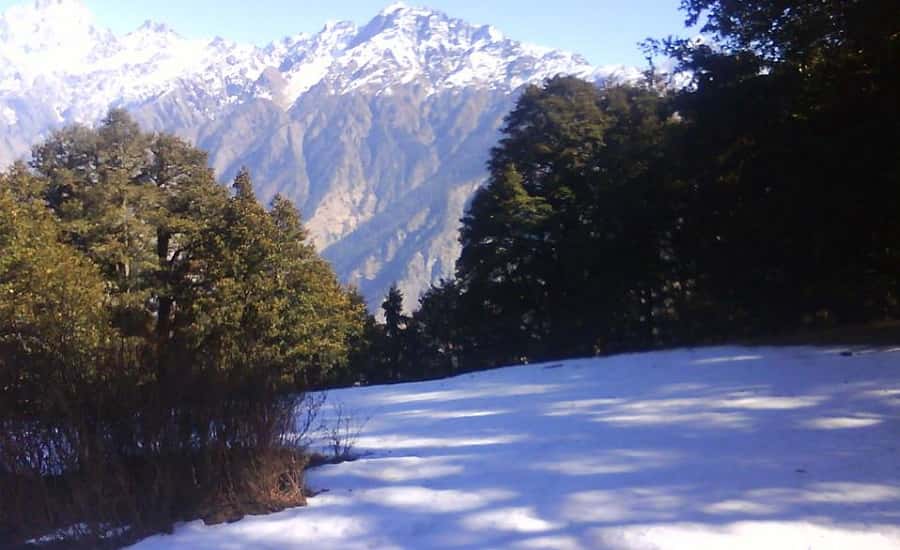 Sitting comfortably at a distance of 12 kms from the magnificent Gorson Bugyal at an elevation of 11,089 feet above sea level, this Bugyal offers some of the most scenic beauty of the Himalayan surroundings. If you want to have an experience of the untouched beauty of nature then visiting Kwani Bugyal is supposed to be a good option. If you are looking to have a fun yet peaceful trekking experience amongst the lap of some of the most awe-inspiring Himalayan ranges then a trekking expedition to this Bugyal is a good option. From here you can savour some of the most scenic and picturesque views of the surrounding peak of Nanda Devi and Dunagiri. This idyllic destination is a much-loved trekker's paradise.
Best Time to Visit – June to September
Gidara Bugyal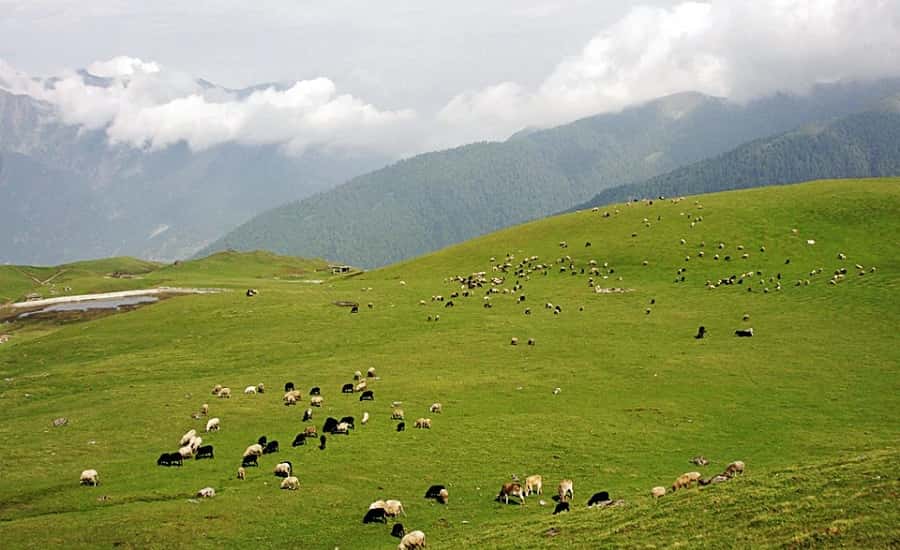 Known for being a hidden Himalayan meadow this lush field is situated at a distance of 20 kms beyond the popular Dayara Bugyal. This place still remains one of the most offbeat and lesser-known Bugyal treks in Uttarakhand. While Dayara Bugyal can be reached after covering a simple and easy trek on the other hand Gidara Bugyal is ideal for serious trekkers who are used to covering distances that are arduous and difficult owing to the rough terrain that leads up to it. The entire trekking route is lined with freshly blooming flowers that adds beauty to the entire trekking experiences. This wide expanse of an alpine meadow is set against a stunning backdrop of the peaks of the upper Himalayas like – Bandarpoonch Parbat, Srikanth, Draupadi Ka Danda etc. you will be able to explore the lifestyle and culture of the local people of Barsu and Raithal which falls en route the trekking journey.
Best Time to Visit – March to June / September to February
Ali Bugyal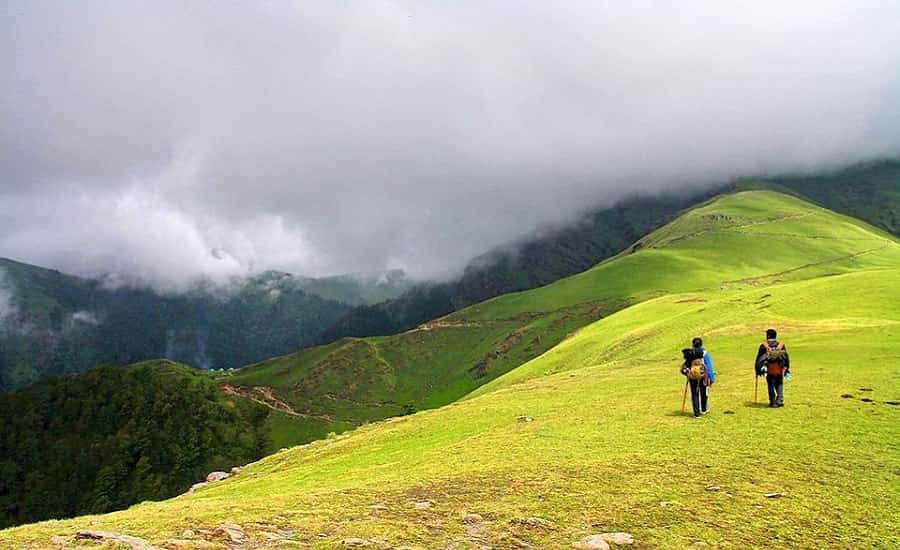 Situated close to Didina village in the district of Chamoli this green meadow has to be one of the most scenic and picturesque meadows in India. Due to the presence of Bedni Bugyal in its close proximity, this Bugyal remains forgotten and hidden in clear sight. Sitting peacefully on an elevation of 13,000 feet above sea level this Bugyal gets covered in a thick layer of sparkling white snow but the surrounding view remains stunning as ever. Due to its gently rolling and undulating terrain this Bugyal was once considered for developing as a ski resort just like Auli. The absence of too many travellers and tourists makes it an ideal camping destination for peace seekers and people who are looking for some time off from the bustle of the city.
Best Time to Visit – May to November
Chaainsheel Bugyal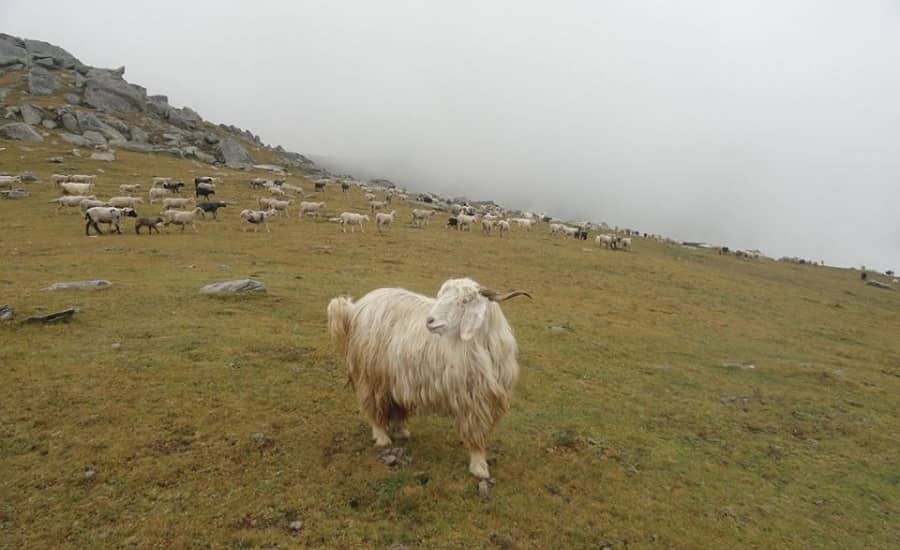 Sitting right on the border of the states of Himachal Pradesh and Uttarakhand on an elevation of 3,600 metres above sea level, this hidden jewel of a meadow that offers pristine and uninterrupted views of the overlooking snow clad Himalayan peaks of Bandarpoonch, Kalanag, Swargarohini and so much more. These stunning views of the alpine meadow framed by the snow covered Himalayan ranges, this Bugyal is also dotted with a number of glistening high altitude lakes, small streams of rivers and some cascading waterfalls. The entire Chaainsheel valley is home to a number of mini Bugyals like Sunoiti, saamta, sarutaal, devban, tikula thatch and taaramandal, which also consists of small colorful blooming plants, soft green grass and a stunning view of the mountains.
Best Time to Visit – February to June / September to January
What to Do on Bugyals:
Trekking
The landscape of Bugyals is a great way of evolving and developing your interest in trekking a hiking experience. There are a number of tours and travels companies offering some top notch trekking experiences on the Bugyals of Uttarakhand. You will not only be exploring your base Bugyal but you will also be able to set out on foot to the other Bugyals that are located in close vicinity.
Camping
Camping on the Bugyals is considered to be a good idea by some people looking to get away from the busy city life. You can pitch a tent on the soft grassy alpine landscape and spend a few days there but make sure you go there in an appropriate time and avoid the monsoon months. If you want to experience the Himalayan winter then camping during the winter months on any of the Bugyals will be an ideal situation for you.
Village Tours
All the Bugyals are located after crossing a few local villages. People from these villages take their cattle and herds to these Bugyals and stay there for a while they eat the soft green grass to their fill. People camping on the Bugyals have the option of exploring the nearby and local Pahadi lifestyle of the people residing in these villages.
Conserving the Bugyals:
In the recent years the Bugyals of Uttarakhand has attracted a lot of attention by avid mountaineers and trekking enthusiasts. The influx of tourism in these Bugyals increased at an alarming rate which posed a threat to the fragile ecosystem of these meadows. It is essential for these meadows to maintain a balance in the ecology which was not being met due to the pollution caused by these tourists and their ignorant attitude towards safekeeping and preserving the natural habitat. Keeping this in mind a court case was filed by the local population of Uttarakhand who were worried about the after effects of these behaviors by the tourists. It was also mentioned that the peace, serenity and the tranquility of these regions were harshly affected. The court had ordered that the polluter will pay for the damages that they are responsible for causing long lasting damages since these meadows are primarily meant for grazing. The Uttarakhand high court has given strict instructions to the state government asking them to restrict the number of tourists to these alpine meadows to not more than 200.