Seated on the holy banks of river Saraswati and elevated around 1800 meters above the sea level in the Rudraprayag district of Uttarakhand, Kalimath is a highly revered shrine which is dedicated to Goddess Kali. The temple is beautifully nestled amidst the lap of nature and offers a cool, salubrious and divine environment to its devotees. It is believed to be one of the most visited temples in Garhwal region and is counted among one of the 108 Shakti Peeths located in India. The lower part of Goddess Kali is being worshipped in this shrine whereas her upper parts are worshipped at Dhari Devi Temple which is another sacred shrine dedicated to goddess Kali situated between Srinagar and Rudraprayag. Goddess Laxmi and Saraswati are also idolized inside the temple where devotees pay their homage and seek the blessings. Visiting this divine temple during Navratri gives you a special experience as this festival is celebrated in a grand way in the whole area.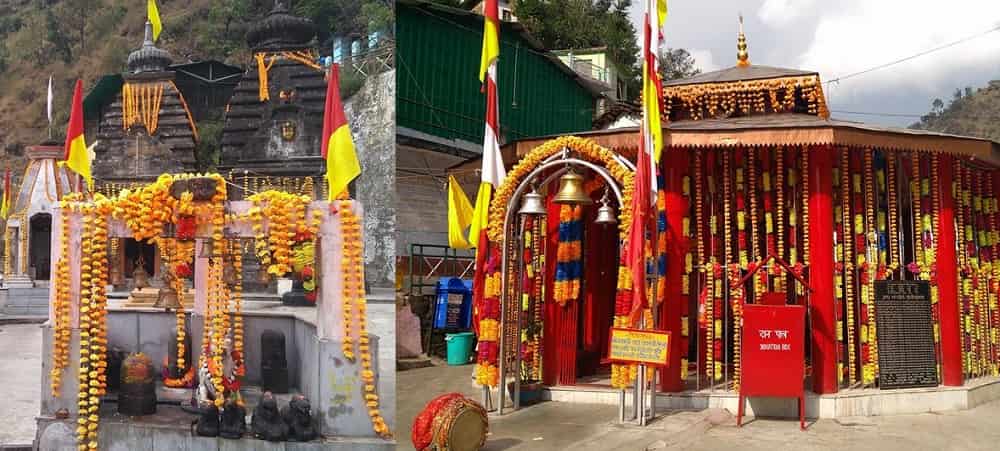 Legends and Beliefs Behind Kalimath Temple
Some famous Hindu legends state that this is the same place where Goddess Kali killed the demon Rakt Beej and then settled underneath the ground. At that particular place where Goddess Kali settled under the ground, there is a silver plate named as Sri Yantra has been established. Devotees visiting the temple pay their homage at this sacred Sri Yantra. It is believed that this silver plate is never opened for the homage and is only opened on the eighth day of Navratri and it is also said that it is only the chief priest who performs puja at midnight.
There is another belief which states that the lower part of Goddess Kali is being worshipped at this temple and the upper part is worshipped at Dhari Devi Temple.
Places to Visit in and around Kalimath Temple
On your spiritual tour to Kalimath Temple, you can also explore some of the most famous and crowded destinations in Uttarakhand including Gaurikund, Kedarnath Temple, Ukhimath, Chopta, and Rudraprayag.
Gaurikund- An important Hindu pilgrimage destination located at an elevation of 1982 meters above the sea level, Gaurikund is quite popular as the base trek of Kedarnath Temple. Devotees coming on Char Dham Yatra consider it a stopover and take a holy dip in this divine tank.
Kedarnath Temple– Seated at an elevation of 3584 meters above the sea level, Kedarnath Temple is dedicated to Lord Shiva and is renowned as the prime destination of Shiva believers. Kedarnath is also counted as one of the most significant pilgrimages in Char Dham Yatra, Panch Kedar, and 12 Jyotirlingas.
Ukhimath– Famed as winter abode of Kedarnath Temple and Madhyamaheshwar, Ukhimath is located at an elevation of 1311 meters above the sea level. Ukhimath houses numerous temples which can be visited during your Ukhimath visit.
Chopta- One of the best sightseeing destinations for offering pristine beauty and refreshing vibes along with spiritualism. Adventure enthusiasts can enjoy trekking and camping amidst the verdant valleys, undulating mountain slopes at Chopta.
Rudraprayag- Reckoned as a paradise for nature lovers, adventure enthusiasts, and solo travelers. The town is famed as a confluence of two holy rivers Alaknanda and Mandakini. There is a deep belief among Hindu devout that taking a dip in this holy water cleanses all your sins.
How to Reach Kalimath Temple?
There are plenty of road transportations available to access Kalimath Temple from the other major cities in Uttarakhand. However, one can reach the pilgrimage by opting for airways and railways to cover the halfway distance and the final distance is to be covered via road transport only.
By Air- Jolly Grant Airport is the closest airport located around 183 km away from Kalimath Temple. There are frequent buses and taxis plying to and fro between Rudraprayag and Dehradun and one needs to take a taxi to reach the pilgrimage.
By Rail- Rishikesh and Haridwar Railway stations are the two nearest railway stations to visit the holy shrine. However, Haridwar is the nearest one and is easily accessible than Rishikesh railhead. From the Haridwar Railway Station, one can hire a cab to reach Kalimath.
By Road- the most convenient and the easiest way to reach Kalimath is to go via road transport. Numerous buses and taxis ply between the major towns and cities of the state.
Weather in Kalimath
The region experiences humid weather along with a good amount of rainfall during monsoon season, winter is quite cold in this area, and summer gives a pleasant experience.
Kalimath in Summer- this is the ideal time to visit Kalimath as the weather is quite pleasing and favourable in this season. There is a slight fluctuation in the temperature which ranges from 20 degree Celsius to 36 degree Celsius. The days are little warm but cool salubrious breeze welcomes evening.
Kalimath in Monsoon- Monsoon season continues from July to September and these months are not much advisable to visit the destination. Although rainfall in the area welcomes the tourists with its calming environment and pristine vibes spread in the entire region. Do check the weather forecast if you are planning to visit Kalimath in monsoon season.
Kalimath in Winter- December to February witnesses freezing cold in Kalimath with the dropping down of temperature from 15 degrees to zero degree Celsius. However, you may experience a warm afternoon if you are a fortunate one.
Accommodation in Kalimath
For accommodation one can proceed towards Rudraprayag and Ukhimath as they have various staying options for each type of traveler. These two terminals are located 49 and 21 km away from Kalimath respectively. As compared to Ukhimath, Rudraprayag houses better-staying options including deluxe hotels, beautiful resorts and some budget hotels too. Visitors searching for budget hotels located nearby Kalimath can look for the staying options at Ukhimath.