During your holy tours of the Chota chardhams, you come across many other places that are no less significant in terms of religious splendor. Ukhimath is one of those. If you want to bask in the religious splendor of Ukhimath, this Ukhimath travel guide below will help you definitely. Read on: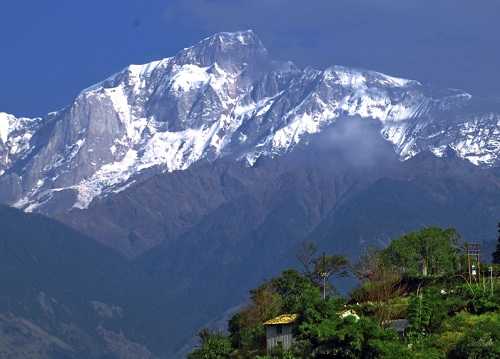 Everyone knows about the four holy pilgrimage spots Yamunotri, Gangotri, Kedarnath and Badrinath. However, Ukhimath, the lesser known, is of equal importance when you consider that the idols from Kedarnath and Madhyamaheshwar reside in this holy town for six months.
Religious Significance
Ukhimath is only 40 odd kilometers from Rudraprayag and is also closer to Deoria Tal, Tungnath and Madhmaheshwar, each one with its own importance for Hindu devotees. In a way you could say it has more religious significance in that you will find temples dedicated to Shiva, Parvati, Mandhata, Aniruddha and Usha and also drop in any time during the year for the Omkareshwar Puja. Legends have it that the town was named after Usha, daughter of Banasur and the name Ushamat became Ukhimath with the passage of time. It was here that she wed Krishna's grandson Anirudh. The Omkareshwar Temple is an ancient structure following traditional North Indian Architecture style and it has a dharmshala and monastery next to it. The 1000 years old Tungnath temple in its vicinity is another old Shi temple and is one of the Panch Kedars built by Arjuna of the Pandavas and is also the highest Shiv temple in the world. It is said the Pandavas came here seeking Lord Shiva's forgiveness for having killed their kin in war but the Lord went into hiding in the form of a bull in the Guptakashi cave where the five brothers followed him. However, Shiva's body in the form of parts of the bull materialized in five different locations known as Panch Kedars and the Pandavas worshipped him at each, seeking his blessings. Tungnath is where his arms appeared. Madhyamaeshwar, in the vicinity of Ukhimath is where the navel and stomach portion appeared, making it another of the Panch Kedars.
Madhyamaheshwar
Madhyamaheshwar is another of the Panch Kedars, built by Bhima of Pandava fame, sitting serenely at a height of 3490 metres overlooking a meadow with a high ridge in the background. Just next to the main temple you will find a small temple dedicated to Saraswati. The temple is open for worship during the summer but in October the idols travel in a procession to Ukhimath where they reside for the winter.
Nearby Places
If you have come this far then traveling to Chopta is a must. Chamoli is too beautiful for words and comes alive in spring when the Valley of Flowers comes alive with millions of multi-hued flowers. Just sauntering through the valley is a soul uplifting experience and then you can considering going on to Auli. Come here in spring for the flowers and in winter Auli occupies centre stage, offering you a lovely chance to go skiing.
Deoria Tal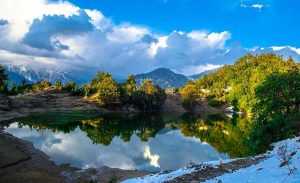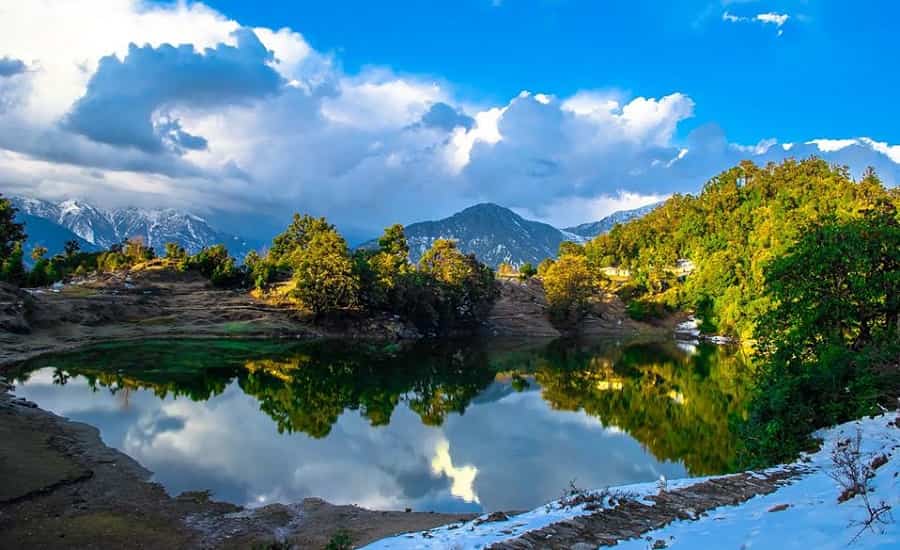 Ukhimath is not entirely about spirituality and pilgrimage. The beautiful Deoria Tal or Lake is only 7 km or so from Ukhimath and is place of scenic breathtaking beauty. The still waters reflect the snowy white peaks of Chaukhamba and green foliage of the tall pines on its borders. For trekkers the 7 km walk is a reward and spurs them onwards to explore the Chaukhamba, Bandarpunch and Nilkantha mountains in the vicinity. Pilgrims go on to Tungnath from Deoria Tal. Deoria tal is where the Hindu gods are said to have bathed and this is where Yaksha asked questions of the Pandavas before allowing them to proceed on their journey.
Getting There
You can fly in to Jolly Grant Airport in Dehradun, about 103 kilometres away or land in Chandigarh about 220 km away and catch a luxury bus that will take you across scenic landscapes to Ukhimath, a journey that is a destination in itself. If you plan by travel by train, book your ticket to Rishikesh or Virbhadra, both at a distance of 92 km and cover the rest of the distance by bus or hire a private car. If you plan to travel in your own car, this is the best way and though it may take some time, you will enjoy the sights, the brief respites at each dhaba along the way and have a thoroughly enjoyable time. Pilgrims commence their journey from Rishikesh or Haridwar. Tourists will find that starting from Delhi for Chamoli is a more convenient way to travel. You get to travel in a sleeper coach if you go by bus or you get convenient flights to Dehradun.
Time to visit
Summer is a good time to visit but there are too many people. If you come here in October you can have a darshan and then go on to Chamoli, Deoria Tal and other scenic places. The only problem is that October onwards it becomes quite chilly so you have to carry woolens along with you, a minor inconvenience. In August September you may encounter rains at times but the hillsides are a lush green. In January the slopes are bare and there is snow everywhere, adding an air of virginal purity to the landscape.
Accommodation
A pilgrimage destination, Ukhimath has a few dharmshalas where budget conscious families find a warm welcome but bare accommodation. There are a few hotels offering decent accommodation and you can, if you find room, stay at the GMVN guest houses. Some tourists prefer to arrive in Chamoli and then make an excursion to Ukhimath, which should be a better idea since Chamoli has more by way of accommodation.
Dining
Dhabas and restaurants serve local vegetarian food that may not be to your liking. Again, if you prefer to stay at Chamoli, you get more and better variety of food there.
Fairs and Festivals
Ukhimath could be said to be the winter residence of Lord Shiva and naturally, Shivratri is the time when Shiv temples come alive with a mela organized in and around the precincts. The Madmaheshwar mela is an important festival in Ukhimath taking place around February, which could be a convenient time to visit. Another time to visit is winter when the Utsav Doli of Lord Kedarnath is brought down in a grand procession from Kedarnath.
Shopping?
Forget about it. Just visit, enjoy the sights