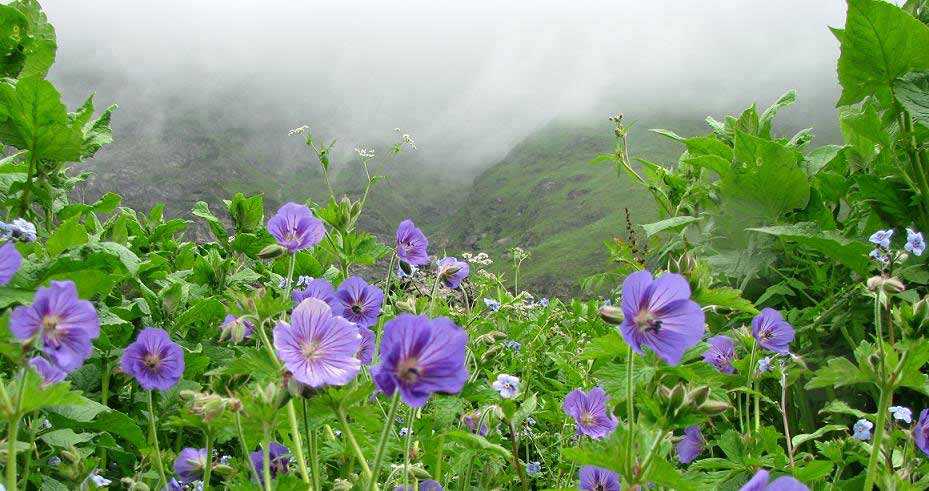 Valley of Flowers is a sprawling emerald meadow covering nearly 87 square kilometers and spangled with rare species of Alpine flowers. The valley falls within Uttarakhand's Chamoli district and has the magnificent Zanskar mountain ranges at its backdrop. Flowery meadows, cascading waterfalls and dancing streams conjure up a rare scenic beauty aptly making Valley of flowers a true heaven on earth. This paradisiacal land was discovered in 1931 by the most reputed mountaineer Frank S Smith and until that year, the world had been ignorant of this enchanting land. Valley of Flowers comes within Nanda Devi Biosphere Reserve's Core zone and has been recognized by UNESCO as a 'World Heritage Site'. You can reach this vibrant, floral pasture cradled high up in the Himalayas after an arduous but enchanting trek.
How to Reach Valley of Flowers
In order to reach Valley of flowers one has to reach Govindghat in the first place. From Govindghat you need to trek a total distance of 17kms to reach the Valley of Flowers. This trek is often divided into two parts. The first 13kms of trek starting from Govindghat takes you through steep trails to Ghangaria. After Ghangaria you have to trek only 4kms to reach Valley of flowers and this route in comparatively easier.
Govindghat is connected to all major cities of Uttarakhand via road transport such as taxis and buses. Those who avail train route will have to reach Rishikesh station by train in the first place and then will have to reach Govindghat by means of road transport. Rishikesh is 273kms away from the Govindghat base camp. Those who wish to travel by air, can take a flight to Dehradun's Jolly Grant Airport in the first place and then travel by road to Govindghat. From Govindghat starts the trek to Valley of Flowers
Places to Visit Near Valley of Flowers
There are some notable places near Valley of Flowers and tourists to Valley of Flowers should never miss a chance to visit those places. Here are the top visit-able places near Valley of Flowers-
Badrinath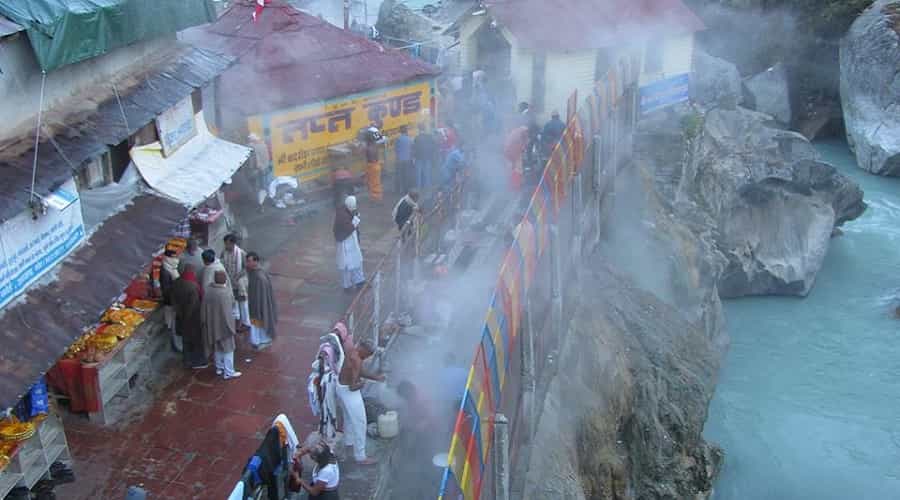 Don't miss the auspicious Badrinath Dham, an abode of Lord Vishnu and the highest of the Chardham in the Chota Chardham circuit. This Dham is counted among the 108 revered Vaishnavite Divya Desams and is believed to have been set up by Adi Guru Shankaracharya
Mana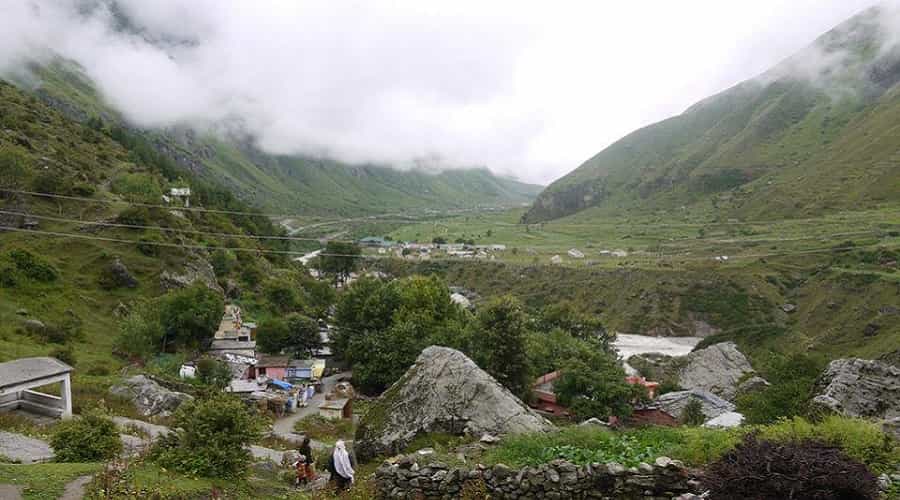 Mana, a picturesque village set on Indo-Tibet border and is the last of all human habitats on the region. Bhotia tribes are the natives of Mana villages. Vyas Gufa, Bheem pul and Ganesh Gufa are the chief tourist attractions of Mana village.
Auli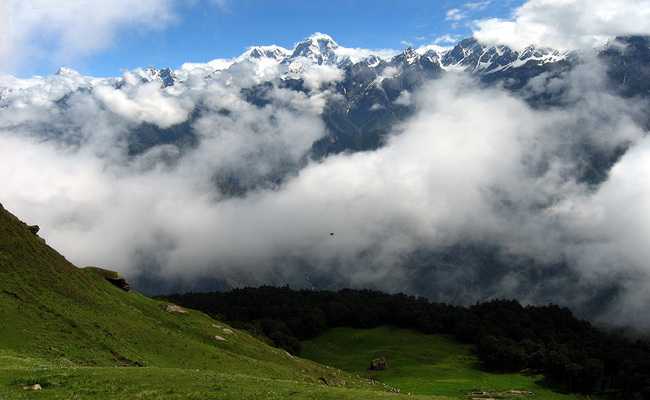 Auli is famed enough as Uttarakhand's major skiing resort. It is also an ideal locale for other adventure sports such as paragliding. At Auli you can enchant your eyes with astounding views of the rolling snowy Himalayan mountain ranges. Auli features the lengthiest cable car route running from Auli to Joshimath.
Joshimath
Joshimath is a revered destination as it is one among the four Mathas set by Adi Shankaracharya. Narasingh temple and Kalpavriksha are the key tourist attractions of Joshimath. Joshimath is 26kms away from Govindghat and is connected to Auli via the lengthiest as well as highest of all cable car rides in the whole of Asia
Best Time to Visit Valley of Flowers
The time period between months July and October is the best time to travel to the Valley of flowers. During that time the entire meadow springs to life with colorful floral blooms that feature some very rare floral species. Also, during that time, many endangered animals can be spotted in that region. Beyond the month of October until May, the region remains covered with snow. Summers start from late May and continue till October. The weather during that time remains most traveler-friendly.
Info on Entry Fee
To enter the Valley of Flowers Indian tourists will be charged Rs 150 for a 3 day tour of Valley of Flowers and for every extra day beyond 3 days, they will have to pay Rs 50 per day. Foreigners will be charges 10USD; i.e. Rs 600 as entry fee for a 3day tour of Valley of flowers and for each extra day beyond 3 days they'll have to pay an amount of Rs 250 per day. For video camera photography within valley Indians will be charged a fee of Rs 500 while foreigners, a fee of Rs1500.
Things to do at Valley of Flowers
The main things to do at Valley of flowers are-
Nature gazing
Framing the floral extravaganza
Enjoying the adventure of a trek across rugged mountainous trails
Bird watching
Exploring the rare animal life
What Makes Valley of Flowers so Special?
Valley of Flowers is a place of un-spoilt natural beauty. The exotic flora that dots the land makes it a vibrantly colored flower carpet during the blooming season. Some very rare flowers and herbs grow on the valley of flowers. For instance, you could see flowers like Himalayan bell flower, Yellow Cobra lily, Yellow Himalayan Lily, Kumaon Iris, Himalayan poppies, Tibetan Rhodiola and numerous other such wonderful Alpine floral species. In fact the floral species found at the Valley of Flowers amount to as much as 200. Also, you could get to see some rare fauna at the Valley of Flowers. Animals like Red Fox, Snow Leopard, Musk deer, Tahr, Himalayan brown and black bear, Serow, Bharal can easily be spotted in the region
Valley of Flowers Travel Tips
If you are planning to embark on a trip to the Valley of Flowers, you do need to keep the following tips in mind-
Trek to valley of flowers is rigorous one. So, be mentally prepared and physically too to take up that challenge
Don't try to tarnish the beauty of nature by plucking the flowers; instead you must spend time soaking in that surreal beauty to your heart's fill
Don't carry heavy luggage on trek. That may leave you utterly exhausted
Make sure you wear good quality trekking cades for the ease of travel
Don't think you could ride to Valley of Flowers on pony back as ponies are not at all allowed on that route
Don't be careless with the money you are carrying with you or with other expensive belongings like camera and video camera as thieves are everywhere
Don't move astray from your group
In order to get timely permit for Valley of Flowers visit you need to reach the spot by early morning; i.e. around 6am
At Ghangaria stop-over there are quite a few decent accommodations where you could consider putting up for rest or night halt
Woolens are a must-wear all year round. So, don't forget to pack sufficient woolens
Trek at a slow/medium pace to avoid frequent exhaustion