A natural hot water spring and mostly reckoned as the home of Lord Agni. It is situated along the river banks of the pious Alaknanda River where visitors flock in a good number to take therapeutic bath. The water of the Kund holds medicinal values which treat skin diseases and other ailments of the tourists. Devotees coming to pay their homage and prayers to Lord Badri at the Badrinath Temple take dip in this hot water spring before entering the temple. Taking dip in this natural hot water spring fed by Sulphur spring is believed to give spiritually rejuvenating experience.  It is one amongst other pious hot water springs located on the Alaknanda River bank and the temperature of the water tank is 45 degree Celsius. The temperature of the water tank is a wonder among tourists and devotees irrespective of the outer temperature which sometimes goes below the freezing point too.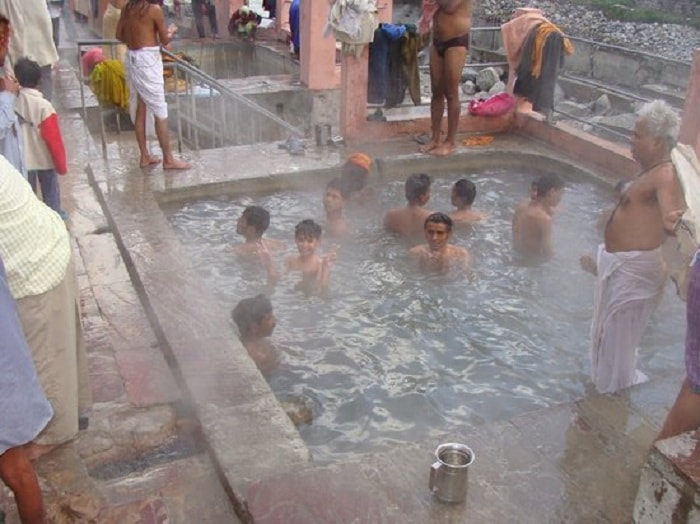 Legend
According to Hindu mythology, Lord Agni pleased Lord Vishnu with his deep penance and in this way Lord Vishnu granted a boon to Agni Dev and took his reside in this Kund near Badrinath Temple. Hindu mythology states that if a devotee performs rituals of their ancestors then in the Tapt Kund then the departed souls of the ancestors go to heaven and the soul rests in peace.
There is another Kund underneath Tapt Kund named as Narad Kund. It is believed that the famous saint Adi Shankaracharya discovered the present image of Badri Narayan and so it also holds a great religious significance and a high place in Hinduism. Devotees are not permitted to take bath in this Kund and the kund is considered highly consecrated. There are 5 big stones surrounding the Kund area called as Panch Shila which are also thougth to be consecrated among devotees and travellers. So, if you are in Badrinath do not forget to perform 'Agni Teerth' which is known to cleanse all the committed sins of yours.
Places to Visit Around Tapt Kund
Despite known for its spiritual hot water spring, the Kund also attracts tourists with its panoramic scenic views surrounding the area. There are many religious places as well as scenic splendors to explore around Tapt Kund and some of them are enlisted below:
Badrinath Temple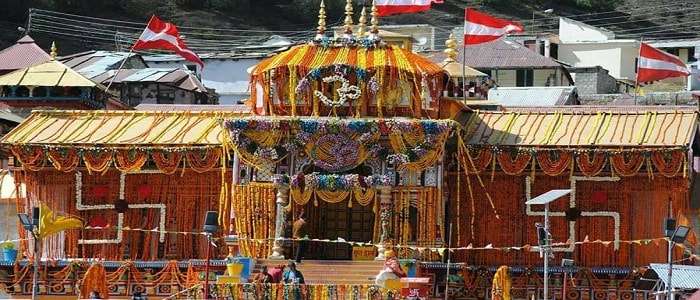 One of the holiest abode of Lord Vishnu which is heavily crowded with devotees all throughout the year. This holy shrine of Uttarakhand is a part of Char Dham as well as Chota Char Dham Yatra in Uttarakhand. Apart from the main idol of Lord Vishnu the temple houses several other idols of different gods and goddess. The beautifully designed main sanctum of the shrine and its wall adorned with beautiful inscriptions leave the devotees fascinated and spellbind.
Charan Paduka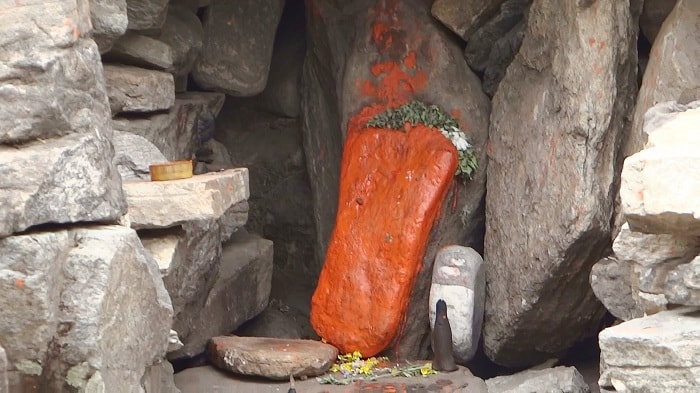 Nestled at an elevation of 3380 feet above the sea level is reckoned and considered as one of the heavily crowded pilgrim spot in Badrinath is famous for the footprints of Lord Vishnu embarked on the holy rock. Hindu mythology states that this is the same place on the earth where Lord Vishnu set his foot. You can view 2 imposing mountain peaks facing each other viz Neelkanth Peak and Nar Parvat also you can witness some caves and boulders en route to Charan Paduka.
Neelkanth
One of the major peaks located in the Garhwal Himalayan ranges and is considered as one of the most religious and important mountain peaks of the area because of its close proximity to the holy shrine of Lord Vishnu (Badrinath). The peak is perched at a great elevation of 6507 meters above the sea level and below which the enchanting Alaknanda River flows which increases the charm of the region and fills the aura of the region with cool salubrious breeze.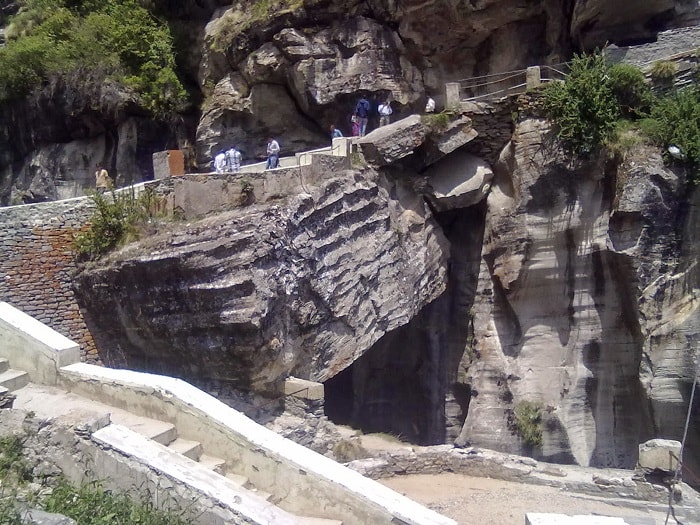 A legendary natural stone bridge which holds a great religious significance and has been constructed by one of the mighty Pandava brothers named Bheem. This natural stone bridge has been built over Saraswati River. Hindu mythology states that while moving to heaven, Draupadi (wife of Pandavas) couldn't cross the river and then Bheem threw a big stone on which she walked and crossed the river. The fierce and gushing Saraswati River flowing underneath this stone bridge makes it a breathtaking sight.
Best Time to Visit
March to June is the most ideal time to visit Tapt Kund as the climatic condition is quite favorable and pleasing for the journey. The region receives heavy rainfall during monsoon and massive snowfall during winter season resulting in the blockage of roads. So, winter and monsoon are not the most recommended options to plan your Tapt Kund visit.
How to Reach Tapt Kund
This natural hot water spring is located between Badrinath Temple and Alaknanda River where one can easily access due to its well-connected and motorable roads with other major cities of Uttarakhand.
By Air– Jolly Grant Airport is the nearest airport to Badrinath which is located around 310 km away. From Airport you can easily get the conveyance to Badrinath as the place is well connected with motorable roads.
By Road– Frequent buses ply from other nearby cities and from ISBT Kashmiri Gate, New Delhi regular buses run to Haridwar, Rishikesh and other towns of Uttarakhand. From Haridwar you can get a bus or hire a private taxi.
By Rail– Rishikesh Railway Station is the nearest station to this religious destination located at a distance of 295 km from Badrinath.