The holy pilgrimage town of Badrinath gets its name from the main temple of attraction here of Badrinath Dham which is not only an important part of the holy Char Dham Yatra of Uttarakhand but this Divya Desam is also a crucial pillar of the all India Char Dham Yatra. However it is a lesser known fact that there are numerous surrounding spots which allows the pilgrims and visitors to explore the beauty of Badrinath.
Here are a few mesmerizing excursion destinations in Badrinath which you should not miss out on during your visit to Badrinath dham: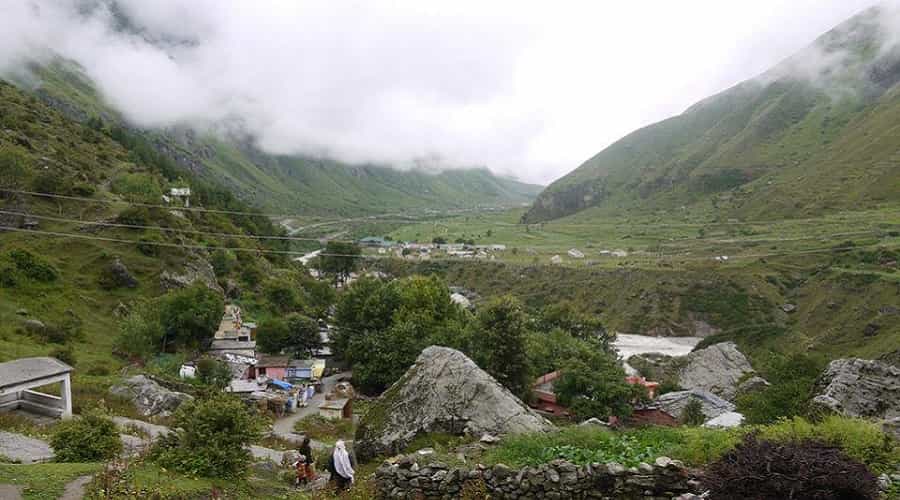 Located in extremely close proximity to the holy Badri Vishal is the last village of India, on the Indo – Tibetan border, Mana. this place is not only popular for its untouched natural beauty but it is also known for its religious significance since it was the place where the Pandavas are said to have spent a few days on their journey to heaven. Mana village is famous for its last tea stall of India and falls on the way to the holy Vasudhara falls. One can experience the beautiful inter mingling of traditional beliefs and the beauty of the natural surrounding making ti an ideal destination to visit during your Badrinath Dham Yatra.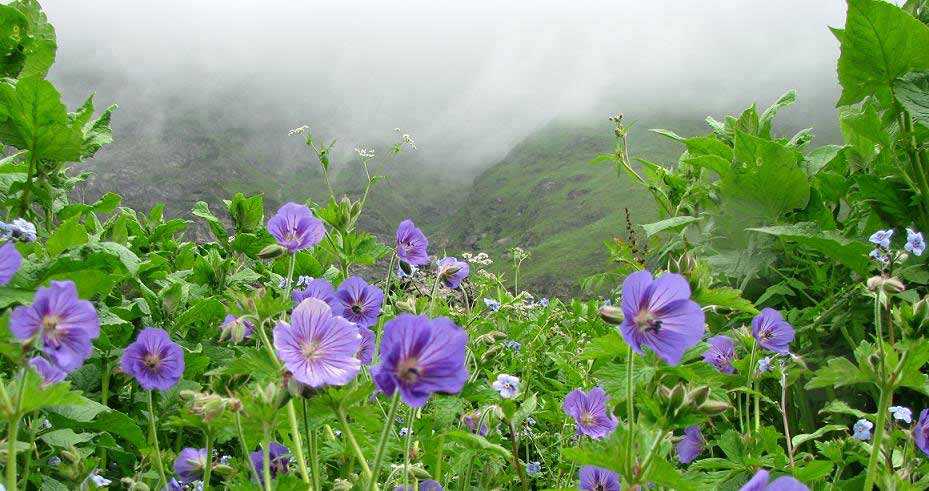 Located in the district of Chamoli, Valley of flowers national park is a UNESCO world heritage site which consists of untouched thriving biodiversity and some of the most stunning views of the surrounding mountain peaks. Visiting VOF during the post monsoon months will allow you to witness the magical beauty of the bountiful nature where the entire landscape is covered in colorful exotic high altitude plants. One legend is that this enchanting valley is the place from Lord Hanuman is said to have collected the medicinal Sanjeevani Booti to cure an extremely injured Lakshman.
Narad Kund
Located on the lower end of the temple of Badrinath this kund is in the form of a small tank where people take their first holy dip before taking a holy dip in Tapt Kund and heading on to the temple. It is believed that this is the place where Adi Shankaracharya is said to have discovered an idol of Lord Shiva. It is also believed that Narad Muni had performed his meditation here for a long period of time. This thermal spring is a huge relief from the cold surrounding which seems like a natural miracle since right next to the kund the water that flows is freezing cold.
Hemkund Sahib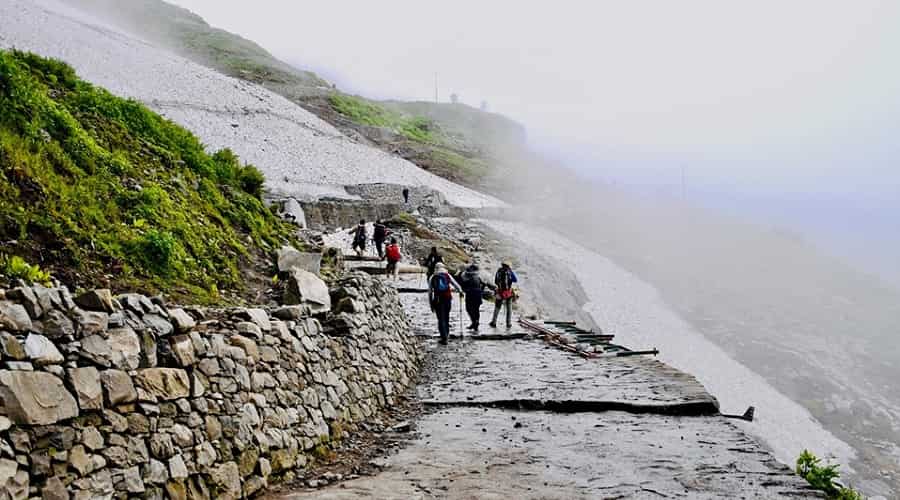 This high altitude Sikh pilgrimage destination is located in extremely close proximity to the stunning Valley of Flowers and most people also make it a point to visit this Gurudwara during their visit to VOF. This uniquely designed place of worship is devoted to the 10th Sikh Guru Guru Gobind Singh and has found its mention in Dasam Granth which was dictated by the Guruji himself. This pilgrimage destination is surrounded by the stunning Himalayan beauty and in the centre is a beautiful high altitude lake where the pilgrims take a holy dip and rejuvenate themselves.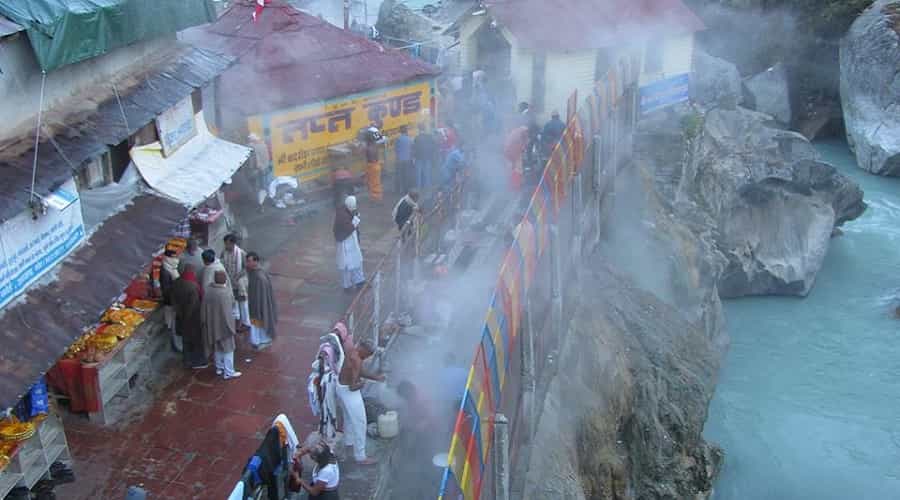 This kund or lake is known for being one of the most famous naturally occurring thermal hot water springs in Badrinath. Pilgrims generally have made it a ritual to take a holy dip here, whose water is believed to possess some medicinal properties which rid the person taking the dip from various diseases. The entire kund is divided into two separate sections for men and women and before getting inside it be sure to check its temperature since it may surprisingly be extremely piping hot. The popular story behind this kund is that Lord Vishnu had appreciated goddess Agni's penance and Tapasya and granted her this place where everyone taking a holy dip will be redeemed of their sins.
Urvashi Temple
Badri Vishal was chosen as the spot for meditation for the twins Nar and Narayan where both the brothers had performed severe penance. One Hindu mythology talks about the fact that once when they were deep in meditation Lord Indra had sent a group of maidens or Apsaras from heaven to distract them from their divine state of penance. In order to oppose this Narayan slashed the thigh of his left leg and created innumerable beautiful natural female spirits and each of them was more beautiful than the other. The most beautiful of the lot was Urvashi who lead these female spirits to Indra and broke his pride at a pond near Charanpaduka and a temple was created to commemorate the beautiful goddess.
Also popularly named as 'Jyotirmath', this holy pilgrimage site is one of the four crucial matths that was established by the prominent 8th century sage Adi Shankaracharya. This place is also home to Kalpavriksh a 1200 year old tree which makes it a unique spiritual vibe to the pilgrim's journey. The holy hilly hamlet is dotted with numerous ancient temples one of which is dedicated to Narasimha while there are other temples dedicated to Lord Hanuman, Gaurishankar, Ganesha, Surya Dev and Nau Devi. Overlooking the town of Joshimath is the confluence point of two of the holiest rivers of Alaknanda and Dhauliganga.
Leela Dhungi
This place falls on the way from Banni village and is famous for being a religious spot amongst the natural beauty of nature. As per popular beliefs Badrinath was originally chosen by Lord Shiva to perform his meditation. However, when Lord Vishnu came across the beauty of this place he wanted to perform his Tapasya there too. Lord Shiva refused his pleas even after his consort goddess Parvati tried to convince him. Lord Vishnu then turned himself into the form of a small crying infant and kept on crying until Lord Shiva was forced out of there.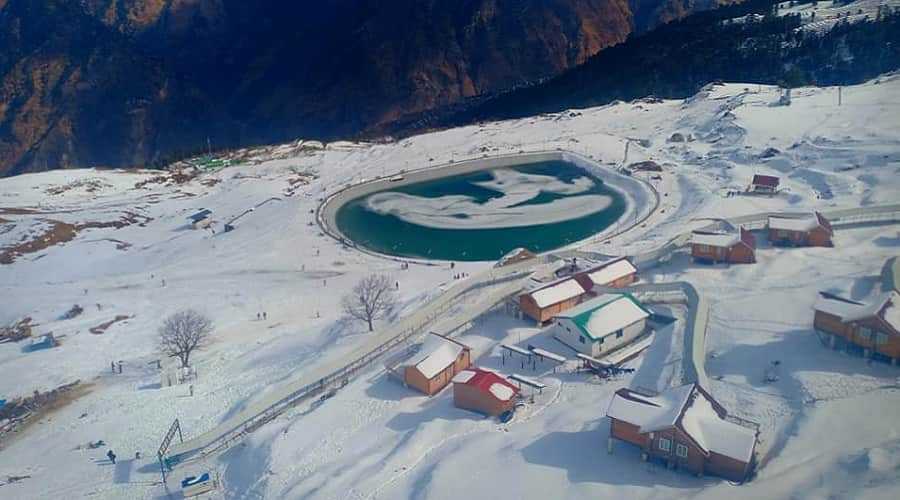 Located at a distance of just 14 kms from Joshimath and easily approachable via a fun and thrilling ropeway ride or even by road, Auli is known for being one of the most well-known skiing destinations in India. While skiing from top of the snow-clad hills you will also be witnessing some of the most stunning views of the surrounding peaks. One of the attractions here is the man-made Auli Lake from which, during the winter months, the water is gushed out on the close mountain and they are turned into fascinating skiing slopes.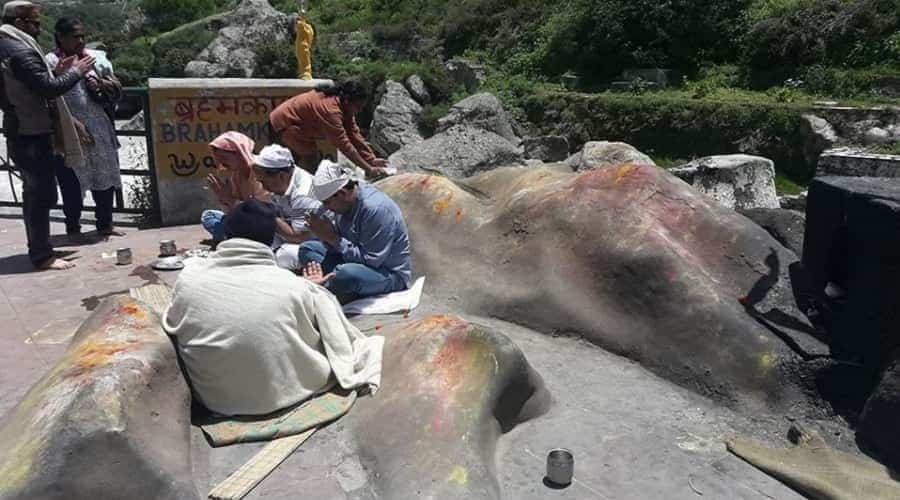 Located right on the banks of the holy river of Alaknanda which flows past the temple of Badrinath, and located at a mere 5 minutes of walking distance from the main temple this is the place which is believed to be where Lord Brahma is believed to reside. This is considered to be the most prominent and place to perform rituals or Pind Daan for the ancestors. People are required to first take a holy dip in Tapt Kund (a nearby hot water spring) and perform their puja rituals which may take more than 2 hours but it will all be worth it since the beauty of this place is extremely overwhelming and radiates peace.
Pandukeshwar Temple
As the name suggests that this temple is dedicated to the father of the Pandavas – king Pandu. It is believed that this is the place where he had performed intense penance to Lord Shiva. He did so in order to ask for forgiveness from the lord for having killed two mating deer who were sages in their previous life. This holy temple is located at a distance of 18 km from Joshimath and is believed to have been constructed by the king himself. It is also believed to be the place where the Pandava brothers are said to have been born and spent a few months there.
Neelkanth Peak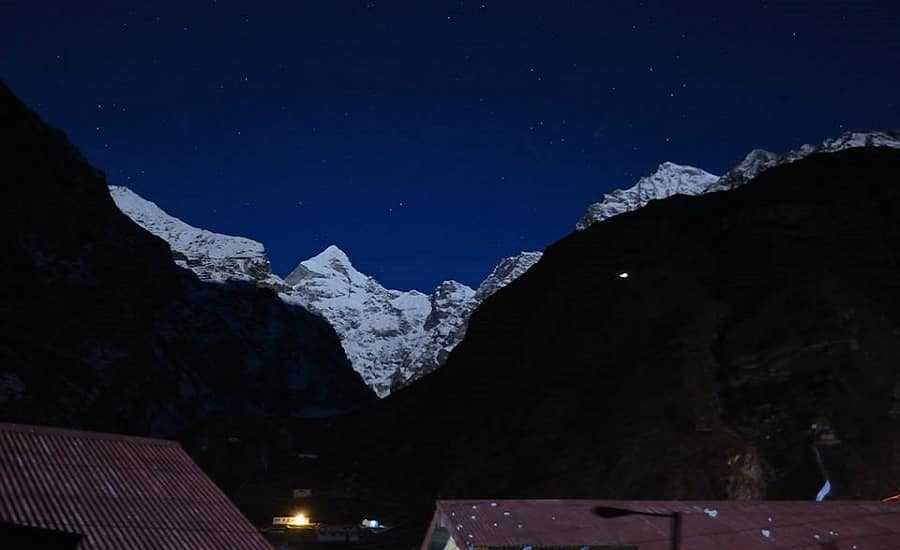 Known for being one of the major peaks of Garhwal Himalayas and standing tall on an elevation of 6,507 metres above sea level, this peak is also referred to as the 'Garhwal Queen' due to its paramedical shape. This snow bound peak forms the majestic backdrop for the Badrinath Dham and has only been summited by a limited number of mountaineers. Best visited during the months of June to September the peak can be reached after covering a trekking distance of 10 kms which is covered in 2 days but the final resulting view of Neelkanth peak is just awe inspiring.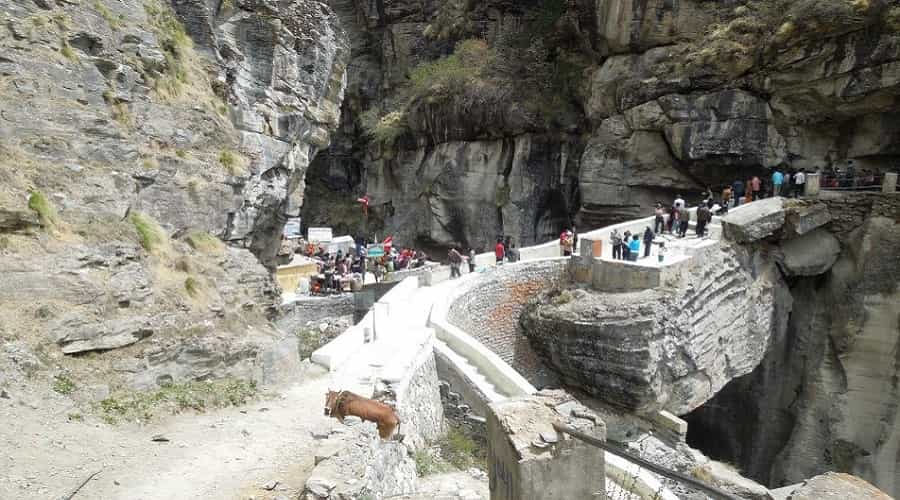 This 'Pul' or a small bridge is situated towards the end of Mana village at a distance of just 1 km where the water from Saraswati gushes from underneath the bridge creating a visual phenomenon. This stone bridge is a must visit destination on your visit to Badrinath dham due to its wonderful mythological account related to it where it is said that on their journey to heaven Bhim put this rock here allowing Draupadi to pass through. You can explore some scenic places located around it with the help of a guide.
Sheshnetra
As per the name of the temple suggests that this place is something related to Shesh Nag – a 5 headed snake, the king of all snakes or Nagraj and is considered to hold an extremely important place in Hindu mythology. This holy place is situated at just a distance of 1.5 km from the main temple of Badrinath. This place is marked by a stone which is said to hold impressions of the eyes of the legendary snake and is also said to protect the temple from any harsh conditions or harm during the off season.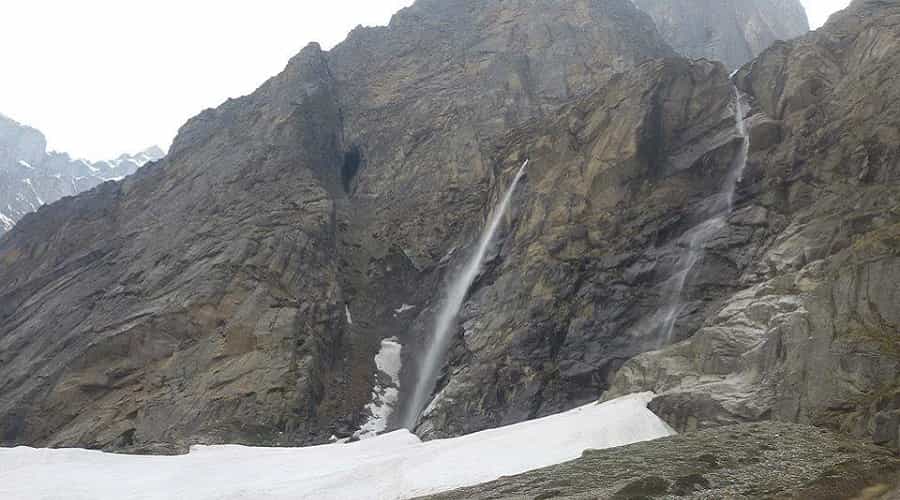 Located at a mere distance of 9 km from the main temple of Badrinath and 6 km from the village of Mana, this pristine falls gushes down in full force from a towering height of 400 feet. You will be required to trek your way up to the falls and you will be treated with one of the most incredible views of the vast panning Badrinath valley below. People on their way to Satopanth Tal or Laxmi van will be making their way from this falls. Researchers have proven that the water of this falls holds medicinal properties.