An enthralling and adventurous natural stone bridge which is built across the mighty and divine Saraswati River. This natural stone of Mana Village is believed to be constructed by one of the great Pandava brothers Bheem as his wife Draupadi was not able to cross the mighty Himalayan ranges. The surrounding caves, the stunning natural rock bridge, and a river flowing with tremendous force make the place a stunning spectacle. Panoramic view of the valleys and the clouds make it more mesmerizing and inviting to the tourists. One can listen to the gushing sound of Saraswati River flowing under this beautiful natural bridge. As per the mythological belief, it is believed that this is the same place where Saint Ved Vyas dictated Mahabharata and Lord Ganesh written it down.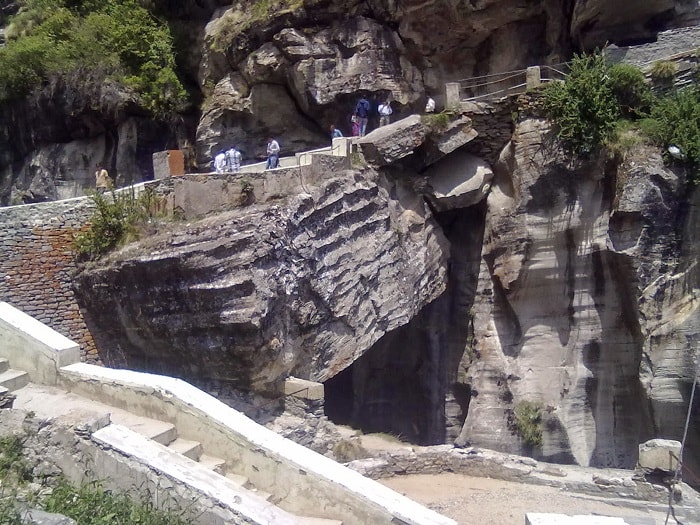 Legend
According to Hindu Mythology, Pandavas decided to take this path when they were moving to heaven. Pandavas crossed the waterway easily however, Draupadi couldn't hop between the riverbanks. Bhima then threw a big stone into the river which made it convenient to Draupadi to cross the river. This is how the rock bridge got its name.
Location
This astonishing revered place is located in Mana Village (the last Indian Village) in Uttarakhand which is located near Indo-Tibetan Border. The natural stone bridge is situated just opposite to the Vyas Cave in Badrinath. River Saraswati flows under the bridge with a tremendous force and joins Alaknanda River, another holy river. It is located close to Badrinath which is at a distance of around 4 km from Bheem Pul. From the parking area at the Mana Village, you need to walk for at least 10 minutes to reach here. There is a shop located near to the Bheem Pul which is considered as the last shop in the village and of the country.
Places to visit near Bheem Pul
There are many nearby attractions to Bheem Pul which you can explore en route Bheem Pul.
Mana Village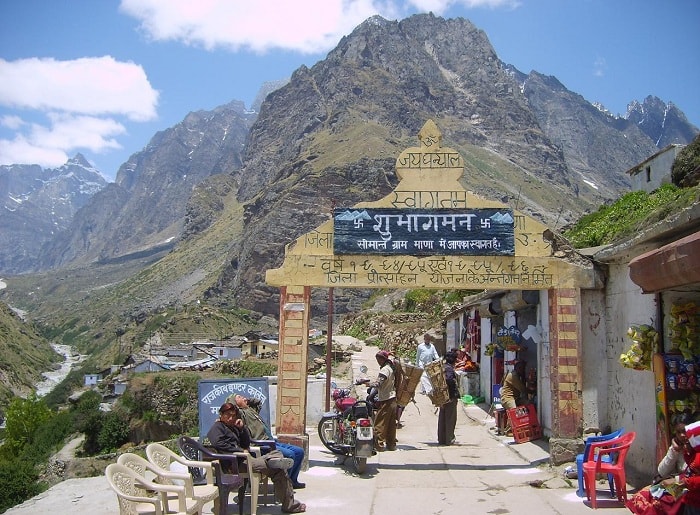 The last Indian village which is located in the Chamoli district of Uttarakhand and on the Indo-Tibetan border is reckoned for its splendid scenic beauty. It is situated on the river bank of Saraswati River and at a distance of 3 km from Badrinath town. It is an ideal place for nature lovers as imposing and snow clad mountain peaks, lush green meadows adorn the village gracefully. Do not miss out to visit to take a cup of tea at the last village of the country.
Brahma Kapal
It is a revered place located near to the Badrinath Temple (walking distance of 5 minutes from the Badrinath Temple) and holds a great religious value among Hindu devout. Devotees flock to this place to pay homage and their prayer to the ancestors. It is believed that Lord Brahma exists at this place so performing Shradh rituals here bless them liberation from the cycle of birth and death.
Vyas Cave
Hindu mythology states that this is the same place where Rishi Ved Vyas meditated for many years and recited Mahabharata and Lord Ganesha penned it down. Rishi Ved Vyas composed many other Puranas, Sutras, and Vedas in this cave only. The roof resembling the pages of the script gives it a unique feature and look. The cave is located in the Chamoli district of Uttarakhand and is considered as one of the most religious and popular places in the village.
Alkapuri Glacier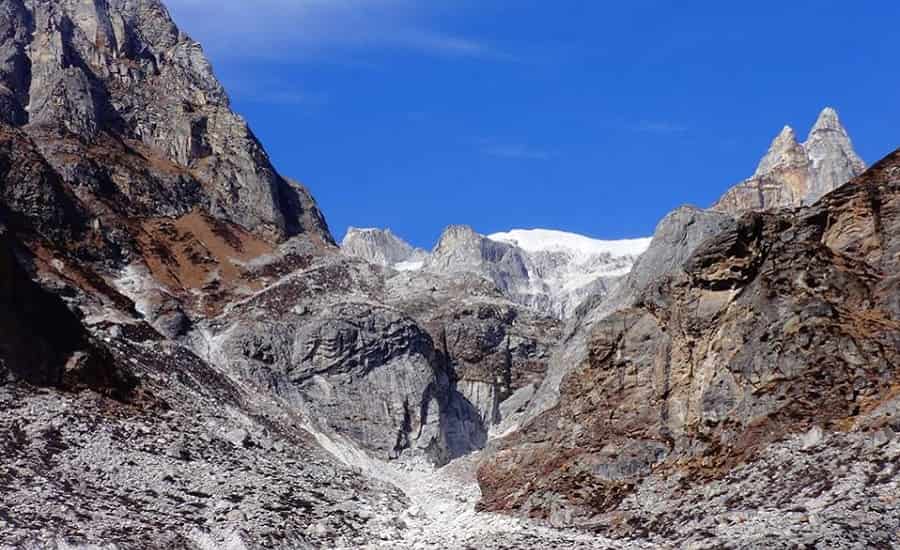 Alkapuri Glacier is the water source of Alaknanda River and holds a great religious significance among Hindus and in India as per the belief which states that it is the revered abode of Kuber, Gandharvas, and the Yakshas. The glacier has been spread and separates into two valleys i.e. Satopanth glacier and Gaumukh glacier. This splendid glacier along with awe-inspiring mountain views surrounding it gives a spellbinding experience.
How to Reach Bheem Pul?
It is located in the last portion of the Mana Village. Bheem Pul is well connected with other important towns of the state. It is located at a distance of just 3 km from Badrinath and the distance can be covered by walking.
By Air– Badrinath itself doesn't have an airport. The nearest railway station to the destination is Jolly Grant Airport of Uttarakhand which is located at a distance of 261 km from Badrinath. Nowadays many traveling companies are providing helicopter services to Badrinath which make your jour journey more comfortable and less time consuming.
By Rail– Rishikesh Railway Station is the nearest railway station which is connected well with other major cities of India like Ahmedabad, Delhi etc.  From Rishikesh Railway Station you can get a taxi or a bus to Badrinath.
By Road– Various buses ply frequently from ISBT Kashmere Gate of New Delhi and other cities which drop you at Rishikesh bus stand. From there it is very convenient to get a bus or a taxi and from Badrinath, you can reach to your destination by walking for 5-10 minutes.
Best Time to Visit Bheem Pul
The most ideal time to visit Bheem Pul is May, June, September, and October as the weather is quite pleasing and favorable at this time.