Located at a distance of 3 kms from the scenic hill town of Harsil, is a quaint village hamlet of Mukhba. Known for its pristine beauty this part of the Himalayas offers some of the most spectacular views of the surrounding, snow-clad mountain peaks. Situated at an elevation of 2,620 metres above sea level, the clear sky above the village of Mukhba displays brilliant hues of blue that cannot be seen anywhere else. You will be greeted with a vast expansive landscape of undulating mountainous topography covered entirely in thriving lush greenery. The fast flowing holy river of Ganga that snakes its way through this town forms a charming picture of the valley.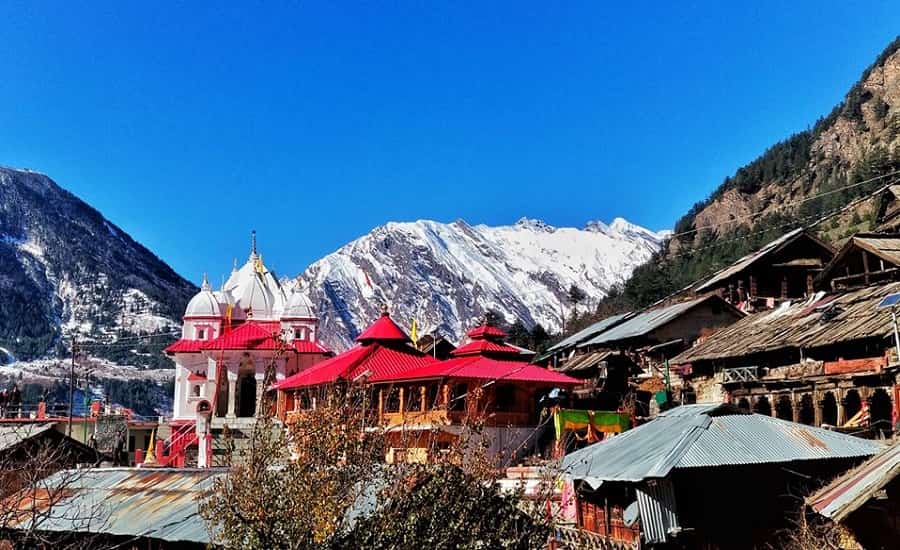 Religious Significance:        
This town is popular among devout Hindus for being one of the holiest destinations in the northern part of India. When the main temple of Gangotri Dham shuts down for Darshan during the winter months of November to April, the idol of the presiding deity of goddess ganga is brought down to a temple in Mukhba village where she is worshipped for the said months. This is done so with an aim of providing the pilgrims with an opportunity to let the pilgrims offer their prayers to the goddess. There are two temples at this village where the older one is made entirely of deodar wood and brass while the newly built temple is created using marbles and concrete. This entire village evokes in you a deep sense of spiritualism coupled with incredible and unmatched peace.
How to Reach:
By Air – The closest airport to Harsil is situated at a distance of 232 kms in Dehradun which is the Jolly Grant airport. This airport caters to some selective domestic flights from Delhi. Once you reach the airport you will be able to hire a cab or a taxi service heading towards Harsil.
By Road – Since the village of Mukhba is a significant religious destination it is visited by pilgrims from all over India. It has a vast network of well-made roads that cater to local and private buses from the nearby towns of Rishikesh, Barkot, Tehri and Uttarkashi to the big cities of Delhi as well as Dehradun.
By Rail – The closest railhead to Harsil is situated in Rishikesh which is situated at a distance of 205 kms. This station caters to a number of different trains from some of the major destinations of India. You will be required to hire a cab or a taxi or even get on a local bus heading for Harsil.
Accommodation Facilities:
Homestay – Mukhba has a number of home stay options which definitely falls in your budget and will present you with some of the most realistic experiences of the normal village life. These home stays are a common occurrence in this region.
Hotels – If you want to experience the beauty of Mukhba in a more comfortable manner then you have the option of choosing yourself a hotel at either Harsil or the pleasant village town of Dharali.
Lodges – In case you want to spend some more comfortable time here but at a cheaper rate, then opting for widely available lodges are a good way of going. These lodges are available in Harsil and Dharali.
Food Availability:
Being located on the Garhwal Hilly tracts the local food here celebrates the flavor packed food selection of the Garhwal region of Uttarakhand. the restaurants, Dhabas and food stalls available in and around the village cater to the food needs of their travelers and visitors by offering south Indian and Chinese dishes like Momos, Noodles, Parathas, Dal etc. However, these choices are extremely limited and you should not expect to have a luxurious 5 star worthy meal. If you are looking to have some Pahadi cuisines then you have the option of choosing from a number of delectable pure Uttarakhandi cuisines like Pahadi Raita, Gahat dal, Chainsoo, Sisunak Saag, Bhang ki Chutney and so much more.
Places of Interest:
Dharali
Nestled right on the soothingly calm banks of the holy river of Ganga and perched at an elevation of 648 metres above sea level, the pleasant village of Dharali is like a fairytale hamlet. Sitting at a distance of just 3 kms from the main town the entire charming landscape of Dharali is covered in glistening orchards of mountain apples and Rajma cultivation. Covered in a thriving green forest of deodars and pine this place can easily be called nature's basket.
Gangnani
If you are seeking to attain some peace of mind among the impressive and green natural surroundings then Gangnani is the place to be. Located at a distance of 46 kms from the holy town of Uttarkashi Gangnani is an ideal retreat destination for not just spiritually inclined individuals but also for nature lovers. Surrounded by stunning views of the snow clad mountains a memorable time here is guaranteed.
Gangotri National Park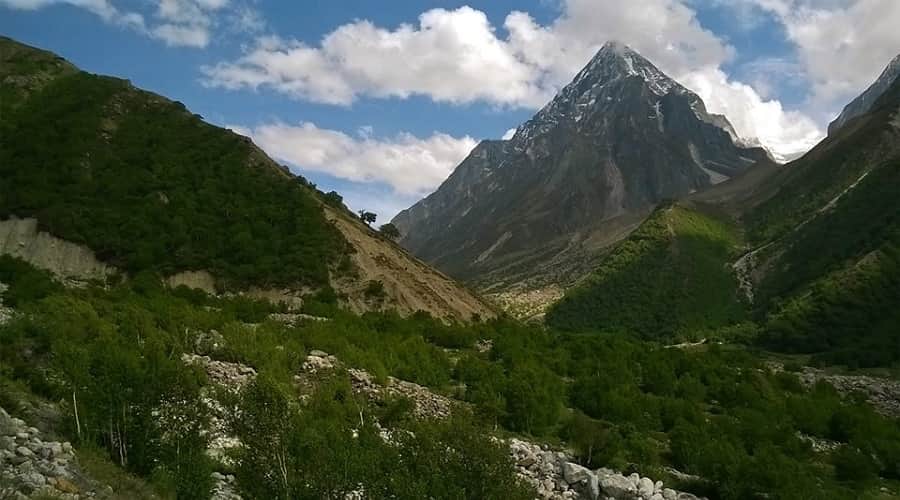 If you want an adventurous twist to your travel plans then visiting Gangotri national park will do the trick. Panning over an area of 2,390 sq. km. and located at a distance of a few hours from the town of Harsil, this national park is home to a number of high altitude glacial lakes, coniferous forests and the world renowned snow leopards.
Sattal Harsil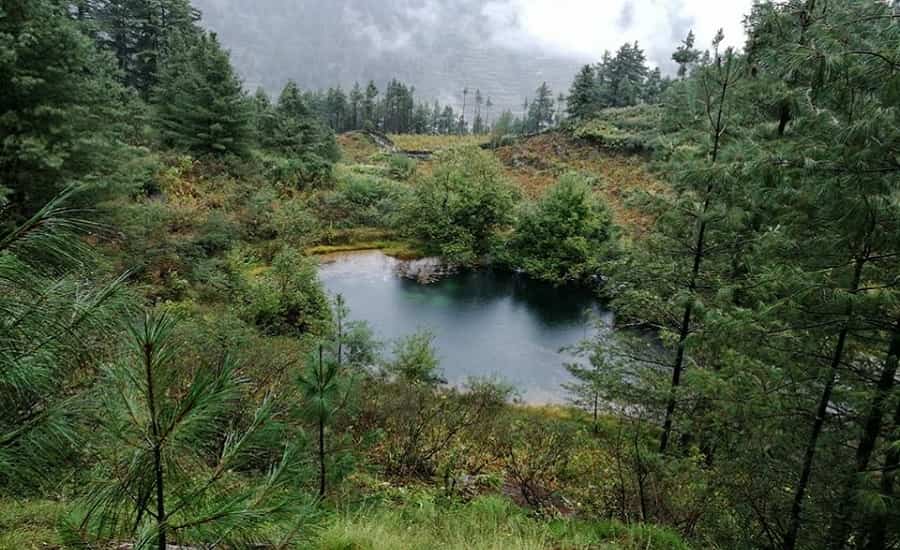 Located after covering a distance of 3 kms uphill trek from Dharali, as the name suggests, Sattal Harsil represents a collection of 7 naturally occurring high altitude, crystal clear lakes. These lakes are covered in the dense greenery of pine trees making the region look even more picturesque making it one of the prime trekking destination among adventure travel enthusiasts.
Activities:
Pilgrimage – People from all over the country visit the village of Mukhba during the winter months of November to March to offer their prayers to the goddess Ganga who is placed in her winter abode here. The place witnesses a throng of visitors and devout pilgrims from across the subcontinent make it a point to visit this place as a part of their winter Char Dham Yatra.
Village Walks – There is no dearth of scenic views in Mukhba. Opting for a village walk is a great way of going since you will be able to savour some incredibly mesmerizing views of the surroundings. Get to know about the local and traditional life of the villagers by going through this beautiful landscape which replicates a fairytale wonderland.
Trekking Activities – The village of Mukhba is located close to a number of different trekking sites and will take you across some of the most pleasant destinations that will appeal to the adventure lover in you. You will be able to cover places like Lamkhaga Pass, Sangla, Gaumukh and so much more.
Weather Conditions:
Summer – If you are a peace seeker and a nature lover you will be able to experience the true and charming Himalayan beauty. The summer months range from April to June when the region thrives with tourists from different parts of India. This is believed to be the best time to go on a visit of Mukhba village.
Monsoon – The monsoon months lasts from July to September when the entire region gets covered in regular rains and unexpected landslides. It is an unsafe option for you to go on a visit to the village of Mukhba during this time however if you want to experience the Himalayan rains then visiting this place during the onset of the rainy season is a good option.
Winter – Although the Char Dham Yatra shuts down for the winter months this place remains crawling with devotees and pilgrims from all over India who visit this place to offer their prayer in the winter abode of Goddess Ganga for their winter Char Dham Yatra.
Winter Char Dham Yatra 2019:
When the Char Dham Yatra of India concludes during the months of winter, all the presiding deities from the main Dham shrines are carried away in palanquins and Dolis to their winter homes of their nearby holy villages. Since all the main Char Dham sites are located on extremely high elevations the entire region gets completely covered in a thick blanket of snow making accessibility not just difficult but impossible to reach.
Here are the winter abodes of all the Char Dhams which you can reach during the closed months – Omkareshwar temple in Ukhimath (Kedarnath), Vasudev temple in Joshimath (Badrinath), Mukhba (Gangotri) and Shani Dev temple in Kharsali (Yamunotri). These sites form the crucial circuit of the winter Char Dham Yatra which is undertaken by the devout Hindus looking to offer their prayers to the lord. The deities are brought down to these winter destinations amongst great celebration, zeal and enthusiasm which is showcased in the form of constant and rhythmic Vedic chants and devotional music. This has made the Char Dhma Yatra possible on all the seasons proving that there is no season for spirituality and pilgrimage.
---
For Further Information
Please fill up the below Enquire form or call our trip Advisor
Call us our Yatra Expert No +91 – 9911884413 / +91 -9911882213/ +91 9911415288/ +91-7042699299
Get the best Holiday Offers
Email Us at :- yatra@chardhamtour.in, info@chardhamtour.in
24 x 7 Online chat support on Whatsapp / Viber/ Hike/ Wechat +91 9911884413
---