Hinduism is not just religion; it is also a way of life. Consider the system of "ashramas". An individual's life can be divided into four sections. Brahmacharya represents student life, grihastha ashram represents married life, vanaprastha ashram represents retirement and sanyasa represents the last stage of renunciation. It is usual for people to marry, bring up children and then retire, a period in which they usually set off on pilgrimages to the many Tirthdham spreads around India. Of these, the Char Dham yatra in Uttarakhand is as strenuous as it gets and it requires good health to journey by road and on foot to Yamunotri, Gangotri, Kedarnath, and Badrinath. Yamunotri Yatra by Helicopter the Kedarnath route is the toughest with a trek of about 14 to 16 km involved, not a cakewalk for people advanced in years. Still, with time at their disposal, people in the olden days used to travel for a year or more on pilgrimages. The Chardham yatras first point is Yamunotri.
Yamunotri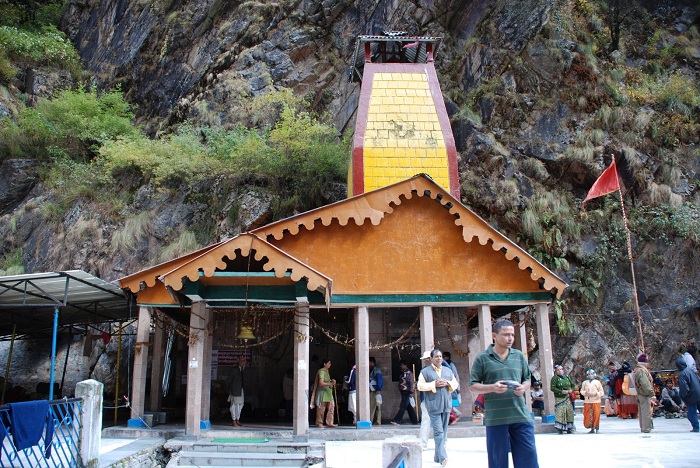 The shrine dedicated to Goddess Yamuna is located by the banks of the Yamuna at a height of 3291 meters in Uttarkashi district with the Banderpoonch Mountain ranges in the background. The shrine has an idol of Yamuna in black marble. The temple was built, damaged due to natural calamities and reconstructed over the centuries by Amar Singh Thapa, by Maharaja Pratap Shah of Tehri Garhwal and Maharani Guleria of Jaipur in the 19th century. The Yamuna is the sister of Yama, goddess of death and offspring of Surya, the Sun God. Praying at the temple and bathing in the river washes one of the sins and the cycle of life and death is a strong belief among Hindus. Summer is when the temple is thrown open to pilgrims around Akshay Tritiya occurring in late April or early March and the temple closes with the onset of winter after Diwali.
Getting There
Pilgrims usually arrive at Haridwar, a railhead and make their way to Rishikesh and then travel by road to Hanuman Chatti and then Janki Chatti. It is a 6 km trek from Hanuman Chatti and 4 km from Janki Chatti. One can just as well ride a pony or hire a palanquin. The trek takes pilgrims to Divya Shila where they offer their respects, to Suryakund, a hot water spring where they cook the offering of rice and potatoes wrapped in cloth and Gaurikund where they bathe before entering the temple and praying to the Goddess to grant their wishes. It is no easy task to reach the temple even for the fit and for those who are not in perfect health it can be a daunting experience. An easier and better way is the Yamunotri yatra by helicopter.
Yamunotri Helicopter Yatra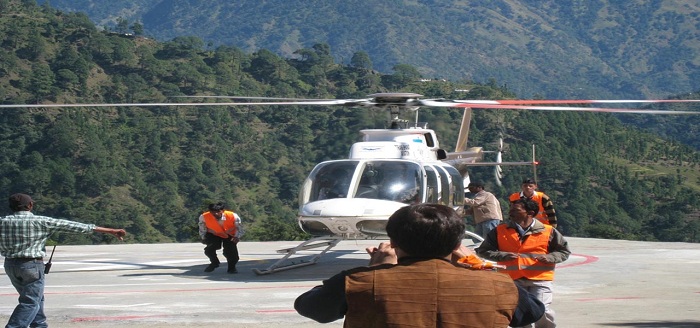 These days there are a few aviation companies offering to Chardham Yatra by helicopter. One can choose just one destination, two destinations in a Gangotri-Yamunotri helicopter yatra or a helicopter yatra to cover all destinations. You can opt for only the Yamunotri helicopter travel but it does not cost much more to take in Gangotri as well. However, that is up to individual pilgrims. The helicopter can be booked and should be booked well in advance. Pilgrims arrive at Sahastradhara helipad at Dehradun around 6 AM and the helicopter lifts off at around 7 AM after procedures, one of which is the biometric medical check. In less than an hour, it lands at Kharsali and pilgrims travel rest of the way on palanquins. After darshan and meals the helicopter takes the onward to Harsil for Gangotri yatra and by 4.30 PM, they leave for the return leg to Sahastradhara. It is a one day journey as opposed to several days of discomfort and hardships by surface travel. If you do not have the whole day to spend or simply wish to visit only Yamunotri, there is another service by helicopter to Kharsali departing at 7 AM, arriving at 8 and then returning back to Dehradun at 1 PM so you are well in time to catch a return flight to Delhi or another destination.
Keep in mind
Ensure you have your biometric health certificate obtained in advance.
Arrive at the helipad in advance and confirm your reservation.
Wear woolens, shoes, and headgear.
Carry only a small pack not exceeding 2 kg in weight.
The flight may be delayed due to weather conditions and it may even be canceled. You can opt for a refund or take your chance on the next available flight to Khalil.
A yatra that would take days is cut down to just a matter of hours when you do it by helicopter. It is just the right thing for people in their "vanaprastha ashram" or "sany ashram" stage of life when health is not that good. It is also perfect for people who do not have much time to spend. 1A bonus is the wonderful aerial view of the landscape.
---
For Further Information
Please fill up the below Enquire form or call our trip Advisor
Call us our Yatra Expert No +91 – 9911884413 / +91 -9911882213/ +91 9911415288/ +91-7042699299
Get the best Holiday Offers
Email Us at :- yatra@chardhamtour.in, info@chardhamtour.in
24 x 7 Online chat support on Whatsapp / Viber/ Hike/ Wechat +91 9911884413
---