Situated in the district of Almora in Devbhoomi Uttarakhand, is a spectacular group of temples that dates back to 9th century. Truly a spectacular work of architecture the main deity that is worshipped here is Surya dev or the sun god. It is one of the rarest temple complex and holds immense historical and religious significance. Deemed for its intricately carved designs and fine wooden panels this temple ranks among one of the most beautiful shrines in India. The place boasts of amazing peace and serenity and a visit here will definitely be a rejuvenating experience. Offer your prayer at the tranquil shrine and gaze at the mesmerizing beauty of the valley below. What better way of experiencing the spirituality of Garhwal Himalayas than exploring this magnificent temple.
The lost heritage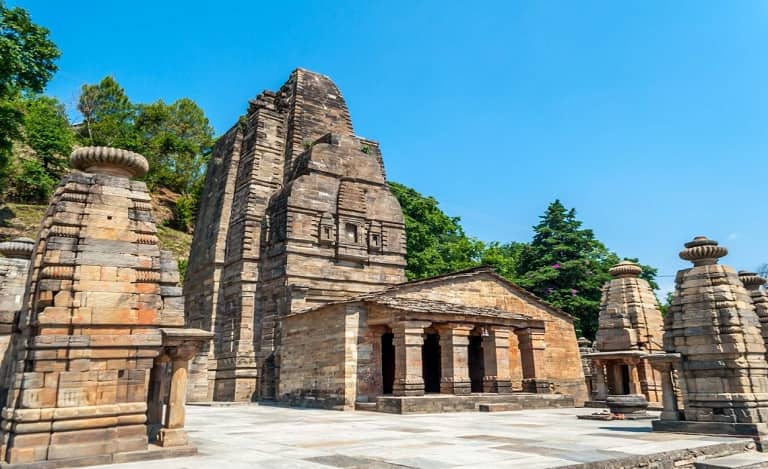 The temple complex is partially finished and dates back to 9th and 10th century by the Katyuri kings of Uttarakhand. The temple resembles the Jageshwar group of temples and just like this it is also another prominent work of architecture. The compound area of the temple is very unique in its making and the incomplete structure was left halfway due to unexplained reasons. The tourists don't know much about it but rather prefer visiting some other famous temples and attractions around here. the temple's intricately carved wooden panels, doors and the idol has been shifted to the museum in Delhi for safekeeping. You can utilise the fact that the entry here is free but yet it remains untouched. However it has sort of helped with providing you with a quiet and solitude getaway option here where you can mediated in a peaceful ambience. The absence of tourist activity here gets even amped up due to the presence of bountiful greenery that surrounds it. Another reason as to why people don't wish to visit here is due to the lack of proper sanitation. But if you are looking for an old world charm then this temple is a must visit.
Best time to visit
Being located at a height if you wish to explore the temple in deep detail and interest then you must visit during the summer months of April to June, this is the most pleasant time for you to go on exploring this temple in the best possible manner. Rainy season here can be dangerous due to the slipper slopes and must be avoided visiting. If the high altitude chill is okay with you then you can even visit this place as a part of your spiritual winter getaway destination.
How to reach
your prime motive should be that you must first reach Almora from Kathgodam, which contains a railway station. From outside the station you can either hire a taxi or a cabs service for Almora which will cost you around 2 thousand rupees (rates may differ). You can even get on the local transport state bus whose tickets will cost a lot less than the cab. The most convenient way will be to get your own car or even bike since the entire region contains well made roads.
Interesting information
The temple is named after the king who built it – king Katarmalla
It makes for a very fun packed trekking experience from Almora
The main idols of Burhaditya and Vraddhaditya are installed strategically in such a position that the 1st rays of the sun falls directly on the idols once in every year.
This rare event of the year is celebrated as a huge event in the temple of Katarmal.
The main shrine is surrounded by 44 small to medium shrines and are all dedicated to different deities of Hindus.
The temple is also listed under the protected heritage sites by the Archaeological survey of India or ASI.
Quick traveller facts
No ritual or worship takes place inside the premises of the temple due to its absolute nature.
The temple can be reached after covering a somewhat walking and trekking journey which will be a fun and spiritual experience in itself. The best part is that you will have the company of tranquil natural beauty.
The closest airport is located Pantnagar at a distance of 145 kms from Katarmal temple.
The nearest railhead is situated at a distance of 134 km in Kathgodam from here.
Visit information
Timing –6 am to 12 noon and 3 pm to 7 pm (this may change during some religious rituals or auspicious days)
Visit duration –2 to 3 hours
Entrance free –free entry
Famous for –historical sightseeing, archaeological significance, photography, religious importance, architectural beauty
Places to visit around Katarmal temple
Kasardevi temple –another interesting temple and a true sign of deep spirituality this temple stands peacefully on top of a hillock that can be reached by climbing a steep distance on wide stairs. Meditating here is truly the experience of a lifetime which owes to the fact that the hillock is on the positively charged belt which is rarely found anywhere on earth.
Chitaigoludevta temple –this temple that is adorned with brass bells all around, is one of the most famous temples in Almora and is dedicated to Goludevta i.e. an incarnation or an avatar of lord shiva. Located at a distance of 9 km from the main town of Almora this place is believed to grant the devotee anything they wish for if they have a clear conscience.
Binsar wildlife sanctuary – the perfect place for a family vacation filled with fun and frolic a visit here will be a wonderful experience. Taking a jeep ride amongst the lush green forest cover and observing the animals and birds around here in their natural habitat can be the type of summer getaway you need to beat the heat in a more fun manner.
Bright end corner –this scenic destination is located at a distance of 2 km from Almora at the end of the ridge of Almora that offers incredibly picturesque views of the Himalayan valley below. Viewing the snowy peaks from here can be extremely refreshing and a great way to observe the world from above and a new perspective.