Timmarsen cave of Niti Village in Uttarakhand has become very famous in past some years as it holds the similar Shivalinga which is in Amarnath. The cave of Timarsain has been emerged out as the second abode of Baba Barfani in which he sits. Niti village is situated in the Chamoli district of Uttarakhand and is known as the last village of the district. The village is located very close to the Indo-Tibet border. However, it is believed that Baba Barfani is seated in this cave for centuries but still the place is lesser known to non-natives where devotees can pay their offerings to Baba Barfani from March till mid-April. This pilgrimage is also called as Timmarsen Niti Mahadev Temple which is named after its location in Niti Village.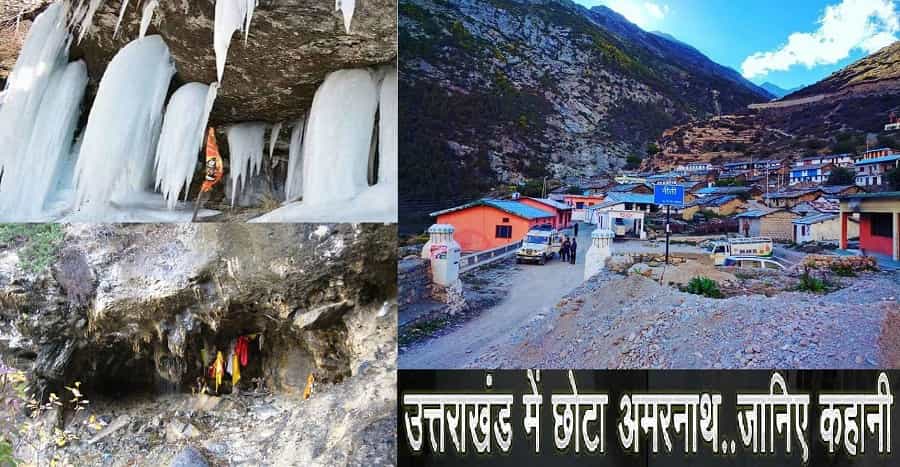 Location of Baba Barfani Temple
This world-known Niti village is located on Joshimath – Niti Highway and the cave where Shivalinga is settled is at a distance of around 700 meters from the main road on Timmarsen Mountain. This divine place of Mahadev is located at a distance of 80 km from Joshimath.
Darshan Timing
As a matter of fact, the Shivalinga is sitting inside the surrender arranged on the Timmarsen hills. In winter, it turns out to be10 feet higher than the usual Shivaling. Water dripping from the hills keeps it smearing with water. According to the locals, The Shivling comes in the original shape after the winter when the snow melts down. Local people also call it "Chhota Amarnath". Every year the Darshan opens in March and continues until the second week of April during which millions of people visit the cave including ITBP soldiers. Stated by a soldier, they do not move further without paying homage at this revered place.
How to Reach Niti Village
Pilgrims can reach Niti Village by opting for any of the transportation modes i.e. by rail, air or road.
By Air- The only airport to reach Niti Village is Jolly Grant Airport in Dehradun from where you can get the taxi to reach near Joshimath which is at a distance of 88 km from Niti Village.
By Rail- Dehradun and Rishikesh Railway Station are the nearest railway stations to Dehradun which are 380 km and 346 km respectively.
By Road- There are frequent buses from many of the major cities of the country which takes you to Rishikesh and from Rishikesh you get the taxis and buses easily to Joshimath.
Accessibility to Timarsain Cave
People need to come up climbing for around 2 km. According to the locals and ITBP soldiers, it is not difficult to walk 700 meters distance as there is no snow around the temple. They believe that it is the blessing of Baba Ji only that there is a huge Shivalinga of ice inside the cave.
Recent Update
Due to heavy snowfall in Chamoli, the Yatra to Chhota Amarnath has been postponed which was earlier scheduled for 10th February.