Khajuraho group monuments are one of the seven wonders of the India. It is also listed in UNESCO world heritage site. The reason why it is the main attraction in Madhya Pradesh state is because Khajuraho is a town which has a large group of medieval Hindu and Jain temples with erotic carved sculptures.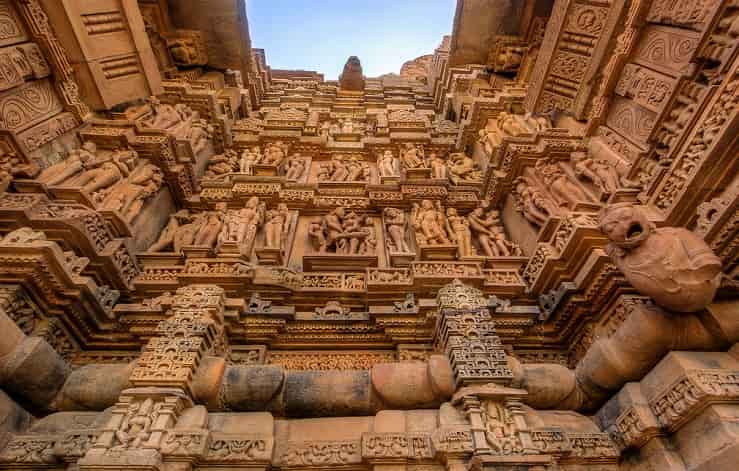 Khajuraho means golden dates palms, known as khajur in Hindi. It is said in olden days this town was lined by these dates palms trees so it was named after it.
Because of its erotic sculptures carved on the temples outside walls has caught attraction of the art lover all over the world but with mystery over it, what purpose was it constructed for?
These temples have raised many questions in minds of the people who visit these temples that the sculptures depict sex between deities or not. It is said that these sculpture depict that one should leave their sexual desire outside the temple while coming in the temple. There are also carvings depicting day-to-day living of other beings in 10th and 11th centuries AD; potter, farmers, women applying making, musicians, warriors and other folks. It also depicts the changes in body; physically and mentally, that take place in human body and facts of life.
These temples were constructed between 950 and 1050 AD. The main temples are dedicated to Brahma, Vishnu and Shiva. According to the Hindu mythology, these three gods are believed to be creator, protector and destroyer of the earth respectively. There were total 85 temples in Khajuraho but now only 22 temples are in good condition. These temples spread around 8 sq miles long. Presently these temples are categorized in western and eastern group. About 45 km away from Khajuraho is Panna, from where sand stones were carried to build theses temples.
This town also witnessed the destruction of temples and disfigurement of deities face during Qutubuddin Aibak, 1203 AD. In 1838 British Engineer T.S. Burt, re-discovered the remaining temples when jungle was taking toll over the temples.
The architectural designs of Khajuraho temples are typical Nagara style of architecture which is a northern India's architecture. Nagara style is beehive shaped and multi-layered, known as Shikhara. Nagara style was developed in 5th century AD and advancement in it architectural design can be seen in Khajuraho temples. These temples demonstrate not only work of the artistry of the craftsman but also the breadth of vision Chandela Rajputs, who are responsible for the existence of these temples.
According to the geographical pattern these temples are divided in groups because it is scattered 20 kilometers, i.e. western, eastern and southern.
Western group has three main temples which are also the biggest among other temples there. The huge one is Kandariya Mahadeo, which has a big idol of lord Shiva and a Shiva Lingam. Other than this idol, there are 900 statues and beautifully carved entrance arch, pillars and ceilings.
And other major temple is Chaunsat Yogini which is of goddess Kali, Matangeshwar temple, of lord Shiva and many more to see because of the western group of temples are carved gracefully and the with minute details.
Eastern group temples constitute of both Jain and Hindu temples. Among the three Jain temples, the most attractive is the Parsvanatha Temple. The temple is of Lord Parsavanath, which have sculpture of people daily routine.
Southern temple is located in the out skirt of Khajuraho town. There are two main stunning temples of lord Shiva and lord Vishnu.
Accommodation
Here you will find five star hotel as well as small budget hotels. Staying is not a problem if money is the matter.
Transportation
Khajuraho has its own airport which is nearby and you will get flights to any part of the India to go, even Delhi, Agra and Varanasi.
Roads also are well connected in whole Madhya Pradesh and India.