The state of Uttarakhand is every food lover's dream come true with its incredible collection of memorable and lip smacking food items. Being located on the hills the ingredients and produce here is free of any sort of adulteration, mixing or impurities and hence the food here is delicious and incredibly memorable. Although with growing tourism in these parts the foods available at restaurants are the tried and tested north Indian or Chinese however, the food that you have here cannot be tasted anywhere else making it a haven for every foodie. Traditional Garhwali food is extremely special in so many ways. The food offered and prepared here is bursting with authentic flavors and each cuisine stays true to its taste without the spices overpowering the original taste. Garhwali preparations are rich in nutrient factor and hold a number of health benefits due to the inclusion of various herbs, lentils, cereals and pulses.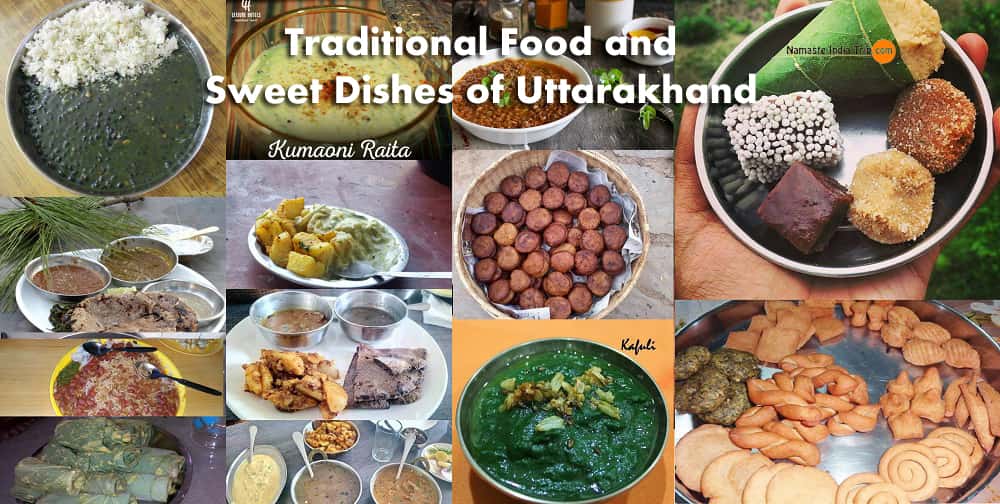 Authentic Garhwali Cuisines:
Thenchwani
The main ingredient in this dish is a mountain radish root and mountain potato which is crushed along with some ginger and garlic. Accompanied with these ingredients are some aromatic and delectable spices that highlight the dish.
Chaunsu
Prepared using black lentils, this is an incredibly flavorful and protein rich gravy where this pulse is first roasted until it gives off an aromatic fragrance before being grinded to the consistency of a powder. Later on it is cooked in the form of a curry.
Phaana
This is a special Garhwali preparation that is prepared from lentils like Gahat or Kulath. This dal is firstly left to soak for 8 hours before grinding it into a thick batter. The batter is not only used as gravy but people also use it to create small pancakes and cook them together.
Kaafuli
This dish is another healthier version of the Saag dish of north India. It is prepared from fresh spinach, onion, ginger, garlic and other aromatic spices which are later on thickened with the help of delicious rice paste. It is served as a colorful accompaniment along with other Garhwali meals.
Kode ki Roti
This special roti is prepared with the help of a local grain present in large quantity on the hills which also holds incredible health benefit values which is known as Koda or Ragi. This roti is mixed with Daal and is an incredibly rich in iron and fibre.
Authentic Kumaoni Cuisines:
Aloo Ke Gutke
Although the preparation of this delicacy is extremely easy yet it is considered to be a culinary gem. Bursting with flavors this humble dish consists of fried potatoes and seasoned with red chili flakes, coriander leaves and other spices. This is an ideal comfort food to indulge in while on the hills and is widely available as street food.
Bhatt ki Churkani
This is one of the most loved dishes for the Kumauni communities of Uttarakhand. It is prepared with the help of black soya bean which is locally grown and is blended with rice paste making it one of the most healthy delicacy of the Kumaon region.
Dubuk
This is one of the most traditional dishes of the Kumaoni region which is prepared with the help of either Arhar, Gahat or other lentil of your choice. This stock that is created is then turned into a really fine paste by including some rice flour. It is finally then mixed with some flavourful powdered spices over slow fire.
Bhang ki Chutney
As the name suggests the main ingredient for this food accompaniment is bhang seeds. These seeds are roasted to perfection and later on added with garlic shoots, sour pomegranate seeds, tamarind, salt and cumin which makes it a zesty treat to have along with food.
Kumaoni Dal Bade
This is a popular favorite among the local population of the Kumaon region. These fritters are prepared with the help of Kumaoni dal and are fried to a crispy consistency and are known for being extremely healthy due to the absence of gluten in its preparation.
Sweets & Snacks Of Uttarakhand
Baadi
This locally available snack is loved and liked by not only the people of Uttarakhand but also by the people from outside as well. This dish holds a tangy taste and is blessed upon with some of the most essential vitamins. The lingering aroma and the delectable taste has made it a state favorite.
Gulgula
During your visit to Uttarakhand this sweet delicacy should not be missed out on. Made with jiggery and some other basic ingredients, this snack is extremely common and easily available. The ingredients used in the creation of this snack are extremely simple and is considered to be a delectable delicacy.
Arsa
This is considered to be one of the most sought after snack and sweet delicacy of Uttarakhand. Low on calorie and extremely delectable to taste has made this dish incredibly popular among the common local households as well as among tourists. No special occasion or festival is completed without the presence of Arsa.
Singori
Also called singauri this hugely popular sweet street delicacy has made a place in the hearts of all locals and tourists alike. This snack is made using khoa and thickened milk and each creation is wrapped around the maalu leaf in the shape of a cone and is available mostly in Almora.
Aloo Tuk
Made in almost every household, and as the name suggests this potato dish is firstly cut up into round shapes, boiled and garnished with delicious spices and coriander leaves. This is one of the most effortless dishes and can be consumed with bhang ki chutney, Poori and even Kumaoni Raita.
Kumauni Raita
This delicious and refreshing raita is one of the most common delicacies of Uttarakhand. Made with fresh cucumber and coriander and complete with other herbs and spices this raita is eaten with the other main course dishes. This is a common favorite among the locals of Uttarakhand and is replicated everywhere else.