The famous pilgrimage destination of Haridwar which all pious Hindus make sure to visit at least once in their lifetime offers one with a fulfilling religious expedition with the numerous 'places to visit' that Haridwar has. Here are the major ones…
Har ki Pauri
Har ki Pauri, an auspicious ghat set on the banks of the holy Ganges at Haridwar is believed to have been constructed under the initiative of King Vikramaditya who ordered the construction of this ghat in remembrance of Bharthari, his dear brother. The ghat is named 'Har ki Pauri' because it has a slab bearing foot imprints and those imprints are believed to be those of Lord Vishnu's feet. Har ki Pauri is the location where Kumbh Mela, Ardh Kumbh Mela are held at an interval of every 12 years. The evening Ganga aarti at Har ki Pauri is a sight of celestial beauty. The glistening and rippling waters are lit up by numerous floating diyas amid the chanting of mantras and ringing of bells.
Parad Shivling
Parad Shivling housed within Harihar Ashram falls in the Kankhal area and is about 2kms away from the Haridwar city. The shrine belongs to Lord Shiva and has a Shivling with a weight of about 150kg. Apart from this hefty Shivling, the shrine campus also has an ancient and rare tree of Rudrash which makes a prime attraction for visitors to Parad Shivling.
Gau Ghat
Gau Ghat situated across the Subhash ghat is a site of great religious import. People visit the ghat especially to get redemption from the guilt and sin of cow slaughter. Thus the ghat has been named as 'Gau' ghat with 'gau' meaning 'cow'. Also, at Gau ghat people perform the last rites of their ancestors in order to bring peace to their souls. Gau ghat has been made famous because at this same place immersion of the ashes of Jawaharlal Nehru, Indira Gandhi, Mahatma Gandhi took place post their last rites.
Maya Devi Temple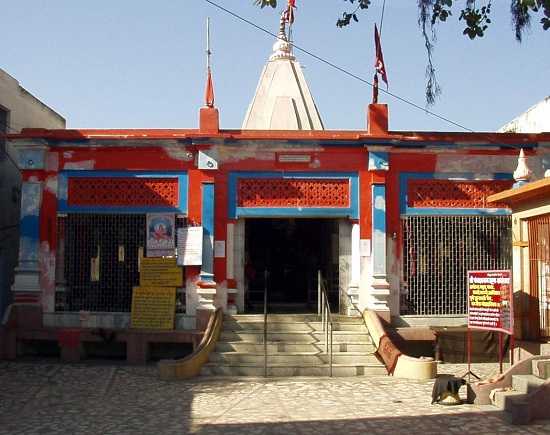 Maya Devi temple belongs to Goddess Maya, an incarnated form of Goddess Shakti. This ancient temple is a Siddh peeth and one among Haridwar's Siddh peeth trio. Pilgrims embarking on Siddh peeth yatra of Haridwar make sure to visit Maya Devi Temple along with the other two Siddh peeths, namely Chandi devi temple and Mansa Devi temple. The temple enshrines three idols- one of the Goddess Maya, another of Goddess Kali and the third one of Goddess Kamakhya.
Kamraj-ki-Kali Temple
The kamraj is Kali temple belongs to Goddess Kali and is located at a distance of about 7 kms from the Haridwar rail station on Haridwar – Rishikesh Highway. Pilgrims flock in large numbers at the temple to pay obeisance to Goddess Kali, the Goddess who is empowered to slay demons and end all evils.
Doodhadhari Barfani Temple
This temple falls within the premises of the Ashram of Doodhadhari Barfani baba. Apart from spiritual significance, marvelous construction pattern evident in the temple architecture pulls tourists from far off places. The temple is constructed out of gleaming snow white marble and looks too beautiful. Within the same premises, there are many other temples belonging to other gods and goddesses of the Hindu pantheon. Among those, Hanuman mandir and Ram-Sita temple too are worth-visit places.
Daksheswara Mahadev Temple
This temple is a bright testimony to the famous Hindu legend of King Daksha. King Daksha was the father of Lord Shiva's wife Dakshayani. Dakshayani was the first wife of Lord Shiva. King Daksha Prajapati, according to legends, held a Maha yagya in which Lord Shiva, his son-in-law was not invited intentionally. Despite this Lord Shiva entered into the yagya venue. To this, he was bitterly insulted by his father-in-law, King Daksha. Dakshayani, the wife of Lord Shiva could not bear her husband's insult and self-immolated by pouncing into the fire of yagya kund. Shiva's tremendous anger gave birth to a demon known by the name of Virbhadra who killed King Daksha. The king however regained life in some time after which his human head was replaced by that of a goat's with the miraculous power of Lord Shiva.
Bharat Mata Temple
Swami Satyamitranand Giri founded the magnificent Bharat Mata Temple in honor of Mother India. The temple campus and the different floors are decked with the statues of various legendary historical figures, freedom fighters and mythological deities. The temple's first floor comes with a resplendent sculpture of Desh mata or Bharat mata and the temple is a huge eight-storied building by Ganges side.
Chandi Devi Temple
Atop the Neel parvat stands Chandi Devi Temple and was constructed under the initiative of King Suchat Singh. A trek of 3kms from Chandighat followed by a cable car ride needs to be undertaken to reach Chandi Devi Temple. Myths hold that at this very spot Goddess Chandi had put an end to Chanda-Munda, the commander-in-chief in the army of Sumbha-Nishumba, the two heinous demon kings. Also, common beliefs point out that Adi Guru Shankaracharya around 8th century had placed the main deity of Mata Chandi within the shrine.
Chilla Wildlife Sanctuary

Chilla wildlife sanctuary is also differently called Rajaji Wildlife sanctuary and extends to an area of about 249sq kms. Chilla wildlife sanctuary houses varied kinds of wildlife species such as tigers, small cats, bears, elephants. The abundance of flora at the sanctuary creates an enchanting natural setting for visitors. This sanctuary is located 18kms away from Haridwar.
Bara Bazaar
Bara Bazaar is a bustling market area of Haridwar located right on Haridwar rail station road. Haridwar, being a pilgrimage destination, items needed for worshipping or puja samagri is the major type of sale-able category that one comes across here. However one could also pick items such as varied types of Ayurvedic medicines, milk-made sweets, Rudraksh beads, handicrafts, Digestive powders or churans from the Bara Bazaar of Haridwar.
Patanjali Yog Peeth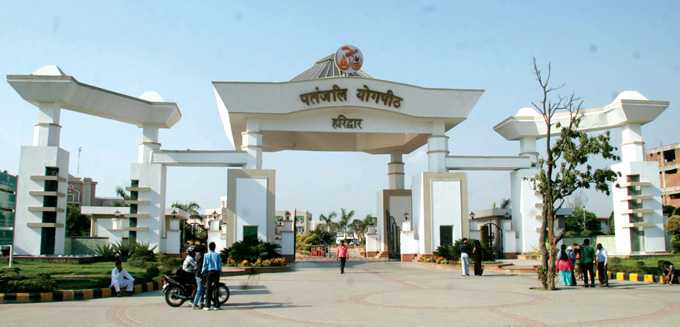 Patanjali Yog Peeth has Baba Ramdev as its founder and is perhaps the country's largest yoga institutes in the recent times. This yoga peeth falls on the highway running between Delhi and Haridwar and is thronged by scores of visitors each day.
Bhimgoda
This historical and legendary site is located at a distance of nearly 1km from the Har-ki-Pauri. Mythological tales point out that on their way to Himalayas, thirst-stricken pandavas halted here to quench their thirst. Bhima, one of the Pandava brothers thrusted his knees into a rock and out came a spring of water to result in the kund of Bhimgoda. This water tank has been named after this incident as 'goda' stands for knee
Bhuma Niketan Temple
This beautiful temple of Haridwar is located in Jwalapur region and belongs to two important Hindu Gods, Lord Shiva and Lord Vishnu. The temple looks really beautiful with a scenic fountain surrounding it. The temple also houses the idols of other gods and goddesses like Ram-Sita-Laxman, Hanuman ji. A power driven exhibition is the prime attraction of this temple. Various mythological tales are presented through this exhibition. Towards the southward direction of the temple hall, stands a temple dedicated to Sri Tripur Sundari, a Mahavidya who fetches in good luck.
Mansa Devi Temple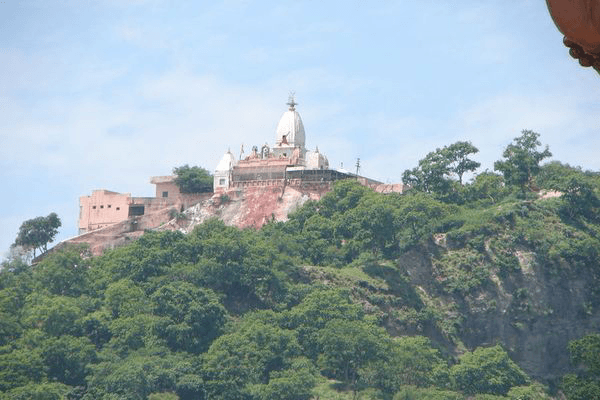 Atop Bilwa Parvat stands Mansa devi temple, an abode of Mansa Devi, the Goddess of Wish fulfillment. A cable car ride can make you reach this unique temple that enshrines two deities of the goddess; one a five-armed deity and another, an eight-armed deity. While one boards the cable car to reach the temple, one can enjoy some splendid views of nature.
Neel Dhara Pakshi Vihar
Neel Dhara Pakshi Vihar is lodged on Bhimgoda Barrage and is a wonderful habitat for various types of migratory birds. Siberian cranes that one gets to see here makes the bird sanctuary quite famous. This is indeed a wonderful spot to gaze at nature, watch birds and laze away the time
Pavan Dham
Pawan Dham, an ancient temple is about 2kms away from Haridwar town and 3kms away from the Har ki Pauri. The temple walls are embellished with eye-catching glass work and the temple enshrines highly ornamental idols. Tourists pour in large numbers at Pavan Dham to view these marvelous sights.
Bilkeshwar Mahadev Temple
This temple of Haridwar belongs to Lord Shiva and is a fascinating tourist site. The enchanting scenic background and the peaceful temple ambience refreshes one in mind & body and soothes the troubled mind.
Ganga Temple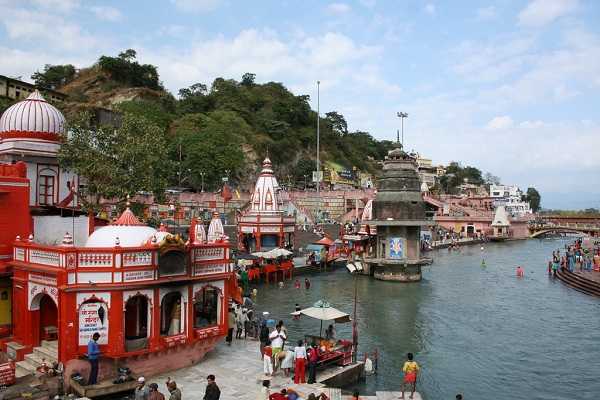 The famous Ganga temple is situated on the Har ki Pauri and is a shrine belonging to Goddess Ganga. Thousands of devotees flock at the temple to pay tribute to the Lotus feet of Devi Ganga.
Vaishno Devi Temple
The recently constructed Vaishno Devi temple of Hardiwar cannot be categorized as an ancient temple. It very ideally replicates the original Vaishno Devi Mata shrine of Jammu. Just like the Jammu shrine here too one has to traverse through series of caves and rocky tunnels to reach the shrine. Common belief is that one can get the blessings of Mata only if he or she seeks for blessings with a clean and true heart.