The holy destination of Kedarnath is situated within the lap of nature in the district of Rudraprayag of the Garhwal Himalayas and is flanked by the snowcapped peaks of the Kedarnath Mountains that forms its magnificent backdrop. Sitting majestically at an elevation of 3,583 metres above sea level this ancient temple is also known for being highest placed Jyotirlinga in India. The temple can be reached after covering a distance of 22 kms from Gaurikund which is the last road head to Kedarnath. The entire region of Kedarnath is blessed with a stunning green cover.
Adi Shankaracharya Samadhi
As the name suggests this is the place where the great philosopher and the creator of the Char Dham Yatra Adi Shankaracharya took his last breath at the age of 32. This holy site is visited by devout Hindus on their Yatra journey of Kedarnath since it is situated right behind the main temple. Visiting this place can be easily done due to its close proximity to the temple and offers some of the most incredible views of the surroundings. Adi Shankaracharya is not only credited with the establishments of all India Char Dham Yatra as well as that of Uttarakhand but he is also known for creating and establishing various matths across the landscape of India with an aim of propagating the importance and relevance of Advaita Vedanta.
Visitation Timings – 6:00 am to 8:00 pm
Gandhi Sarovar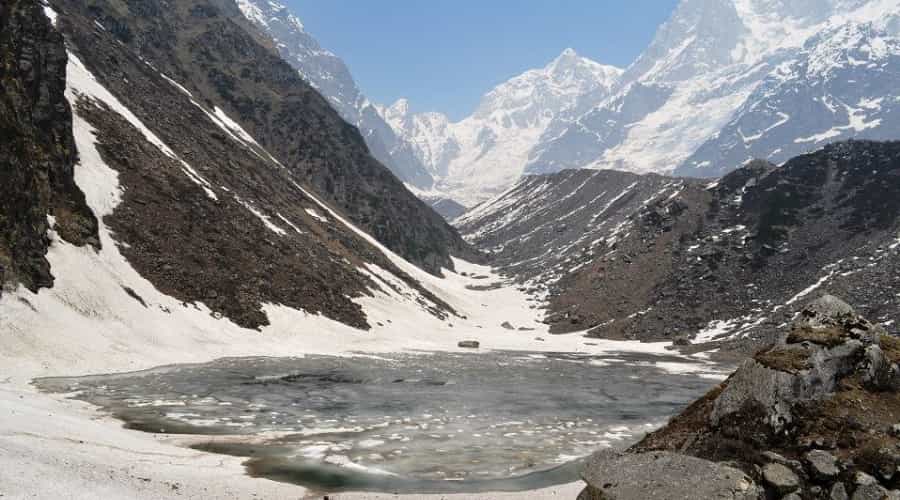 Also known as Chorabari Tal due to its location on the mouth of the Chorabari Bamak Glacier this pristine high altitude lake is situated at a mere distance of 4 kms from the main Dham of Kedarnath. This glimmering lake lies amongst the stunning and astounding surroundings of the peaks of Kedarnath and Kirti Stambh on an elevation of 3,900 metres above sea level. It can be reached after covering a 14 km of trekking distance from Gaurikund. This place is named so, since the ashes of the father of the nation – Mahatma Gandhi was immersed here. The journey will take you across some of the most magnificent forest covering of thick green and lush deodar and oak forests. En route you will be treated with an astounding waterfall which is visited on a regular basis by pilgrims who visit Kedarnath Dham.
Visitation Timings – 9:00 am to 6:00 pm
Bhairavnath Temple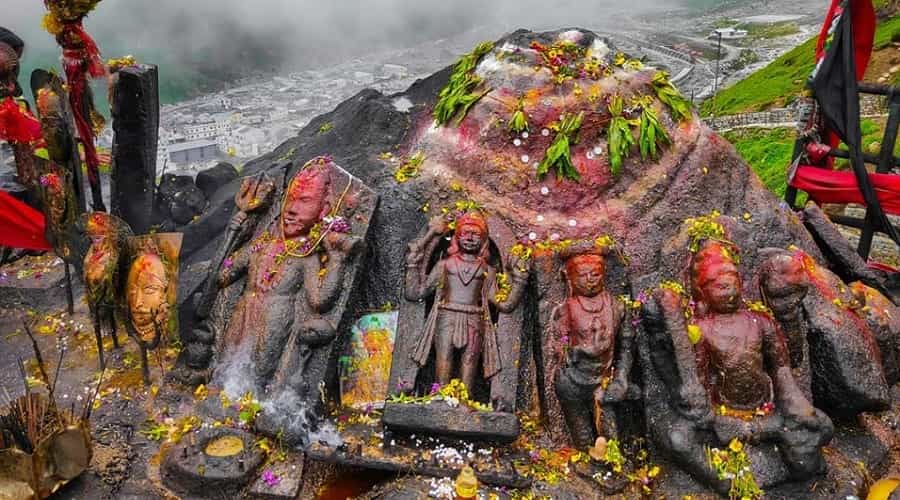 Situated at a distance of less than a km from the main temple of Kedarnath at a walking distance of just 800 metres is the holy protector or Kshetrapal of the main temple of Kedarnath during the off months of winter that lasts for duration of 6 months from November to May. Bhairavnath is located on an uphill location which is a fierce manifestation of Lord Shiva and is primarily associated with the facets of destructions and devastations. This location offers some of the most stunning views of the Kedarnath valley below consisting of a lush green covering along with gently rolling hills. This place consists of some idols dedicated to Lord Bhairavnath along with a few saffron colored flags fluttering in the wind.
Visitation Timings – 5:00 am to 12 noon / 4:00 pm to 9:00 pm
Vasuki Tal (Lake)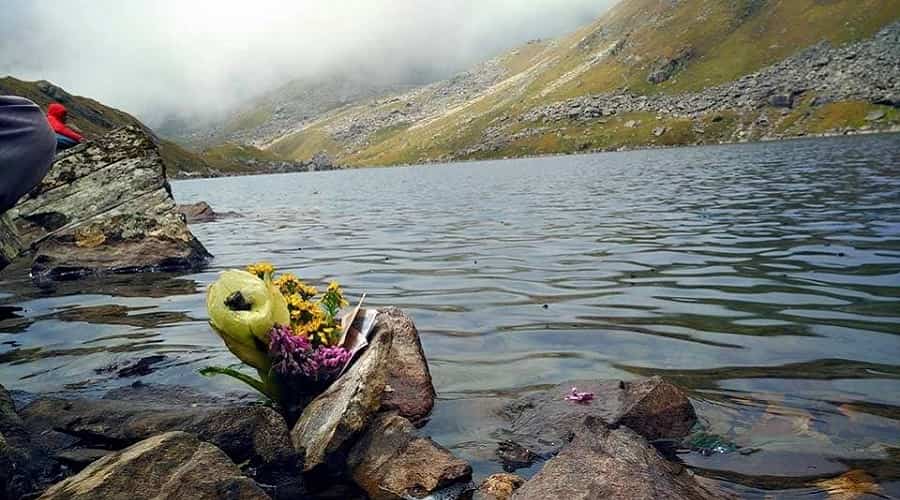 Located at a mere walking distance of 6 kms from Kedarnath Dham, and encapsulated by the stunning views of the surrounding snow clad and overlooking Chaukhamba peaks this crystal clear and glimmering lake sits on an elevation of 4,135 metres above sea level. This astounding lake holds incredible religious importance and relevance since it is believed that Lord Vishnu had taken a holy bath in this very lake during the auspicious eve of the festival of Raksha Bandhan, therefore it is named as Vasuki. If you want to add a hint of adventure to your Char Dham Yatra plans in Kedarnath then a visit to this place is a must. The magnificent surrounding views and the easy trekking journey also makes it an ideal destination to go with your family and kids.
Visitation Timings – 9:00 am – 4:00 pm
Gaurikund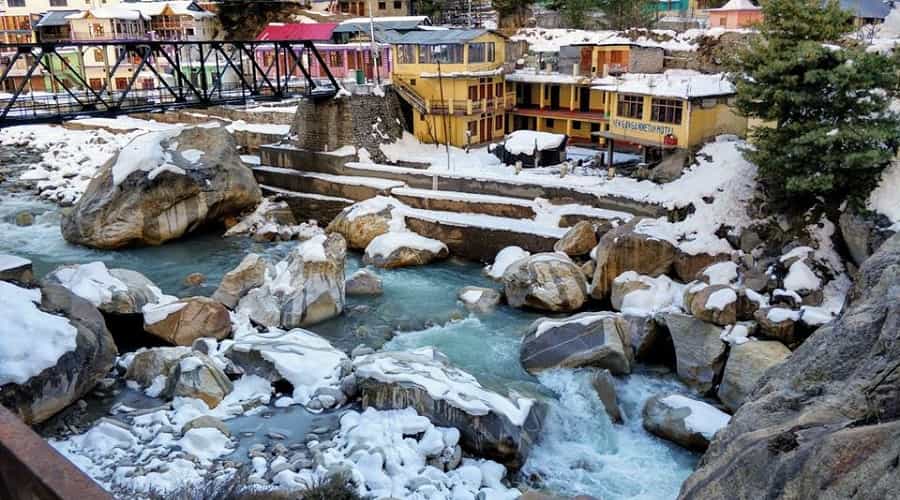 This small and holy hamlet is located on an elevation of 6,502 metres above sea level and is utilized as the base camp for your further treks to Kedarnath Dham. As the name suggests this place is dedicated to goddess Parvati, Lord Shiva's consort. As per popular Hindu traditions and beliefs this is the exact place where the goddess is said to have performed her penance along with a number of ascetic and yoga practices in an attempt to win Lord Shiva's affections. The Kund located here consists of naturally occurring thermal hot water spring of medicinal value and as a part of their ritual the pilgrims make it a point to take a dip in its holy waters before making their way to the main shrine of Kedarnath.
Visitation Timings – 7:00 am to 8:00 pm
Ratus Kund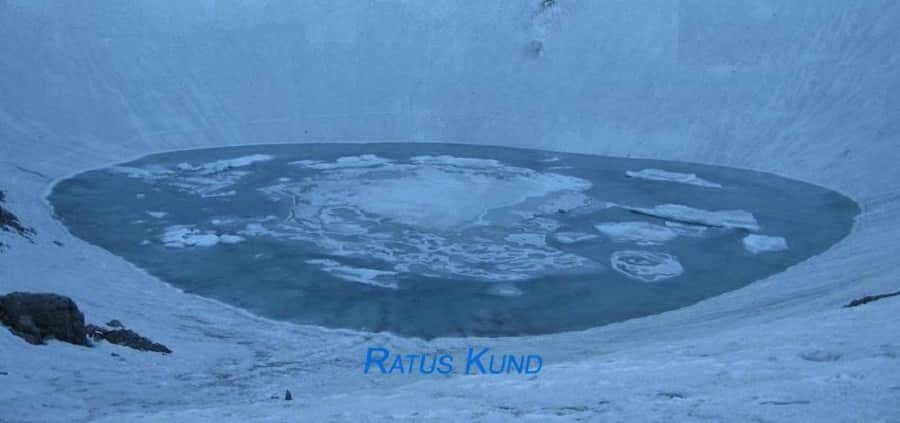 This small fresh-water reservoir is located inside a small rocky temple structure which is situated on an elevation of 200 metres above Kedarnath Dham. Also referred to as 'ret kund', due to the presence of sand and mud deposits at the bottom of the reservoir it is one of the lesser known destinations to visit around Kedarnath. Situated in close proximity to the helipad of Kedarnath this Kund can be easily accessed via trekking and makes it an ideal destination for families and kids. The temple inside which this Kund is situated consists of an idol of lord Shiva.
Visitation Timings – 7:00 am to 7:00 pm
Sonprayag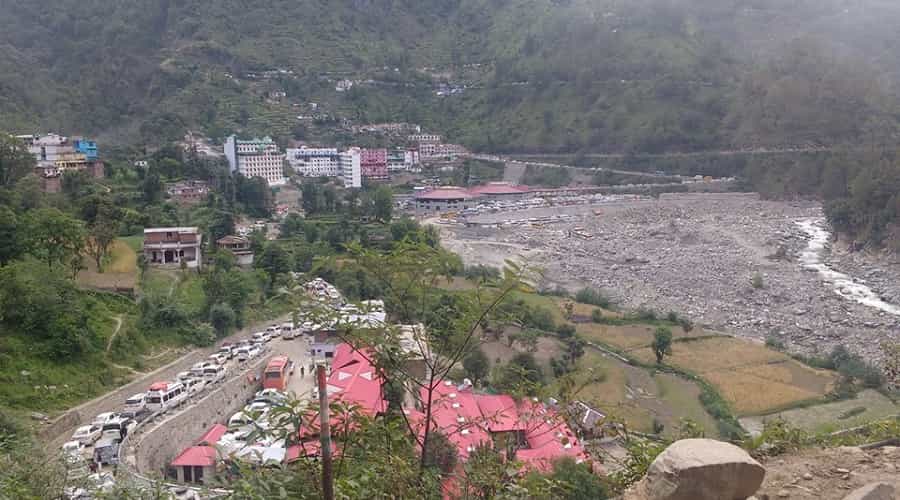 Located at a distance of 8 kms from Gaurikund this scenic and extremely pious pilgrimage destination lies en route the journey to Kedarnath Dham and is generally used as a stopover point for the pilgrimages on their Char Dham Yatra. The 'Prayag' refers to the confluence of two of the holiest rivers of Basuki and Mandakini making it even more sacred. Sitting on an elevation of 1,829 metres above sea level and famous for its close proximity to the temple of Triyuginarayan, Sonprayag offers some of the most fascinatingly stunning views of the surrounding Himalayan beauty.
Visitation Timings – 24 hours